Breadcrumb Trail Links
News
Local News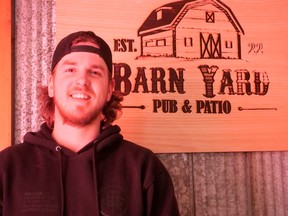 Daniel Eynon, co-owner of The Barn Yard Pub & Patio in Simcoe. CHRIS ABBOTT jpg, TN
Article content
Perogies year round? Deep fried chocolate bars? Root beer braised ribs?
Advertisement 2
This advertisement has not loaded yet, but your article continues below.
Article content
The new Barn Yard Patio & Pub in Simcoe features perogies from Forkin' Perogy and cuisine often enjoyed at fairs and festivals.
Co-owners Dan Eynon and Matthew Long took possession of the building at 554 Norfolk Street North in mid-October and The Barn Yard officially opened the first week of January.
"The local support has been amazing," said Eynon. "It's a lot of locals, which is what has allowed me to progress like I have. The one thing I always say is 'Norfolk shows up.' It's great."
Inside, The Barn Yard's wood and tin accents give it a rustic look, a flavour enhanced by country music and big-screen TVs.
"This is old barn tin off a roof," he said, pointing to the back wall. "We met a farmer out in Langton and bought all this tin from him. It kind of gives it that aesthetic.
Article content
Advertisement 3
This advertisement has not loaded yet, but your article continues below.
Article content
"Being from Norfolk County, I think the barn is something that we can all kind of associate with – Ontario's Garden. We have an area in Norfolk County unlike anywhere else, so being able to keep a little piece of home, supporting our local farms and farmers, this is the easiest way to do it."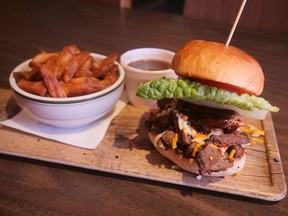 The Barn Yard Pub & Patio focuses on quality, consistency and value, says co-owner Dan Eynon. CHRIS ABBOTT jpg, TN
On the menu are perogies, wings, ribs, burgers, chicken, wraps, salads, and desserts – pub food.
"Our fried chicken sandwiches are incredible, we use fresh chickens, and we do our own butchering and breading," said Eynon. "Our wings, our ribs, our smash burgers are incredible. We are very big on quality and consistency. That's the biggest thing, that's the only thing that's going to keep stability in a restaurant."
Value is also important, he said.
Advertisement 4
This advertisement has not loaded yet, but your article continues below.
Article content
"Growing up in a small town, in Norfolk, that's how I built the whole perogy business."
Eynon, 29, built his first food trailer in 2016, which he operated until 2018, selling coffee, muffins and cookies.
"That's where it all started. I grew up in a family business, in the bakery industry, and years ago ventured off, worked in offices, travelled around and got some experience everywhere. In 2016 I came back to my roots, back to the food industry, what I know the best."
He built his first perogy trailer in 2019 and launched his Forkin' Perogy empire. COVID-19 put a damper on Ontario's fairs and festivals in 2020, but Eynon knew there was demand for private catering.
"So I built another food truck which was all self-sustainable."
Advertisement 5
This advertisement has not loaded yet, but your article continues below.
Article content
In March 2022, he converted a 28-foot bus into a food kitchen (Forkin' Foods Kitchen).
"Now I have four food trucks, two catering companies, and this restaurant."
As his business expanded, Eynon said he added "an exceptional team… which allowed the business to get where it is now. It's hard to do it on my own – this business is becoming bigger than me."
Eynon said the 'key' has been putting simple ingredients together to make the ultimate dish with the perfect taste profile.
"We've had a lot of success, growing in those festivals and fairs, so it's been great for us going back year after year now, adding new dishes, new flavours and new taste profiles. It's 'a lot' sometimes, but it's enjoyable. It's crazy and it's non-stop. I wouldn't want it any other way now that I've got it like this."
The Barn Yard Patio & Pub (519-420-0041) can be found on Facebook and Instagram. They are currently working on a new website.
cabbott@postmedia.com
Share this article in your social network
Comments
Postmedia is committed to maintaining a lively but civil forum for discussion and encourage all readers to share their views on our articles. Comments may take up to an hour for moderation before appearing on the site. We ask you to keep your comments relevant and respectful. We have enabled email notifications—you will now receive an email if you receive a reply to your comment, there is an update to a comment thread you follow or if a user you follow comments. Visit our Community Guidelines for more information and details on how to adjust your email settings.
Join the Conversation
Advertisement 1
This advertisement has not loaded yet, but your article continues below.