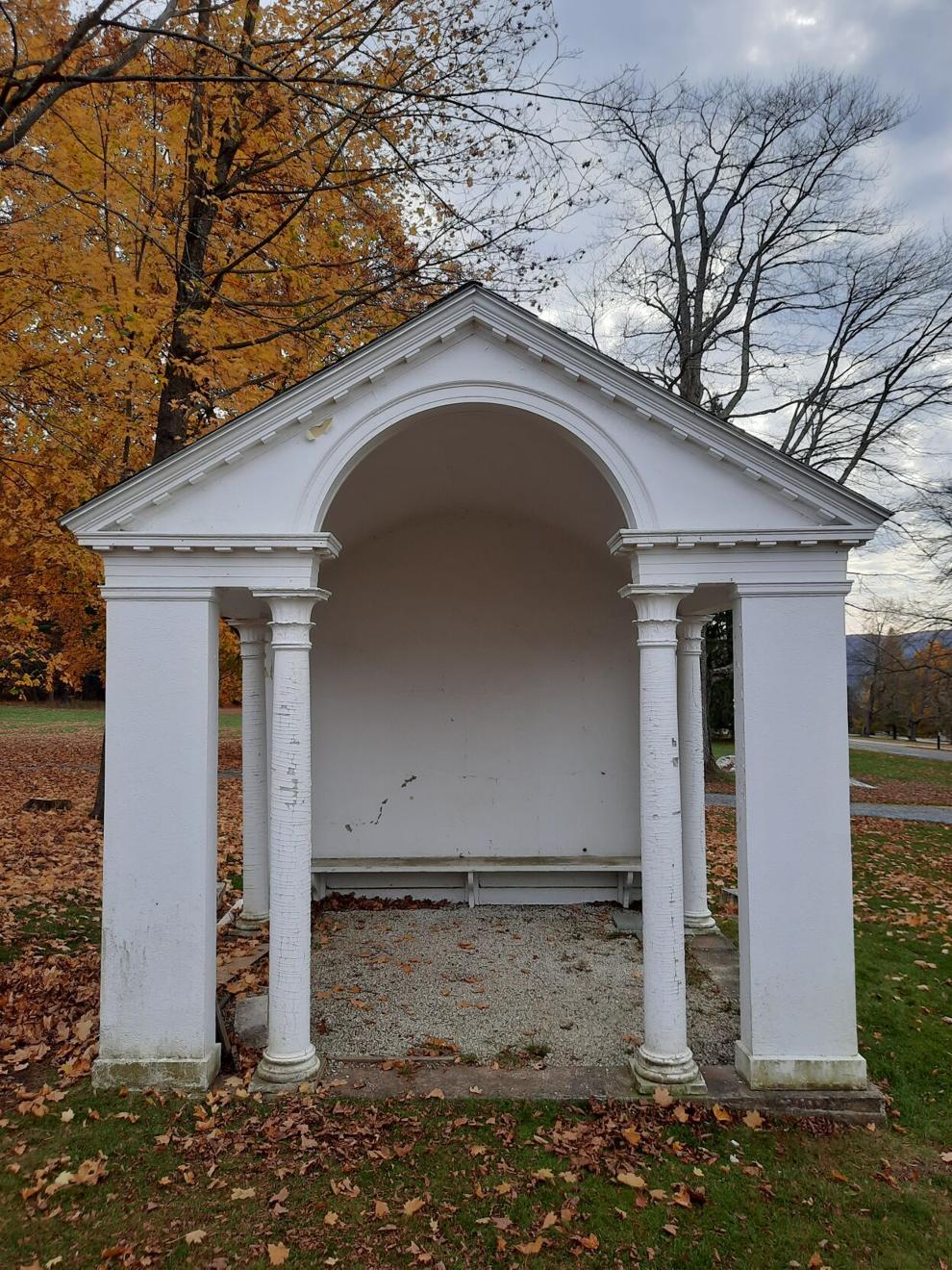 A photo of the tea house pavilion in Stockbridge, as it stood in November.

PHOTO PROVIDED BY CHESTERWOOD

STOCKBRIDGE — When word got around that a 1915 garden "pavilion" designed by famed architectural and public sculptor Daniel Chester French had been torn down by a new property owner on Prospect Hill Road, some locals voiced dismay.
"It's a little bit of a disaster," said Carl Sprague, chairman of the town's Historic Preservation Commission, at last month's meeting.
But it turns out that no local and state codes were violated by the demolition of the structure, based on its small size of 144 square feet, as measured at The Eagle's request by interim Chesterwood Museum director Margaret Cherin, using architectural drawings. The museum is devoted to French's legacy.
Sprague came up with similar measurements. Now, while he's still disappointed, he says the issue is "water under the bridge."
"Under the state building code, you don't need a demolition permit for structures under 200 square feet," Town Administrator Michael Canales told The Eagle this week. After checking with town attorneys, he confirmed that a local bylaw and demolition-delay ordinance do not apply.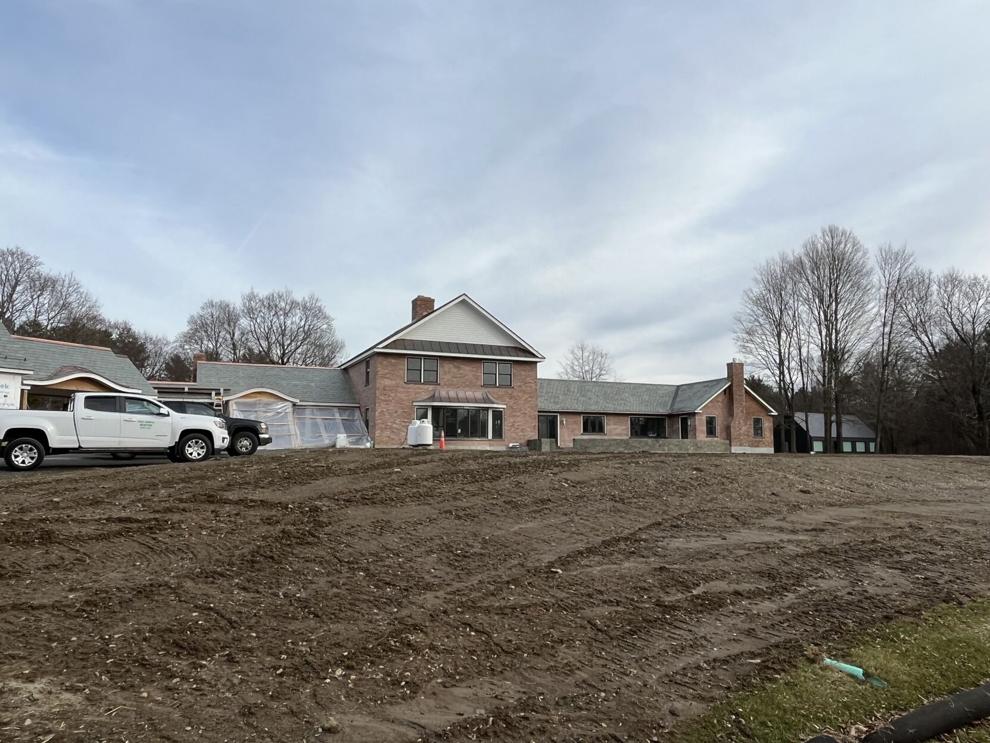 The 22 Prospect Hill Road property in Stockbridge is undergoing extensive renovations. Owner John E. Mullen III said his efforts to donate a garden pavilion on the site, designed in 1915 by famed sculptor and artist Daniel Chester French, were unsuccessful. 

CLARENCE FANTO — THE BERKSHIRE EAGLE

"The question is whether the owners worked hard enough to save it," Select Board Chairman Patrick White said in a phone interview. He suggested a town funding source might have been available to relocate the pavilion.
In July 2020, Great Barrington native John E. Mullen III, 71, purchased the 22 Prospect Hill Road property with his wife Theresa M. Mullen, who grew up in Pittsfield, for $1,270,000. He explained that he tried to donate the decaying structure not only to Chesterwood, but to two other Stockbridge residents recommended by Cherin. But there were no takers.
"There was practicality and there was hope," Mullen said, noting that his relocation efforts for the garden gazebo continued for 18 months. "We had tons of hope and when the hope dissolved, practicality had to play a role."
Ironically, Mullen recalled, he was a parking attendant at Chesterwood when he was 13. "It's a magical place," he said.
Mullen, a 1969 graduate of Monument Mountain Regional High, is living in Lenox temporarily while costly renovations progress on his Stockbridge home, above and below ground. The work to make the house structurally sound began when he purchased the property; the Mullens hope to move there in May.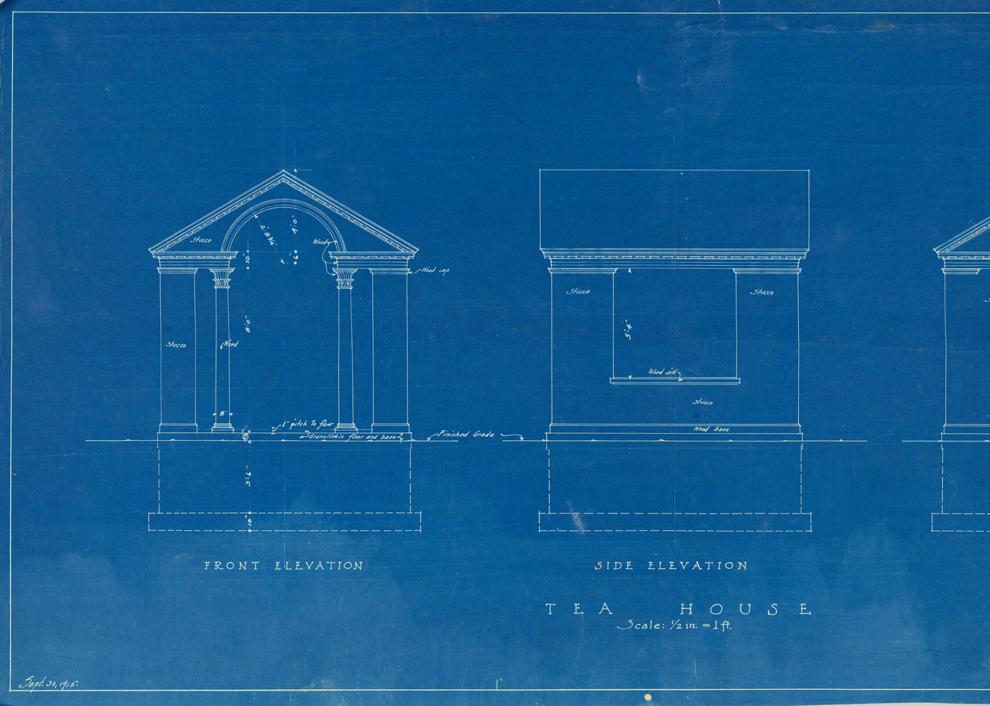 Blueprint elevations that were created for the "tea house" pavilion. 

PROVIDED BY CHESTERWOOD

How much is the project costing? "Let's just say a lot," he said. "I'm confident it will be a very nice place to live, once we can live there."
Mullen, a 1974 graduate of the University of Massachusetts Amherst with degrees in political science and environmental design, has been a landscape architect, arborist, tree surgeon, banker and investor in start-up companies.
In an interview from the Chesterwood office, Cherin, the interim executive director, confirmed that Mullen offered the "tea room" structure. She said it would not have fit into the museum's mission.
"It would be historically incorrect to have a structure such as that at Chesterwood," she said. "We were so hoping he would find a solution, that someone would take it." Besides, Cherin noted, the museum was not in a position to pay for the relocation at an estimated cost of $50,000.
In a joint statement Wednesday, Canales and White acknowledged that "appropriate outrage has been voiced regarding the demolition" since the pavilion was among dozens of Stockbridge structures listed in the Massachusetts Historical Commission's database.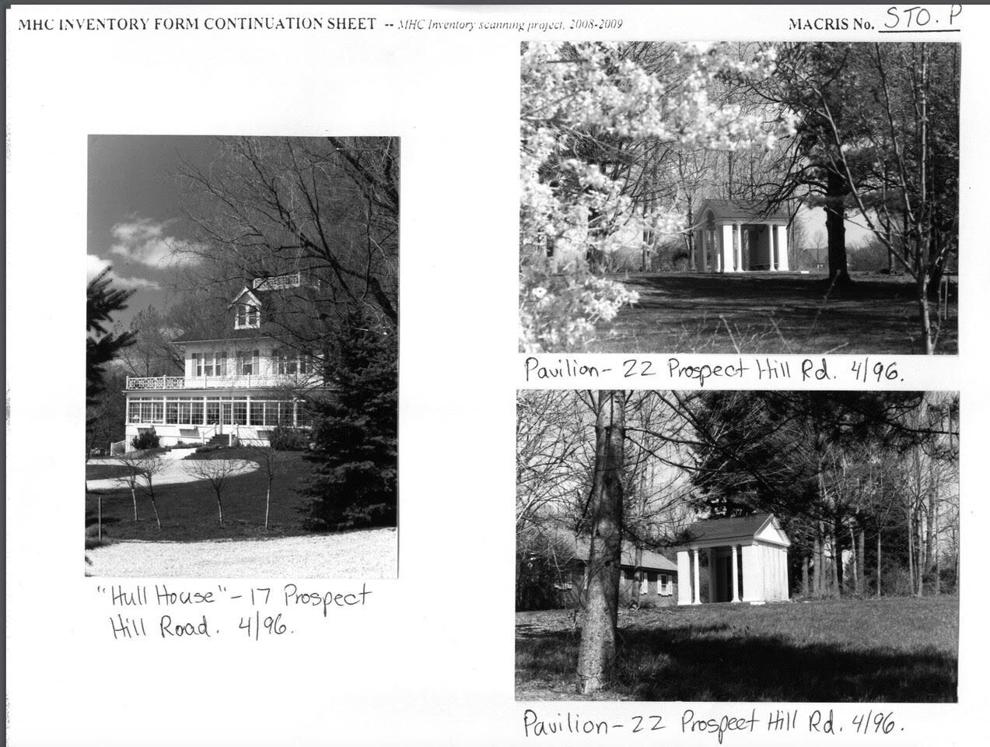 Massachusetts Historical Commission documentation on the pavilion. 

PHOTO PROVIDED BY CHESTERWOOD

"We asked Town Counsel to review if any laws were broken with the regard to the demolition," they wrote. "We received this response: 'The listing of the pavilion on the state database does not confer any protection on the structure. It is not in an historic district.'"
The guidance from town attorneys also specified that the town's Historic Preservation and Demolition Delay bylaw did not apply since, they said, "the bylaw regulates the issuance of building or demolition permits. The demolition of the pavilion did not require any permit."
"To our knowledge, because the structure was less than 200 square feet, no demolition permit was required to be issued by the building inspector, and no permit was requested," Canales and White said. "We wish the owners of the property in question had attempted to save this structure by either moving it to a different location on site, or by offering it for relocation to the town or another private property owner."
The statement noted that "many of us are saddened by the decision by the owner to demolish this structure. We encourage all owners of private property to review the state database. 
"Our historic preservation bylaw requires a review of most of these properties before they are modified or demolished," Canales and White said. "We strongly encourage private property owners to respect the long tradition of historic preservation that is central to the character of Stockbridge."