'architecture, a place to be loved' at the 2023 japan pavilion
Venice Architecture Biennale 2023: Commissioned by the Japan Foundation, the latest intervention at the Japan pavilion takes a simple yet deeply poetic turn. With architect Maki Onishi serving as curator and Yuki Hyakuda as deputy curator, and co-directors of the architecture office o+h, this year's program will shine a spotlight on the building itself, the representative work of architect Takamasa Yoshizaka, in an exhibition titled 'Architecture, a place to be loved'. designboom visited the Pavilion during its opening reception on Thursday, May 18th, 2023, at the Giardini della Biennale, and discover how its pioneering, post-war modernist essence is being celebrated after all these years. 
image © Yuma Harada / full header © designboom
a pioneering 1950s design by architect Takamasa Yoshizaka
Takamasa Yoshizaka, who studied under Wajiro Kon and modern architecture pioneer Le Corbusier, was active from the post-war reconstruction period until 1980. The Japan Pavilion, Yoshizaka's masterpiece, was completed in 1956 and has served as a base for introducing the country's art and architecture to the rest of the world for over half a century. In this exhibition, team members with expertise in diverse fields that include not only architecture but also textiles, ceramics, design, editing, metalwork, and animation will consider the Post-war modernist architecture of the Japan Pavilion itself, designed by Yoshizaka, as the focus of various exhibits based on 'Architecture, a place to be loved,' a theme that Onishi and Hyakuda have pursued for many years.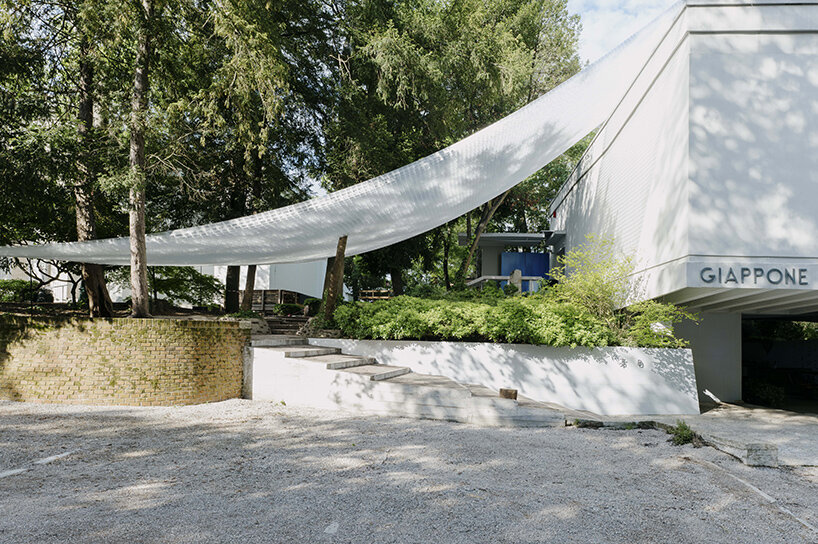 image © Yuma Harada
Upon entering the Japan Pavilion at the 2023 Venice Biennale, visitors notice the tent roof attached to the building façade; the mobiles hanging from the apertures; the piloti space serving as a bar-like resting area where people can intersect; the animated works projected onto the structural wall, essential to any discussion about the characteristics of the Pavilion, in addition to the models, fixtures, re-edited books, and other objects on display inside, made in response to the concept and forms of the building.
Through these designs and exhibits, a diverse range of creators has taken a thoughtful look at the Pavilion to create a space where visitors can consider the meaning of 'Architecture, a place to be loved.' In addition, talks, workshops, and various other events will be held throughout the exhibition period to ensure that the Japan Pavilion continues to be nurtured as a living place.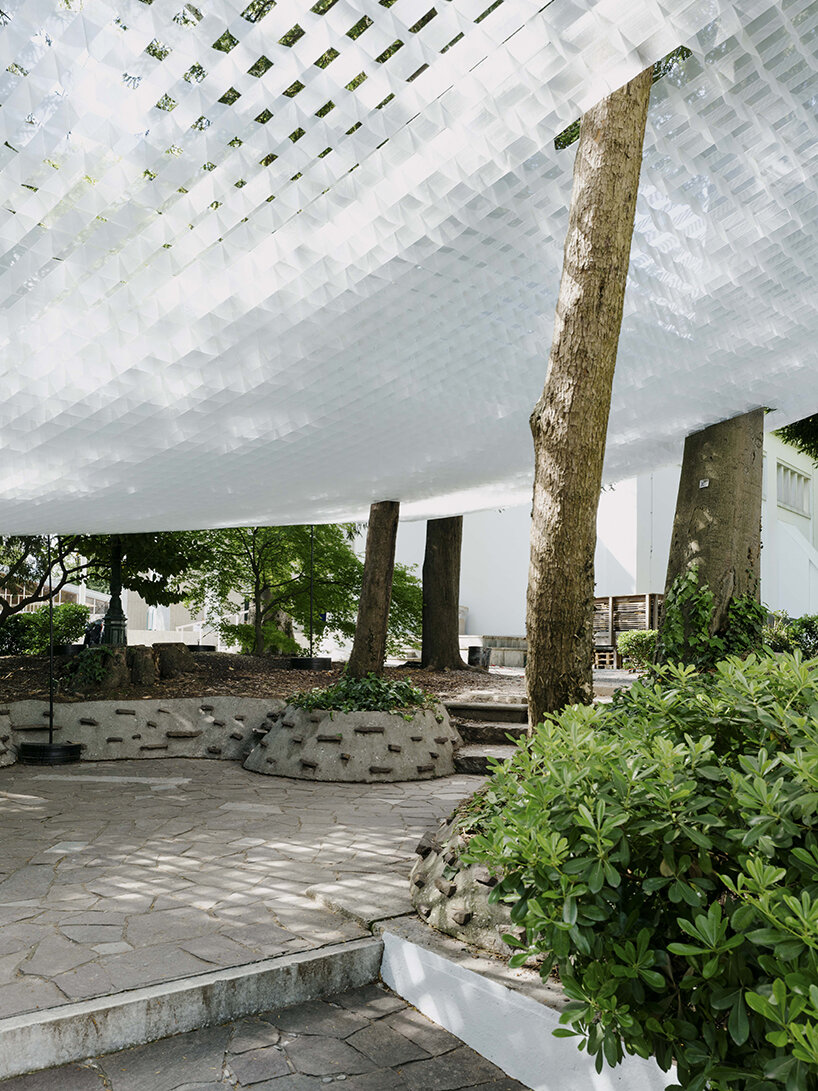 image © Yuma Harada
curator's statement: architecture as a living being 
Reflecting on this year's theme, curator Maki Onishi writes: 'A place to be loved is made possible when architecture includes its engraved memories and stories, when it embodies the scenery behind it and the activities that took place in and around it. That enables the architecture to take on a broader meaning. For that reason, we start by thinking of the architecture as a 'living creature'.
'To quote Takamasa Yoshizaka, 'Creating something involves giving it life.' Regarding architecture as a life-form with an individual existence enables us to cherish and nurture it lovingly, embracing its defects and inadequacies. This goes beyond the appraisal of a building's functionality and performance. Accepting the individuality of architecture with an easygoing stance leads us to a tolerant and broad-minded world in which we can recognize and accept the differences between us, encompassing animals and plants as well as other humans.'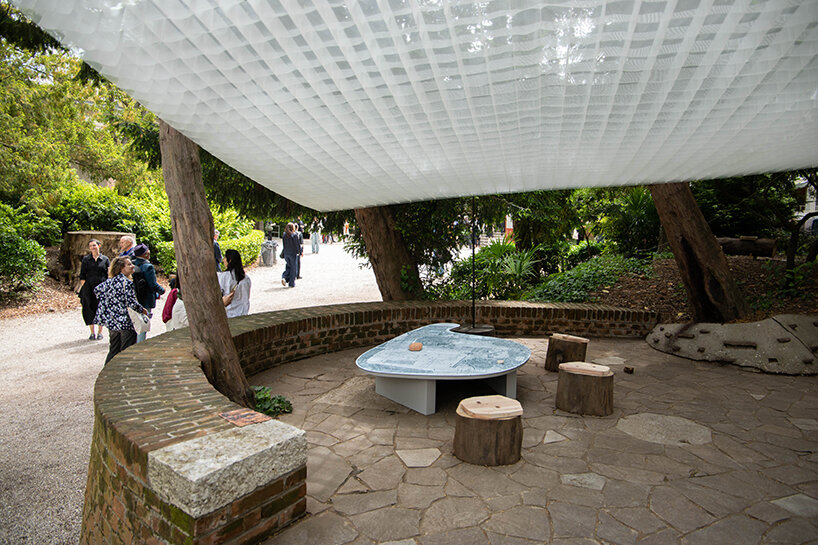 image © designboom
'It is interesting to wonder how our gaze—the way that we look at this place—would change if the Japan Pavilion were a living creature. Inside are a variety of suggestions and hints for ways of responding to the pavilion. We invite visitors to engage with them and think about what sort of architecture is a place to be loved. It is an opportunity to re-establish the relationship we have with architecture,' Onishi concludes.