There's an odd-looking boot, its toe pointing west, that's been drawn upon Bureau of Land Management maps of northeastern Montana.
The Hi-Line Sagebrush Anchor restoration landscape is shaped like a boot.


BLM


The outline forms the boundaries of the Hi-Line Sagebrush Anchor, possibly the only naval word used to describe this northernmost portion of the Great Plains.
This 2.5 million-acre boot is one of 21 restoration landscapes spread across 11 western states. In total, the Bureau of Land Management is investing $161 million into these landscapes that have been identified as high priority areas for restoration. In the process the agency is looking to strengthen communities and local economies, advance climate resilience and further the BLM's commitment to tribal collaboration and partnerships.
"This is the largest investment that I'm aware of in this country," said Mike Borgreen, a biologist for BLM's Glasgow office.
People are also reading…
He said the idea was to identify the 21 landscapes based on a U.S. Geological Survey watershed classification system. On the Hi-Line, however, his crew wanted to include three watersheds — Rock Creek, Beaver Creek and the Milk River, resulting in the oddly shaped boot.
Work on adjacent landscapes makes sense when it's consistent with goals on adjoining property, said Sonya Germann, state director for BLM Montana/Dakotas. She noted that in picking the 21 areas, the Biden administration wanted to make transformative, durable change in places where there were long-standing partnerships to ensure the investment funding would go further.
Prairie streams will cut deep into the erosive soils unless slowed down by structures like fake beaver dams.


BLM


Partners
The northeastern Montana watersheds were chosen because BLM was already working in partnership with the Ranchers Stewardship Alliance in these areas, rebuilding nearly 75 miles of fencing to improve wildlife connectivity, especially for pronghorns. They need a high, smooth, bottom fence wire to more easily crawl under as they migrate across the prairie.
"That is the most important thing here, is that there's a tremendous amount of partnerships that are already in place and have been in place for a long time," said Matt Comer, a wildlife biologist for the BLM.
Mike Borgreen


BLM photo


Comer also pointed to the Malta-based nonprofit Ranchers Stewardship Alliance as one of the agency's prime partners, allowing the BLM to "expand and accelerate the work that's already been occurring."
With a $6.76 million investment from the Inflation Reduction Act, the restoration landscape money is amplified by a 5 to 1 partner match, Comer said.
"So it really goes a lot further."
Martin Townsend, Ranchers Stewardship Alliance conservation coordinator, agreed. He told "Drovers" magazine for a July article, "That partnership has started with a few projects, that's led to a few more, that's led to a few initiatives, that has now led to Pheasants Forever, Montana Fish, Wildlife and Parks, and a slew of partners putting together gigantic projects that are now in the order of millions of dollars of project help available for producers across central Montana through (the Natural Resources and Conservation Service) to do migration work."
Areas targeted for fencing replacement were identified in the old-school way, by seeing where pronghorn cross, as well as through a GPS collaring study done by another partner — Montana Fish, Wildlife & Parks — that provided detailed migration movements.
"So we're combining the old with the new to make the most efficient use of the funding we do have," Comer said.
In the end, the cooperating landowner gets a new, wildlife-friendly section of fence and wildlife and conservation groups secure easier passage for pronghorn in one of their migratory strongholds.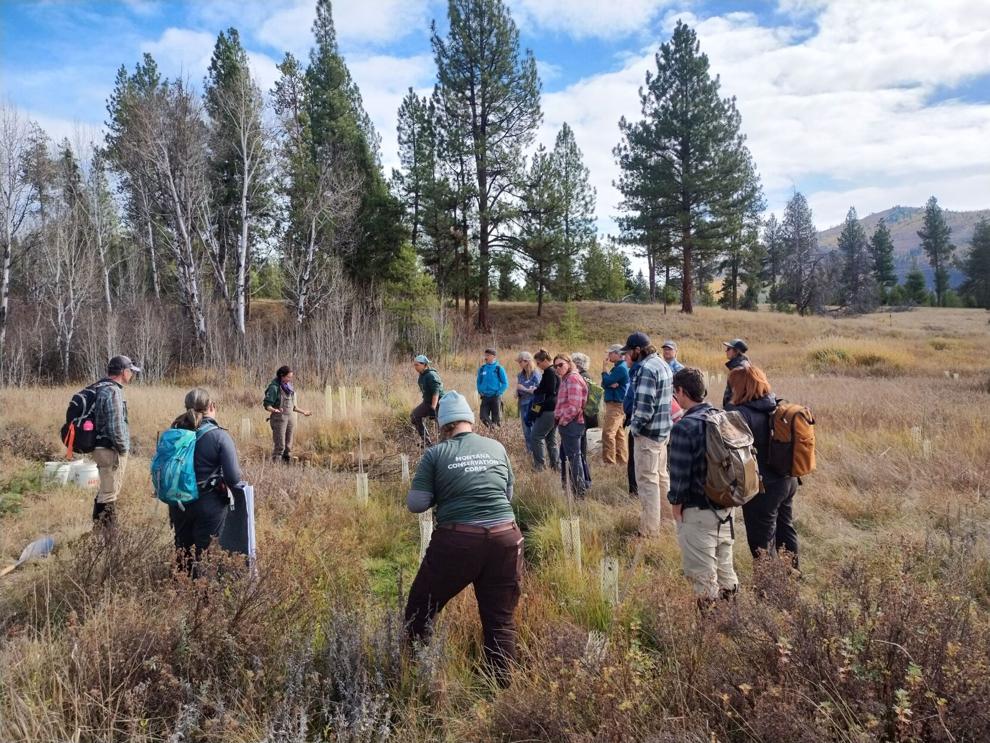 Members of the Montana Conservation Corps work on a beaver dam analog in the Blackfoot-Clarkfork restoration landscape.


Shelby Weigand photo


Cooperation
Partnerships are one of the most exciting benefits of the BLM's latest restoration program, according to Shelby Weigand, senior coordinator for riparian connectivity at the National Wildlife Federation.
"There's a lot of opportunity for cross-boundary cooperation," she said. "It's been really impressive to see different BLM offices roll out this funding through a partnership approach."
Weigand has been working with BLM's Glasgow and Missoula offices to restore streams in the two regions. In the Blackfoot-Clark Fork restoration landscape, her work is concentrated on riparian restoration on lands degraded by past logging. Along the Hi-Line, she has focused on creating greater drought resiliency and water storage in drainages. In both regions, beaver dam analogs — fake beaver dams — are being built to accomplish some of these goals.
The BLM is also leading its own projects. In northeastern Montana a study is looking for the best way to restore native grasses where nonnative crested wheatgrass has taken over after being planted to preserve soils during the Dust Bowl era, Borgreen said.
The research is looking at the use of different herbicides, soil amendments to boost the microbiome, tillage and cover crops, he said. It could eventually be combined with the Seeds to Success program being undertaken by the Fort Belknap Indian Community. The tribe is involved in the collection and propagation of native seeds for restoration work.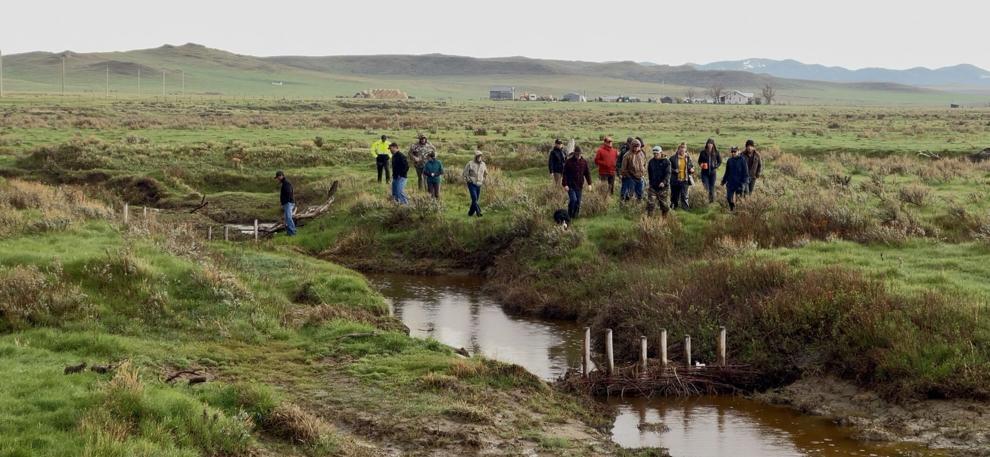 Fake beaver dams, called beaver dam analogs, have been installed in streams near Missoula and Glasgow to improve watersheds.


BLM photo


Blackfoot
The Blackfoot-Clark Fork restoration landscape encompasses 2.64 million acres, only 164,000 of which is managed by the BLM. It extends as far south as the Sapphire Mountains bordering the Bitterroot Valley.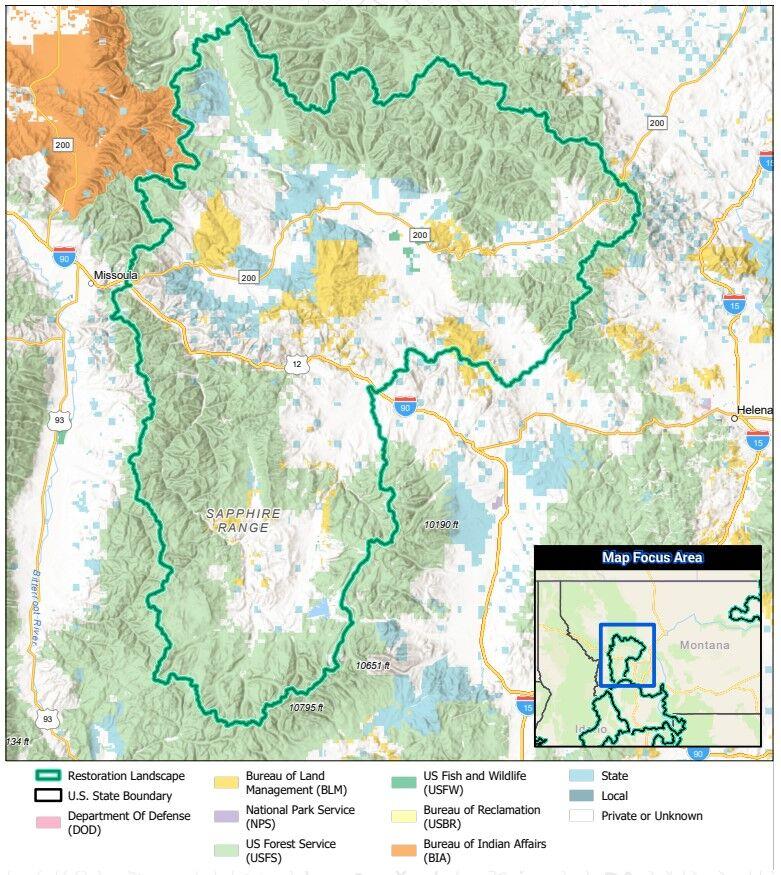 Blackfoot-Clark Fork restoration landscape
In this area, the BLM has committed to investing $9.5 million into decommissioning old roads, installing culverts to enable endangered bull trout passage with an overriding goal of ensuring the Blackfoot's tributaries deliver clear, cold water.
This summer, Weigand worked with the Montana Conservation Corps to install beaver dam analogs on a tributary to Gold Creek. The analogs worked so well that real beavers felt safe enough to move into the stream. The deeper pools created by the dams will provide threatened bull trout cooler water in the summer and a more temperate refuge in the winter.
Germann said for the past several years the public has been urging the BLM to bring more of the region's lands into public ownership, saying the agency can do that with Land and Water Conservation Fund dollars. She said such an investment would be good for the wood products industry, recreationists and help the Confederated Salish and Kootenai Tribes reconnect with their traditional homeland.
Weigand said one of the misconceptions about the projects is that they come with regulations, but that's not the case.
"It's going toward land management, roads and fences," she said. "That's one of the most important things to keep in mind."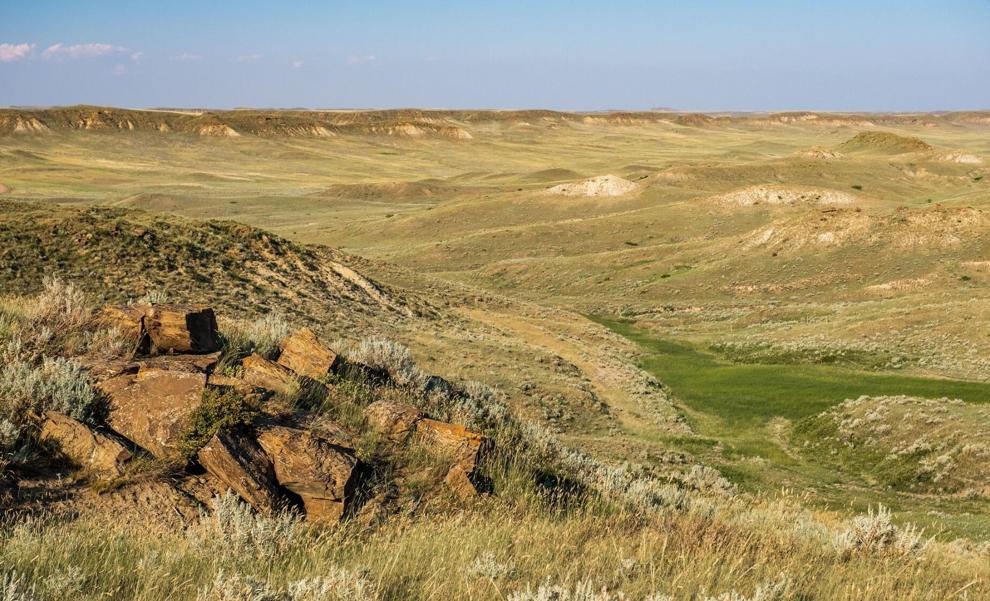 The restoration landscapes were identified by watersheds. This area is in south Valley County.


Regina C Baltrusch, BLM


Woody draws
Hunter VanDonsel, of Pheasants Forever, has been working on Hi-Line conservation projects to improve woody draws. Part of that is the installation of beaver dam analogs to slow runoff and halt down cutting by streams in the region's erosive soils. Streams that are easier to access will allow wildlife to water, and nurture back riparian habitat.
"These woody draws are often limited across the landscape and experience high browse impacts from wildlife and sometimes livestock," VanDonsel said. "Additionally, recruitment and abundance of key woody shrubs such as buffaloberry, chokecherry, serviceberry and others are often limited."
Weigand noted such habitat is important for sage grouse brood rearing.
VanDonsel said the BLM's investment will allow Pheasants Forever to leverage its partnerships and projects, targeting high quality sagebrush and grassland habitats vital for upland game birds.
Missouri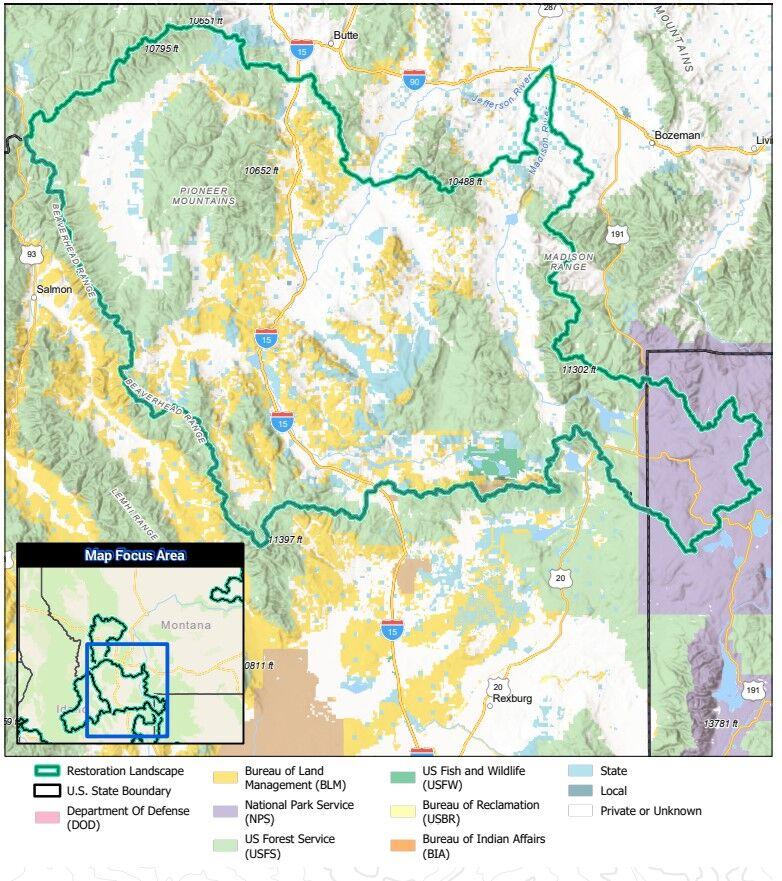 Missouri Headwaters restoration landscape.
The third region in Montana outlined by the BLM is the Missouri Headwaters restoration landscape, which stretches south from Butte to the Idaho border and into Yellowstone National Park. It also shares a border with the Blackfoot-Clark Fork landscape. Across these 6.48 million acres, 937,000 of which are managed by BLM, the agency is investing $9.98 million. This effort will complement $400,000 of funding from the Bipartisan Infrastructure Law.
The BLM calls its Missouri Headwaters landscape a bridge between the Greater Yellowstone and the Crown of the Continent in northwest Montana.
"This unique ecosystem is home to grizzly bear, westslope cutthroat, Arctic grayling, pronghorn, Greater sage-grouse and whitebark pine," the BLM noted.
Germann, BLM's state director, praised this region's multi-generational family ranches and permittees who have worked with the agency for years.
The area also connects to restoration landscapes outlined by the BLM in Idaho and Wyoming — a confluence of charismatic species, Germann said.
"These are much-needed investments for restoration of sage-grouse, Arctic grayling, pronghorn, westslope cutthroat, and grizzly bear, which all face increasing pressure from climate change, wildfire, and invasive species," said Emilie Ritter of the Greater Yellowstone Coalition. "These investments can play a key role in the work we do to ensure public and private lands remain connected, intact and wild."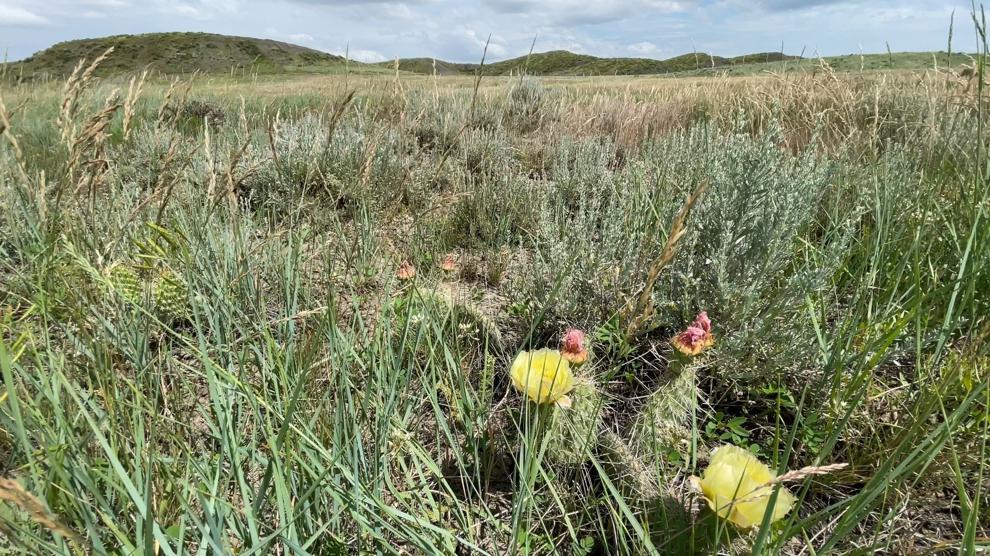 Prickly pear cactus blooms on the Hi-Line this spring, one of 21 landscapes across the West identified for restoration work.


Regina C Baltrusch, BLM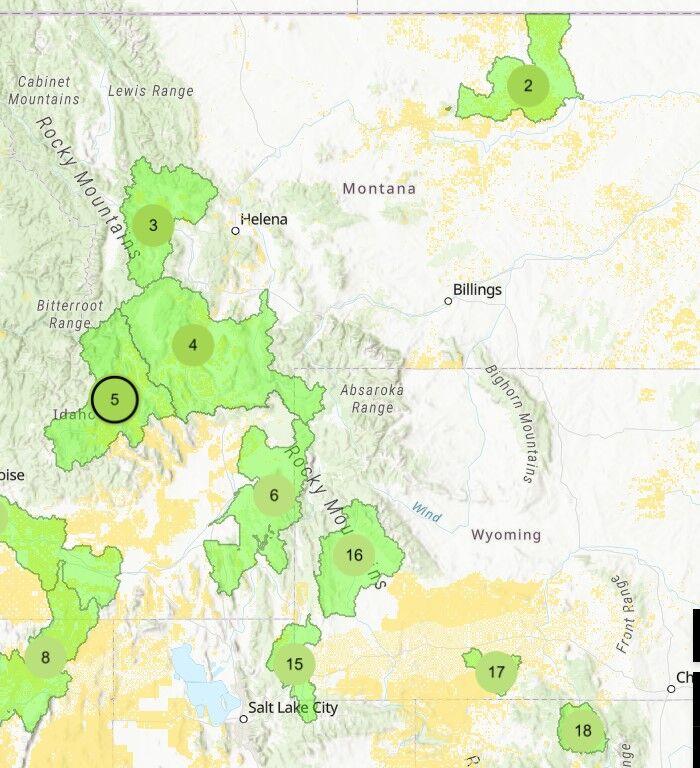 This map shows the various restoration landscapes in Montana, Idaho and Wyoming.


BLM


Investments in Idaho, Wyoming
The Bureau of Land Management's investments in Idaho and Wyoming landscapes include these four project areas:
Upper Salmon River, Idaho: 4 million acres, $9.1 million investment.
This is Idaho's core cold water refugia, where the BLM manages more than 3,000 miles of streams that connect headwaters to river corridors. These aquatic systems are critical habitat for salmon, steelhead and bull trout. Lynx, wolverine, grizzly bear and greater sage grouse inhabit the uplands. Projects will replace culverts to improve stream connectivity, restore riparian habitat, treat invasive annual grasses, reduce fuels, increase diversity of grasses and forbs, and enhance the health and resiliency of whitebark pine stands.
East Idaho Rivers and Plains: 3.94 million acres, $7.85 million investment.
The South Fork, Henry's Fork, Main Stem of the Snake River and surrounding uplands are home to diverse native vegetation, from resilient mountain big sagebrush communities to large riparian cottonwood galleries. Restoring native plant communities, providing habitat for threatened and special status species such as monarch butterflies, greater sage grouse and the western yellow-billed cuckoo, connectivity for big game, and enhanced recreation opportunities
La Barge, Wyoming: 2.68 million acres, $10 million investment.
Conservation success in this landscape rests on significant collaboration and cross fence-line partnerships. Here, people are working together to manage for wildlife habitat and migration corridors and conserving and restoring priority habitat for sage grouse. BLM investment will work to remove invasive species, control erosion and protect water sources.
Muddy Creek, Wyoming: 644,000 acres, $10 million investment.
Muddy Creek, an important tributary of the Little Snake River, supports a rare community of native fish – Colorado River cutthroat, bluehead and flannelmouth suckers and roundtail chub. Flanked by important winter range and migratory corridors to the east, the landscape also holds core sagebrush habitat. Restoration investments will include fuels reduction, riparian and wetland enhancement, fence conversion and erosion control, all aimed at restoring natural ecologic function in the headwaters of the Colorado River basin.
Be the first to know
Get local news delivered to your inbox!