Reviews and recommendations are unbiased and products are independently selected. Postmedia may earn an affiliate commission from purchases made through links on this page.
Article content
Unfathomable as it seems, there are still more than 60 countries in the world where being LGBTQ+ is illegal or, shockingly, punishable by death.
Fortunately, there exists the End of the Rainbow Foundation, a private foundation run by a small group of dedicated volunteers. It connects sexually diverse people with volunteers to create support groups and mentorship while matching refugees to sponsor groups providing language, employment and other training and education services.
Article content
Its innovative and successful approach matches groups of five volunteers who act as hosts to each refugee for 12 months. These groups provide social support and, in some cases, financial support, but more typically, fundraising events are required to ensure each refugee is supported throughout the year.
Funds raised at the Aug. 29 Mingle in Inglewood Pride Patio Party, sponsored by TD Inglewood Ramsay, at the Ol' Beautiful Brewing Co. will go a long way to support myriad refugees. Funds are still being tallied, but it appears nearly $100,000 was raised. The successful event was organized entirely by student volunteers from the Centre for Newcomers in partnership with the End of the Rainbow Foundation.
Among the hundreds of guests this night were: Kelly Ernst, president and founder of End of the Rainbow Foundation; Centre for Newcomers' Nikhat Saheb and Hana Hossain; Const. Dyana McElroy and Const. Justin Zavislake; Style Guys Jason Krell and Aly Velji; Century 21 Bamber Realty's John McNeill; Mark Tewksbury and his partner Rob Mabee; MRU's Tim Rahilly and Terry Kellam; espy Experience CEO and founder Megan Szanik with Say Cheese's Isaac Bignell; head-turners Jayvee Dynasty, LuLu Daniels and Veronika Vixen; myDomingo's Domingo Lumanog with Etienne Belanger; community supporters Brent Wood and John Holt; and representing presenting sponsor was TD's Kari Scarlet, Matt Lawson, Georgiana Feher, Logan Wasyliw and Alex Gysen with his husband William Bernicot.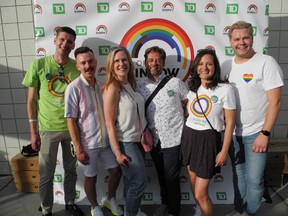 The recent Mingle in Inglewood Pride Patio Party was a success thanks to presenting sponsor TD. Pictured, from left, are TD's Alex Gysen with husband William Bernicot; TD's Kari Scarlett, Matt Lawson, Georgiana Feher and Logan Wasyliw. jpg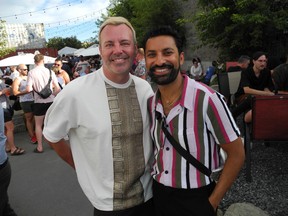 Style Guys Jason Krell and Aly Velji were among the hundreds of guests at the Mingle in Inglewood Pride Patio Party at the Ol' Beautiful Brewing Co. jpg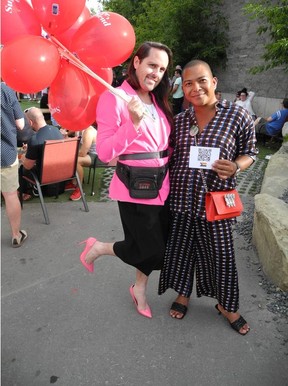 Etienne Belanger, left, and Domingo Lumanog pose for the lens. jpg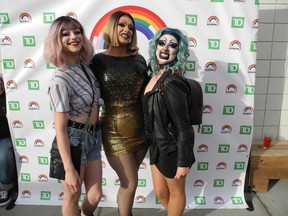 From left are Jayvee Dynasty, LuLu Daniels and Veronika Vixen. jpg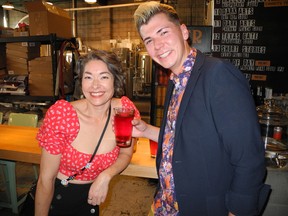 espy Experience CEO and founder Megan Szanik with Say Cheese's Isaac Bignell. jpg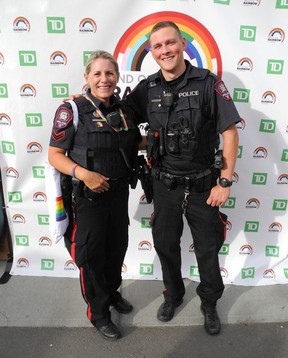 Calgary Police Const. Dyana McElroy and Const. Justin Zavislake. jpg



Originally Appeared Here