Burrow has been one of our favorite direct-to-consumer furniture brands for a while now, with their stylish and convenient furniture — like the modular Nomad Sofa and stylish Vesper Lounge Chair — frequently finding its way into the living rooms of Gear Patrol editors (present company included). Until now, Burrow's offerings have been limited to inside the home. But as of March 1, the online retailer has finally launched its first-ever outdoor furniture in the form of the Relay Collection, which consists of two main branches: Relay Seating and Relay Dining.
Burrow's outdoor seating collection is modular
The Relay Seating collection essentially brings the Burrow living room experience to your back patio, with a modular design that comes together quickly without the use of tools and stores flat when it's time to be put away. Like Burrow's indoor sofas, Relay can be customized into various configurations: a standalone lounge chair, a three-seater sofa or a U-shaped sectional that can seat eight. Custom-fit furniture covers can also be ordered for whatever sofa you choose.
Burrow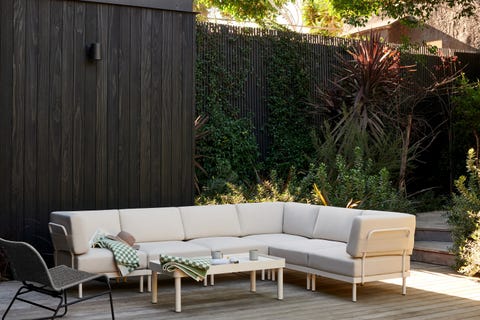 Burrow
The seating is made to withstand the elements, with a powder-coated steel frame supporting an all-weather mesh suspension system and cushions that are upholstered in stain-resistant, quick-drying fabric. Complementing the seating collection is the Relay Coffee Table, which is entirely made of matching powder-coated steel.
The outdoor dining collection stores easily
The Relay Dining collection, like the coffee table, is made entirely of powder-coated steel to stand up to Mother Nature. It consists of a table that seats up to six chairs, all of which also feature toolless assembly and pack down flat for storing in the off-season. Both Relay collections are available in two colors — off-white "Salt" and "Shale," a gray palette — allowing you to match your dining and seating set-ups, if you wish.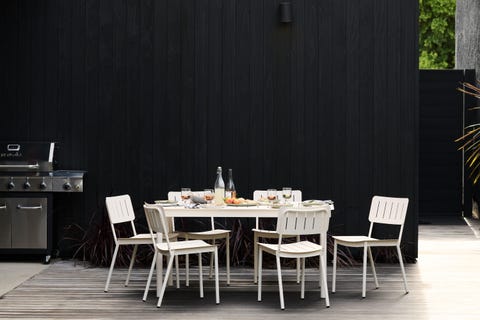 Burrow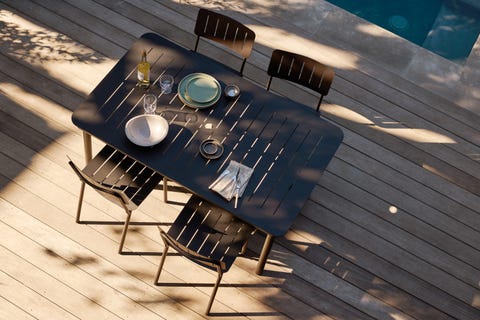 Burrow
Burrow's Banks Lounge Chair is a standalone item
Rounding out Burrow's outdoor furniture catalog is the standalone Banks Lounge Chair. Essentially an elevated take on the classic lounge chair, the Banks features a slightly-reclined one-piece woven seat made of all-weather rope that sits on a black metal sled base. It may be the easiest piece to put together in Burrow's entire portfolio, requiring just one step and zero tools.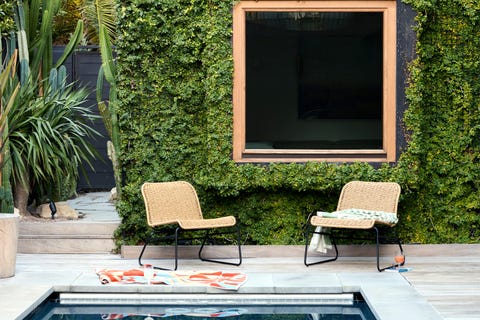 Burrow
How much does Burrow's outdoor furniture cost?
Like the rest of Burrow's catalog, their outdoor furniture comes in at a mid-level price for online furniture. The Relay Seating collection has a wide price range, depending on how you configure it, ranging from $695–$6,395. The Relay Coffee Table can be purchased on its own for $595, while the Banks Lounge Chair retails for $495.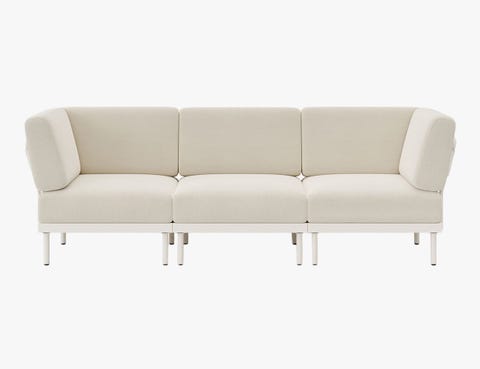 Burrow
Burrow Relay Outdoor 3-Piece Sofa
For the Relay Dining collection, you're looking at $995 for the dining table, with dining chairs selling for $495 a pair. Burrow is also offering bundles that will allow you to combine Relay Seating and Coffee Table or Relay Dining Table and Chairs at discounted rates.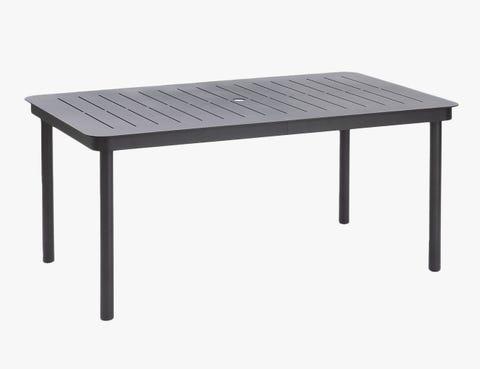 Burrow
Burrow Relay Outdoor Dining Table