Several vehicles travelling along a stretch of road in Caerphilly have been hit by "bricks and patio slabs" as police investigate a spate of incidents in recent weeks.
Two drivers whose cars have been struck in the past month have spoken to Sky News, and there are several further reported incidents on social media.
Gwent Police said they had received "a number of reports" of criminal damage on the road, after objects were allegedly thrown from the roadside.
Image:
This car was hit by a patio slab in Caerphilly. Pic: Anne Preston

Ian Pugh told Sky News he was "taken aback" when the patio slab hit his windscreen along the Risca bypass in South Wales.
The car was hit at around 8.40pm on 29 October as he was travelling on the A467 from the Risca direction towards his home in Cwmcarn.
The largest chunk of the slab was about 20cm (8in) by 20cm (8in) and around 4cm (1.5in) wide, Mr Pugh said.
"It was dark, didn't see anybody around," he said.
"Just in the last second really I saw something dark coming towards the screen. Luckily I ducked towards the one side before it came through."
Mr Pugh said the slab was only a couple of inches away from hitting his face.
"Luckily there was just some superficial marks on my shoulder so only really a couple of inches away from my face," he said.
"So if it was a couple of inches to the right, it would have been in the face which, I would have thought, caused a fatality."
A Gwent Police spokesperson confirmed it was investigating the incident and no arrests had been made at this stage.
'Shocked'
Anne Preston, from Newport, was travelling to work when her car was hit by a slab at 5.40am on 28 October.
"It's quite a dark stretch of road by there and something hit me," she said.
"I didn't know what it was so I pulled over and my windscreen had been put through."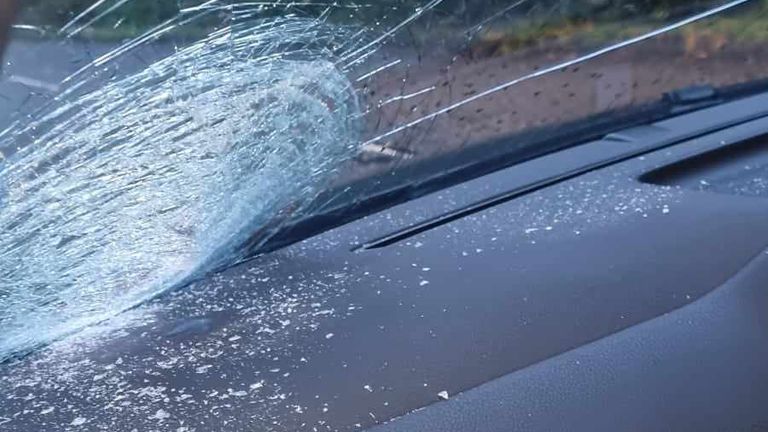 Image:
Pic: Anne Preston

Ms Preston had scratches on her face and her left hand was cut from the glass.
She soon realised that a Transit van and an articulated lorry ahead of her had also been hit.
"I'm shocked to be fair, that's not what you expect to happen on your way to work," she said.
The nature of the damage has meant Ms Preston's insurance has had to cover the costs.
"Because it was malicious damage, I've got to pay for it myself, it's coming off my own insurance claim which is unfortunate," she added.
"It's not really fair on the drivers that it's happened to."
Read more from Sky News:
King booed by protestors after delivering speech to parliament
Around 100 cruise ship passengers injured
Captain Tom Moore's daughter loses spa appeal
Chief Inspector Paul Biggs, from Gwent Police, said the "reckless acts" had been committed while vehicles were on the move.
He said this was "putting the drivers, passengers and other road users all in danger".
"We're liaising with the local council and businesses in the area as part of our enquiries to identify the offenders and ensure the safety of road users," he added.
"We've been carrying out further patrols of the area and the reality is, from our initial enquiries, we believe there are people in our community who know who the offenders are.
"I'm asking you to please come forward before someone is seriously injured."