Coastal Source, the high-performance outdoor audio and lighting company, has begun nationwide shipping of its full line of patent-pending hardscape Razor outdoor speakers that made their debut at CEDIA 2023 in Denver in September.
Related: Coastal Source and Lutron Co-Develop Ketra Ready Outdoor Lighting Solution
"As important as this product introduction is, the business opportunity it creates for our dealer partners is even more important," said Coastal Source Co-Founder and CEO Franco D'Ascanio. "Razor expands the Coastal Source sound experience to an entirely new range of hardscape outdoor applications that create a new revenue source for our partners. Expanding opportunities for our partners is central to our long-term growth strategy and Razor represents the first of several new introductions that will soon create additional exciting new opportunities."
Further, according to D'Ascanio, "Razor is all about setting new standards for innovation and installer-centric design that defy the elements in every respect. Drawing on our years of outdoor experience, we have designed these low-profile architectural speakers to be rugged enough for outdoors and refined enough for indoors. We are truly gratified by the response from our partners to this important new line introduction."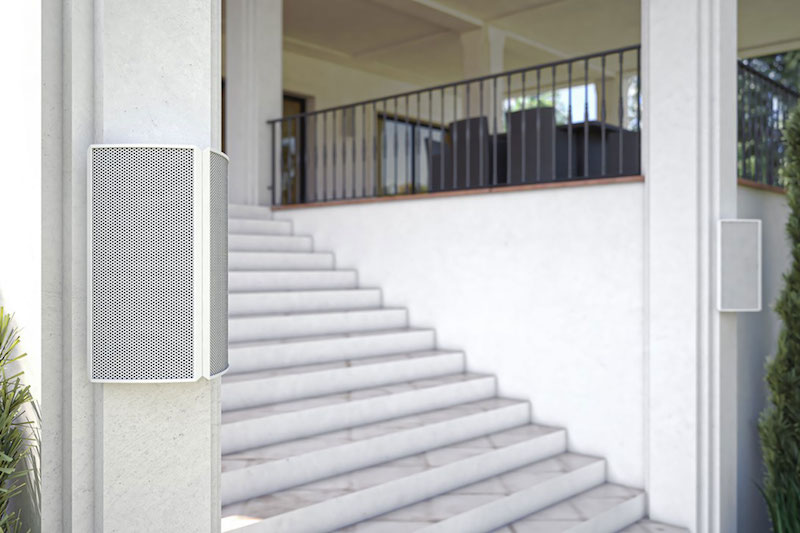 Razor in a 180-degrees configuration
Spread across three sizes (the Razor 100, 200, and 300 Series) and eight models (satellite, 2.5-way, 3-way, high power 3-way, stereo soundbar, LCR soundbar, line source, and quad-driver subwoofer), the Razor is the first line of outdoor wall and hardscape speakers built with true HiFi performance in mind. Designed to provide superior performance in a slim and beautiful form factor, Razor modular speakers bring the sound Coastal Source is known for to the patio where they deliver striking sound quality from a slim profile speaker system that elegantly disappears into the background.
The new Razor Speaker brings modern-day style and superior sound performance to a low-profile speaker system allowing Coastal quality high-performance audio to make its debut on hardscapes such as walls, decks, as well as horizontal and vertical corners.
Fully modular construction allows for numerous applications and performance levels with options for bi-amped subwoofer/satellite configurations along with tri-amped solutions that utilize external subwoofers. Integrated and universal mounting brackets for surface, corner, hanging, ganging, and post mounting are included.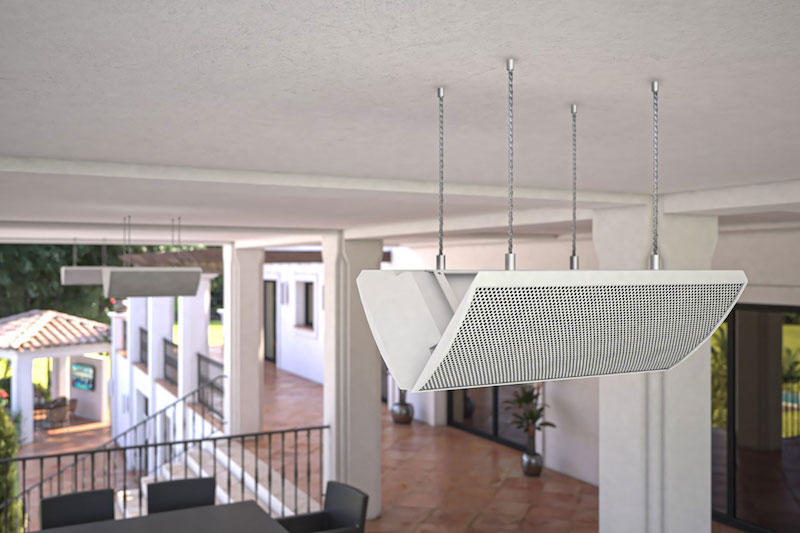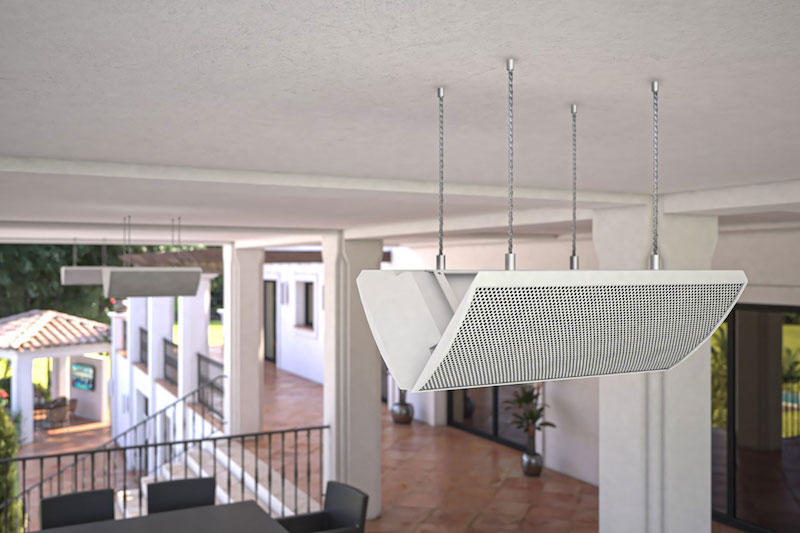 Razor in a hanging set up
Available in both white and black finishes, Razor speakers are designed with high-quality aluminum enclosures with a composite grille. The Razor Speaker line boasts custom-designed, engineered, and optimized ultra-shallow drivers to provide impressive performance from a slim enclosure. The Acoustic Fractal Waveguide tweeter bridge dramatically improves clarity and efficiency. It is built to be part of a complete patented Coastal Source Plug+Play system or can be integrated into existing systems.