We talk quite a bit about indoor living spaces, but what about outdoor ones? While we may not spend the majority of our time outside, the benefits of turning your outdoor area into a stylish retreat are undeniable. It's a chance to connect with nature, reduce stress, and expand your usable living space.
Whether you have a sprawling lawn, a cozy deck, a quaint courtyard, a refreshing swimming pool, or a combination of these elements, our carefully curated selection has something for every outdoor setting. From stylish tables to dreamy daybeds, these options are designed to enhance your outdoor experience.
And here's the exciting part — most of these pieces are currently on sale, making it the perfect time to transform your outdoor retreat into a haven of comfort and style. Dive into the best Wayfair home décor for your outdoor oasis transformation!
Anything missing? You can shop Wayfair's complete range of outdoor furniture options to find whatever else you're looking for. 
Best outdoor sofas from Wayfair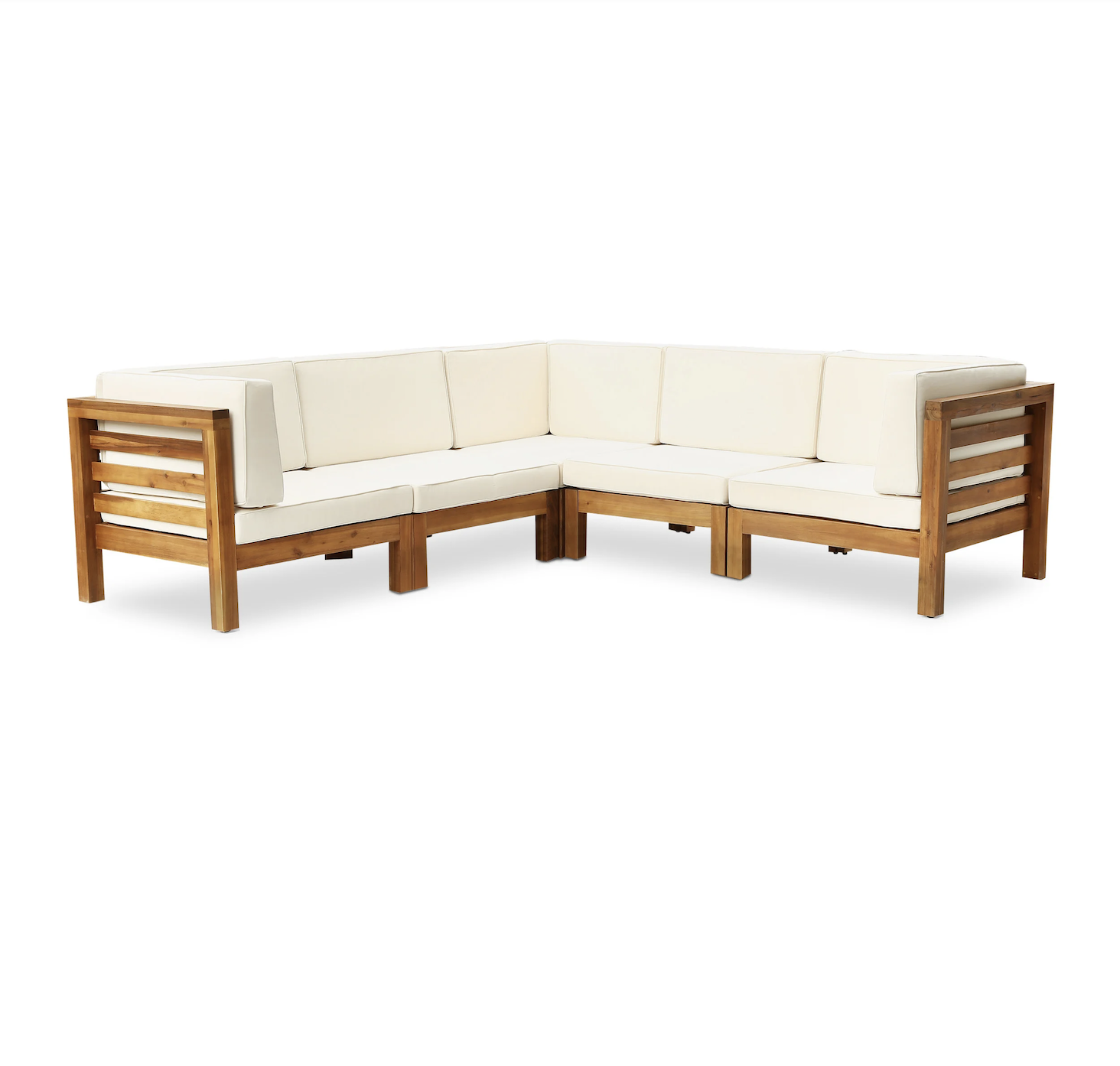 On sale now
30.25" acacia outdoor patio sectional
Price: $929.99
Was: $1,199.99
Introducing you to the new centerpiece of your outdoor oasis. With its rich acacia wood and plush beige cushions, this sectional embodies a resort-like feel. It's so luxe that not much else is needed to breathe new life into your backyard.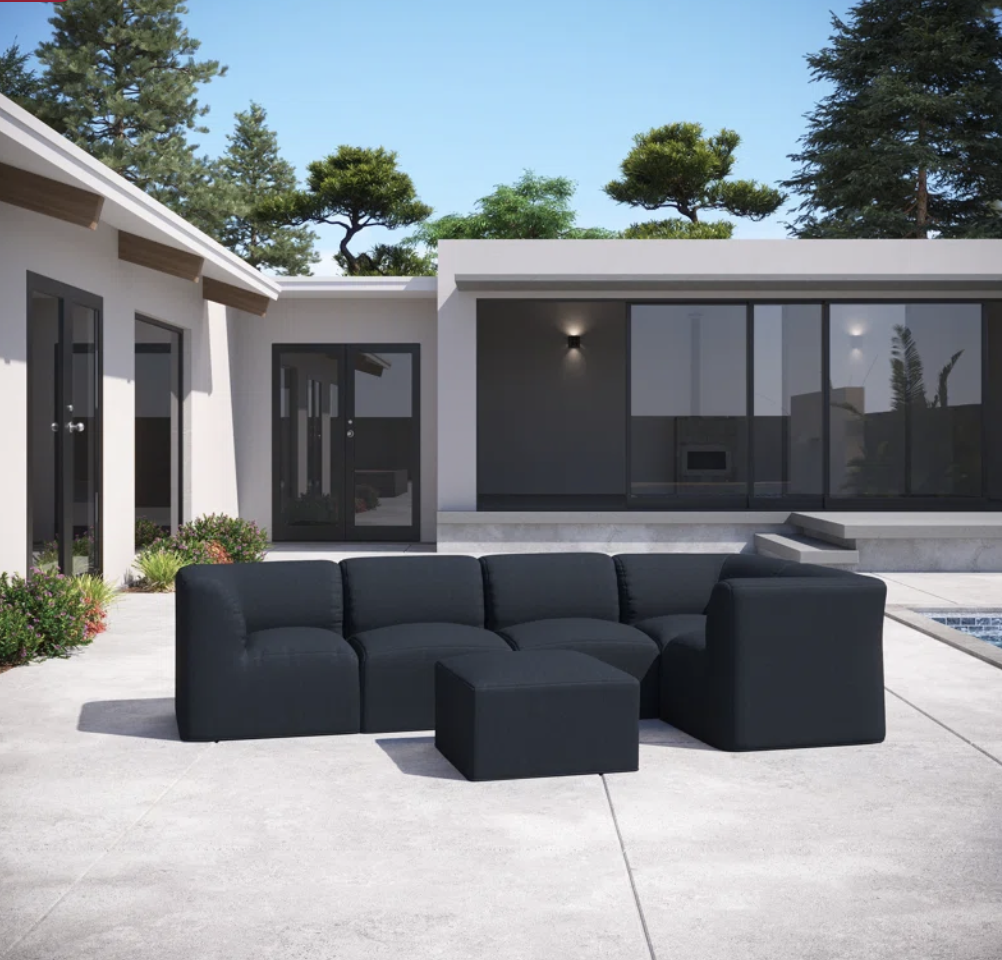 On sale now
Praia 132″ sunbrella outdoor sofa with ottoman
Price: $3,200
Was: $3,600
The dacron-wrapped foam padding on this modern sectional is ideal for all-weather durability, which is perfect if you don't want to store your outdoor furniture during colder months. Its modular design allows you to customize this sectional to suit your ever-evolving needs – and look chic while doing it. Right now, it's got an extra 25% off with code TAKE25.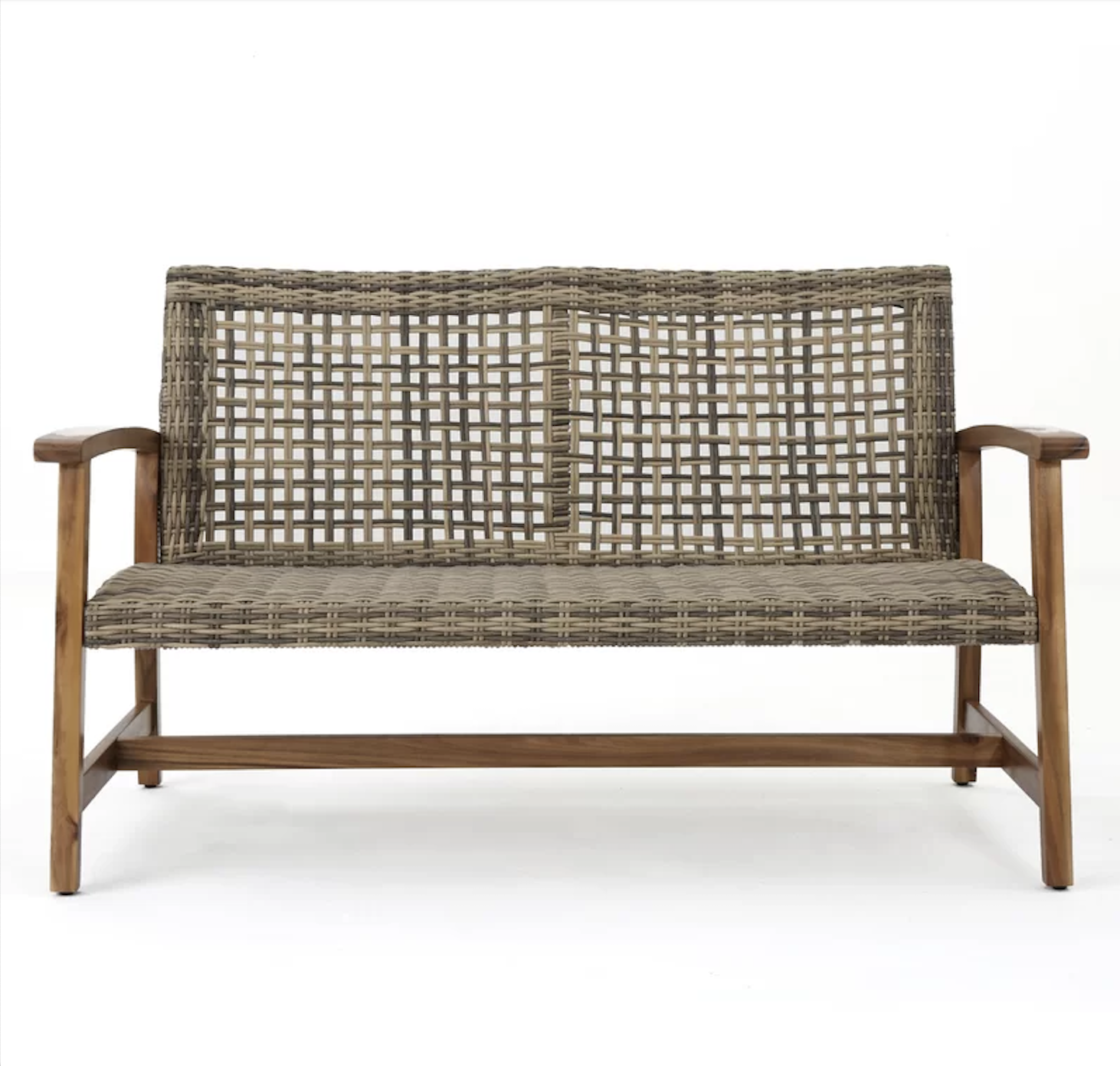 On sale now
Bedingfield 52" acacia outdoor loveseat
Price: $179.99
Was: $299.99
Create an inviting outdoor atmosphere with this charming wicker loveseat. Crafted from acacia wood, this two-seat sofa feels luxurious while offering significant durability. Often, this sort of effortless, natural style comes with a hefty price tag, but at just under $200, this choice is unbeatable.
Best outdoor tables from Wayfair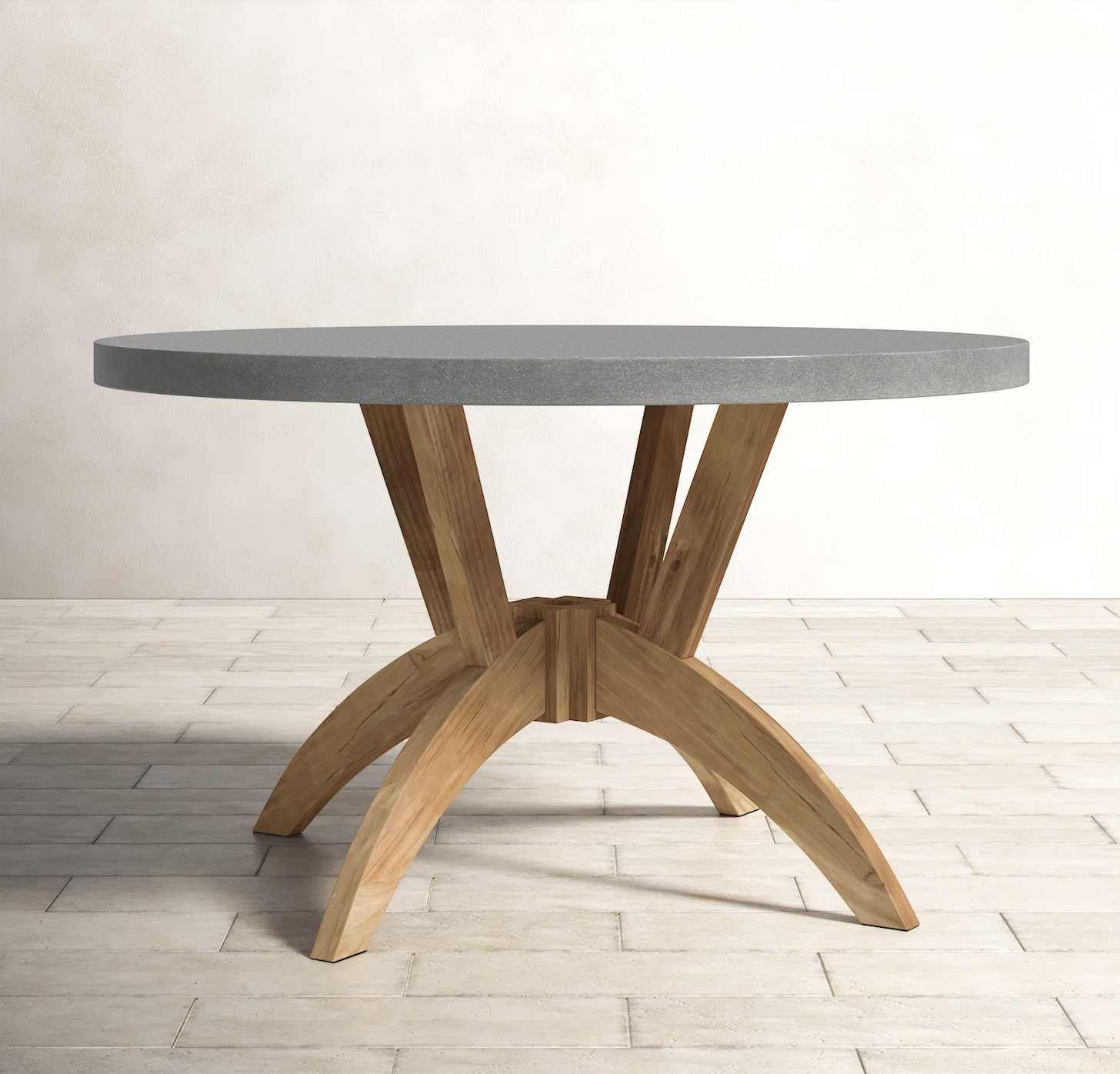 Akiva outdoor dining table
Price: $1,680
Was: $1,787
The perfect spot for a Friday night family dinner, this beautifully sleek table comfortably accommodates six people. Don't worry about spills or the weather outside – its poly-concrete blend top is water, UV, and mildew-resistant. Complete with an umbrella hole, it's your new personal haven during sunny days.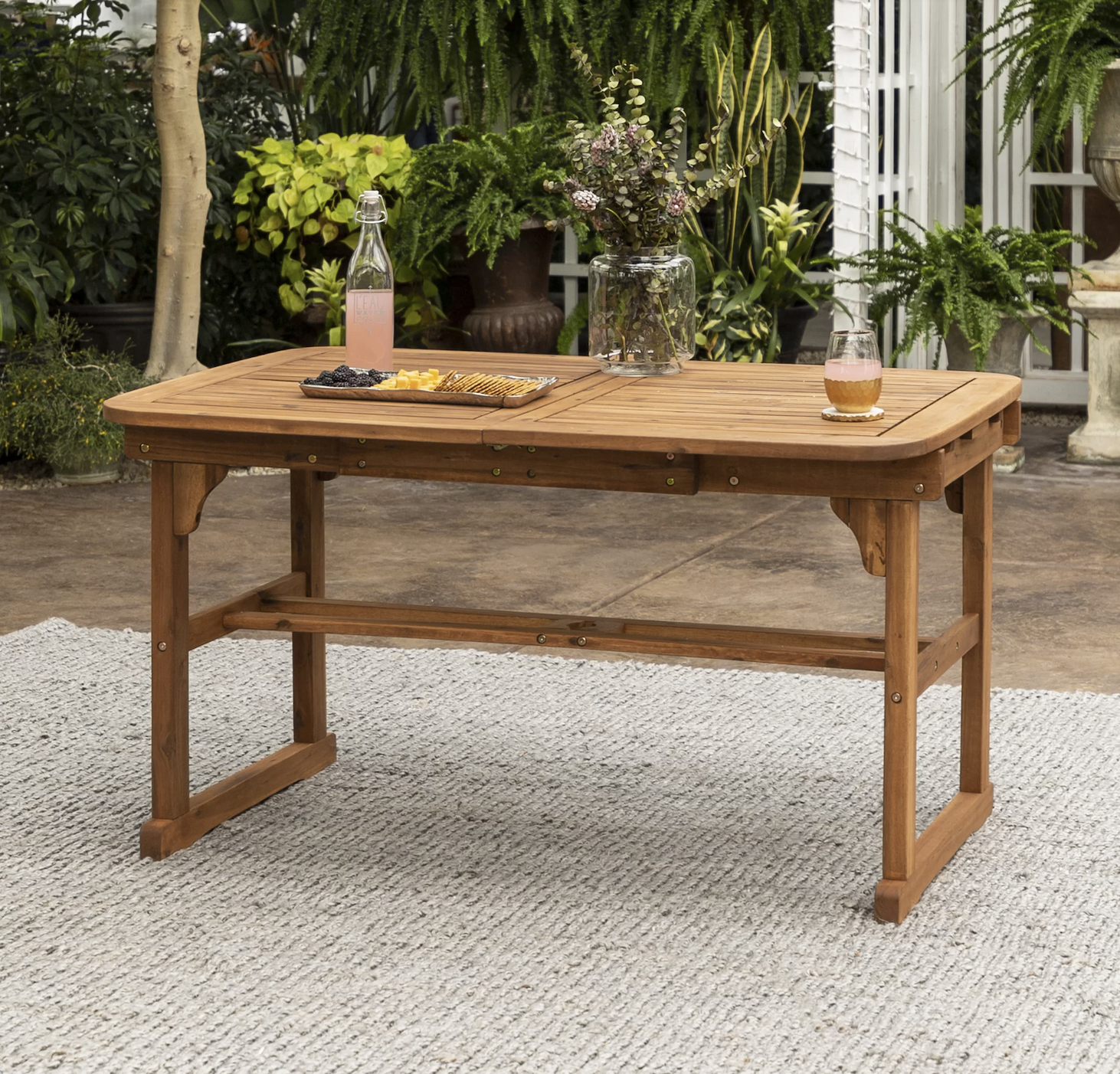 On sale now
Brown alfonsi extendable outdoor dining table
Price: $323.99
Was: $815
For those who demand more from their furniture, this one's a winner. This compact table offers versatility, extending on either side to accommodate larger gatherings, such as a barbecue or brunch. Plus, you can never go wrong with durable acacia wood, available in brown, dark brown, and a stylish gray wash.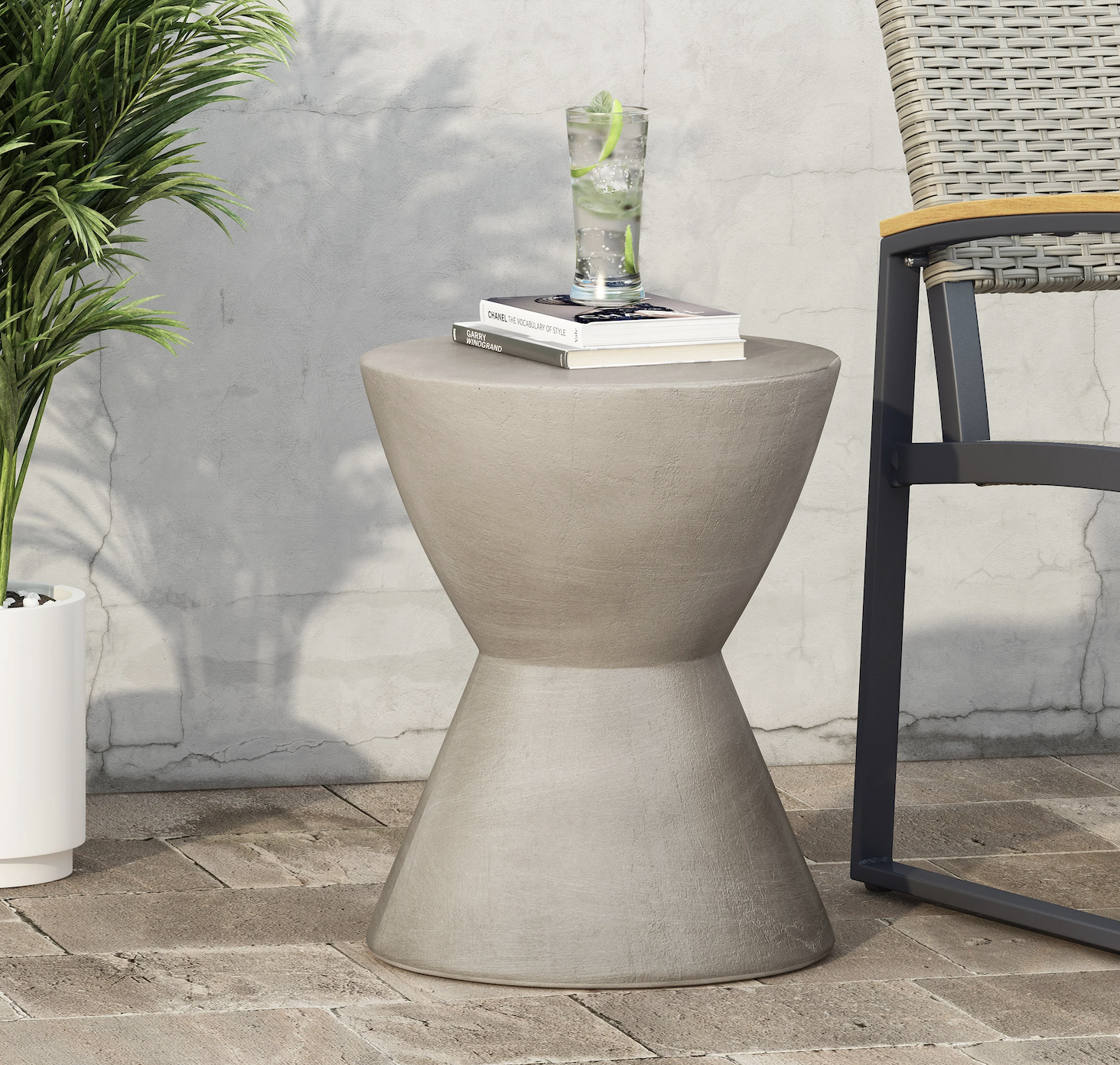 On sale now
Northrup concrete outdoor side table
Price: $72.83
Was: $93.99
Elevate your backyard with a contemporary edge using this concrete side table from Wayfair. With its sculptural pedestal design, it not only serves a practical purpose but also resembles a captivating art piece. Enhance your existing furniture by placing it between two chairs or beside a sofa.
Best outdoor chairs from Wayfair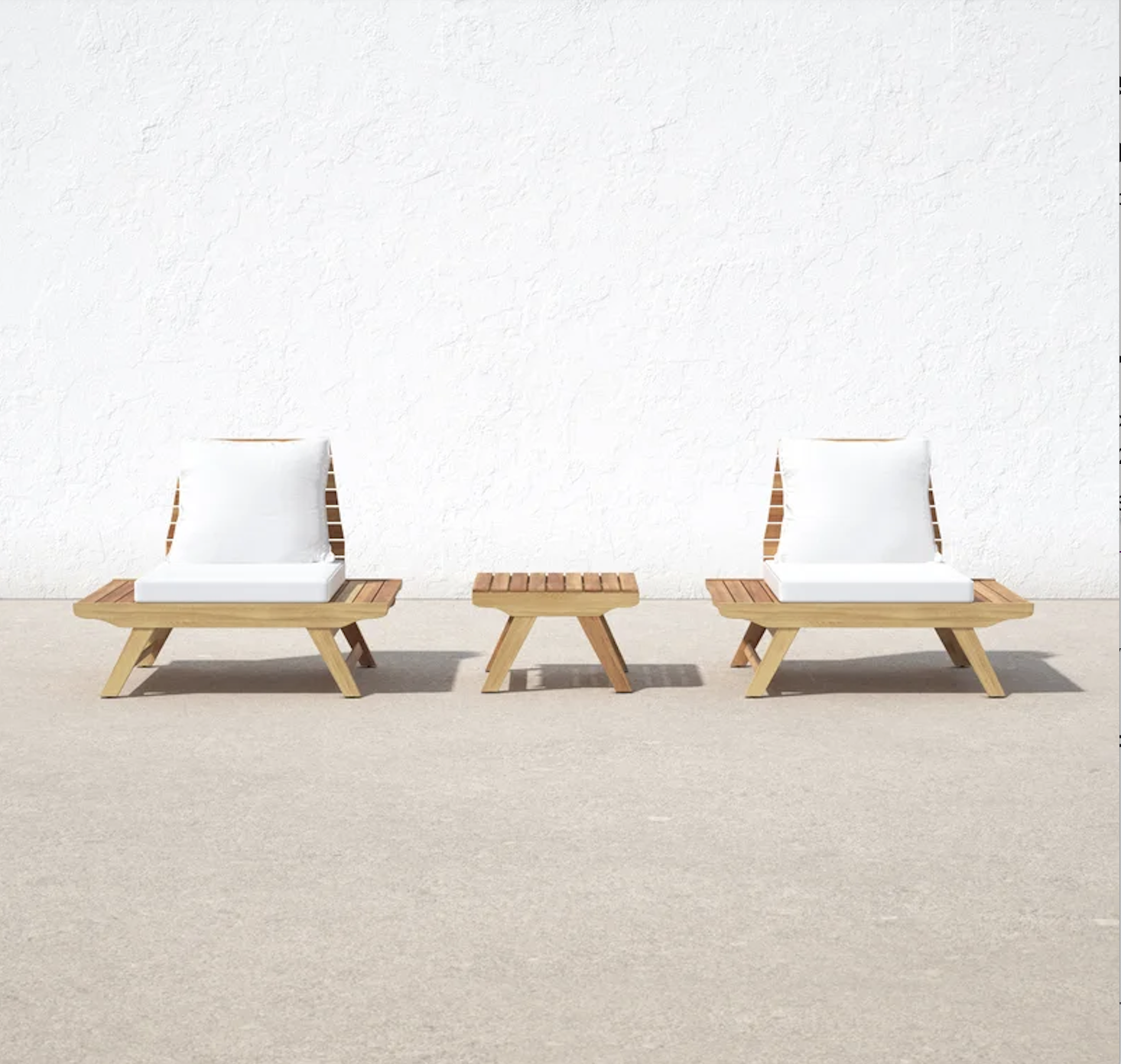 Cason 2 person seating group with cushions
Price: $400
Was: $440
This two-person seating set could easily be mistaken for double the price. Its wide and low setting nods to mid-century design elements while maintaining a contemporary appeal. Transform your backyard into a luxurious coastal retreat with this stylish addition. Right now, it's got an extra 25% off with code TAKE25.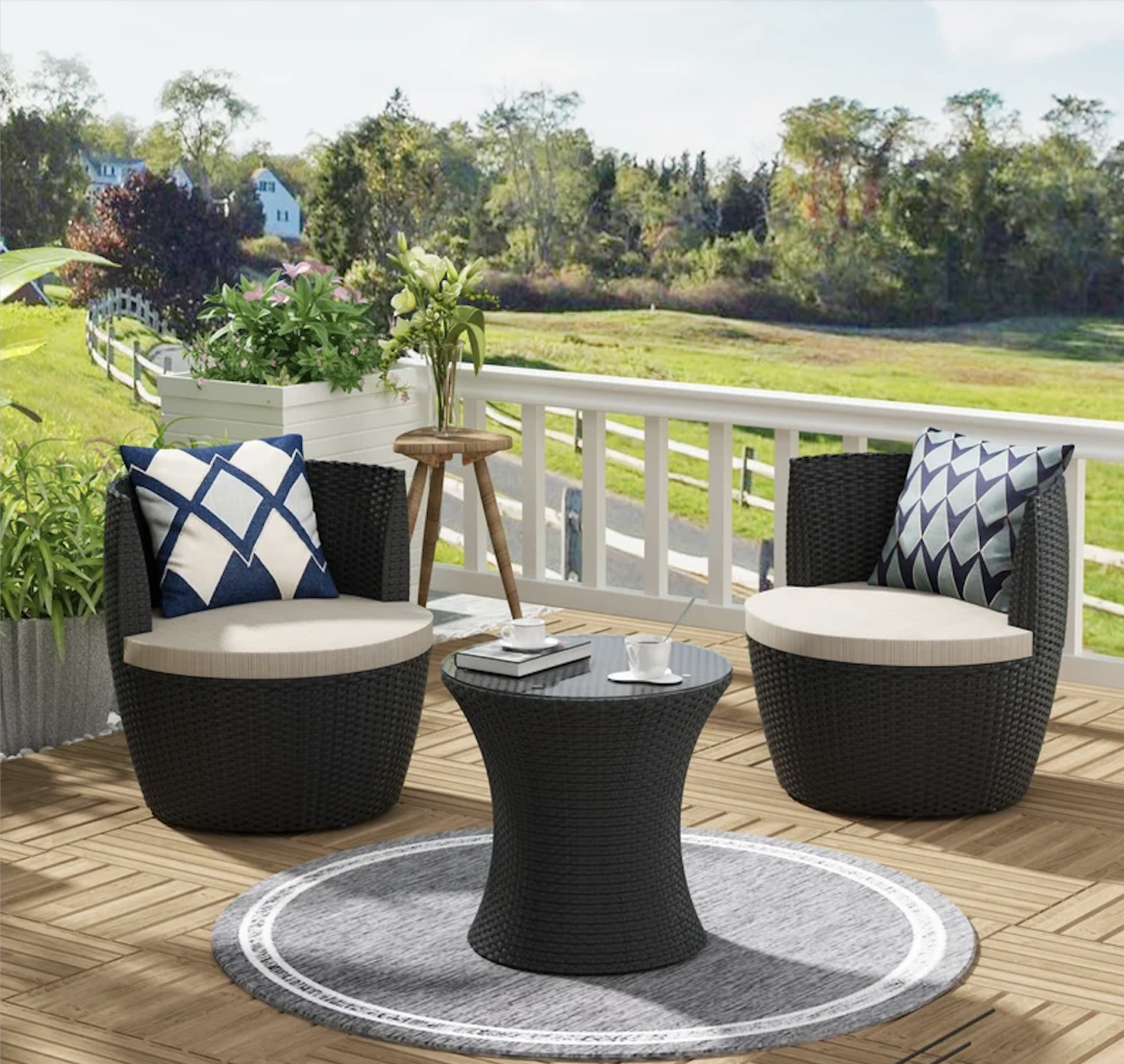 Alcinda 2 person outdoor seating group with cushions
Price: $233.99
Was: $599.99
Get more than you bargained for (in the best way possible) with this circular outdoor seating group. Including a curved contemporary table along with two beautifully designed chairs for $239.99, this is one of the best deals we've come across in awhile.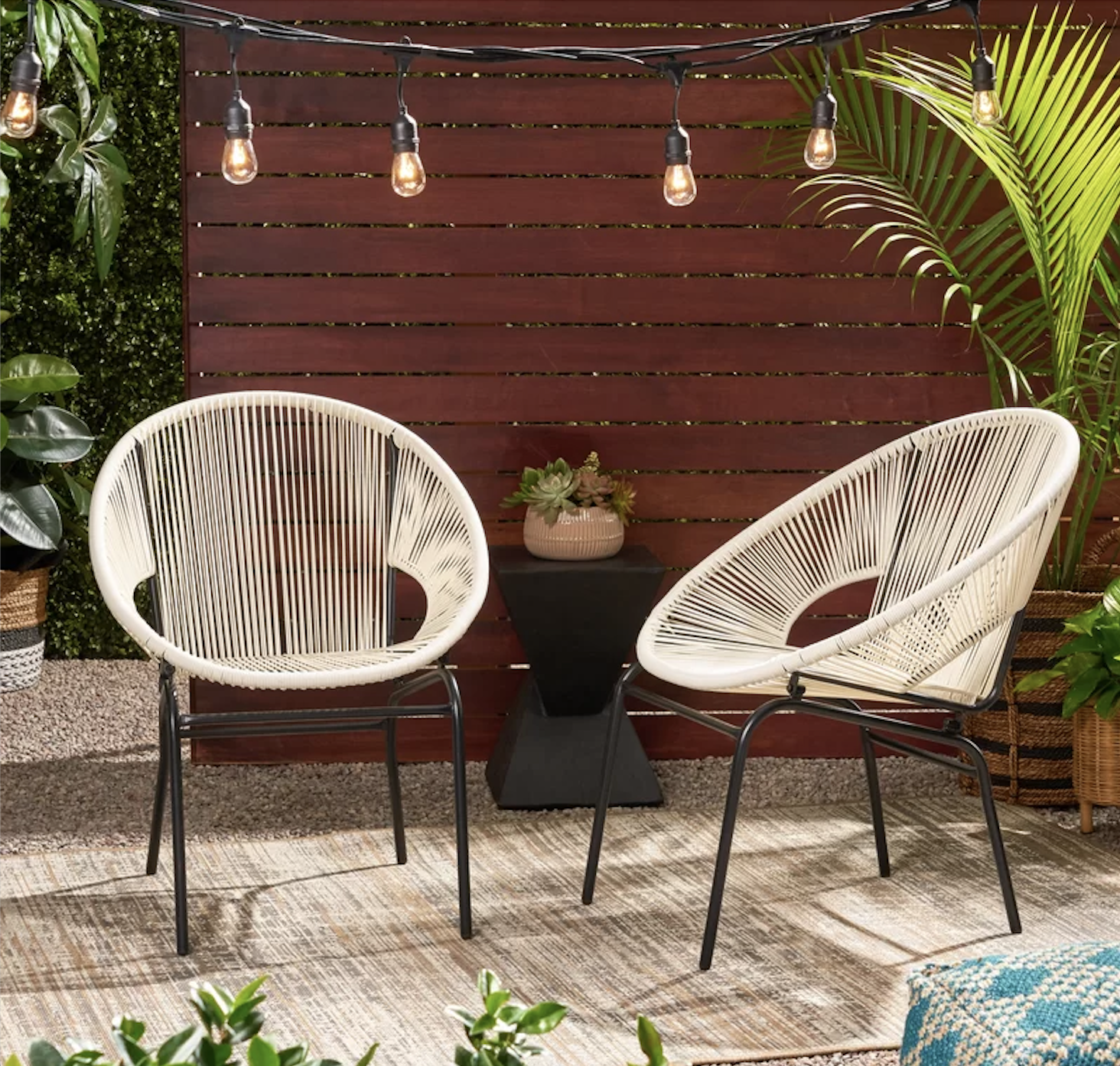 White outdoor modern patio chair, set of 2
Price: $175.99
Was: $239.99
Unwind and enjoy your favorite beverage in style with this chic modern chair set. Boasting a classic papasan design and a sleek black-finished iron frame, these chairs are guaranteed to make a statement in your outdoor haven. Reviews attest to their enduring quality.
Best outdoor daybeds from Wayfair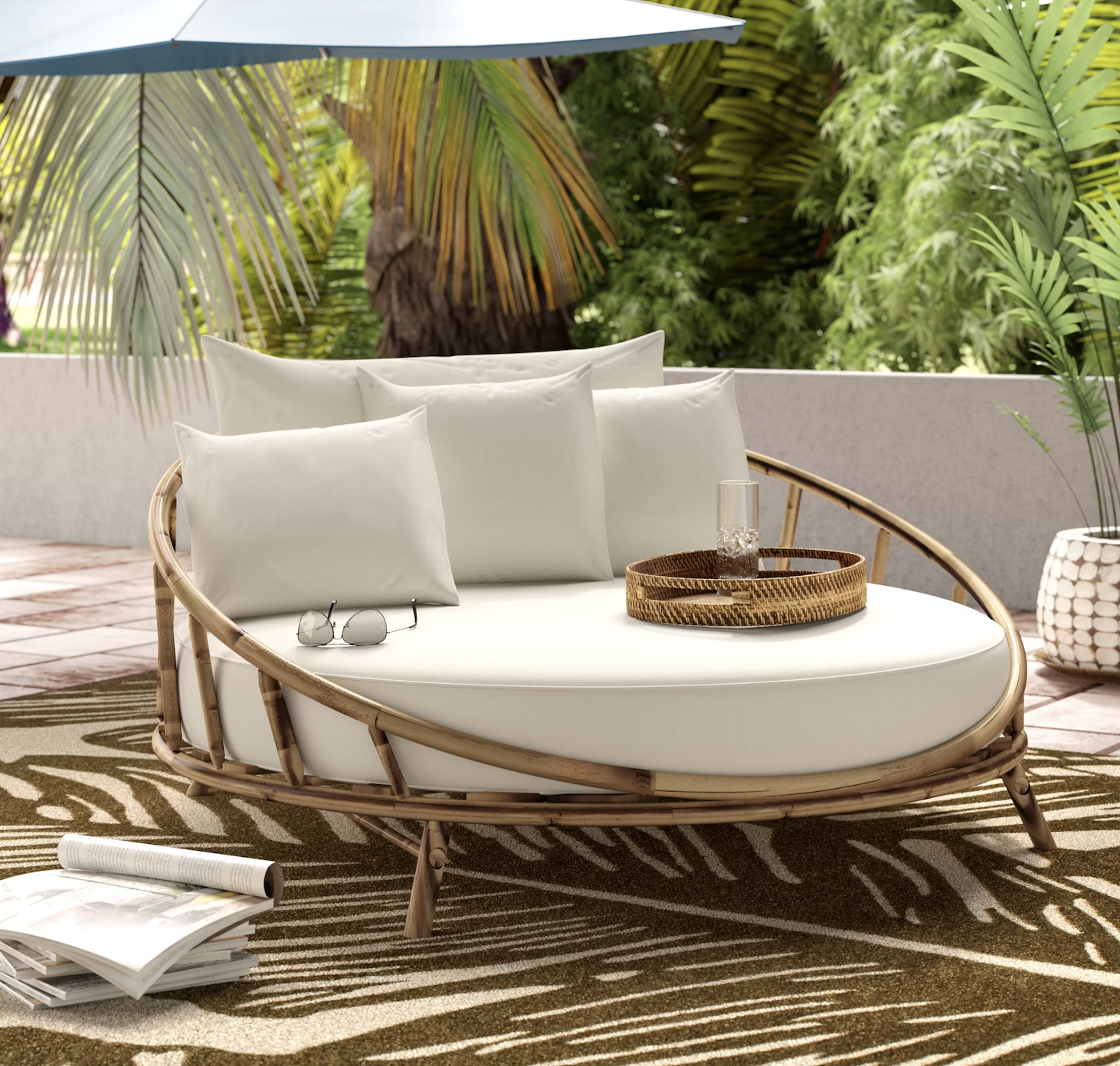 Natural corbridge 37" bamboo outdoor patio daybed
Price: $869.99
Was: $979.99
Curl up with your favorite book on this chic circular daybed with an extra-thick cushion for ultimate comfort. This one-of-a-kind piece is handcrafted by local artisans, featuring a weather-resistant bamboo frame that promises to maintain its beauty over time.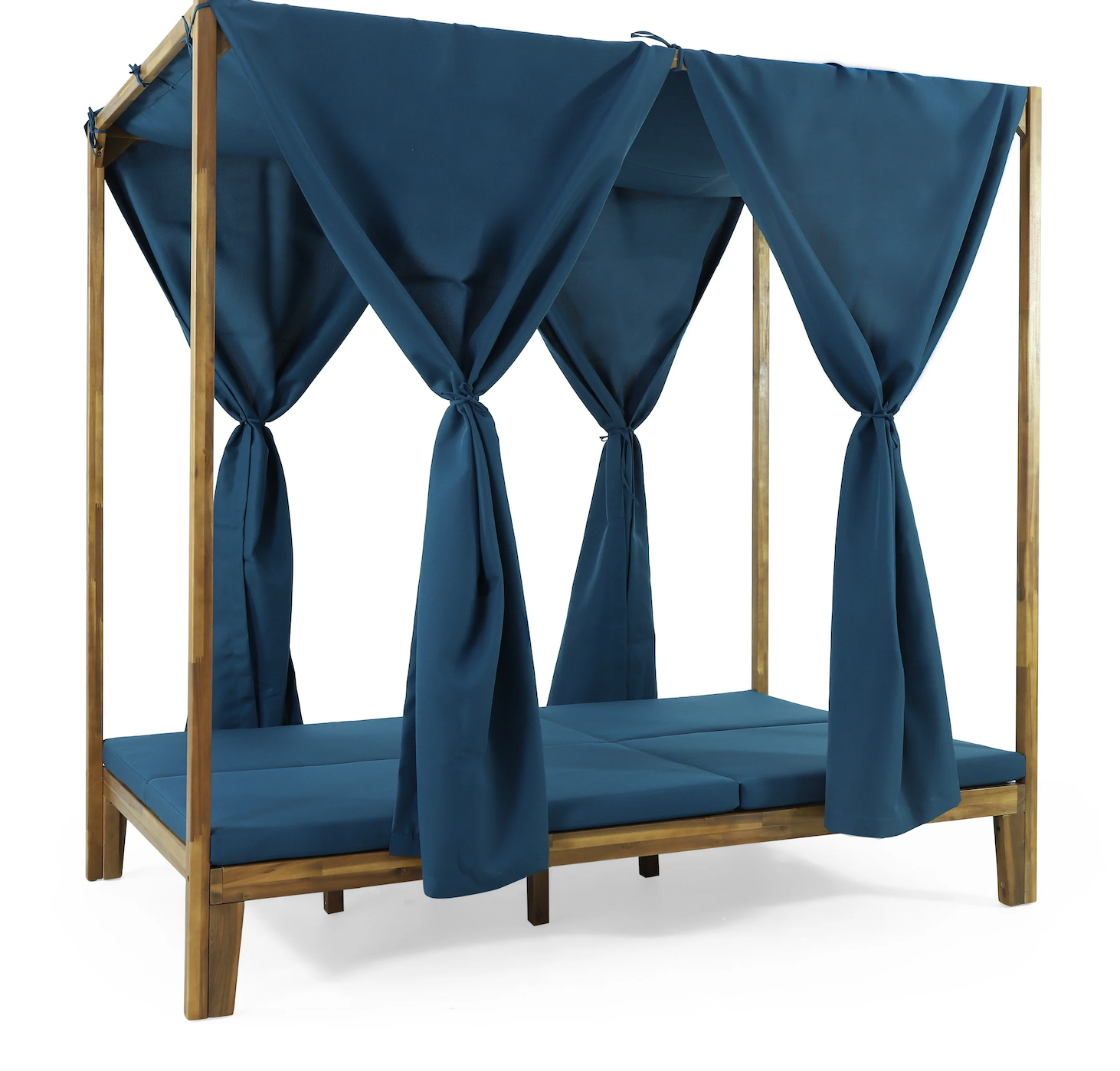 Flash sale
51.18″ wide outdoor patio daybed with cushions
Price: $494.37
Was: $769.99
This one was a must-include! Nothing screams luxury resort like a canopy daybed. This would look particularly lovely in a poolside setting and serve as the perfect spot to unwind after a swim, thanks to its water-resistant cushions. We've featured it in blue, but the style is also available in dark gray and cream.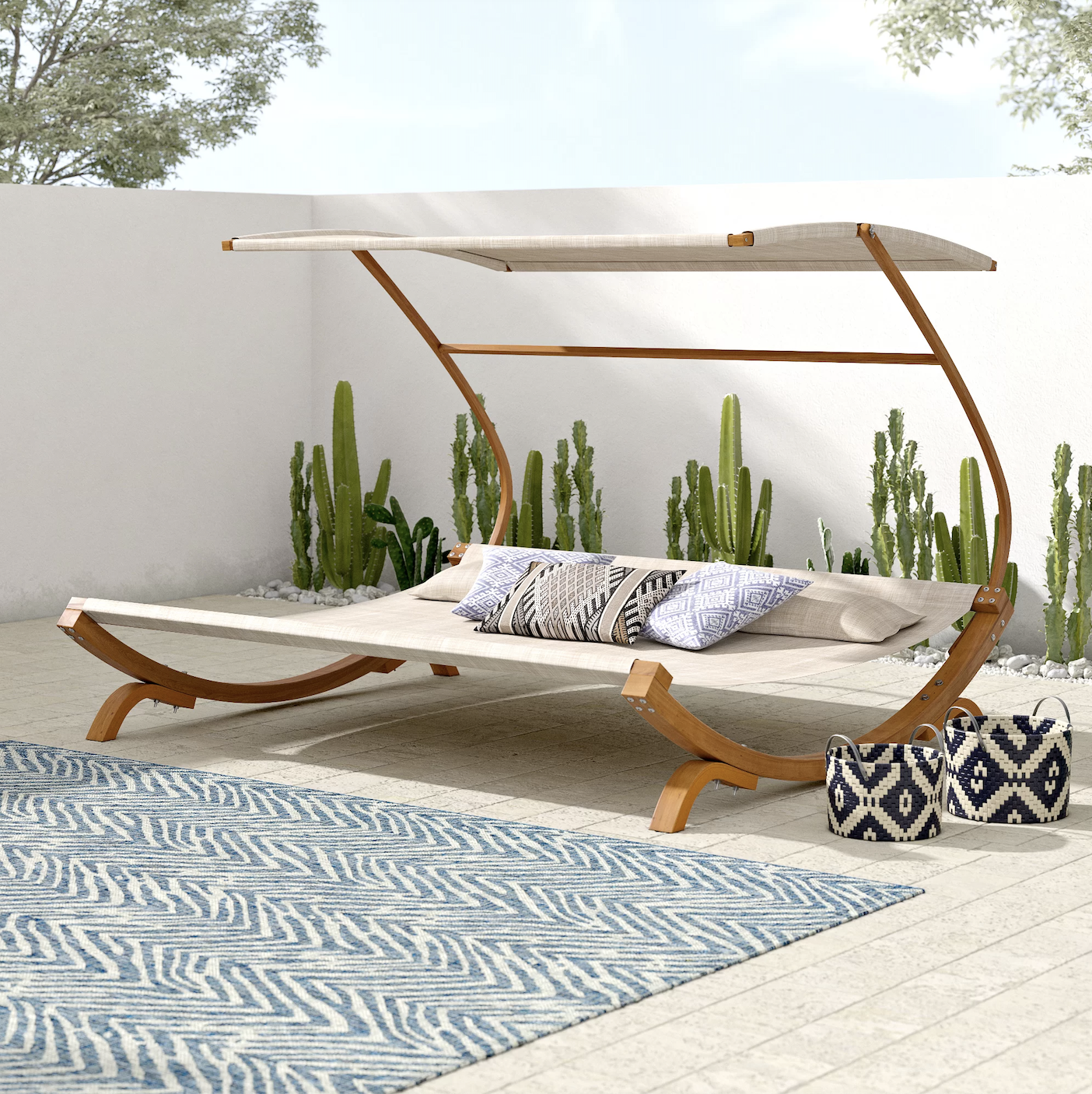 On sale now
Decambra 81.5" outdoor patio daybed
Price: $280.39
Was: $409.99
Lounge luxuriously in this elegantly curved daybed with canopy top cover. Designed for two, it's the perfect spot for a relaxing tandem experience, transforming your backyard into a captivating alfresco oasis.
How can I choose the best outdoor furniture?
When it comes to outdoor furniture, durability is key. Opt for materials like aluminum, teak, or all-weather wicker for long-lasting, low-maintenance options. Check for care information in product descriptions and go for pieces with machine-washable covers whenever possible. 
And remember: comfort, comfort, comfort! Prioritize lounging-friendly materials for a relaxing outdoor haven. Tailor your furniture choices to your lifestyle — whether it's cozy family moments or frequent entertaining — to create an inviting space that suits your needs.
Want more of Wayfair? Explore our top selections from the current Wayfair Black Friday sale.