Despite the cold February weather, Amanda Miller of Chesapeake Gold Farms in North East, Cecil County, Maryland, is already in the growing mood.
"I'm a little different," she said, "I'm not doing hanging baskets in my greenhouse — I've got everything in there planted in the ground, because it's for cut flowers. Additionally, our high tunnel is not heated. It's set up with a solar panel that runs a fan (which) blows air between two layers of plastic and makes an insulation bubble to keep the inside warmer."
The varieties of cut flowers Miller plants include ranunculus, lisianthus, snapdragons, and foxglove,
Amanda Miller with a bucket of flowers cut for an on-farm flower workshop at the family's Chesapeake Gold Farms in North East, Md.

Submitted

"They're OK for our zone," she said, "They're not tropical, but they do need protection in the winter."
In addition, she also does an early row of sunflowers in her greenhouse, both the peach and yellow colors.
The inside of the greenhouse is made up of neat rows of soil in small hills, top dressed with mushroom compost.
"I don't really need to do too much to the soil, because it's old alfalfa ground and very fertile. But, I did add the compost to make a nicer bed to plant into because our soil is a type of heavier clay," Miller said.
Her goal is to start the sales of her cut-flower business early enough so that customers have flowers like ranunculus and tulips for Easter, then a full flush of early spring flowers available for Mother's Day.
In addition to the 30-by-96-foot greenhouse, Miller also plants an additional acre-and-a-half outside.
Miller said she got into cut flowers in 2020, because of her own wedding.
"I had always grown veggies in a large garden on the farm, but when I started growing flowers for my own wedding, I got hooked," she said.
In addition to her cut-flower business, Miller is the marketing manager for her family's cheese, yogurt, butter and meat business (all marketed under the Chesapeake Gold Farms label).
"I left my full-time job to be the marketing manager at our farm, and I like it. But, I realized after a bit that I wasn't happy just being in a truck all day delivering product and managing inventory. I needed a creative outlet, so the flowers give me that," she said.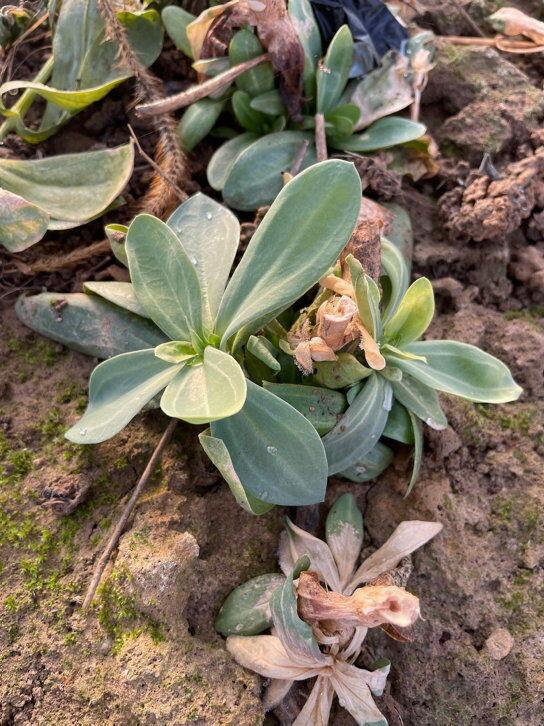 Lisianthus planted in Miller's greenhouse.

Submitted

After Miller grew all the flowers for her own wedding in 2020, she decided to branch out into the cut flower business.
"My first year in was not big, and more (by) word-of-mouth for local friends and farm customers," she said. "I really took 2021 to do research and educate myself on this new business, since I didn't know heaps about it. I took some classes, joined the specialty cut-flower growers association, and went into big business planning mode. Then I really launched in 2022."
Miller started selling at two local farmers markets, as well as arranging bridal party flowers, bouquets, corsages, boutonnieres and flower crowns for weddings. She also taught flower classes at the farm, and more.
"Weddings are a lot of fun, but a little stressful, because I'm type A and want everything to really be perfect for the bride," she said. "I stress a bit, but when it comes together, it's gorgeous."
At farmers markets, Miller sells the flowers in a wrapped bouquet in two different sizes.
"The farmers markets have been great for word-of-mouth business. I'll sell someone a bouquet, and then they will often come back when they need flowers for other special occasions. I've made specialty ordered bouquets for bridal showers and get-well bouquets based on those pre-orders.
Miller does most of the work herself, as she does not have any hired employees. But last year, she did get to utilize interns from the local high school technical program.
Farmer Amanda Miller holding a bouquet inside the greenhouse at Chesapeake Gold Farms.

Submitted

"That was great. The students that I had interning were going into horticulture studies in college, and they were very interested in learning the business. Having them for a few months definitely helped."
Since Miller does all the marketing for Chesapeake Gold Farm's business, it was easy for her to add in her cut-flower offerings.
"Our outreach is targeted at our entire Chesapeake Gold Farms customer base," she said. "Folks can see everything we are offering, from the dairy, the freezer beef, and the flowers in one place. We mostly use our email list serve, Instagram, Facebook, and events (both on and off the farm) to reach customers. It's been very successful and a lot of fun."
Miller's newest venture is what she calls "Flower Happy Hour," which runs every Wednesday from 5-7 p.m. from May through September. Customers bring their own vases and build a bouquet by choosing from the "stem bar" (precut flowers in buckets).
"Those are priced stem by stem, so folks can make a bouquet as simple or as fancy as they want," Millers said. "Most people are paying somewhere between $10 to $45."
"It's a lot of fun," she said. "I enjoy doing it."
Success! An email has been sent to with a link to confirm list signup.
Error! There was an error processing your request.