Breadcrumb Trail Links
Opinion
News
Local News
Column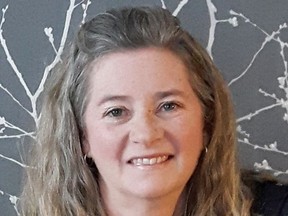 Jennifer Hodge-Williamson
Article content
Happy 2023! The new gardening year begins and as I pore over seed catalogues, fill my winter days with gardening programs and dream of changes to my borders, I am also excited to embark on leading you through topics, old and new, which connect us as gardeners, as neighbours and as caretakers of the planet.
Advertisement 2
This advertisement has not loaded yet, but your article continues below.
Article content
I am a professional gardener with experience managing client properties through my own business and within the landscaping industry, as well as maintaining a public garden as the lead hand of a gardening team.
I have learned the importance of interactions over the garden gate – physically (plant sharing – intentional or otherwise), socially (sharing tips and tricks of the trade) and metaphorically (all that we share, how we live, the importance of mindful gardening practices and the way other people and creatures use our spaces).
I achieved a Diploma in Horticulture with Distinction through the University of Guelph in 2020, and I am currently involved with local community gardens as a project advisor, with the produce division for the local fair board, as well as a director with my regional horticultural society.
Advertisement 3
This advertisement has not loaded yet, but your article continues below.
Article content
My passions for supporting biodiversity and creating sustainable gardens in the face of a changing climate are the cornerstones of the ethics and integrity I bring to each and every aspect of gardening.
My intention is to share practical advice through my experiences and best practices in addressing a variety of themes that I hope will enhance and support all that you know, while nurturing a deeper connection with the garden without sacrificing beauty.
During the month of January I never make resolutions; I make goals. Goals seem more achievable because they consist of gradual, small steps that help us reach the outcomes we desire.
I pull out pictures of last year's garden, think about the effect I want to create, and about what plants worked and what didn't. Then I dream. Then I research. What will it take for me to achieve the outcome for which I am looking?
Advertisement 4
This advertisement has not loaded yet, but your article continues below.
Article content
Then I make lists, I order seeds and I start too many plants – but is there ever really such a thing? Regardless, my dining room becomes a nursery every winter.
I am often reminded of Josephine Nuese's quote from The Country Garden: "Anyone who thinks gardening begins in the spring and ends in the fall is missing the best part of the whole year; for gardening begins in January with the dream."
Ultimately, the view from our gardens into those of others', and the relationships we create, whether human or otherwise, affects the decisions we make and the impacts we have on the footprints we leave for generations to come.
It's important to be aware of the how and the why within the garden because our gardens are not those of our grandmothers', yet still so much happens over the garden gate.
Share this article in your social network
Advertisement 1
This advertisement has not loaded yet, but your article continues below.
Comments
Postmedia is committed to maintaining a lively but civil forum for discussion and encourage all readers to share their views on our articles. Comments may take up to an hour for moderation before appearing on the site. We ask you to keep your comments relevant and respectful. We have enabled email notifications—you will now receive an email if you receive a reply to your comment, there is an update to a comment thread you follow or if a user you follow comments. Visit our Community Guidelines for more information and details on how to adjust your email settings.