Outdoor furniture can transform your patio into a cozy and comfortable space for relaxation. Unlike decorating the inside of your home, there are fewer color accents to coordinate with on a patio. Outdoor furniture must be carefully selected to compliment your house color and reflect the shades of the surrounding environment. Photos of Carrie Underwood's porch prove that gray outdoor furniture is a timeless look that coordinates perfectly with a white house.
Carrie's patio decor features gray teak outdoor chairs and a table with a matte finish to showcase the natural beauty of the wood grain. The singer perches on flaxy, off-white cushions. The deep gray slate floor and white paneling of her home perfectly complement the outdoor furniture Carrie has chosen.
Furniture Expert Allia Virtudazo states: 'The combination of gray wood outdoor furniture and natural white outdoor cushions can create a stunning and harmonious outdoor aesthetic.' She continues, 'Gray wood exudes a sense of sophistication and modernity, providing a neutral and versatile backdrop that complements a wide range of design styles.'
Allia Virtudazo
Social Links Navigation
Furniture Expert, Archic Furniture
Allia Virtudazo is a furniture expert at Archic Furniture, where she writes and edits for the furniture-focused blog. She is especially passionate about outdoor furniture materials and colors.
Allia also says that the cushions elevate the look of Carrie Underwood's porch color. She states: 'When paired with natural white cushions, the result is a crisp, clean, and timeless look. The natural white pillows add a touch of brightness and freshness to the environment while providing a comfortable and inviting place to relax. The interplay of gray and white evokes a sense of calm and simplicity, making it an excellent choice for outdoor spaces.'
Jennifer Ebert, color expert and digital editor at Homes & Gardens adds: 'I love the choice of gray furniture for a patio because this shade is naturally calming. The chilled, subtle shade inspires feelings of relaxation making it perfect for decorating a tranquil porch.' Jennifer continues, 'Furthermore, green and gray are always a winning combination, so the furniture will look even more stunning when plants start to sprout in the spring.'
Jennifer Ebert
Social Links Navigation
Editor, Digital
Jen is the Editor (Digital) of Homes & Gardens. Before starting this position, she had completed various interior design courses at KLC Design School, as well as working across Ideal Home, LivingEtc, 25 Beautiful Homes and Country Homes & Interiors as an interiors writer.
Though the furniture is beautiful on its own, gray patio furniture shines the best next to Carrie Underwood's white home. Allia says, 'When placed next to a white house, this combination comes to life. The white house acts as a pristine canvas against which the gray wood furniture and white cushions pop, creating a striking contrast that's visually appealing.  This contrast is particularly effective in highlighting architectural features of the home, such as trim and moldings.'
She continues, 'In addition, the natural white upholstery enhances the sense of cohesiveness between the furniture and the home, creating a seamless and inviting transition between indoor and outdoor spaces. The result is a balanced and elegant outdoor space that not only complements the white home but also enhances its charm and curb appeal.'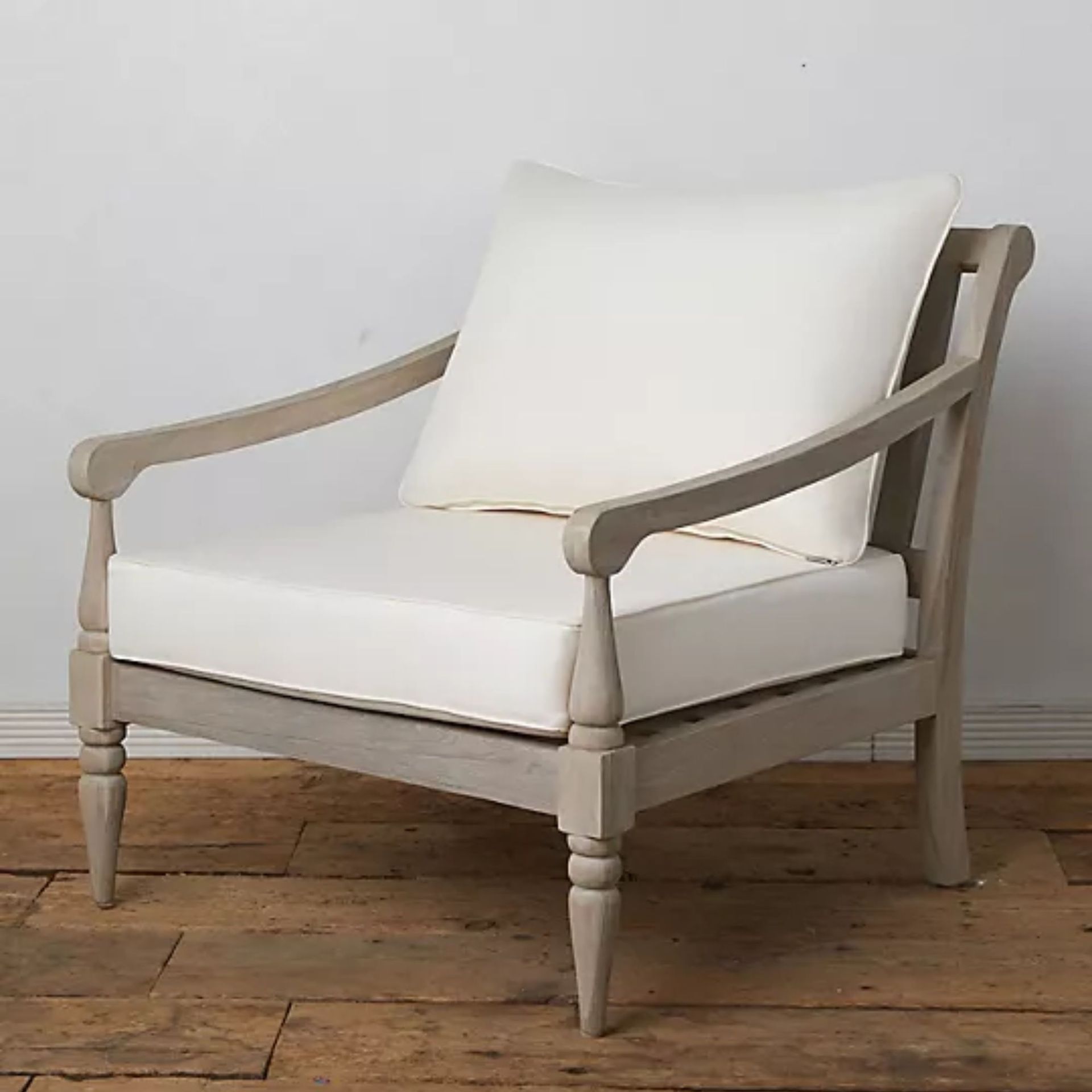 Restrained and refined, the Shoreham Teak Collection at Anthropologie is perfect for recreating this look. The woods are cool-toned so super chic, but of course, you still get that touch of warmth and the natural textures expected with wooden garden furniture.
Next time you're wondering what's the best outdoor furniture for a white house, look no further than Carrie Underwood's gray patio chairs. The look is clean, classic, and timeless. Fall patio ideas have never been easier to source.