Growing your own food is a great way to embrace sustainability, but on the surface, it can seem difficult to do in a city like St. Louis. There are more than 250 solutions, however, in the form of community gardens scattered throughout the metro area, giving you a space to grow both produce and your relationship to your neighborhood.
"It's people coming together in a community approach to actually grow food together," Seed St. Louis CEO Ma­ Schindler says. Seed St. Louis is a longstanding local nonprofit dedicated to helping communities and people grow their own food. "The goals for the garden can be different," Schindler continues. "They can be growing for individual families or themselves; they can be growing for the community around them; they can grow for a food pantry."
Belleville Heart Garden and Community Orchard and the Soulard Garden Co-op are two such gardens, though each plays a distinctly different role in their communities. Belleville Heart Garden is a demonstration space. The crops grown are free for all to harvest, and visitors are welcome from dusk to dawn throughout the week. The garden also offers education on sustainable growing. "We very much value learning over knowing," garden steward Lori Powell says. She maintains the garden with help from Alan Elfrink and Jennifer Reiman. "We are there to collaborate, share resources and information and grow community … If you are looking to reconnect with your sense of delight, curiosity and discovery through gardening, we are your people."
People are also reading…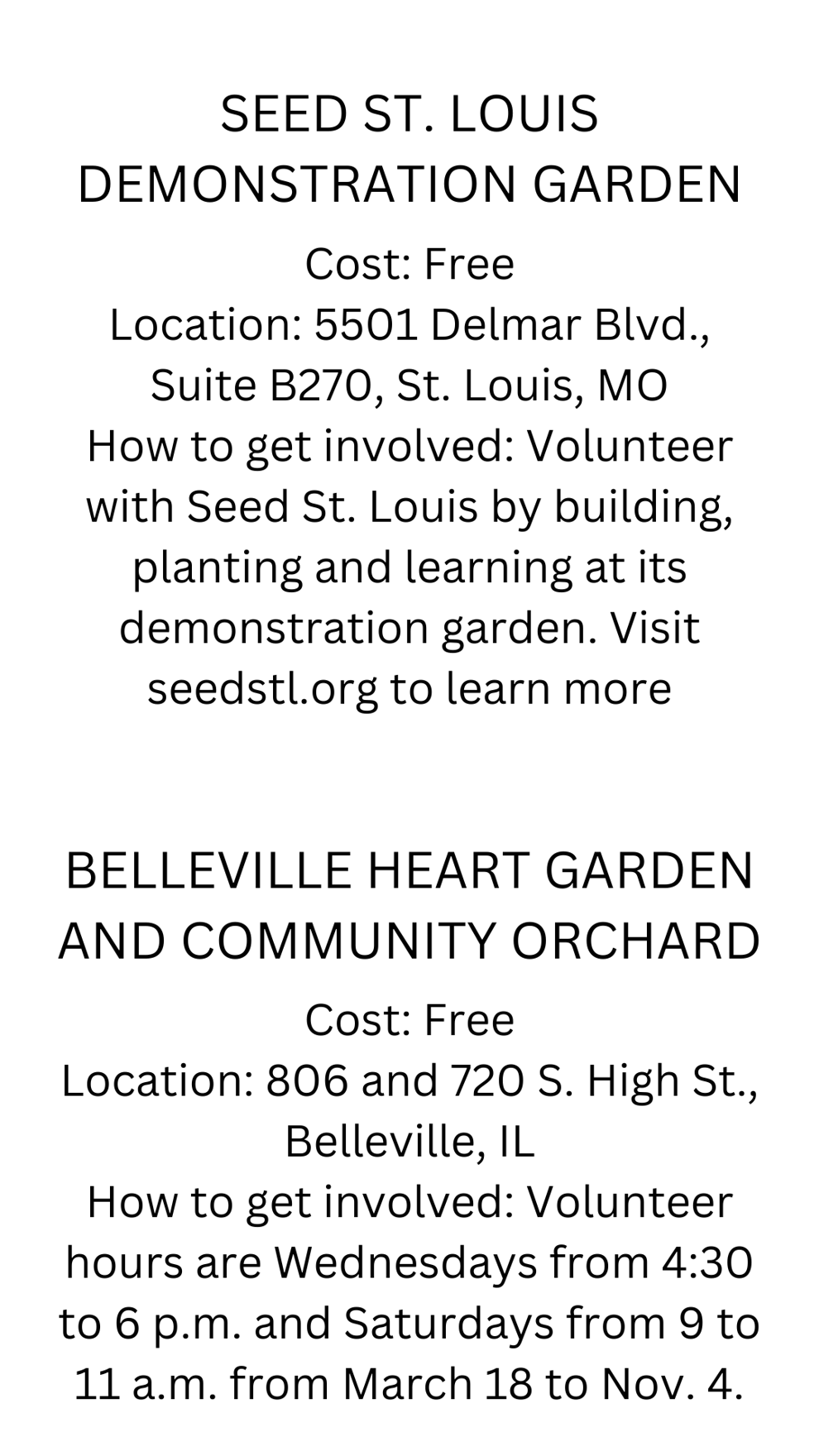 The Soulard Garden Co-op functions as a more traditional community garden. For just $30 per year, you secure a garden bed in the community space to grow any crops you wish. Members also share in the upkeep and harvest in the communal areas, which house vegetables, berry bushes and fruit trees. "The garden adopted a vacant, weed-covered lot and turned it into a beautiful space that produces food for approximately 30 neighborhood families who share the work and then the food," garden founding member Phyllis Young says. Any excess produce is donated to local nonprofit Food Outreach.
In addition to providing an affordable, sustainable way to source your food, community gardens give residents a way to connect with each other and improve their health, according to Schindler. During the pandemic, Schindler says Seed St. Louis saw its highest demand yet for new community gardens – and that number keeps climbing. "I think people realized the value of nature, growing their own food and eating healthier over these past two years," he says.
Community gardens are also somewhat of an untapped resource for restaurants to source more ingredients locally. One of Schindler's goals for Seed St. Louis is to encourage the local food and drink industry to embrace these gardens. "I think it's part of the challenge, too, for restaurants to find local access to good quality produce," Schindler says. "So we are really interested in having that discussion going further and be­tter connecting restaurateurs and foodies to our local produce."
To find the community gardens closest to you, visit seedstl.org.
Be the first to know
Get local news delivered to your inbox!