When it comes to fun per square foot, it's hard to beat a good patio. These outdoor living spaces literally expand your horizons, inviting parties, barbecues, singalongs and cricket songs, to name a few possibilities.
A patio can encompass many options, from a hulking concrete slab poured in 20 minutes by a truck the size of your house to a fine mosaic of hand-cut tiles that take weeks to assemble.
Porter Shimer picks out irregular flagstone in order to begin construction on a new patio.

DAN SULLIVAN | Staff

In between are loose gravel, compacted gravel, irregular flagstone, precut (dimensional) flagstone, clay-based (real) bricks, concrete bricks and the industry-leading, artificial, interlocking rectangles (or other shapes) called pavers, made with the do-it-yourselfer in mind.
What is right for you will depend on your project, your aesthetics and your budget, although the last of these can be stretched dramatically if you're willing to lend a hand as the following project — done for and with Lancaster Farming web content editor Dan Sullivan — will show.
For Friends and Fireflies Too
Dan's request seemed simple enough — an area to chill with friends, play music and gather around the fire.
But while the patio would need to be substantial enough to support an occasional drum kit and not swallow chair legs, it also had to be subtle enough to blend in with, rather than bully, the natural beauty of his secluded 4-acre property.
"Well constructed but also well integrated," I believe is how Dan put it.
Another issue was Dan's budget. But he was willing to help with the grunt work, which there would be plenty of.
So I said, "Sure, I've got just the thing," handing Dan a shovel while I went shopping for the material I knew could make his dream patio come true without breaking the bank.
It was a type of flagstone that arrived in pallets, essentially as it was pulled from the earth, meaning uncut or shaped in any way other than what natural geological processes had intended.
Not only would it be the cheapest of Dan's viable options, it would be the most planet-friendly (with a carbon footprint less than a quarter of its nearest artificial rival), and it would be the most durable, maintenance-free and beautiful in the quiet way Dan wanted.
It also, however, would be messy, loud, tedious and even somewhat hazardous to work with, requiring a toe-seeking tool known as an angle grinder that was as ready to slice flesh as flagstone, as it had just the week before.
I'd worked with the material only twice in the 20 years since I'd turned to building with stones instead of words (driven out of journalism by the computer around the time of Y2K).
But in both cases, the results had been as remarkable as they'd been hard-earned, looking as if the patio had been built by Mother Nature herself.
That part of the chosen footprint for a new patio was formerly a sandbox made for easier digging, from 3- to 5-inches deep and as level as possible.

DAN SULLIVAN | Staff

Just Doing It, One Step at a Time
So, we got started, digging and preparing the same foundation that would have been appropriate for any of the other surface materials we could have used.
1. Excavation
What a machine could have done in minutes took Dan and a muscular, young friend several hours — a foundation as flat and level as possible and deep enough to remove all loose topsoil (up to about 6 inches in eastern Pennsylvania), so that a firm, clay-rich subsoil was reached. Any roots had to be removed, but unmovable stones stayed put.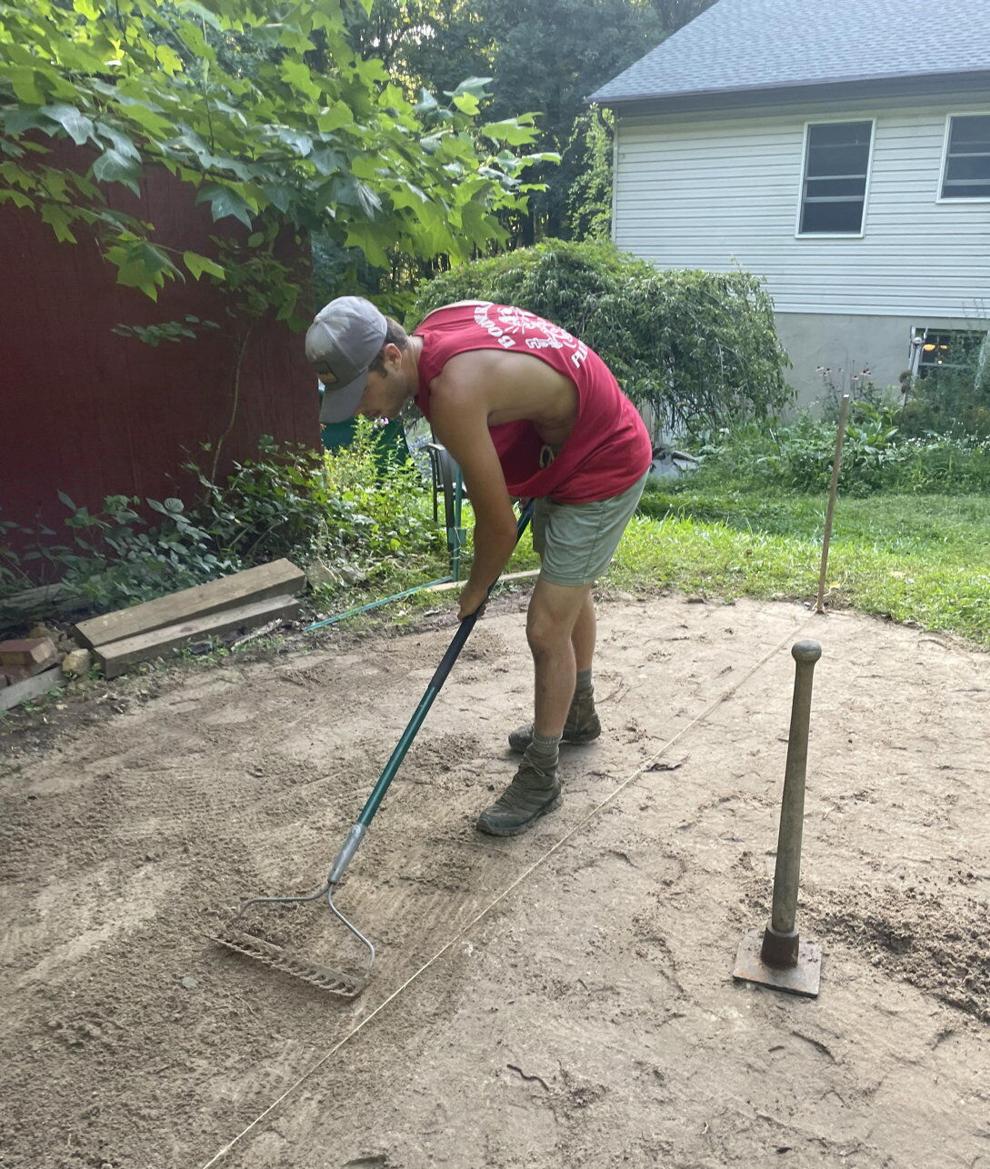 A surface layer of gravel sand is tamped down and raked smooth.

DAN SULLIVAN | Staff

2. Base No. 1
To establish a consistently firm base and to aid drainage, we evenly spread 1.5- to 2-inch crushed stone, known as 2A, roughly 4 inches deep, then compacted it thoroughly with a hand tamper (mechanical options also available).
As with the subsoil base, the flatter and closer to a level surface one can achieve, the easier it will be to level the finished product.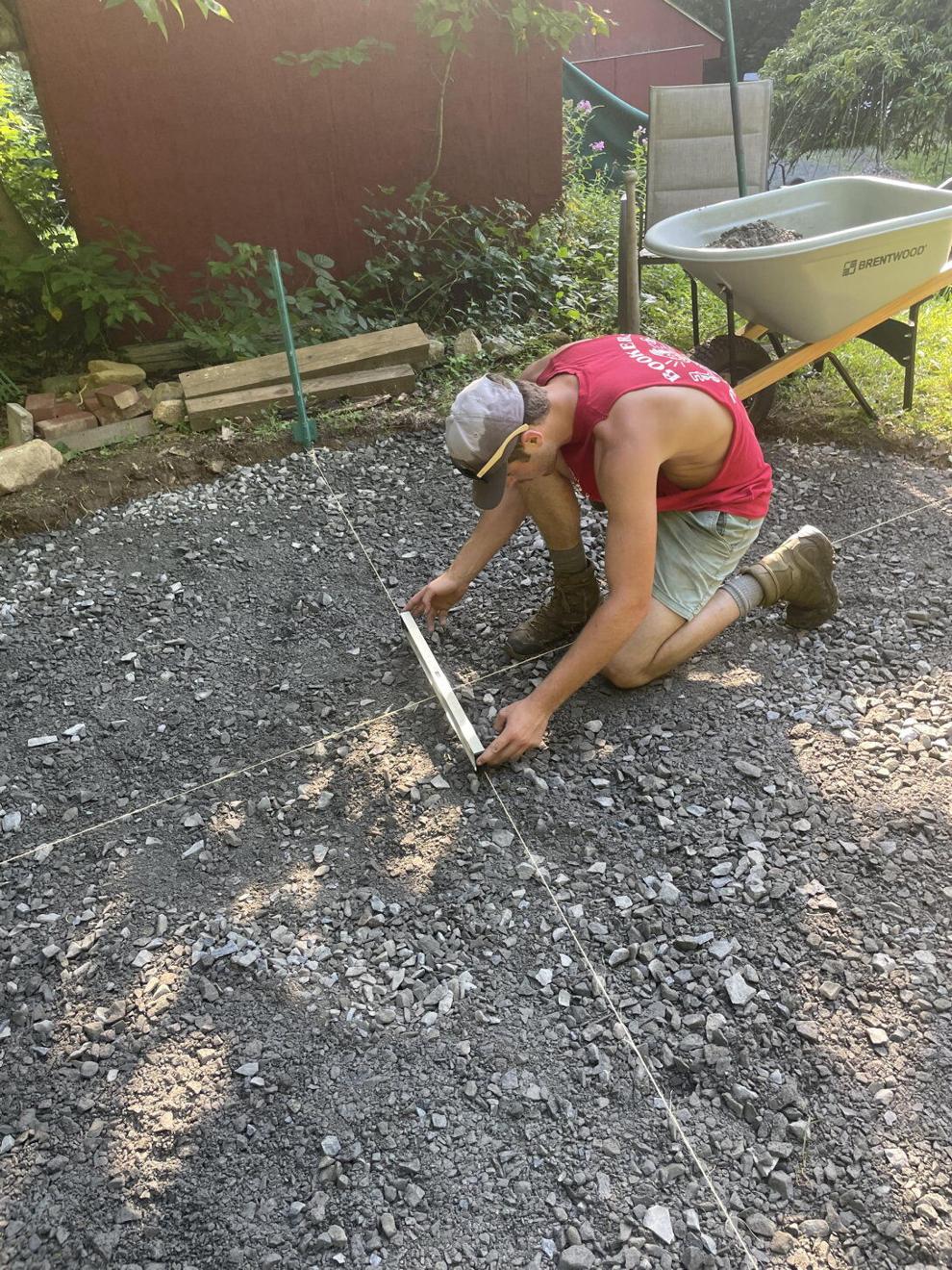 Gravel (size 2A) is added, tamped down and checked for level.

DAN SULLIVAN | Staff

3. Base No. 2
To serve as a workable base that would support the final surface, we spread — again, as evenly as possible — about 2 inches of builder's sand (also called "concrete") over the compacted 2A stone.
Additional sand will be needed to achieve the final leveling of the finished surface, but flat and level is the goal at this stage.
(Steps 4 and 5 are specific to our chosen material. If you are using virtually any of the other surface choices mentioned, you won't have to make the puzzle pieces before you assemble them. If you do choose to use our material of choice, proceed with caution.)
4. Laying things out
This stage is the key to making the shaping (chipping or cutting) of the stones as easy and waste-free as possible.
Using my own eyes and judgment, I laid out the biggest and "best" of the stones (many slightly flawed in some way or another) on top of the sand in a pattern that resulted in as little overlap as possible.
The less you overlap, the less you waste, so take your time with these savings in mind. Also pay attention to the shapes that you see developing.
5. The hard part
Now, the fun began. As carefully as possible, and while wearing proper protective gear, I cut each stone where it overlapped with its neighbor.
It can be tricky to imagine the edge of the stone you're trying to match when it's beneath the one you're cutting, but it's actually a fun exercise, and the goal is not a machine fit. This is meant to look like Mother Nature's work.
But in the process, stay conscious of the empty spaces being created, which eventually will need to be filled. It's easier to cut a stone in the shape of a triangle, or even a trapezoid, than a banana or circle.
6. Assembly
Once we had all the pieces of the puzzle, it was time to set them in place, which needed to be done individually and carefully to achieve a consistent whole.
We added or removed whatever amount of sand was necessary to be sure each stone was level both with itself and those adjacent to it. Imperfections can multiply quickly.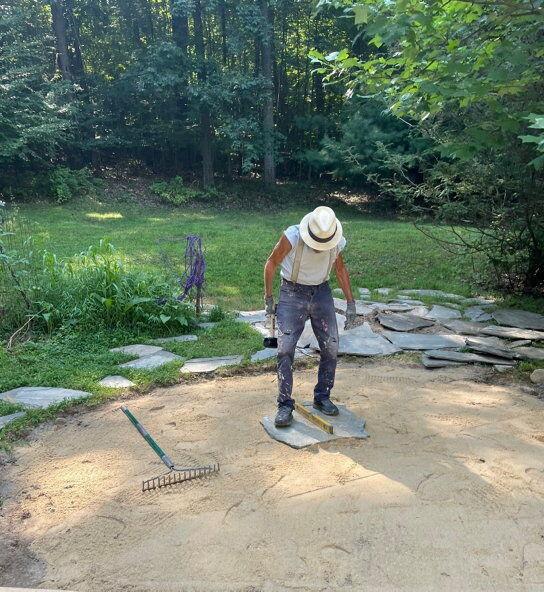 Working with irregular flagstone, while one of the less-expensive options, requires a greater level of skill.

DAN SULLIVAN | Staff

We made sure that each stone did not rock, roll or, in any way, wobble when subjected to our full weight. Stones should not be tipsy if guests are too.
Irregular flagstone means irregular surface area. Other chosen materials will not present the same challenges.
7. Finishing touches
The remaining cracks between stones were filled with the same sand used for the base. Other options for this include polymer sand, a more weather- and weed-resistant product that mixes sand with a polymer designed for greater flexibility and, hence, resistance to cracking with temperatures below freezing.
If you want your flagstone to be even more impervious than nature had intended, various sealers are capable of protecting against such manmade disasters as the crayon and dropped hot dogs with the works.
Success! An email has been sent to with a link to confirm list signup.
Error! There was an error processing your request.