MARION — During the first weekend of August, three dog shows are being held in Marion and are sponsored by Crab Orchard Kennel Club and Evansville Kennel Club. 
Ken Buxton judges the French bulldog class during the annual AKC Dog Show at The Pavilion on Friday in Marion.
Byron Hetzler
Show Chairman Donna Davison of Du Quoin said this year the event is running Friday, Saturday and Sunday instead of just Saturday and Sunday. The Evansville Kennel Club hosted the Friday dog show.
"They contacted us and wanted to come in," Davison said of the Evansville Kennel Club. 
There are more than 600 dogs registered for the Saturday, show the most in Crab Orchard Kennel Club's history. The Friday and Sunday shows will have more than 500 dogs.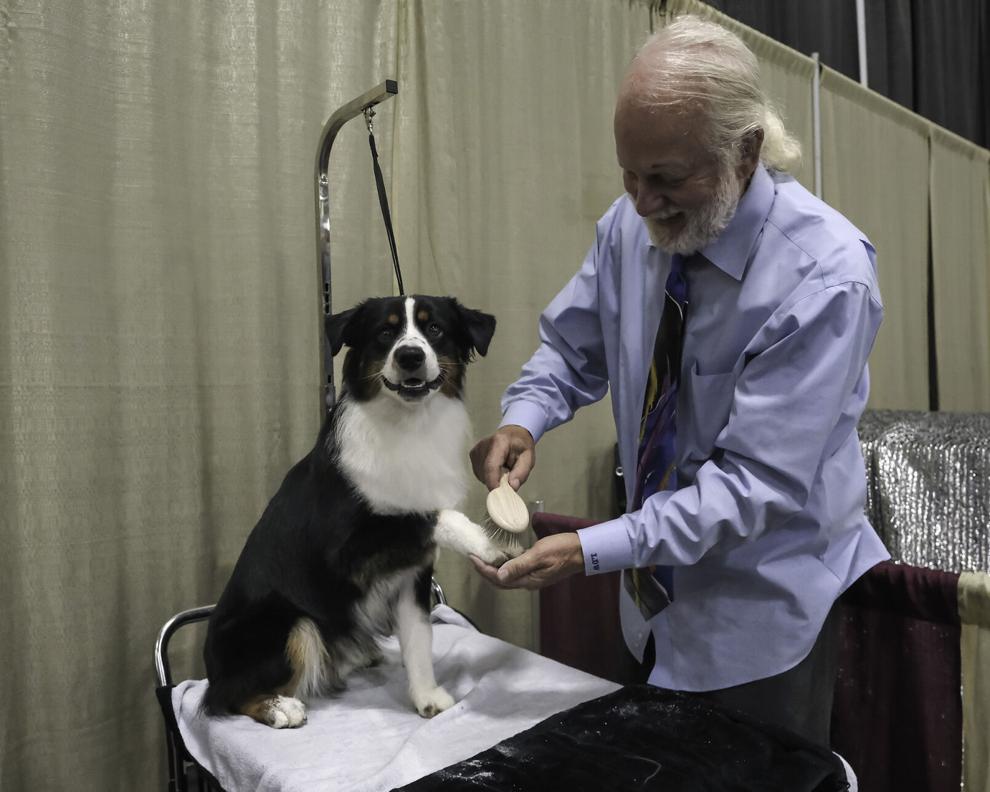 L.D. Walters of Swansea grooms Dreamer, a miniature American shepherd, prior to showing him at the annual AKC Dog Show at The Pavilion in Marion on Friday.
Byron Hetzler
The event features three separate confirmation shows each day, with an American Kennel Club (AKC) National Owner Handled Series each day.
Confirmation shows pick the best dogs based on a formal breed standard. The standard lists the traits for each breed, including a range of size and weight and how the dog should move.
People are also reading…
Vickie Horn of Farmington, Missouri, was showing three of her Australian shepherds. Two of the dogs were 10 month old girls named Ann and Meg. They are called "red merle" Aussies because their coats feature spots of reddish-brown fur on a cream colored background. Her other Aussie is Arrow, a black tri-colored male dog.
"I like this show. There's nice parking, nice facilities and cordial people," Horn said.
After their time in the show ring, Horn worked with the puppies. The two girls were bred by SuAnn Remley of Cape Girardeau. She helped evaluate the young dogs.
Remley also showed an Australian shepherd in the Best of Breed category and won Best of Opposites and Best of Breed in the Owner Handled Series.
Ruth Ann and Tom Rabideau of Pittsburg showed their Australian shepherd and wire-haired fox terrier.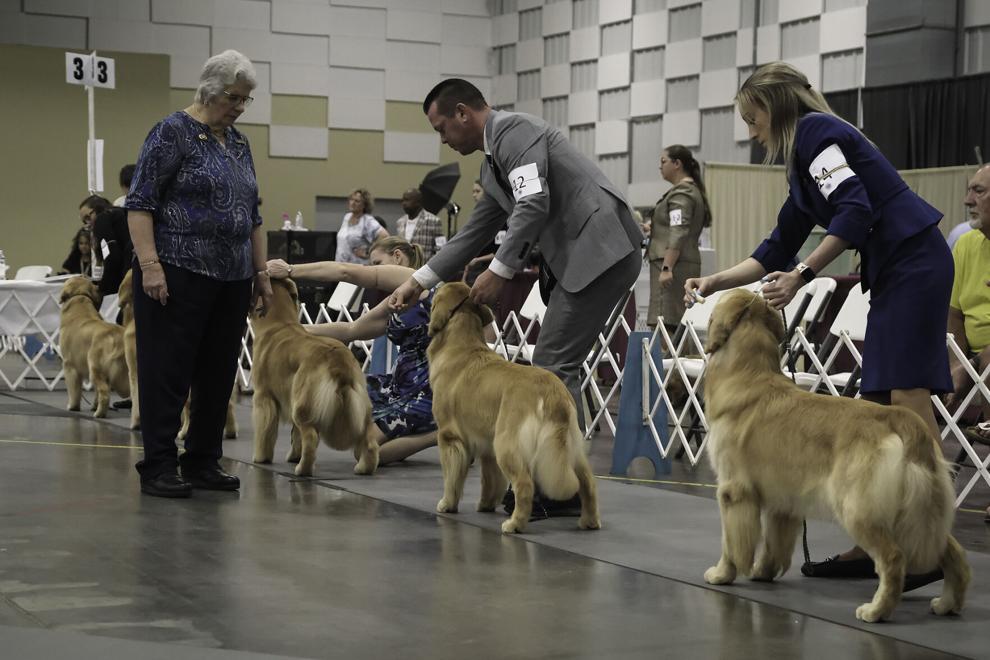 Judge Joy Brewster looks over the golden retriever class during the annual AKC Dog Show at The Pavilion in Marion on Friday.
Byron Hetzler
Tom Rabideau won with the terrier. She is a two year old female named Glaciers Luck be a Lady, called "Frankie" for short.
Patty Huffman of New Athens and Ron Girth of Springfield, Missouri, showed six dogs of different breeds. Huffman had a German short-haired pointer who was 10 weeks old on her lap. The dog is called Penny.
"They were just approved to show by the AKC," Huffman said.
Their other dogs included an Australian shepherd.

Become a certified barbecue judge by taking a class at 17th Street Barbeque
"He's almost a champion," Girth said of her Aussie. 
Dogs become champions based on the number of points they receive. Points are awarded to the canines who best meet their breed standard.
They also had a Nova Scotia Duck tolling retriever called "Reva," a boerboel called "Africa," and a Doberman called "Hoss."
Huffman has showed dogs for 30 years. Girth is a little newer, only showing for 20 years.

Local man to cut his hair in support of Hospice of Southern Illinois, SIH Cancer Institute
Sandra Noe of Edgerton, Kansas, showed a toy fox terrier, which she said are often confused for rat terriers, but they are much smaller and lighter weight.
"They are very active, playful and will play with toys until they die of old age," Noe said.
The toy fox terriers average between five to eight pounds and are about 8.5 to 11.5 inches from the floor to their shoulder. Noe said they are a very healthy breed and rarely get sick.
"They are good little watch dogs and don't bark a lot if they are raised well," Noe said.

Eats of the Week | Mother and son duo run Taco Jim's food trailer
Kizzy, a dog whos formal name is Snoecrest Mistletoe Kisses, was one of about seven dogs Noe brought to the show.
Kizzy was born on Christmas Day.
Noe owns Snoecrest Kennels. She said she breeds dogs for soundness and structure.
The Crab Orchard Kennel Club will host dog shows on Saturday and Sunday at The Pavilion in Marion. Spectators are welcome. The cost to enter the show is $5.
Please keep in mind that dog handlers and owners will talk to you after they finish in the show ring. Some breeds require a lot of grooming, so ask the handler before touching a dog.
For more information, visit Crab Orchard Kennel Club's Facebook page.