Three bar owners have partnered together to offer a new dog-friendly patio bar with outdoor games, drinks, and food trucks in downtown San Antonio. Co-owner Jason Hart told MySA the new bar, called Home Room San Antonio, will have a laid-back fun atmosphere for everyone.
Home Room San Antonio will be ready for the public starting on Thursday, March 16. It will be open from 6 p.m. to 2 a.m. on weekdays and 2 p.m. to 2 a.m. on weekends. The 1-acre bar will feature different food trucks, including two from the other co-owners Marika Olmstead-Wright and Marc "Frenchy" Groleau.
There's also an indoor bar area with plenty of seating.
Priscilla Aguirre, MySA.com
Olmstead-Wright owns the Asian restaurant and bar called Pacific Moon on the city's Northside, while Groleau owns Charlie Brown's Neighborhood Bar & Grill that's also on the same side of town. Hart, who owns a nightclub in Austin named Play on West 6th, said they all decided to come together after finding out the property was open.
"We knew downtown San Antonio is growing and we wanted to be a part of it," Hart said.
The large space was formally owned by nuns who ran a classroom and day-care center, which moved further down the road. Paying homage to its former owner, Hart said they decided to name it Home Room and implement school-like designs at the bar. For example, there will be a dog park that will have an old school bus that has turned into a bar.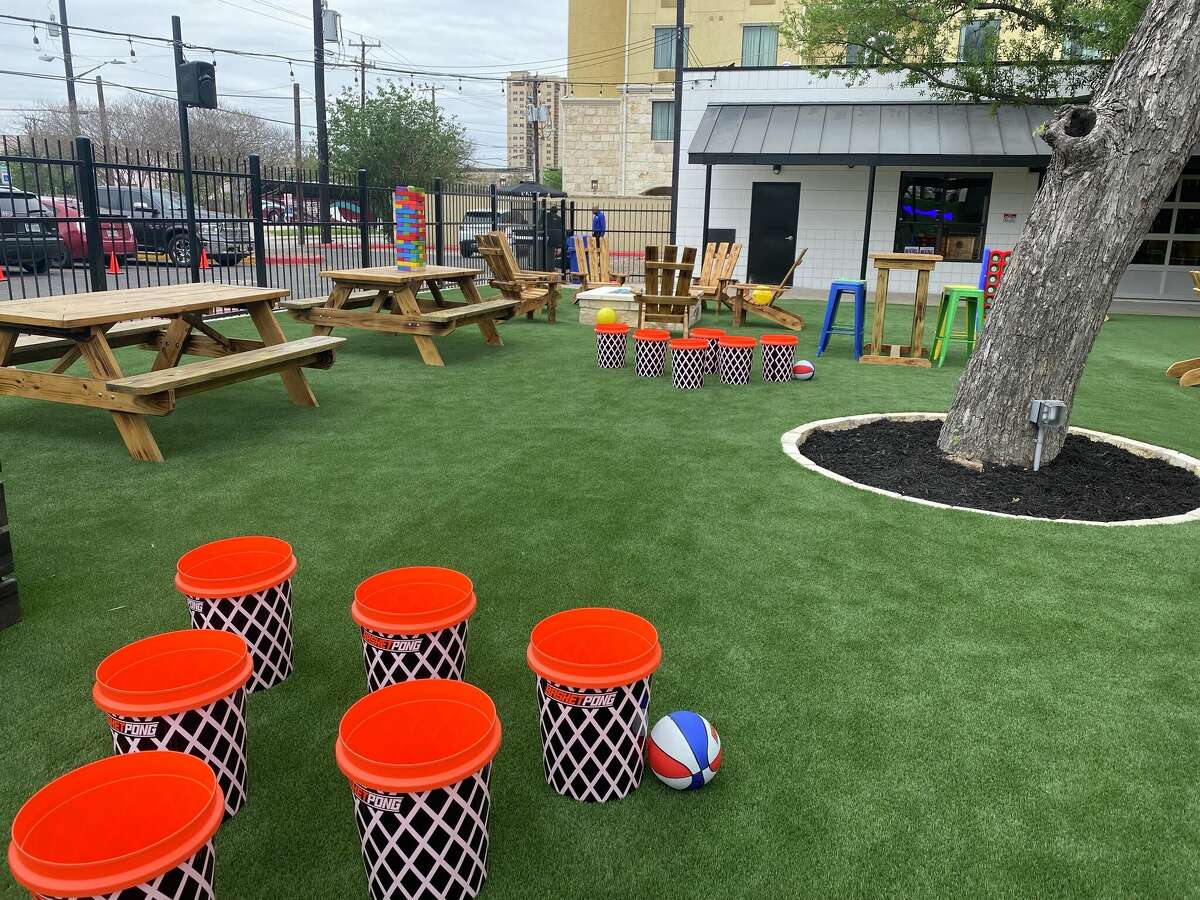 The patio bar has outdoor games like Connect 4, Jenga and cornhole. 
Priscilla Aguirre, MySA.com
While the school bus bar isn't open yet, the dog park is open. For those looking for patio games, the bar will have Connect 4, Jenga, cornhole, an oversized beer pong set up, swings, and card games like Uno. The bar also has a photo booth and an arcade basketball game.
On the property, there's also a two-story building that the owners plan to turn into a nightclub. Hart said they are hoping to start the planning and construction process in the summer of 2023. 
The bar will offer valet for parking. However, there's a free parking area in the back of the bar under the highway. Hart said there will be an entrance in the back near the parking lot and in the front as well. 
For more information, follow the new bar on Instagram at homeroomsa.
Find it: 517 Live Oak, San Antonio, TX 78202