With the right outdoor furniture, plants, and accessories, a porch can be an extension of the artfully designed home. Reese Witherspoon's carefully curated patio is the perfect proof. The actress's stylish wicker chairs, white ceramic table, and slate tiling make Reese's outdoor space feel like a home.
Interior designers say the 'granny chic' choice of outdoor furniture on the patio area creates its warm, welcoming feel. 'Granny chic' decor is a rejection of ever-changing interior trends. It celebrates classic design with antique looks, and a stylized combination of pattern, texture, and light. Reese's choice of granny chic outdoor furniture? Wicker chairs. She elevates the timeless wicker with a sleek, modern white cushion and accessories.
These chairs have unexpected benefits. Melissa Read, interior designer and creative director at Studio Burntwood refers to Reese's porch as 'the perfect social space.' She states, 'Outdoor wicker furniture is lightweight, making it perfect for entertaining and easy to move around.'
Melissa Read
Social Links Navigation
Interior Designer and Creative Director, Studio Burntwood
Melissa Read attended the KLC School of Design in Chelsea before working at London's best-regarded interior design studios. Now Creative Director of Studio Burntwood, an interior design studio that specializes in luxury residential interior design for private clients and property developers.
'Flexibility is key when it comes to choosing the perfect outdoor furniture,' says Jennifer Ebert, digital editor at Homes & Gardens. 'If you have lots of people over, they will need to be able to move the furniture around. The lightweight composition of Reese's furniture makes sure this is a guarantee.' 
Jennifer Ebert
Social Links Navigation
Editor, Digital
Jen is the Editor (Digital) of Homes & Gardens. Before starting this position, she had completed various interior design courses at KLC Design School, as well as working across Ideal Home, LivingEtc, 25 Beautiful Homes and Country Homes & Interiors as an interiors writer.
The chic wicker furniture also gives Reese's outdoor living room a relaxed feel. Melissa Read says, 'The natural, untreated wicker material gives a warm and organic feel to the outdoor space.' Her color, finish, and weave option 'showcases how a natural color and curved edge can give a relaxed look, whilst also feeling contemporary with the light upholstered cushion.'
Jennifer Ebert adds, 'The combination of natural wicker and white cushion looks stylish while also appearing extra cozy. This warm look turns your patio from a simple outdoor space into another living room. With the right patio decor you can spend time with your family and friends cuddling up among the fall leaves, just like Reese Witherspoon.'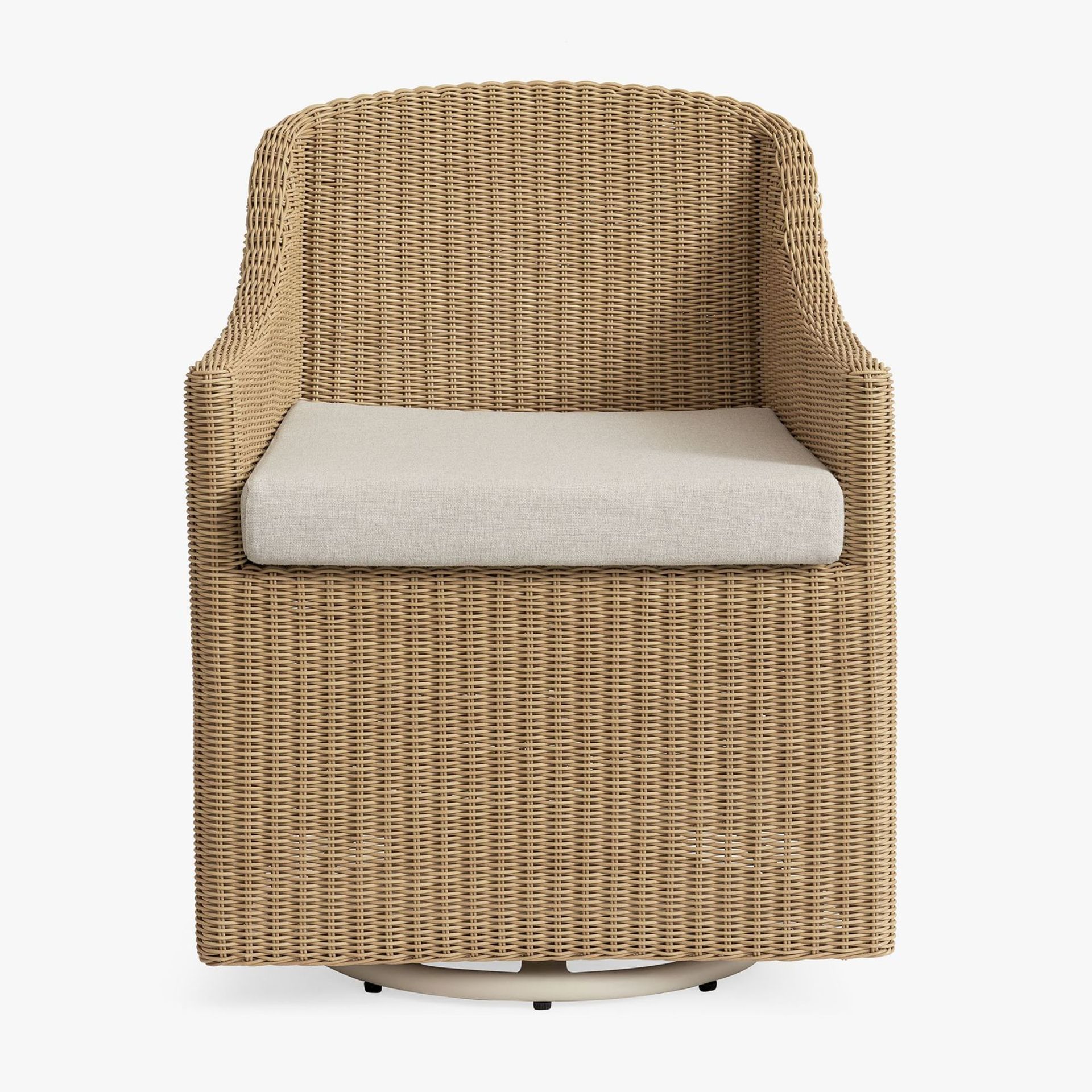 Hampton All-Weather Chair
A classic, and comfy design this Pottery Barn offering comes incredibly close to Reese's wicker garden chair. It's designed to be able to be kept outside in all weathers and it swivels too, even better for creating a sociable setup. 
If Reese Witherspoon's stylish outdoor furniture is an inspiration, check out our list of backyard ideas for more patio design inspiration and ideas for how to turn your outdoor space into a cozy oasis.