designboom's guide to dubai design week 2023
Dubai Design Week, the region's largest design festival, will be returning from November 7-12 to Dubai Design District (d3) to host its most diverse program yet. For its ninth season, the event will convene over 500 participants from over 40 countries to celebrate the convergence of science and technology, and how at its intersection designers can reclaim materials of our past as well as reimagine new forms that foster sustainable practices. Across the six days, the d3 waterfront will be enlivened with a range of pop-ups, talks, workshops, interactive experiences and activities, and over 20 outdoor installations — each immersing visitors in a vibrant exploration of form and materiality for a more hopeful future. From the Altostrata, a 3D-printed pavilion, to Urban Hadeera, a sustainable shelter prototype — the interventions will showcase innovative utilizations of materials such as palm leaves, loofahs, sugar, and paper pulp, with 3D printed architecture at the forefront. 
In anticipation of Dubai Design Week, designboom presents a curated selection of must-see installations, activations, and workshops. Read on to uncover the highlights and make the most of this vibrant celebration of design and sustainability.
all images courtesy of Dubai Design Week
flowing threads by Areen Hassan
Areen Hassan's Flowing Threads is an intricate textile installation that explores the interconnectedness of identity and cosmic connectivity through layers of thread that unravel to reshape the fabric. Handcrafted, the project symbolizes transparency and adaptability as the threads follow the flow of the wind, emphasizing material lightness and contrasting with the hues and transparency of the fabric and surroundings. As sunlight weaves through, the pavilion transforms and reflects the intertwined journey of individuals in the cosmic tapestry. The artist invites visitors to contemplate the layers of identity and the importance of transparency in life.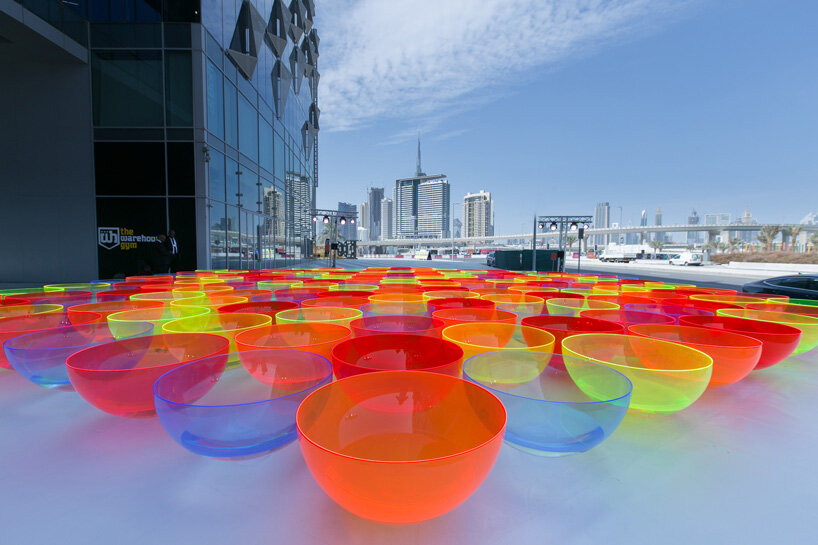 hexa deck by hsc designs
Hexa Deck by HSC Designs is a communal hub that caters to the exuberance of youth while offering a tranquil enclave fostering engagement in meaningful dialogue. This vibrant platform, adorned with a modest shelter, serves as a remedy — an interactive installation fostering a sanctuary from the frantic, modern-day pace of living. Embodying ecological sensitivity the deck utilizes sustainable practices, from eco-friendly wood to a tree sap-derived polish. Further, driven by computational technologies, Hexa Deck optimizes material usage, achieving exceptional results while minimizing resource consumption.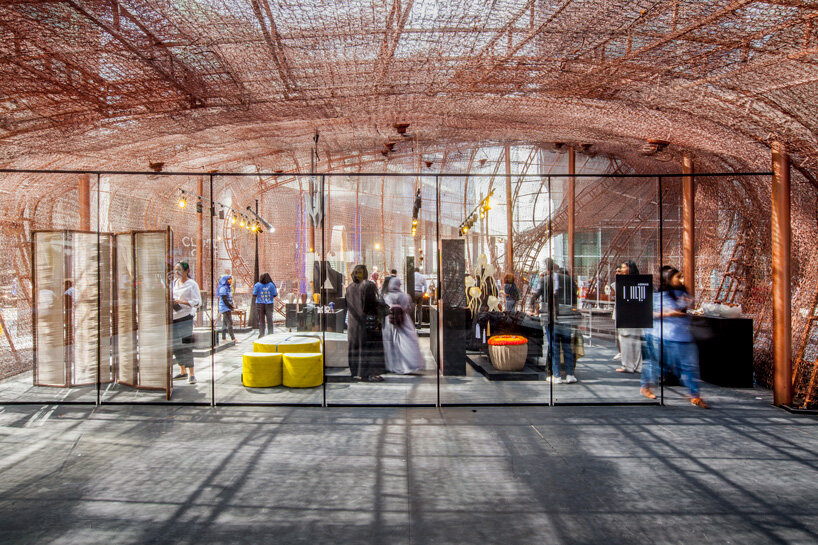 Eco-Sustainable Voronoi Wall by the University of Sharjah
The Eco-Sustainable Voronoi Wall by the University of Sharjah, led by Aref Maksoud, merges nature-inspired aesthetics with eco-conscious materials to pave the way for more sustainable architecture. Its surface is marked by a Voronoi pattern, resembling nature's own designs as seen in the branching of trees and the territorial divisions of animals. Alongside this, it enhances structural robustness, optimizing material distribution and reducing overall weight. The creation showcases a modularity which empowers scalability and the integration of functional elements like openings and green features, while incorporating biodegradable and eco-friendly PLA through 3D printing technology, minimizing waste and the carbon footprint linked to conventional construction.
CYCLE by SIBYL Design Studio
CYCLE, an urban installation by SIBYL Design Studio, draws inspiration from the rapid transformation in the Kingdom of Saudi Arabia under Vision 2030 — a symbolic representation of progress and a beacon for the future. The participatory element of the design invites visitors to contribute to the evolving artwork, as a fixed drawing handle enables each individual to leave a unique imprint on the spinning sand board, continuing lines begun by others. The result is an intricate dance of collaboration that reflects unity and the collective journey towards a promising future.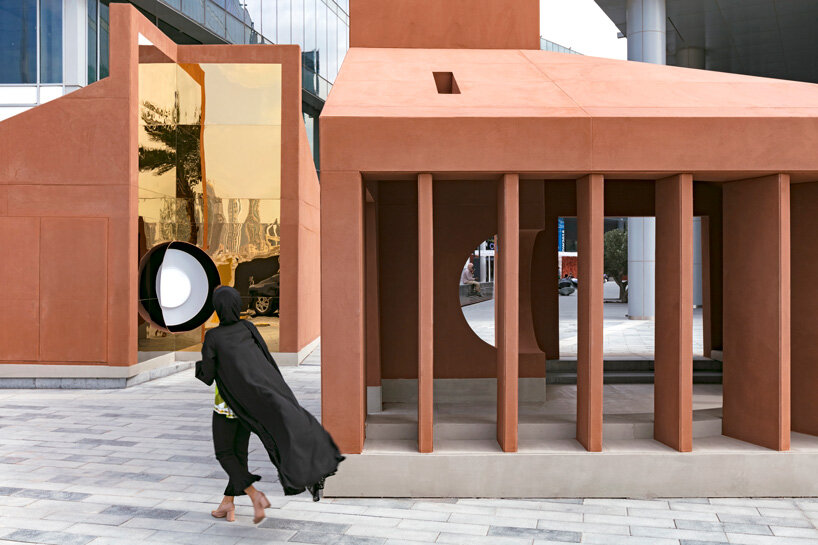 Pulp Fractions by TEE VEE EFF
TEE VEE EFF's Pulp Fractions transforms discarded paper and cardboard into stackable structures — a response to the surge in delivery and consumption of these materials. These adaptable units, termed 'fractions,' feature perforations to harness wind and light, creating an illuminated spectacle at night. Beyond sustainability, the installation offers infinite configurations to be disassembled and repurposed to suit various sites and functions.
prismatic dreamscape by vertical design 
Prismatic Dreamscape, a sensory art installation by Vertical Design, invites visitors into a world of duality and harmony. It comprises twin glass installations that blur boundaries and transcend the familiar, one reflecting Earth's energy and the other the cosmos. The horizontal structure features vivid colors and intricate shapes, evoking a grounded energy, while the vertical counterpart captures the essence of boundless space with neon lights.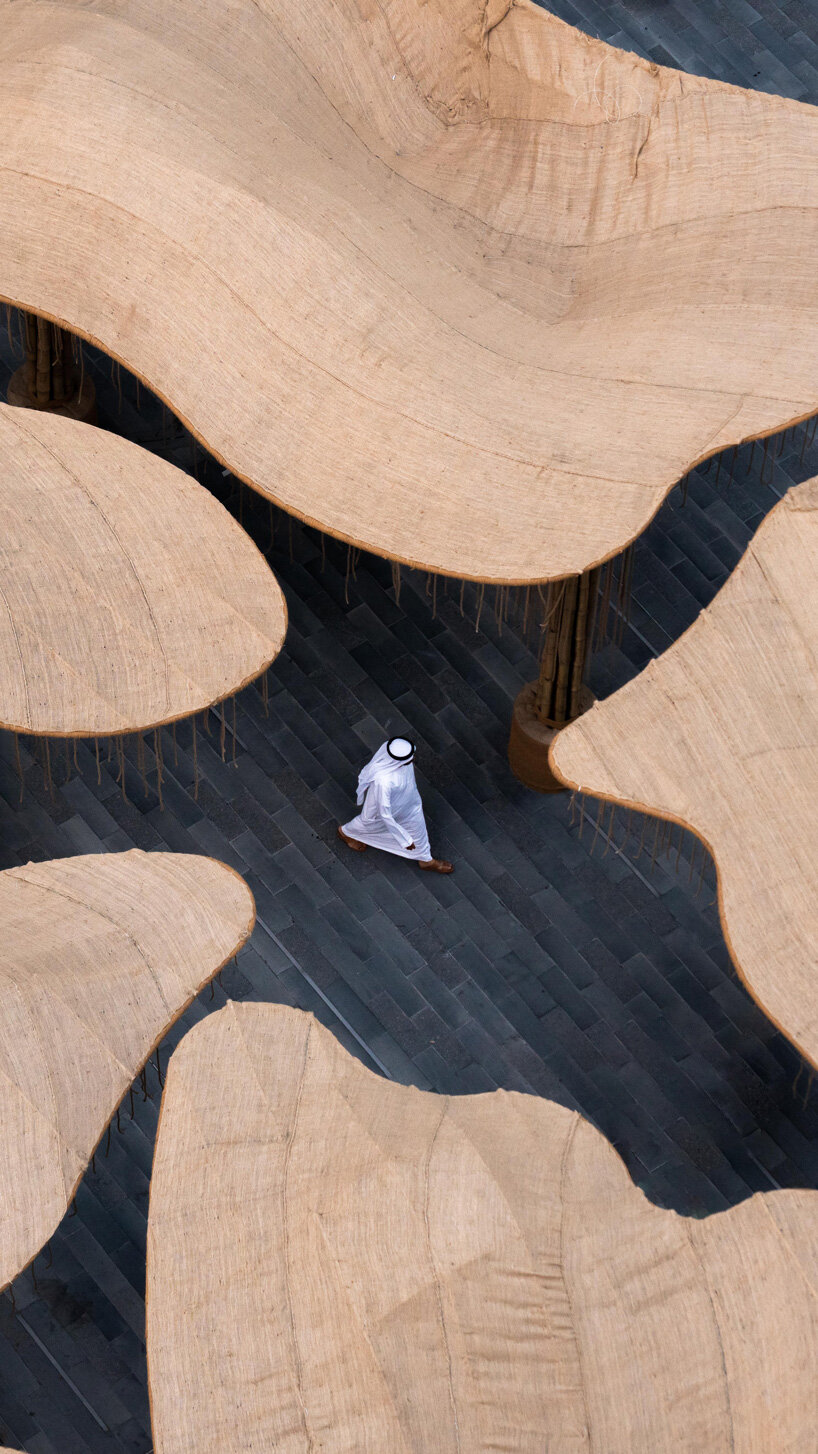 Rhythmic Resonance by Khyyam Ikram Design/Build 
Rhythmic Resonance by Khyyam Ikram Design/Build is an urban installation that presents a novel approach to urban design, offering multifunctional and visually captivating spaces that respond to their surroundings in real-time. The dynamic structure blends traditional majlis-style seating with Al Sadu fabric, celebrating the UAE's heritage and engaging local artisans for sustainability and cultural engagement. Aiming to redefine public spaces, Rhythmic Resonance responds to human presence, adapting its shape as people pass underneath, creating an interactive environment that transforms urban landscapes into responsive spaces.
Arabi-AN by Mitsubishi Jisho Design Inc
Arabi-AN is a transformative project by Mitsubishi Jisho Design Inc, merging teahouses and furniture to unite people through tea. Celebrating the art of tea as a symbol of human connection in a world marked by divisions, Arabi-AN navigates the balance between universality and specificity, adapting to changing latitudes and utilizing locally sourced waste materials, including tea dregs and grapes, for harmony with unique surroundings. Post-exhibition, components can transform into bespoke furniture, further intertwining art, sustainability, and personalized design through NFTs and 3D printing or milling options — an invitation for individuals to contribute to this piece's evolution.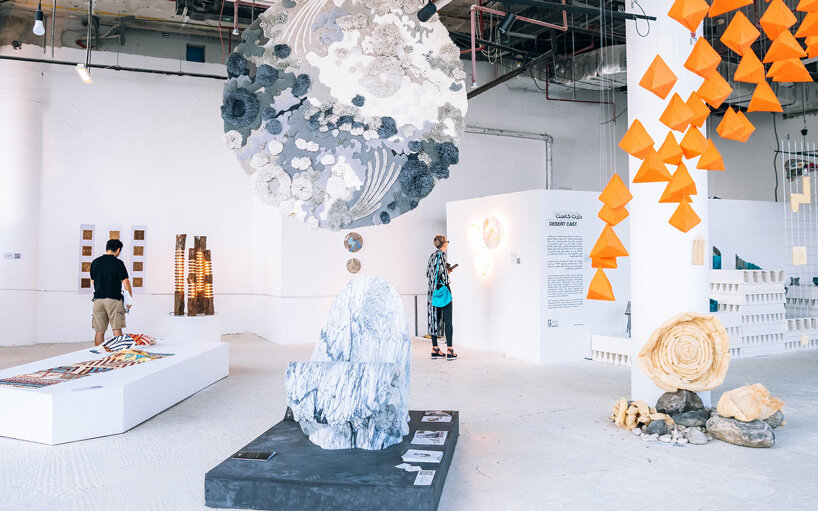 Shaking Sanctuary: Urban Shade by nngg Studio
Shaking Sanctuary: Urban Shade by nngg Studio offers visitors a moment of respite to engage with nature, while promoting the importance of green spaces in urban design. The urban retreat integrates flexible poles that respond to human touch, creating an environment that mirrors the sway of a forest walk. Honoring the resilient species of the Arabian desert, the project transforms the urban landscape into a serene oasis, with flexible rods supporting canopies and responding to visitors' movements. Patterned canopies inspired by UAE's native fauna cast intricate shadows, offering an authentic forest-like encounter in the heart of the city.
The Future Will Be Sown by Made In Earth
Made In Earth's installation, The Future Will Be Sown, urges a transformative shift in our relationship with the environment, calling for a regenerative future through sustainable materials and storytelling. The installation poses an immersive and sensorial landscape that prompts reflection on the power when sustainable materials, communities, and regional stories converge. It serves as an invitation to reconsider our impact on the world by honoring the delicate balance between nature and people, reimagining a world in symbiosis with plant fibers.
art jameel x Frame: an immersive venue
In collaboration with FRAME, Art Jameel presents a curated selection of artworks, publications, and more in an immersive venue. While browsing a series of exclusive commissioned pieces by local and regional artists, limited edition artworks ceramics, children's products, and a range of publications, visitors can enjoy specialty teas and coffees offered by FRAME which emphasize source profile, extraction, and brewing for a sensory exploration.
Frédéric Malle activation: Portrait of a Lady
Frédéric Malle presenting a pop-up concept that merges art, design, and fragrance. Middle Eastern photographers Malak Kabbani, Amina Zaher, and Hayat Osama together reinterpret the iconic Portrait of a Lady fragrance in a curated space, transforming fragrance into visual art. The activation, featuring Frédéric Malle's brand cues, serves as a canvas for these distinct portraits.