Breadcrumb Trail Links
Opinion
Column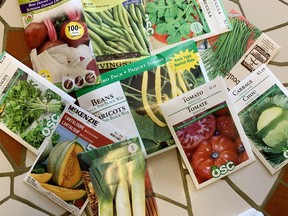 Seed sales are off to a strong start in 2023, says columnist John DeGroot. (John DeGroot photo) jpg, CA
Article content
Garden seed suppliers have been on a roller coaster ride in the past few years. COVID hit them by surprise in spring of 2020, when gardeners nearly doubled their buying. The following year, 2021, folks continued to buy seeds with a vengeance, with vegetable and herb seeds leading the way.   
Advertisement 2
This advertisement has not loaded yet, but your article continues below.
Article content
Spring of 2022 saw seed sales level off, giving seed suppliers a chance to catch their breath and turn their attention to watching trends and introducing new varieties. Seed sales for today's spring are already off to a strong start, probably fueled by consumers' reaction to high grocery store prices.   
McKenzie Seeds, headquartered in Manitoba, and Ontario Seed Company from nearby Waterloo, two of our largest seed suppliers, have their seeds displayed in nurseries, hardware stores, big box retailers and grocery stores. Both have increased their offering of organic, non-GMO and heirloom seeds, no doubt a response to gardeners' increasing desire to grow seeds like their great grandparents did a century ago.   
Article content
Advertisement 3
This advertisement has not loaded yet, but your article continues below.
Article content
Ontario Seed Company has ramped up their lineup of veggie seeds, offering a big selection at competitive pricing. Popular varieties are available in money saving jumbo packs. According to their website, OSC holds an Organic Seed Processing Certification from the Centre for Systems Integration, and are a top source for imported Certified Organic Seeds in Canada.   
Aimers Seeds, distributed by Ontario Seed Company, specializes in hard-to-find International imported seeds and organic herb and vegetable seeds. 
McKenzie Seeds has also increased their focus on organic and heirloom seeds. McKenzie Seeds make sowing easy by offering seed tapes, taking the guess work out of spacing and eliminating the need for thinning. Their selection is vast, with an ever-growing supply of Asian, Latin and Italian vegetable lines. Some tiny seeds are coated with a safe, natural seed coating, making the seed easier to handle and plant.   
Advertisement 4
This advertisement has not loaded yet, but your article continues below.
Article content
Zappa Seeds, distributed out of Toronto, carry an interesting line-up of non-treated seeds for organic growing. Selection is smaller, but more specialized with varieties not found elsewhere.  Seed packages are larger with easy to read labelling.   
Mr. Fothergill's is a friendly seed supplier with headquarters in the U.K., and distribution locations everywhere including a warehouse in Toronto. Prices are competitive, selection is surprising, with a big presence of herbs, leaf crops and small vegetables.   
Livingston Seed, located in Massachusetts, serves independent garden stores and nurseries throughout the U.S. and Canada. They have grown to become a leading supplier of non-GMO vegetable and flower seeds for all gardeners. Livingston's packaging includes a small window enabling shoppers to easily see the seeds' size and quantity.   
Advertisement 5
This advertisement has not loaded yet, but your article continues below.
Article content
A few fun facts about garden seeds: All seed packages are required to post a stamp with a suggested sell by date. But most gardeners know that the date shown can most likely be ignored because many seeds remain viable for years and often decades. 
Seed displays racks may look similar everywhere, but suppliers modify their selection on the rack to each retailer based on varieties, price, location and buying history.   
The big seed suppliers do not grow their own seeds on their own farms, but rather buy seeds in bulk from farmers and growers everywhere. Seed companies concentrate their efforts on processing orders, marketing, packaging, pricing and distribution. 
Share this article in your social network
Comments
Postmedia is committed to maintaining a lively but civil forum for discussion and encourage all readers to share their views on our articles. Comments may take up to an hour for moderation before appearing on the site. We ask you to keep your comments relevant and respectful. We have enabled email notifications—you will now receive an email if you receive a reply to your comment, there is an update to a comment thread you follow or if a user you follow comments. Visit our Community Guidelines for more information and details on how to adjust your email settings.
Join the Conversation
Advertisement 1
This advertisement has not loaded yet, but your article continues below.