Q: Along the side of my backyard there is a section of unattractive wall. You can see it clearly from the patio, but unfortunately, I don't have the budget to replace it yet. How can I hide it from view in the meantime? It would be nice to use a plant, but I'm not sure what my options are.
A: Unsightly backyard walls can be expensive to replace and creating a botanical garden screen in the interim is a great idea. And, if you choose to plant something evergreen, it will continue to provide cover and look good whatever the season.
'Luckily, there is a wide range of varieties to choose from, many of them with colorful, variegated leaves,' says John Negus, a gardening expert. 
John Negus
Gardening Expert
John has been a garden journalist for over 50 years and regularly answers readers' questions in Amateur Gardening magazine. He has also written four books and has delivered many talks over the years on horticulture.
Evergreen shrubs to hide a wall
John's recommendations include Euonymus fortunei, an evergreen shrub that will grow upright close to the wall. He also suggests aucuba (also known as spotted laurel) which is reasonably fast-growing; photinia (try Photinia x fraseri for its red-tipped foliage); ceanothus, otherwise known as California lilacs, which has clusters of pretty purple-blue blooms; and brachyglottis – the daisy bush – with its silvery foliage and cheery yellow flowers.
White-flowered Viburnum tinus can also work well in this situation. And if you're choosing for a slightly more tropical-looking garden, Fatsia japonica (available at Nature Hills (opens in new tab)) may fit the bill with its large, glossy leaves.
'Many larger garden centers have shrubs that are trained on trellis panels, making them very useful for providing instant and moveable screening,' John adds.
'When you choose your screening plant, check the label to make sure that it suits the growing conditions in your garden – consider sun and shade and soil type,' he advises. Suggestions for shade are listed below. 
Check, too, that your plant of choice isn't identified as an invasive plant in your area.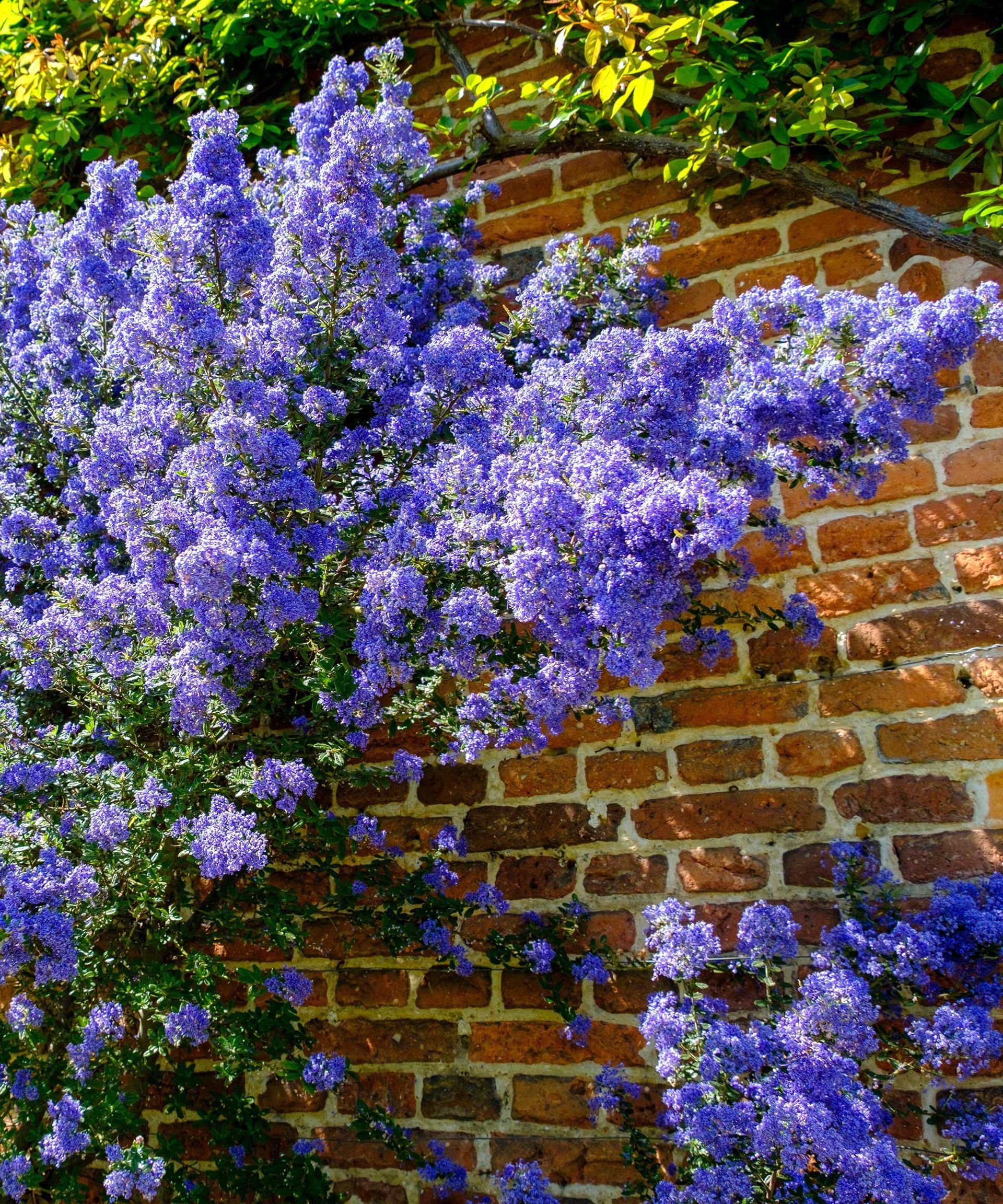 Ceanothus provides prolific purple blooms
(Image credit: Carolyn Clarke / Alamy Stock Photo)
Climbing plants to train up a trellis
If conditions allow, you could opt for an evergreen flowering climber. Train it up a trellis that's fixed on your wall. This arched, composite design from Amazon (opens in new tab) is a stylish option.
'One of the best white-flowering climbers is Trachelospermum asiaticum or its close relation, T. jasminoides,' says John. 'Both bloom from mid to late summer and are relatively hardy. They are, however, rampant and may need pruning to ensure that they remain an accommodating size.'
Alternatively, consider clematis 'Avalanche', a climbing plant with evergreen leaves and pure white blooms borne on 10-12ft shoots. 'If this is too large, clematis "Joe", at 3-6ft, may be more suitable,' John adds. 'You need to take into consideration how big the wall is and how high the trellis reaches.
'Alternatively, choose from many of the beautifully variegated and compact small-leaved ivies (Hedera helix), such as "Eva", "Goldchild", "Golden Ingot" or "Midas".'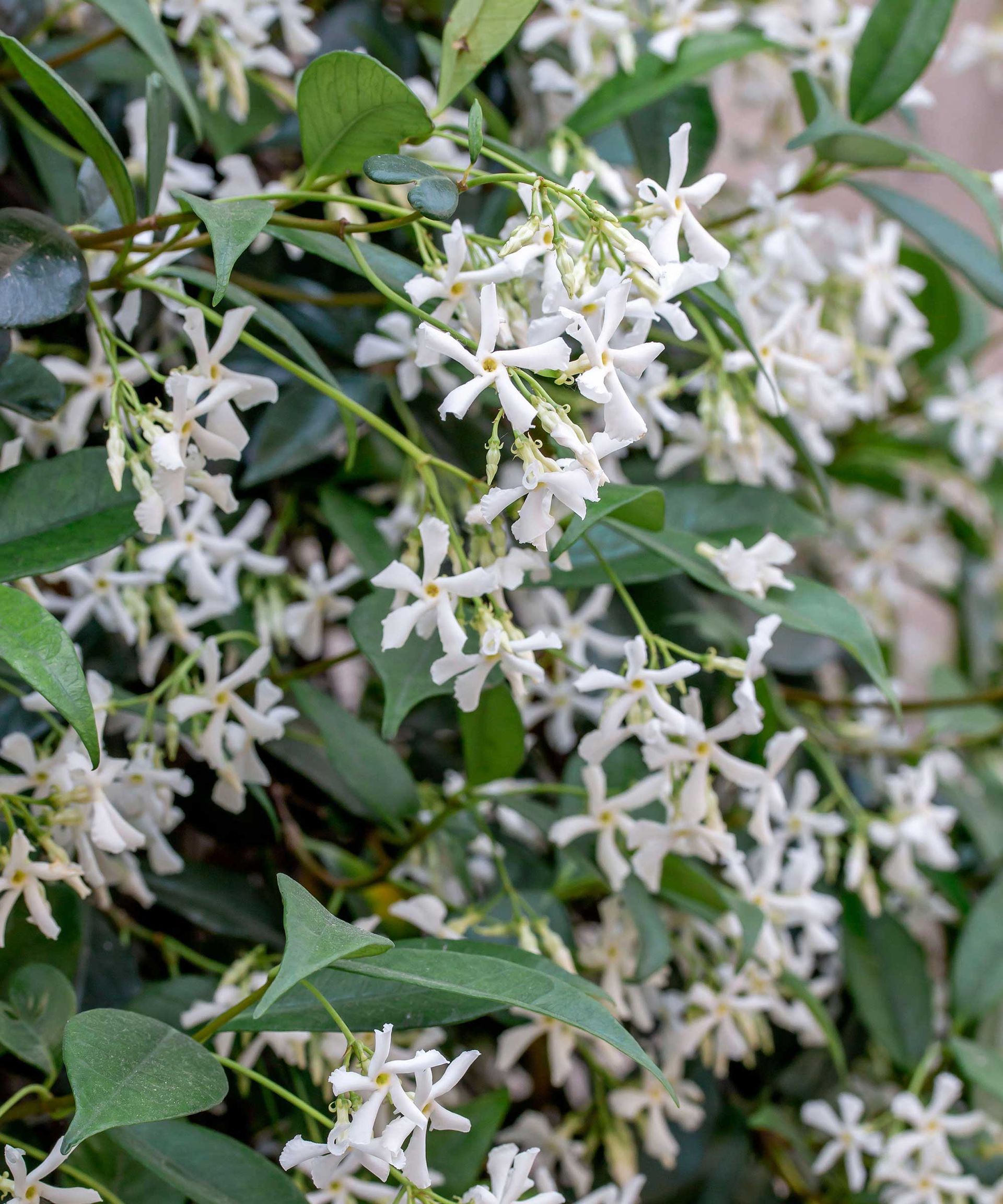 Trachelospermum jasminoides – the star jasmine – is beautifully fragrant
(Image credit: BIOSPHOTO / Alamy Stock Photo)
Plants for screening shaded walls
If your wall is in deep shade, most flowering climbers will be off-limits.
'However, firethorn, which should be trained as an espalier, with horizontal branches tied to taut plastic-coated wire, should flourish,' John says. Otherwise known as pyracantha, it produces sweet flowers in spring and fiery berries in late fall into winter.
Hydrangea anomala subsp. petiolaris (available at Nature Hills) (opens in new tab) is a self-clinging species that needs only a modicum of support in its infancy and should also thrive. Once established, it will happily attach itself to the brickwork.
If you want to add more plants to specifically cover the base of a shady wall, John recommends ferns. 'Choice among them are Polystichum polyblepharum, Adiantum venustum, Polypodium cambricum "Richard Kayse" and Adiantum capillus-veneris, the true maidenhair fern.' All of them do best in damp soil, so work in plenty of moisture-conserving organic matter, he adds.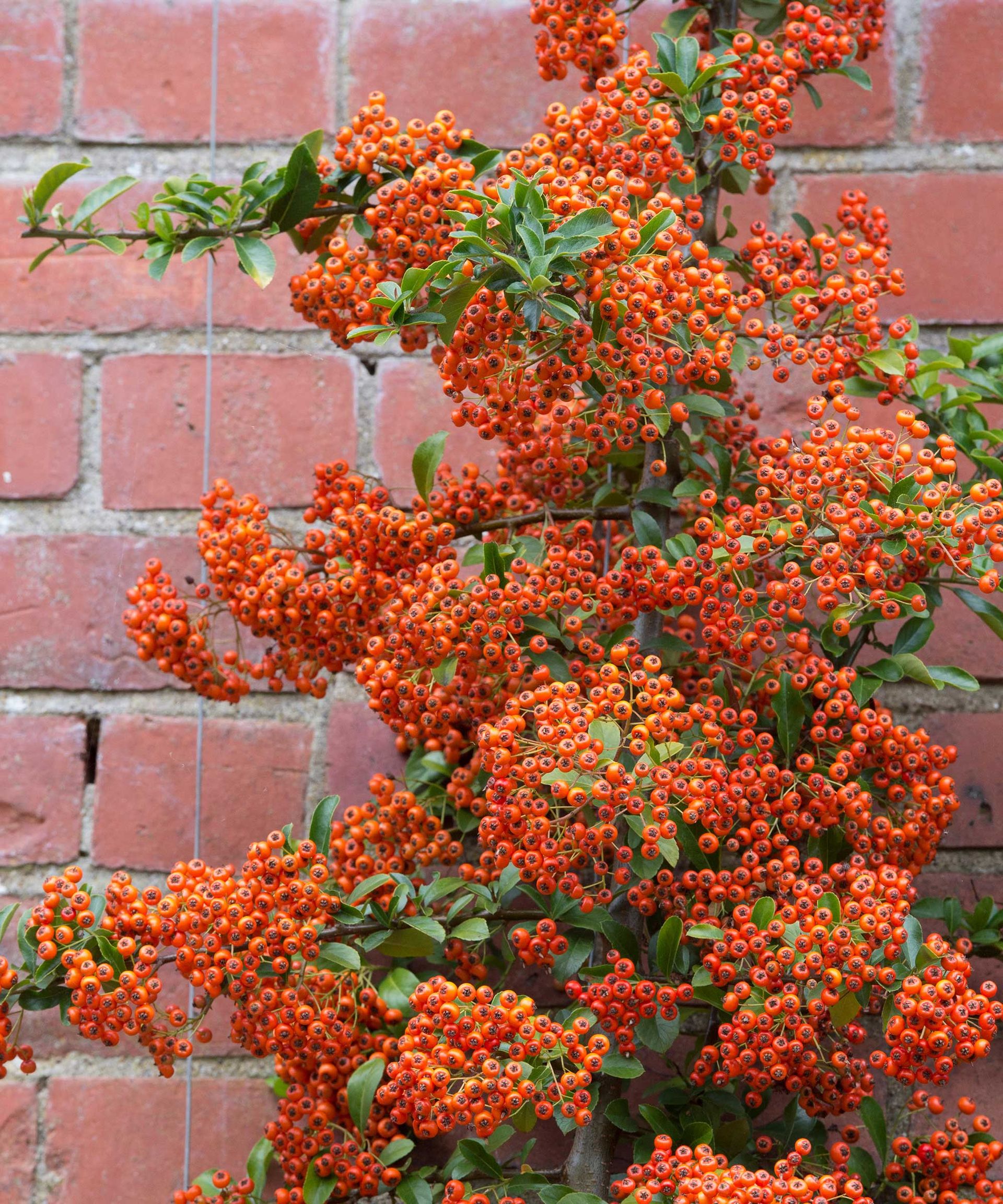 The bright berries of pyracantha cheer up the colder months
(Image credit: Tim Gainey / Alamy Stock Photo)
An ugly wall needn't be a cause of concern – just see it as a chance to bring new plants into your plot. And if you want to go a step further, give it a good clean and a lick of paint, too – white, gray, sage green; whatever garden wall paint idea fits your scheme. Once you're done, you may decide a replacement isn't necessary after all.