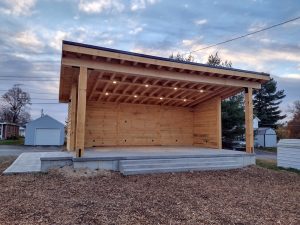 (Photo: Main Street Versailles)
Versailles, IN — Construction is wrapping up this week on the Holdsworth Entertainment Pavilion in Versailles, and the community plans to celebrate with live music.
Community members are being encouraged to grab their lawn chairs and coolers and head to the Courthouse Square this Friday (November 4) for entertainment by Hippie Fingers from 6-8 pm.
Groundbreaking for the pavilion (pictured) took place in July at the Pocket Park next to Versailles Town Hall.
Main Street Versailles took part in the state's CreatINg Spaces grant program, in which the town would be eligible for a matching grant of up to $50,000, provided a similar amount was raised locally through a Patronicity campaign.
That campaign raised more than $60,000, with the extra funds used to purchase percussive play instruments for the Pocket Park.
The pavilion is named in honor of longtime South Ripley Schools music educators and community arts advocates Gary and the late Patsy Holdsworth, who passed away in 2019 at the age of 74.
It will feature a 20 X 36 foot elevated stage, lighting, and signage.