One of the highlights of the holiday season in Garland County returns this year after a two-year hiatus.
Holiday Lights at Garvan Woodland Gardens was put on hold for the past two years due to the COVID-19 pandemic, but Garden Director Becca Ohman and Marketing Director Kristin Mangham say they are excited to see the event return.
"It was a beautiful show, and we had a lot of visitors come out during the day," Ohman said, noting the facility held a daytime winter garden display for 2020 and 2021.
"The numbers were not typical of a night display, though. The numbers were just not as typical as our evening show, so we're incredibly excited to be bringing back the night show to entice all of Hot Springs to come back out and see it."
"We know it was a tradition for families for years, and so we're glad to bring that tradition back as well," Mangham said. "I mean, I think we're as excited as the community is for Holiday Lights to be back."
Mangham said she has been attending the annual lights display for as long as she can remember.
"I have missed Holiday Lights," she said. "I'm from Hot Springs. I grew up here; I grew up having to see the lights every year with my family. And not being able to have it the past two years — I mean, we did the best that we could for the pandemic, but it just didn't feel like Christmas without having the lights. So I'm super excited to have it back."
Video not playing? Click here https://www.youtube.com/embed/jQH7-CRKvWo  
Ohman said planning for the annual display is a "year-round endeavor," as Garvan Woodland Gardens designs, builds and orders all the components for the 20-acre display.
"It's one of those really amazing ways to be immersed in the garden in a completely different setting," she said. "So we have lots of visitors who come out during the day and enjoy the beauty of the daytime garden and then watch it transformed into a completely different space at night. So just a really incredible way to celebrate the holidays and be in a beautiful outdoor space, as well."
Ohman said there is a team of approximately 20 people who install the display starting in mid-August.
"We have a Garvan team that has about a dozen people on it, and then we also work with a contractor to do some of the installation as well," she said. "So all in all, we have a team of about 20 people that begin in mid-August and run through really the week before. We are fine-tuning the show as we speak, getting ready for everybody to come on Nov. 19."

A worker at Garvan Woodland Gardens adds decorations to the lights display for the return of Holiday Lights, the facility's largest annual event. – Photo by Lance Porter of The Sentinel-Record



With the lights running for six weeks, from Nov. 19 through Dec. 31, the annual display is where the majority of the nonprofit's funding is raised each year.
"If we're at 200,000 visitors every year, we can see upwards of 80,000 for Holiday Lights," Ohman said. "And as a nonprofit, this is one of our biggest fundraisers. The garden produces 90% of its revenue every year, and so events like these are really wonderful."
In 2019, the facility advertised about 5 million lights for the display, and they have exceeded that this year. In addition to the standard fare of Garden of the Pine Wind, James the Train and the Schueck Rose Tree, there will be many more things, as well.
"We have an under-the-sea, or a seascape, aquarium space that's brand new this year," Ohman said. "We have these lights that hang from the trees that really start to create these amazing rooms. The Great Lawn which has been a really beautiful French parterre garden has a new design and new animated lights that'll really just engage everyone as soon as they see it. So it's pretty phenomenal."
The staff has also been able to get into the tops of the oldest oak and hardwood trees for the lights display, as well, Ohman said.
There has been a wonderful response from the public about the return of Holiday Lights, Mangham said.
"We just launched online ticketing this week," she said. "On all of our social media platforms, our e-blast, and I mean even if you just look at our Instagram or Facebook (pages), you can see the excitement. Everyone has really been waiting for Holiday Lights just to come back, and I haven't seen any complaints. I mean, I think everybody is super excited to be able to come back to the gardens at night and see our traditional light show."
Tickets for Holiday Lights must be purchased at https://www.garvangardens.org and are $20 for adults, $5 for children ages 4-12 and free for children 3 and younger. Tickets are only good for the date on the ticket and are nonrefundable and nontransferable, and due to a limit on nightly admission, the facility encourages people to purchase tickets soon.
Hours for Holiday Lights will be nightly from 4 to 9 p.m. Garvan Woodland Gardens will be closed for Thanksgiving and Christmas Day.

Some of the lights are displayed for the return of Holiday Lights, the Garvan Woodland Gardens' largest annual event. – Photo by Lance Porter of The Sentinel-Record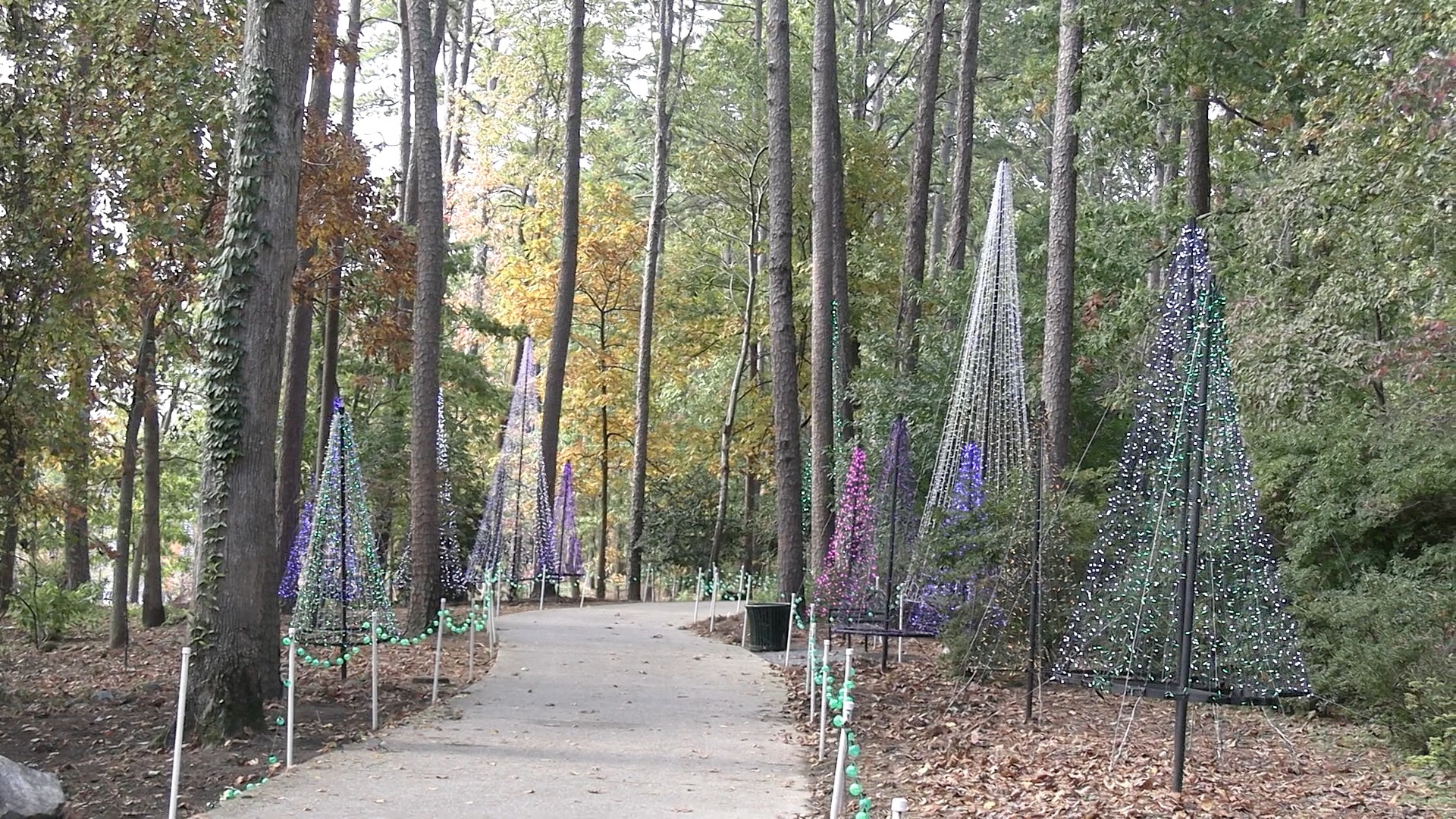 Some of the lights are displayed for the return of Holiday Lights, the Garvan Woodland Gardens' largest annual event. – Photo by Lance Porter of The Sentinel-Record