The Livingetc Newsletter
Thank you for signing up to LivingEtc. You will receive a verification email shortly.
There was a problem. Please refresh the page and try again.
By submitting your information you agree to the Terms & Conditions and Privacy Policy and are aged 16 or over.
Patios are a wonderful way to extend your living space outdoors, creating an extra dining room or a backyard living room, to enjoy when the weather is so lovely you don't want to spend a second indoors. And the best patios we have ever experienced are ones that feel really private. You could be in the middle of a busy, noisy city but step out onto the patio and you are immediately transported to a quiet, serene, private oasis. 
So privacy is key when designing your patio and there are loads of clever ways to make these spots, no matter what their size or set up, more secluded. From stylish fences to natural plant cover, we asked designers how they go about making patios feel more private.
1. Rely on a mixture of nature and subtle fencing
(Image credit: Richardson & Associates Landscape Architecture)
Fencing is of course a very simple and straightforward way to add some privacy to your patio. However, they are also quite…stark, the solidness of a fence can create a very obvious, and not very aesthetically pleasing, clash between the softness of the greenery elsewhere and the solid bulk of the fence. So, whatever style of fence you choose, we would always advise combining it with plenty of greenery too to make it feel more organic, and like a natural part of the patio. 
'Fences and decorative screens can help create a secluded patio, but privacy fences tend to be solid and tall, which can make a home feel more like a compound,' explains Adam Sexton, senior associate of the DC-based firm, Richardson & Associates Landscape Architecture. 'Many of our homeowners are opting for a more lightweight fence with planting to create a more private space.  Clients are also choosing plants for privacy instead. Vertical planting can achieve privacy screening in small spaces by using rolling shelves, pergolas, trellises, hanging baskets, planter boxes, fence shelving, mounted containers, and pouches.'
'The best plants to cover a fence will enhance the feeling of seclusion, without blocking so much light, creating more of a dappled effect. For this project security and privacy were priorities for the new owners. Within view of the Washington National Cathedral, the house is sited on a tree-lined suburban street at a busy intersection. To create a buffer and visually elevate the house from the street, layers of classic box hedging, laurel, and hydrangea together with new fencing create a sense of enclosure,' he adds.
2. Make a fence a key part of the patios design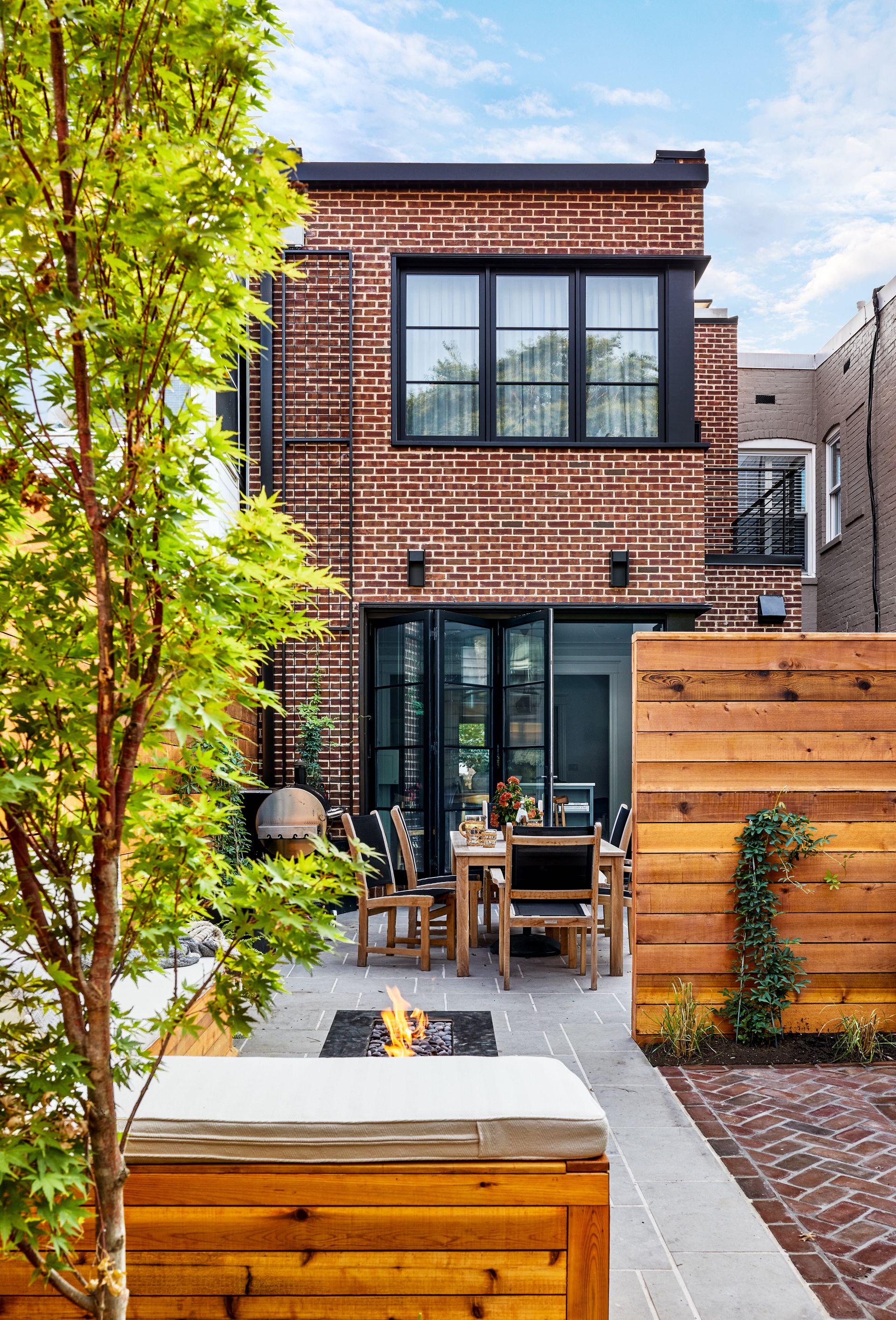 (Image credit: Richardson & Associates Landscape Architecture)
Adding privacy to your patio needn't just be purely functional, in fact it should never just be functional, it should be a really considered part of the design. In this narrow backyard privacy was a priority from the overlooking buildings, but also from the driveway that was built into the back yard. That meant a fence being used to separate the two spaces, so it needed to look the part as well as do the job.
'Every inch counts for a patio that extends active living space to this narrow house. At just 18 feet wide, the house and backyard underwent a complete renovation to accommodate a young family. Working in tandem with the architect and interior designer, we maximized the tiny rear yard with a confluence of needs. The resulting limestone-paved outdoor room offers a cooking/dining area directly off the kitchen via large folding doors; a seating area around a fire pit; a hidden drive/parking; and considerable privacy,' explains Adam Sexton.
'The fence is a key design element; its thin profile is devised from 2-inch steel posts and high-grade cedar planking to take up as little space as possible. Strategically sited to screen the car from view and offer a pleasing sense of enclosure, the fencing will provide walls of green once covered with Chocolate Vine and Clematis. Other plantings include a Japanese Maple, an urban shade tree that offers year-round visual interest – Boxwood, Dogwood, and various grasses and perennials. Imaginative and practical space planning, down to the weatherproof storage hidden in the seating, turned significant limitations into a captivating environment.'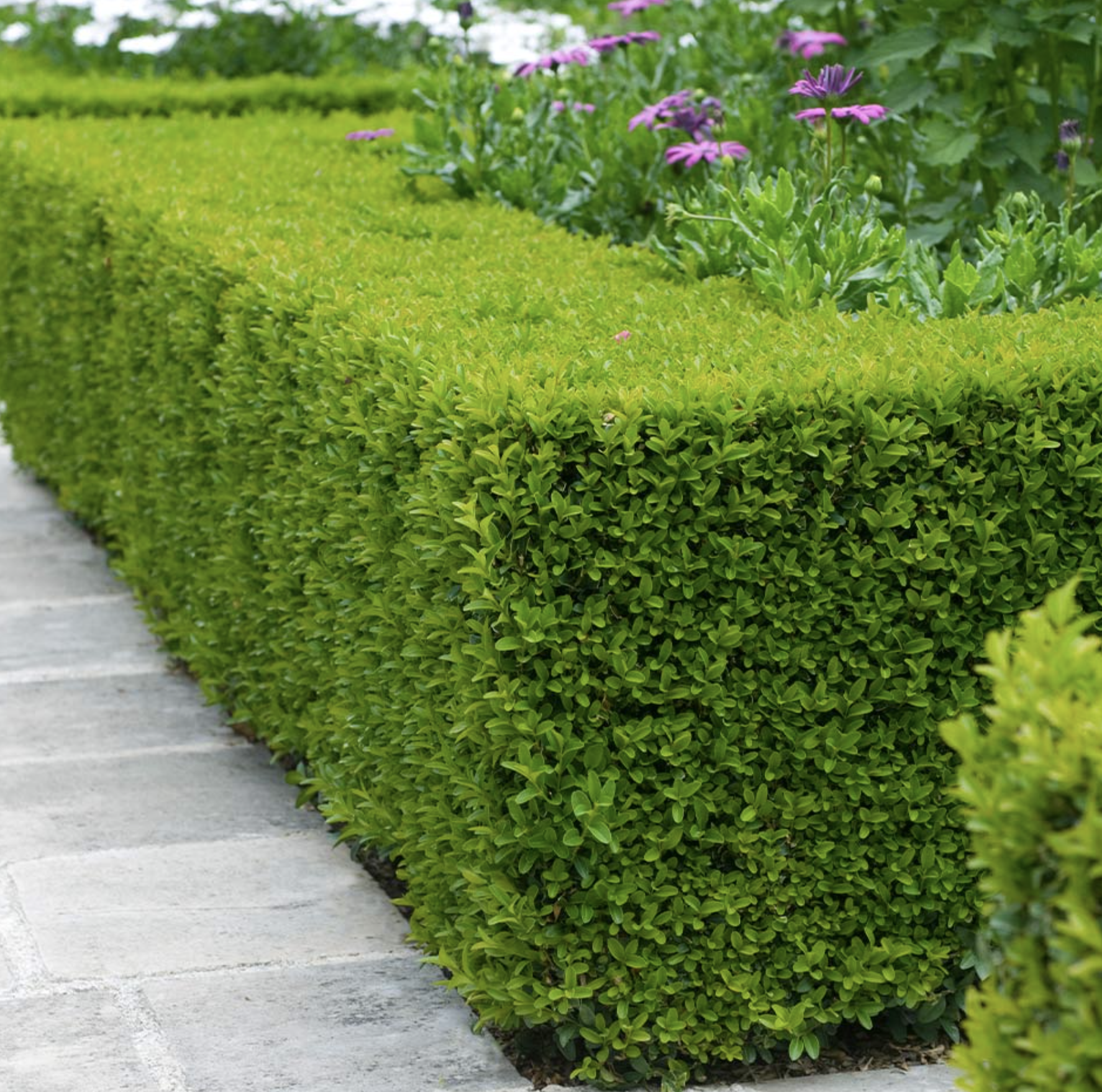 Price: $19.95
Size: 2 quart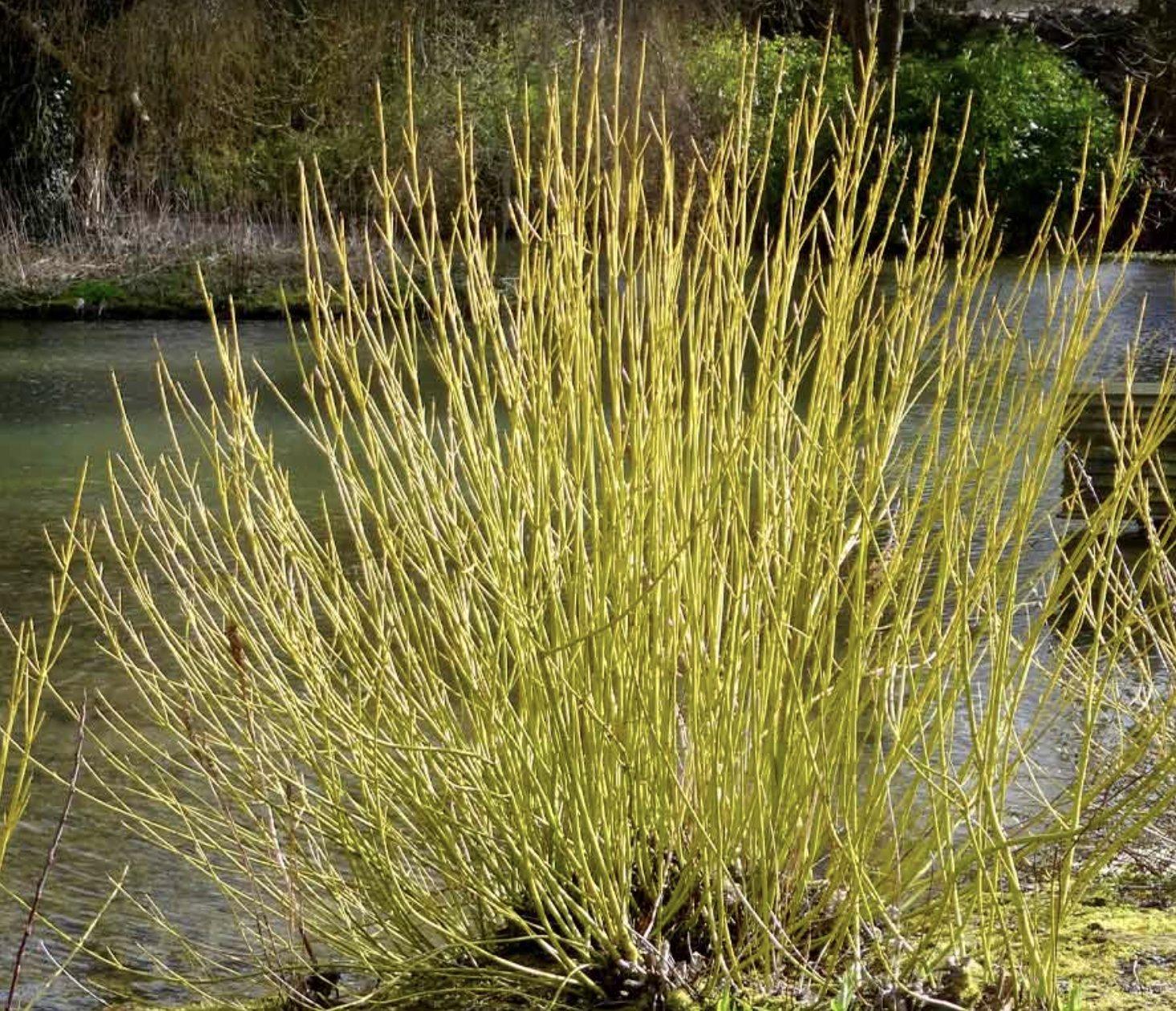 Price: $59.95
Size: 2 – 3 feet
3. Soften a wall and add extra height with a hedge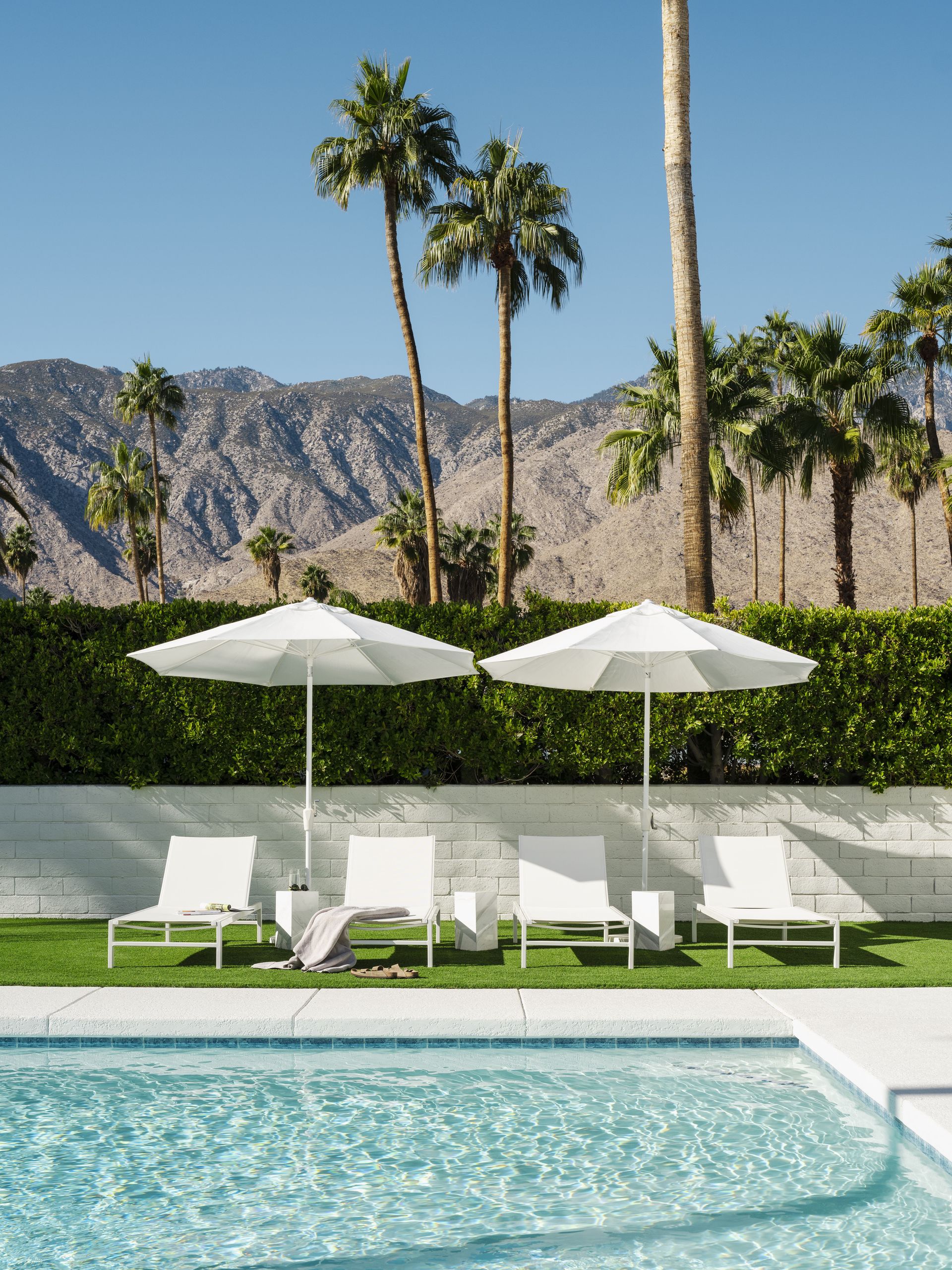 (Image credit: Joshua Smith/Lance Gerber)
Walls add privacy to a patio, but you are faced with the same problem as with fences. They are very solid structures, that can make a patio feel very enclosed – you get the privacy but end up feeling super confined. The solution? Go half height with the wall and then add the rest of the height with a hedge. You still get the same amount of privacy but it's far softer. 
'When looking to add more privacy outdoors, a good option is mixing a traditional method like a fence or brick wall with strategic plant,' explains designer Joshua Smith. 'I love the hedges peaking over this brick wall because it adds another layer to the beautiful landscape while shielding the backyard from those nearby. The green hedges blend with the natural background, whereas raising the brick wall to achieve the same level of privacy would have felt too abrasive and enclosing.'
In terms of the best trees for privacy, you want to go with something evergreen and relatively fst growing so you get privacy fast and all year round. Landscape designer Amber Freda suggests, 'If going for a natural privacy barrier, I'd recommend using arborvitaes or cypresses for smaller patios, since they stay more narrow. Spruces or pines will work for larger spaces and have the added benefit of being deer-resistant, but please keep in mind they will eventually get very tall and wide, so you should make sure not to plant them too close together in the beginning when they're still relatively small.'
4. Design a patio on its own level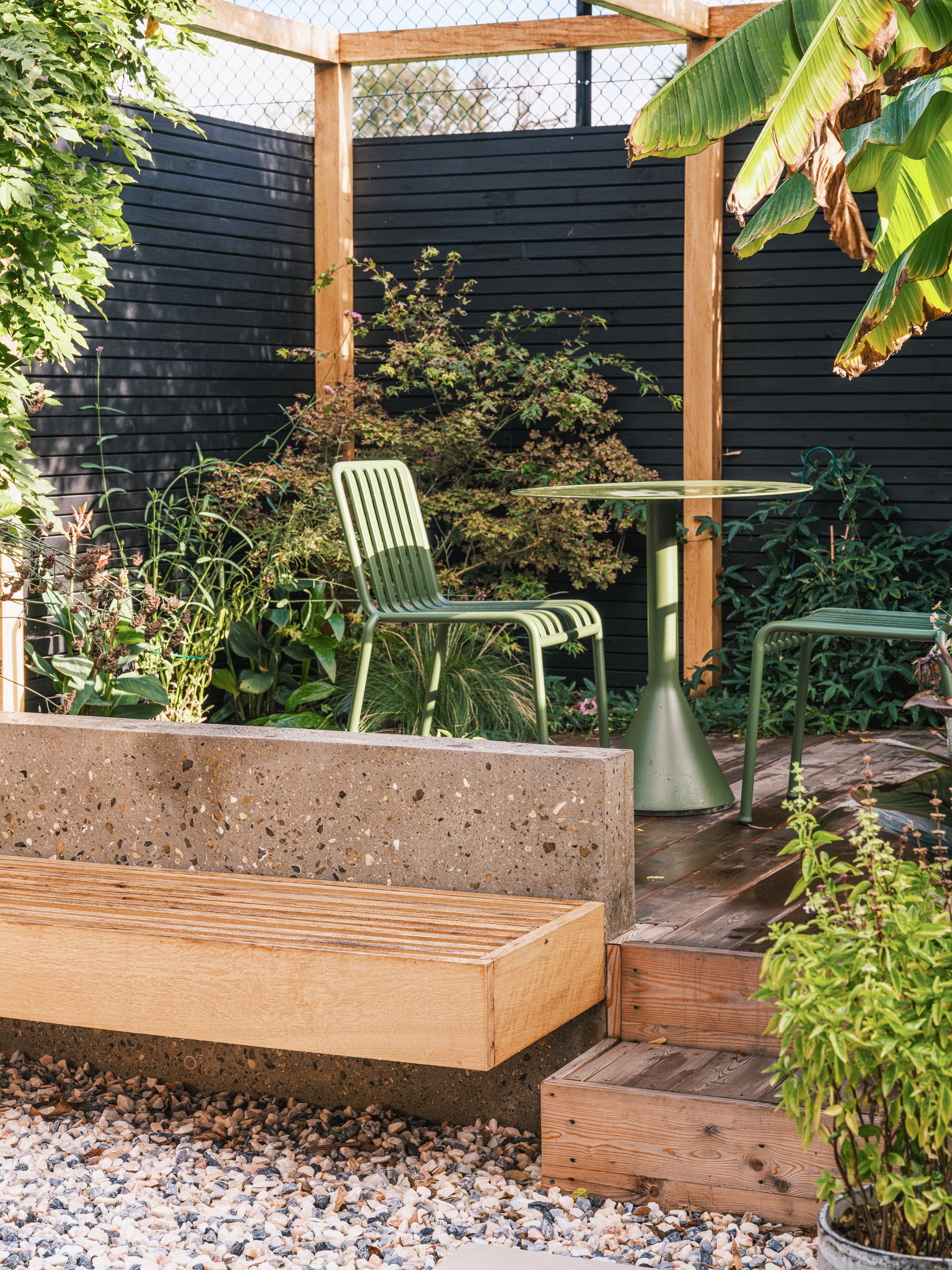 (Image credit: Fred Howarth. Design: Studio Webster Dale)
Having your patio on a slightly different level to the rest of the backyard gives it that room-like feel – secluded and private. This backyard designed by Webster Studio Dale, slightly elevates the patio area using decking, and the short concrete wall adds a second texture and again helps the space to feel separated. 
And note how the back fence is painted black. You might think this would make the fence look more obvious, more solid as we've mentioned previously. But going with a darker shade means you almost don't register the fence, it's a backdrop for the greenery that just seems to disappear into the background – it's also a great tip for making a small backyard look bigger. 
'Here we used subtle level changes to zone different areas of the scheme to create more private areas, enhanced by changes in material – a low polished concrete wall holds a bench seat to one side and de-marks the decking behind. The yard encourages a sense of intrigue and exploration and can be achieved in even small back yards,' explains Stephanie Dale founder of Webster Studio Dale. 
'Fencing height can be maximized to create a cocooning effect – here painted in a rich black to provide a foil to the textured planting which softens the area and helps build atmosphere. And a pergola can help screen the garden from above providing a framework for planting – the wisteria here will eventually provide a natural canopy. A combination of both structural and planted elements will provide a natural layered look to your garden and privacy requirements.'
5. Turn your patio into its own room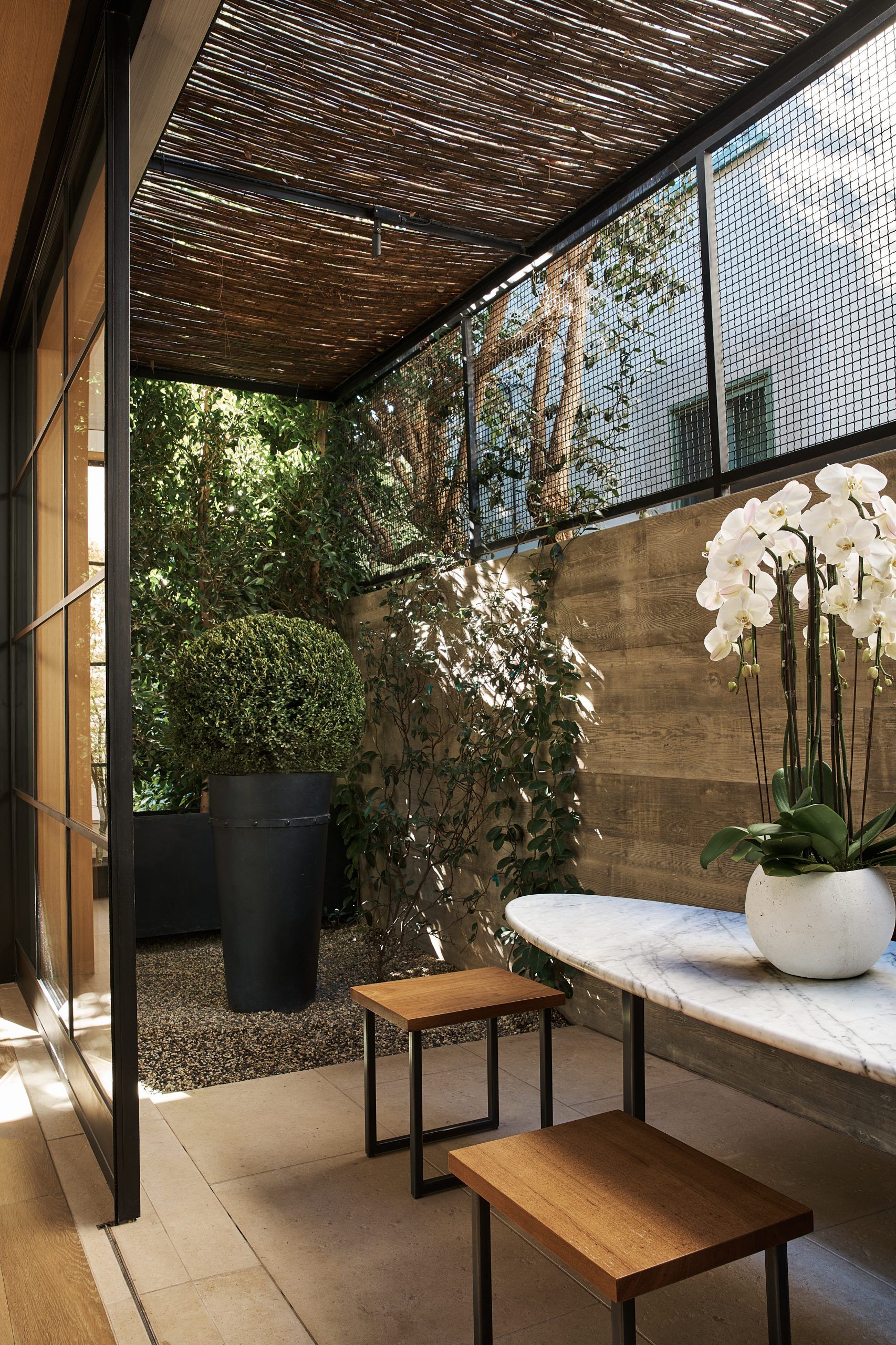 (Image credit: Kathy Taslitz)
This works really well if you are dealing with a small or narrow patio, or if your patio is situated in a side yard. Surrounding the space in soft greenery and adding a pergola overhead gives the impression you are in a secluded room that's totally private. This space designed by Kathy Taslitz was part of the garden that was used as an outdoor workspace, so coverage and privacy were key. 
'The idea is to make any space feel like a vignette, to make it its own room and create a scene. These outdoor rooms feel surrounded and cozier with the added natural background. For this outdoor workspace, installing the potted English Ivy and Willow branches as a "ceiling", made this patio feel private and intimate,' explains designer Kathy Taslitz.
'A pergola brings in a natural element while providing privacy. It's lovely to fabricate it in steel and then add something organic like flowers or branches woven in between the slats.' This is really key if you want to create a look like this, the pergola overhead should feel really soft and organic, so choose something like willow or for a very on-trend look right now use reed mats. 
6. Turn your privacy wall into a feature 
(Image credit: Kathy Taslitz)
Adding a firepit to a patio is always a good idea, it gives the space more of an outdoor living room vibe and means you can make more use of it as the nights get shorter going into the fall. And they are lots of modern styles that are actually more of a wall than a pit, so can add privacy as well as a feature to the space. Kathy Taslitz shows how it can work perfectly in this patio area. 
'For this patio, I designed a blackened steel fire pit and wall to hide the view of a neighboring home and flanked it with tall bushes to inspire a place for gathering. This fire feature provides privacy and brings in warmth while also creating another outdoor social space. The juxtaposition of the steel and plantings really feels balanced and interesting,' explains Kathy.
'And I think installing anything in a linear fashion is going to provide a sense of enclosure. An alleé of trees, hedges, even flowers will give a space definition and create a boundary for the furnishings,' she adds. 
6. Go horizontal with your fencing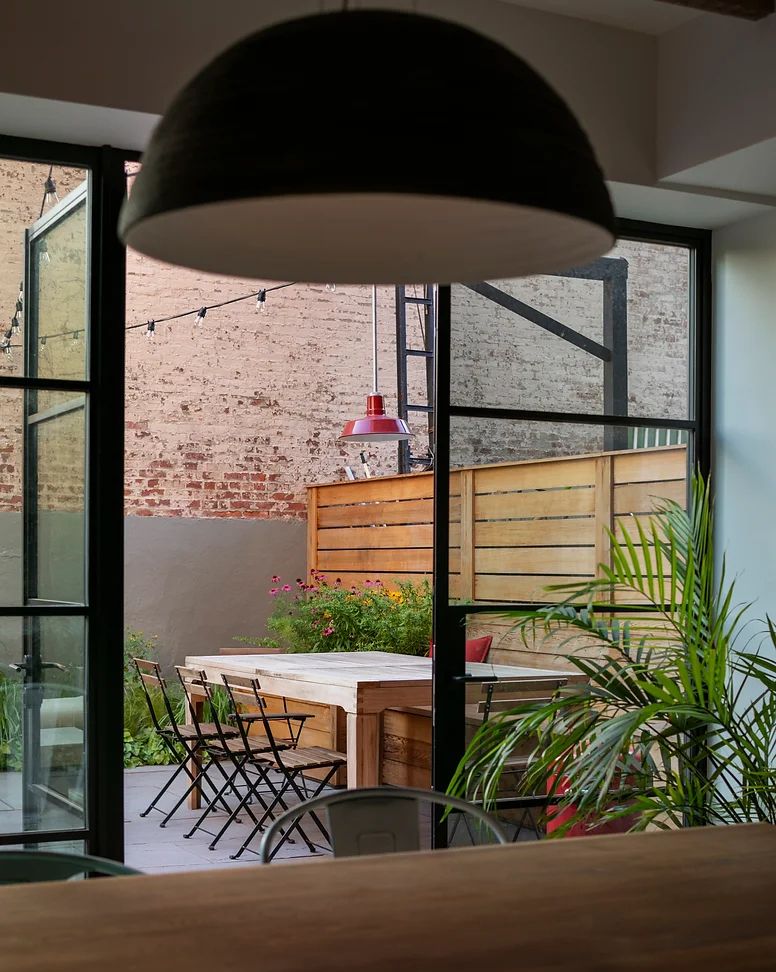 (Image credit: Staghorn NYC)
'This small garden in NYC was essentially a bare square with a large building making up the back wall and neighboring gardens flanking both sides. The goal was to create a multipurpose space that felt like a natural extension of the home's interior and gave a feeling of warmth and privacy without feeling dark, overgrown or cramped,' explains Kat Aul Cervoni landscape designer and founder of Staghorn NYC. 'To add privacy, our solution was to build 6' high privacy fences using clear western red cedar in a horizontal board orientation.'
Going horizontal with the board just looks a bit more natural, it feels less dominating than a vertical fence where your eye is immediately drawn upwards, creating a far more closed-in feel. Kat explains that 'We typically leave a ½" gap between boards to allow for the boards to naturally expand/contract and also provide light and airflow. I find that the horizontal orientation feels contemporary and understated and the vertical boards at the posts gives a more finished look while also cleverly hiding the screw attachment points for a cleaner look.'
'Fencing is an excellent solution for adding privacy, particularly to a small space, since it is, by nature, tall and narrow. Playing with board orientation, color or lumber type and width as well as spacing with boards is a fun way to give a space a bit of extra personality and also affect the light and airflow of a garden,' she adds.