As the sun stretches its golden rays over northern Ontario, it beckons the outdoorsy hearts to breathe in the freshness of the season. This is the time to make your outdoor oasis an extension of your indoor living spaces. There's no better partner in this transformation than Mio's Furniture Fashions and the Ratana outdoor furniture line.
Why Ratana, you ask? Since 1980, Ratana has established itself as a trendsetter, capturing luxury and comfort in its elegant designs. 
"It's not just your neighbour's favourite brand," says Audrey Overman at Mio's Furniture Fashions in Sault Ste Marie. "Ratana graces some of the finest luxury hotels, top-notch restaurants, and prestigious golf courses worldwide," Choosing Ratana means indulging in the exquisite blend of beauty and function that turns every moment into a treasured memory.
The Ratana line boasts durability and timeless style, perfect for the fleeting warmth of Ontario. Its unique elements, like the Dura Strap & Dura Rope, bring a touch of innovation to the world of outdoor furniture.
"These components, crafted from robust polypropylene, are designed to withstand the harsh reality of the elements — rain, sun, and the uninvited guest, mildew," adds Overman. This durability ensures that your Ratana pieces will stand the test of time, serving you through the years.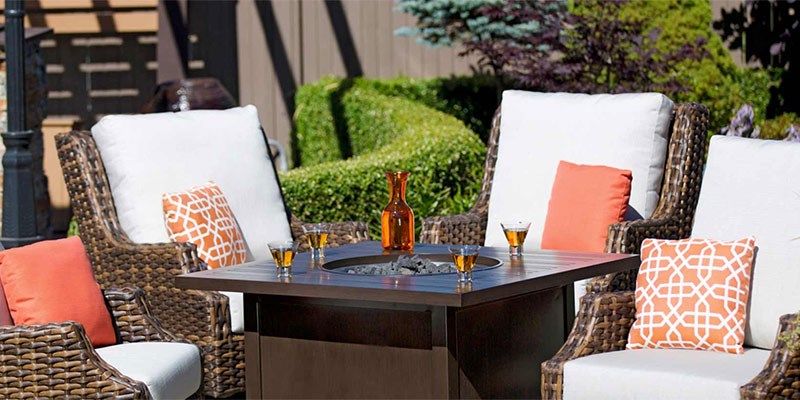 If a refresh is needed, customers often find they only need to update with new cushion covers or inserts, testament to Ratana's long-lasting quality. And the good news? Many of these remarkable pieces can be found at Mio's Furniture Fashions, a proud dealer of Ratana.
Arrive outside Mio's showroom, and you'll see the essence of Ratana come alive. You'll notice a diverse range of designs, each capturing Ratana's unique aesthetic.
"There are some designs that we can spot that are very unique to Ratana," says Overman. "Some pieces whisper elegance in their low-profile, sleek look, while others turn heads with their traditional, wicker-esque charm." Ratana caters to all tastes, with styles aplenty to choose from.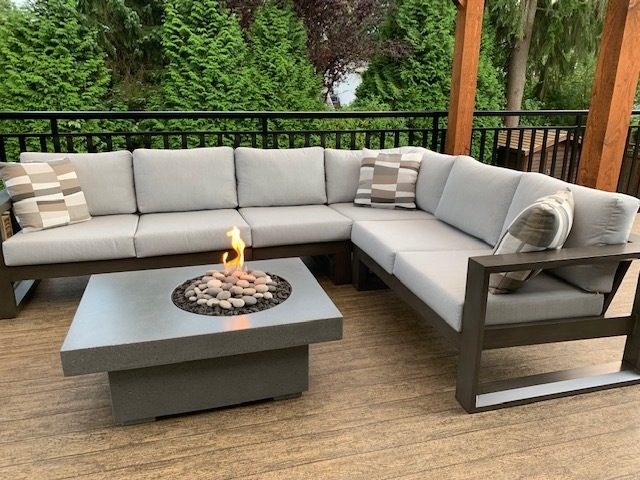 A standout among the collections is the trending Ratana fire tabletop. Its popularity extends beyond the borders of Ontario, with calls pouring in from California, Florida, and Washington, just to name a few. With a practical cover that allows for full use of the table when the fire feature is not in use, these pieces bring versatility and sophistication to your outdoor space. The Arlington model, in particular, is a favourite among customers.
For those ready to embrace the luxury of Ratana this season, Mio's has a delightful treat in store. Brace yourself for their 'Massive May Markdown' coming at the end of this month, where select pieces will see significant reductions.
And remember, there is always a standing 30% off the original retail price on Ratana pieces at Mio's, making luxury even more accessible.
So why wait? This season, transform your outdoor spaces into an inviting sanctuary with Ratana and Mio's Furniture Fashions. Visit the website or showroom today and step into the world of timeless elegance and unmatched durability.
Let Ratana's exquisite designs make your warmer months even more memorable, only with Mio's Furniture Fashions.