Eurobodalla Council's home of arts, culture and aquatic facilities has been acknowledged for its success with an Excellence in Construction award.
The site – Bay Pavilions, in Batemans Bay – is a venue featuring several indoor pools, an arts and cultural centre, an auditorium, a gallery and exhibition space, arts workshop spaces, meeting rooms, a foyer, cafe and visitor information services area, which opened in June.
It received the Master Builders Association of NSW award for Excellence in Construction, in Sydney last Saturday night (12 November), in the Public Building Over $60 million category.
Bay Pavilions was also named Best Regional Project at the Australian Institute of Project Management NSW awards, and Editor's Choice at the 2022 Sustainability Awards last week.
Since the leisure centre, designed by NBRS in collaboration with Donovan Payne Architects, opened five months ago, it has already welcomed more than 100,000 visitors.
Eurobodalla Council planning and sustainability director Lindsay Usher said being selected as a winner of a Master Builders award was a "huge honour".
"Our building contractor, ADCO Constructions, entered the awards against tough competition from right around the state," Mr Usher said.
"To win was a wonderful surprise and an affirmation of the quality work by the ADCO team, who really became part of our community over the two-year build."
Mr Usher said ADCO had used 10 local subcontractors and seven local suppliers for the build.
A first-year carpentry apprentice and a graduate engineer were also involved in the construction work, as were many locals.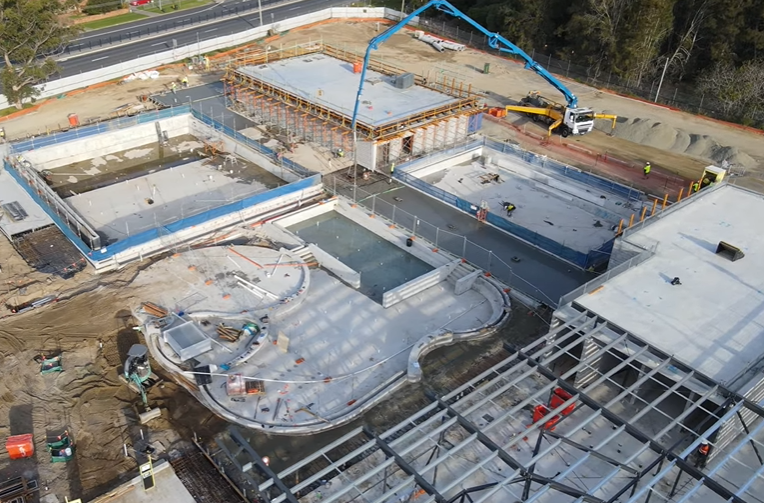 The Bay Pavilions' green credentials also pleased judges at the 2022 Sustainability Awards, earning a national building design prize.
The awards night on Thursday, 10 November, acknowledged 16 winners and 10 highly commended entrants.
Bay Pavilions also enjoyed recognition in July at the 2022 Australian Sport, Recreation and Play Innovation Awards.
NBRS architect Andrew Tripet said Bay Pavilions had ecologically sustainable development principles embedded in its design.
"With 99kW solar, an electric-vehicle charging station, rainwater collection, public recycling bins, energy-efficient lighting and water-efficient fittings, the centre shares an important message about how we can better live in harmony with the environment and with a lighter footprint," Mr Tripet said.
Bay Pavilions was also recognised at the 2022 Aquatic and Recreation Institute Awards of Excellence in October for its community marketing campaign following its opening.
Mr Usher said the awards for design, project management, sustainability and construction recognised all the people who had contributed to Bay Pavilions coming together and becoming a reality.