What we do now sets the tone for the whole growing season!
My father was a big gardener. I guess he passed it down to me. His garden was both large and productive. I would see him in the garden in the middle of January, tilling soil and mixing "leaf mole" into the soil. As a kid, I didn't get it.
"Dad, why are you out here working when it's not even growing season?" I asked him.
"Son, what we do today and this month will make or break our growing season." He replied.
And of course, he was right. What we do for our garden, namely our soil, will set the tone for the entire growing season.
During the last two weeks of this month, we will be aerating our lawns and beds and applying cotton burr compost over the top. And in that order.
You see, during the year, our soil goes through a lot. From the baking sun to freezing winter weather, to having chlorinated water cast over it all summer – our soils become depleted of nutrients, become stale and need revitalization.
The aeration and topdressing make soil recovery easy as the microbes in the compost activate the soil and replenishes the nutrients that were lost.
What is Aeration?
Aeration is the creation of thousands of 4-inch holes in the turf. This is most often done with an aeration machine, which has tines that are 4" long, round and hollow. As the aerator makes its way across the lawn, the soil that is punched through by the tines is released on the surface while a hole is left behind. The aeration will enable oxygen to get into the soil, an important step in getting soil back to health again. It also solves the issue of soil compaction, often caused by foot traffic or pet traffic.
Before you begin aeration, take time to mark all of the sprinkler heads in the yard using marker flags, so they can be avoided during the aeration process.
For the beds, I recommend aeration using a manual aerator or pitch fork. Shrubs, ornamental trees and perennial flowers that we typically put in beds all benefit from this, just as your turf does.
Compost Topdressing
The second part of this procedure is the spreading of compost over the top of the lawn, also called "topdressing." The value in doing this is that once applied, each time water is sent through that compost, a "compost tea" is created and penetrates the soil and into the root zone of your turf. Once that occurs, wonderful things happen with the turf.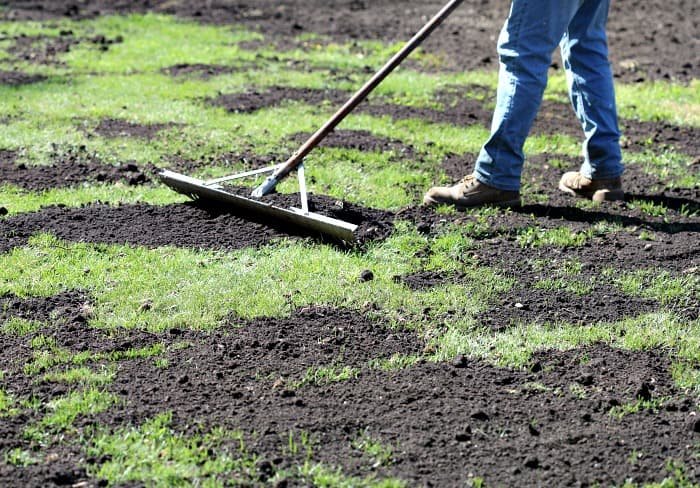 What kind of compost should you use? You want the most nutritious compost you can get. My preference is cotton burr compost, which is 100 percent cotton plant waste, composted. One of the traits of the cotton plant is that it is a nutrient-hog. They literally absorb all the nutrients it can get as its growing. Cotton farmers discovered that the piles of cotton plant waste cut after harvest was some of the most productive parts of their fields. The nutrients the plant absorbs during its life is returned to the soil through this compost. Cotton burr compost is the most nutritious compost I know of, containing plentiful microbes and enzymes important to soil development.
Another good option is dairy cow manure compost. Dairy cows are fed a high-nutrition diet to aid in the production of milk. Naturally, their waste, when composted, holds a lot of nutrition. It is a good option to turn to if cotton burr compost is not available.
The coverage you're wanting will leave the lawn blades showing but with obvious dark compost in all the in-betweens. So it is not a complete covering of your turf.
Pre-emergent
Because we're doing this during the last half of January/first half of February, this is also the time when we should be applying a pre-emergent to the lawn and beds. So the last step of this project is to apply a granular pre-emergent on top of the topdressing you applied in the previous step.
There are certain periods of time throughout the year when weed seed germination begins and in no time, a new young crop of weeds will emerge. So naturally we want to time our pre-emergent application right before these periods. That includes early February, end of August, and early November. So this product will provide some protection against weeds by sterilizing the soil so that weed seed germination does not happen.
It is ironic that one of the most important times of the year for our landscapes falls in the middle of winter.
January is a dry month
Welcome to January. For most folks across Texas, this is the second driest month of the year. The average rainfall amounts for this month are less than all months except July.
The average rainfall amount this month is 2.6 inches for Dallas, 2.2" for Denton, and only 1.2" in Wichita Falls, and 3.5" in Athens in East Texas. We don't think about it much because the month has almost no evaporation taking place and temperatures are generally much cooler.
So what does this mean? It means we should be mindful of this and keep our plants and trees watered, even in January. They are asleep (dormant) and we should take care of them. Especially if we have a windy month, which creates more evaporation.
The Winter Solstice occurred on December 21. It is the shortest day of the year or has the least amount of daylight time. Each day leading up to this day gets shorter while each day after will be longer. So we are already on our way to longer days with spring on the horizon.
Get Your onions in!
For you vegetable gardeners, prepare your gardens now and have your onions planted by Jan. 15. Turn your beds, replenish your soil with compost and whatever other components you might like.