Like summer, fall, winter and spring, patio season is a category of its own in Houston. When the cold fronts roll in, the hunt for which patio to park yourself at begins. Here's a look at this week's spotlight.
Houston weather can be unpredictable, so it's not a bad idea to have a patio you can count on come rain, shine, sleet or snow. It's an added bonus if it serves comforting Tex-Mex food and margaritas. Los Tios on San Felipe in Tanglewood offers just such a scene.
Los Tios has several locations across Houston.
Dave Rossman/Contributor
The flagship location of the time-honored, family-owned Tex-Mex restaurant opened in the summer of 2019 with its most attractive buildout yet. Among its many appealing design details, including Spanish terracotta-tiled floors and a bar stretching 14 feet high, is a temperature-controlled patio overlooking the property's lush oak trees The sun-filled space offers a bright, airy alternative to eating inside, all while maintaining the comfort of indoor dining.
The fully enclosed patio boasts a large section of windows, which are kept open on pleasant weather days, and the sound of trickling water can be heard from an oversized fountain in the back of the room. Seating is comfortable and plentiful, made up of high tops lined along the wall of windows and regular dining tables peppered throughout the room. Oversized plants and wooden posts weaved with vines further add to the patio's hybrid indoor-outdoor charm.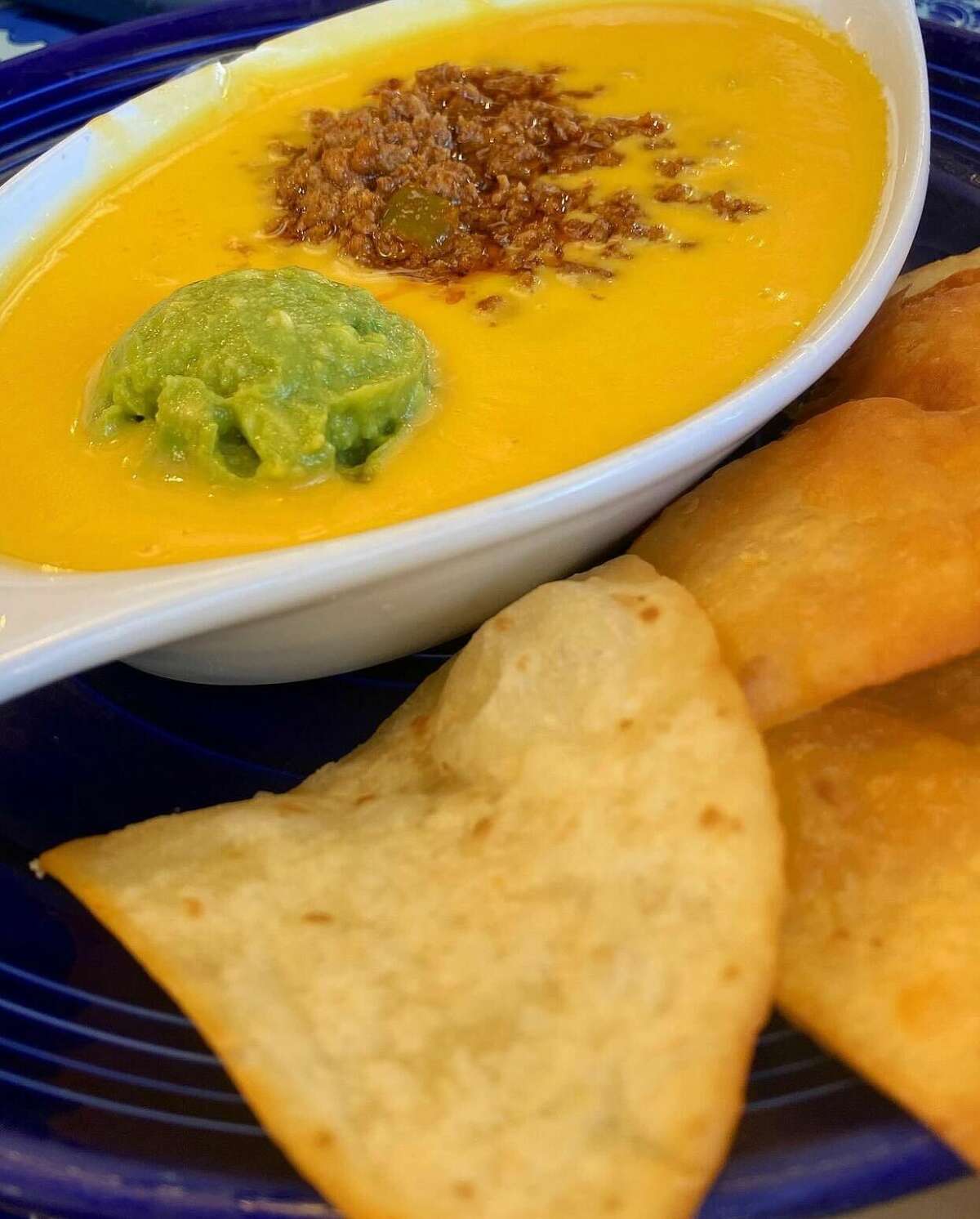 Katie's T-sip dip is housemade chile con queso topped with ground beef and a dollop of guacamole.
Megha McSwain
The menu matches other Los Tios locations, offering beloved staples like the puffy taco and Katie's T-sip dip, plus a hard-to-beat daily happy hour from 3 to 7 p.m., featuring $5 frozen or on-the-rocks house margaritas.
Let Houston's temps rise and fall as they may—dining on the patio at Los Tios is a year-round treat.
Los Tios (Tanglewood)
Find it: 5161 San Felipe St Ste 100, Houston, TX 77056; (713) 623-6103
Hours: Sunday, 10 a.m.-10 p.m.; Monday-Saturday, 11 a.m.-10 p.m.