a renovation by ryan leidner architecture
Ryan Leidner Architecture presents a lush and sunlit renovation project, dubbed the Three Gable House, among Silicon Valley's quiet residential community of Sunnyvale. The pre-existing Eichler Home was originally designed in 1962 by A. Quincy Jones and Frederick Emmons, and was organized with an inward-facing plan surrounding a central, open-air courtyard.
'The owners, Isabelle Olsson and Matthaeus Krenn, both designers who work in tech, fell in love with the house when they first toured the property, but sought to modernize the spaces while making the home a more energy efficient and comfortable sanctuary for their young family of four,' the design team comments, 'To do this, they turned to Ryan Leidner Architecture to help reimagine the house for a new era.'
images © Joe Fletcher | @joefletcherphoto
Minimalism meets lush gardens
With the Three Gable House renovation, the architects led by Ryan Leidner celebrate the original post and beam structure while creating an openness in the floor plan. This is achieved by strategically removing walls while a set of large, sliding glass pocket doors were added to the rear façade. This allows for the interiors to seamlessly flow to the rear yard with its new swimming pool.
The architecture is integrated with a bucolic landscape by Stephens Design Studio influenced by the owners' love for gardens. Nearly each room in the house, even the washroom, opens broadly onto a garden — their clean, minimalistic interior design harmonizing with the lush plant-life.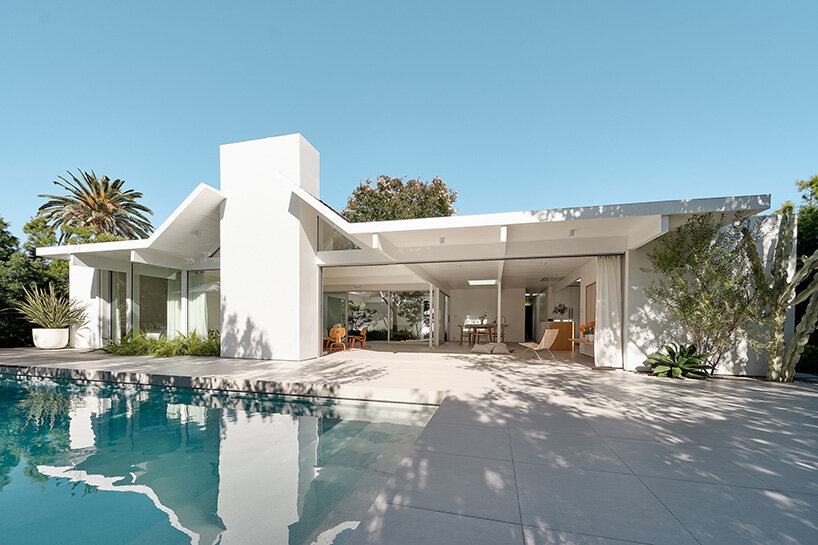 the pared-back interiors of the twin gable house
Ryan Leidner Architecture describes the material palette of its Twin Gable House: 'A primary goal of the renovation was to peel back the many layers of remodels that had occurred over the previous decades, which meant pulling out shag carpet, mirrored walls and old cabinetry to make room for a more refined material palette. A large-format porcelain tile was chosen for the flooring throughout the house, which allowed for material consistency from the interior spaces to the exterior.'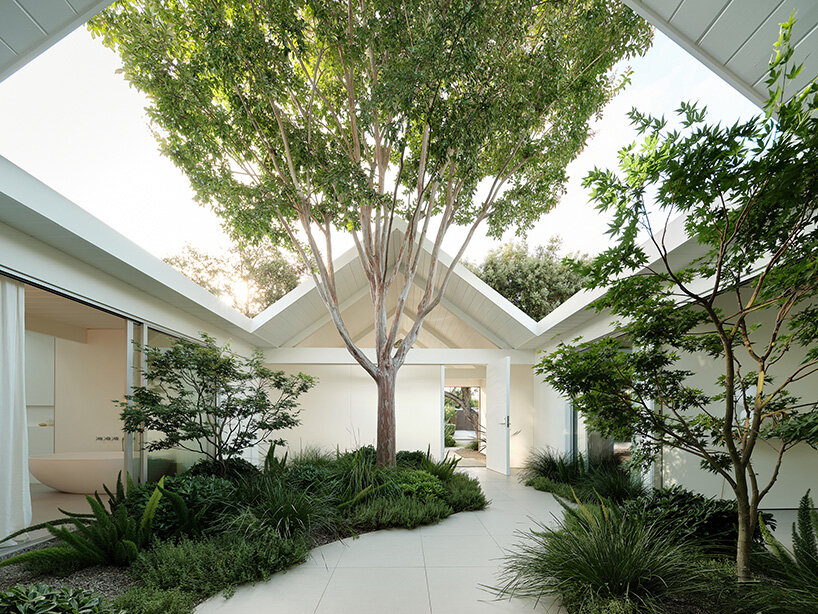 'Sheetrock walls were smoothed out and painted and the tongue and groove wood ceiling and beams were refinished. White Oak accents were used on the painted cabinetry to bring warmth, and in the kitchen, Carrara marble was used on the countertops and backsplash.
'On the exterior, the front façade was re-clad with red cedar strips which were cut at alternating depths to create a vertical pattern that echoes the original grooved plywood siding while concealing a flush garage door.'