The Machum House Pavilion, designed by Yong Ju Lee Architecture, is a timber pavilion that weaves the rich tapestry of Korean heritage into a contemporary masterpiece. In this project in South Korea, architects tried to blend the centuries-old craft of Korean timber production with contemporary techniques such as algorithmic design technologies and robotic fabrication.
This venture delves into the intricacies of "Sagae-machum", a conventional Korean woodworking method that connects columns and beams in a special way. While Korean architecture has mostly leaned towards Western styles, this concept introduces a new perspective by using advanced robotic technology, aiming to enhance precision and efficiency.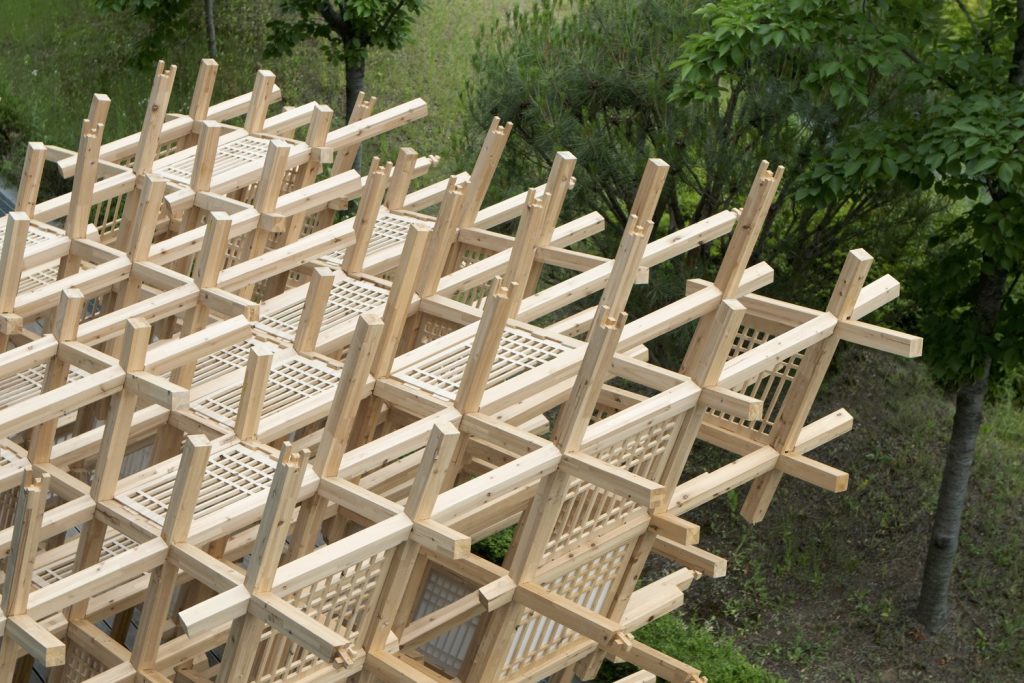 Traditional Korean homes, referred to as "Hanok," have usually depended on wood as their predominant construction material. These houses are crafted with special techniques, with Sagae-machum being a cornerstone of the system. It's an exceptional technique of connecting a number of columns and beams without any reliance on steel components, with the joinery system serving as a crucial technique for its construction. This same principle has been used for the design of the pavilion.
The design concept had two crucial goals. Firstly, it aims to revolutionize the performance and versatility of traditional Korean joinery in the contemporary era. This has a huge scope for research and the architectural industry as a whole. Secondly, it aims to discover the use of Glued Laminated Timber (GLT) as a sustainable alternative to steel for construction, contributing to environmentally accountable construction practices.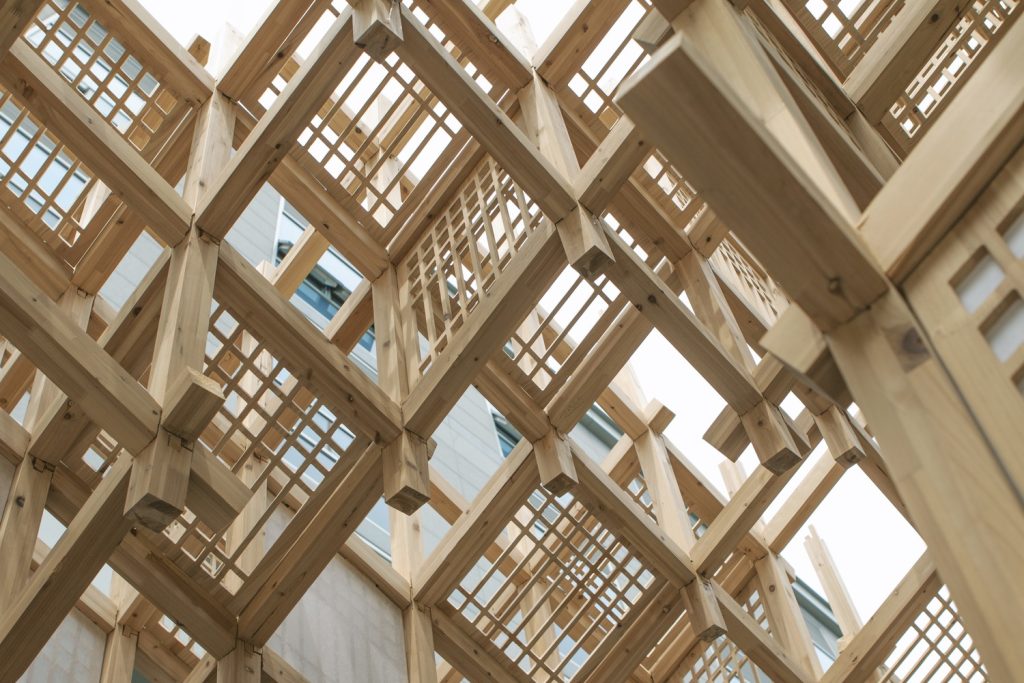 To bring Sagae-machum into the present-day generation, the team employed specialized regulations for manipulating pieces of wood. For the purpose of manipulating computational rules, a dimension lumber coordinate system is used. Lower and upper columns (Gi-Dung) in the Z-axis, receiving beam (Badeul-Jang) in the Y-axis, and covering beam (Upeul-Jang) in the X-axis stack and interlock to form a set of Sagae-machum modules. Increasing the surface contact area between parts by tilting the Z-axis by 15 degrees tests structural stability.
While the actual intersecting origin of the three perpendicular axes is a point, it is warped to become two in order to manage the volumetric elements with interlocking logic. These regulations permit the introduction of a Sagae-machum module that harmonizes decrease and higher columns, a receiving beam, and a protecting beam.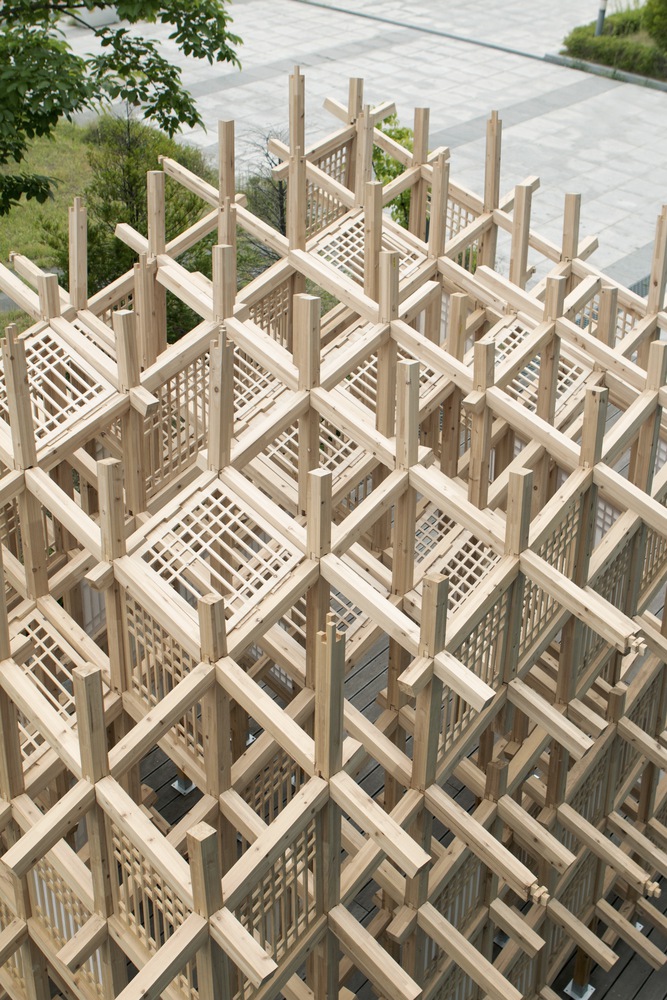 Inside the tilted Sagae-machum, the original coordinates three-level steps (Teuk) branch out into twelve steps. These steps are intended to maintain the volumetric boolean relationship and to prevent distorted geometry from extending perpendicular to the direction of the wood.
By reconfiguring the timber portions, the architects can establish a machine of interlocking elements. To further refine the gadget, extra steps were added, retaining the integrity of the volumetric shape whilst constraining deformations perpendicular to the wood grain. These multi-stage 3-D puzzles provide elevated structural stability in all directions, functioning as inner bracing. The carving of the timber components is executed with precision through a 6-axis commercial robot arm (ABB IRB-4600).
The Machum House Pavilion is made out of 239 Sagae-machums built from 241 vertical and 233 horizontal dimension timber parts ranging in size from 500 mm to 1700 mm. The traditional Korean window frame made of translucent paper acts as a medium for daylight to enter the space, allowing guests to engage with their surroundings. This project intends to broaden the capabilities of traditional architecture by utilizing advanced robotic fabrication, allowing for the production of a more dynamic and context-based structure. The end result is a structure that offers versatility and stays deeply rooted in Korean culture, marking a large stride closer to greater eco-friendly and modern architectural practices for the future.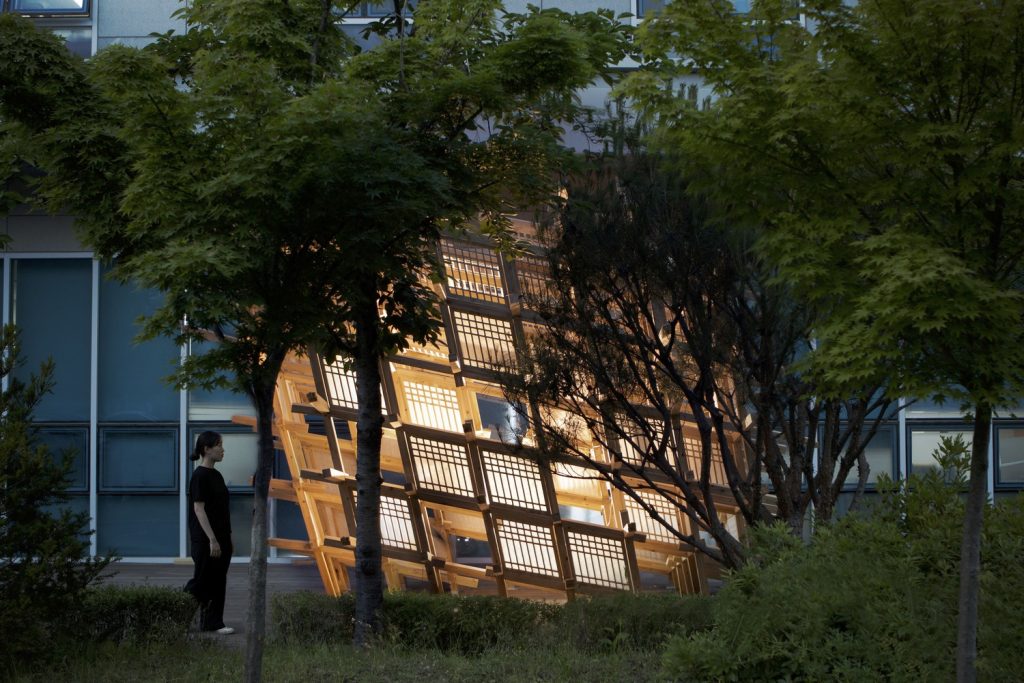 Project Info
Architects: Yong Ju Lee Architecture
Area: 20 sqm
Year: 2023
Manufacturers: ABB
Lead Architect: Yong Ju Lee
Design And Fabrication: Dachan Oh, Yujin Lee, Rayoung Kim, Seonwoo Lee, Seongmin Hong, Jeongkyun Kwak, Hansol Kang, Jiseon Song, Bada Jeong, Junseo Choi, Jisu Noh, Heeju Jin, Jaehyeok Choi, Dawoon Won
Location: South Korea