mediterráneo pavilion by spanish architect manuel bouzas
Spanish architect and researcher Manuel Bouzas pays tribute to the Spanish window blind with Mediterráneo, a timber pavilion designed for the second edition of the TAC! Urban Architecture Festival in Valencia. The project was open to the public between September 25 and October 16, 2023, at Plaza Músico López Chavarri in Valencia's historic El Carmen neighborhood. Instead of protecting a single window or individual, this monumental-scale urban blind covered and reactivatedd an entire public space by bringing together a whole community through play, social gatherings, and cultural activities organized by the city. The TAC! Festival team selected Manuel Bouzas' catenary-shaped proposal as the winning design among 125 submitted by young architects this year.
all images © Luis Diaz
a catenary-shaped timber venue acting as a large urban blind
According to Manuel Bouzas (see more here), the Mediterranean blind emblematizes a very particular climate in Spain, with many southern European cities embracing this archetype, known as the 'Alicentina' blinds, to protect themselves from heat. However, with today's climate control systems like air conditioners and fans, blinds have lost some popularity, prompting a reevaluation of domestic energy consumption and material emissions amid our current environmental crisis. The architect expanded this exploration to Valencia's Plaza Músico López Chavarri, an unstructured square plagued by a lack of shade, amenities, and greenery, posing challenges that called for an alternative to this urban space. In light of those conditions, the Mediterráneo pavilion features two triangular timber structures with a catenary-shaped green wooden blind, reminiscent of locally manufactured blinds. A circular opening in the canopy illuminates a small garden where vegetation and soil help regulate temperatures during late summers. A series of rocks, meanwhile, double as seats, creating a communal space under the expansive structure, which served as the open-air venue for the TAC! Festival public program.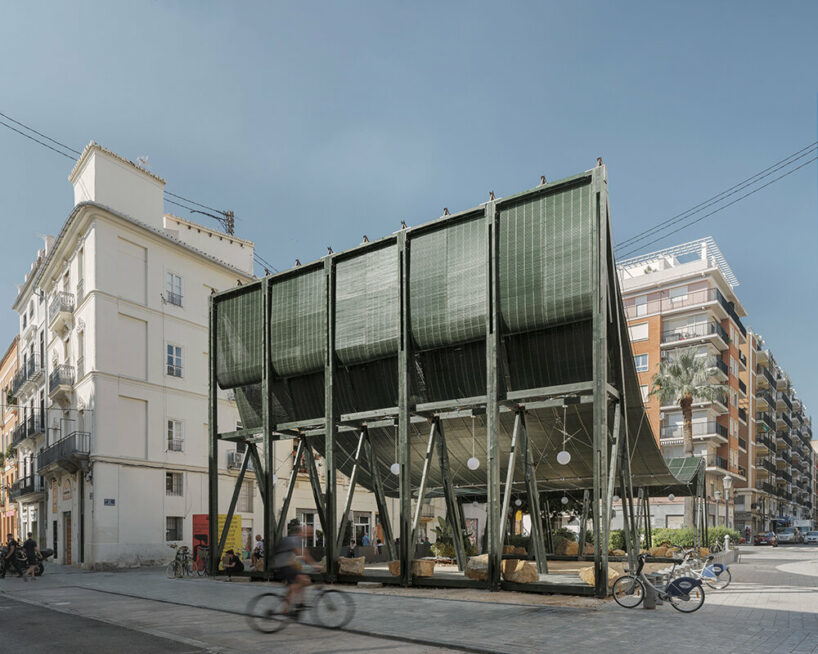 Mediterráneo pavilion located at Plaza Músico López Chavarri in Valencia
manuel bouzas promotes local and circular economies
Construction-wise, the Mediterráneo pavilion mainly comprises preindustrial, low-embodied carbon and regenerative materials extracted from nearby sources and assembled by local specialized labor — promoting local and circular economies in the region. The material palette echoes diverse landscapes within a 300 km radius, like the pine plantations of Soria, the blind factories of Sax (Alicante), and the stone quarries of Teruel. Additionally, the structure features modules assembled in the workshop to reduce costs, timelines, and risks. After dismantling, the materials were recirculated and donated, leaving a temporary footprint in the city. The timber returned to the industry, the stones returned to the quarry, and the blinds were donated to the neighbors' community.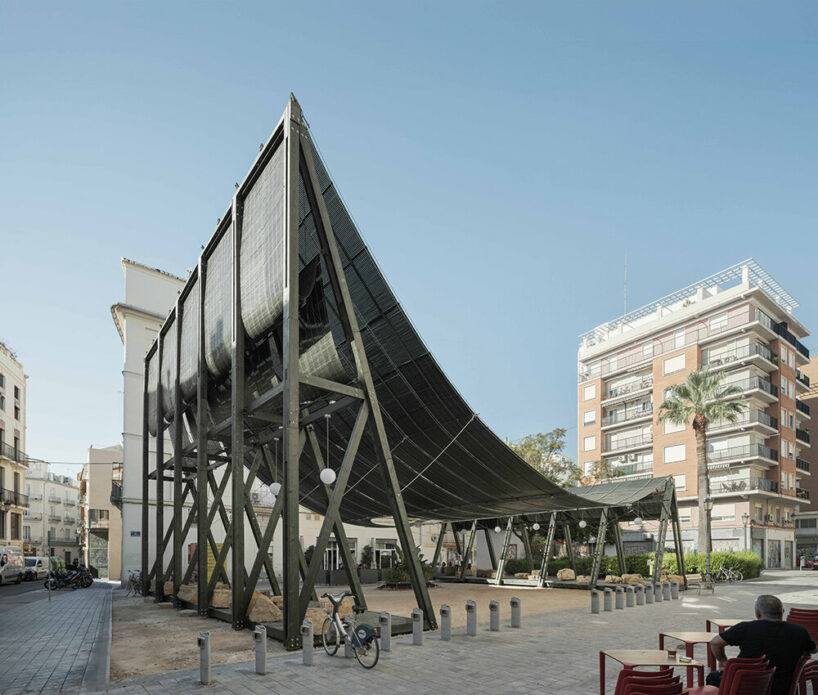 Spanish architect Manuel Bouzas completed the project as a tribute to Mediterranean blinds
about the TAC! urban architecture festival in valencia
From September 25 to October 16, the pavilion hosted several free activities organized by the Valencia City Council and Las Naves social and urban innovation center, featuring local creative and social figures. Twenty activities showcased local business innovation and excellence, highlighting Valencia's role as an innovative design hub. TAC! brings together contemporary architecture and young talent to explore urban and social issues. Following the inaugural 2022 edition in Granada, the 2023 edition takes place in two cities with rich architectural traditions: Valencia and Donostia-San Sebastián. These cities have welcomed temporary pavilions in their public spaces, including Mediterráneo by Manuel Bouzas in Valencia from September 25 to October 16 and Lost Forest by Julia Ruiz-Cabello Subiela and Santiago Del Águila in Donostia-San Sebastián from October 10 to November 13. TAC! operates through two annual open calls. The first is a competition for young architects to design a temporary pavilion for the festival program. The second call invites local councils from different parts of Spain to become TAC! Cities in future editions, aiming to promote young talent.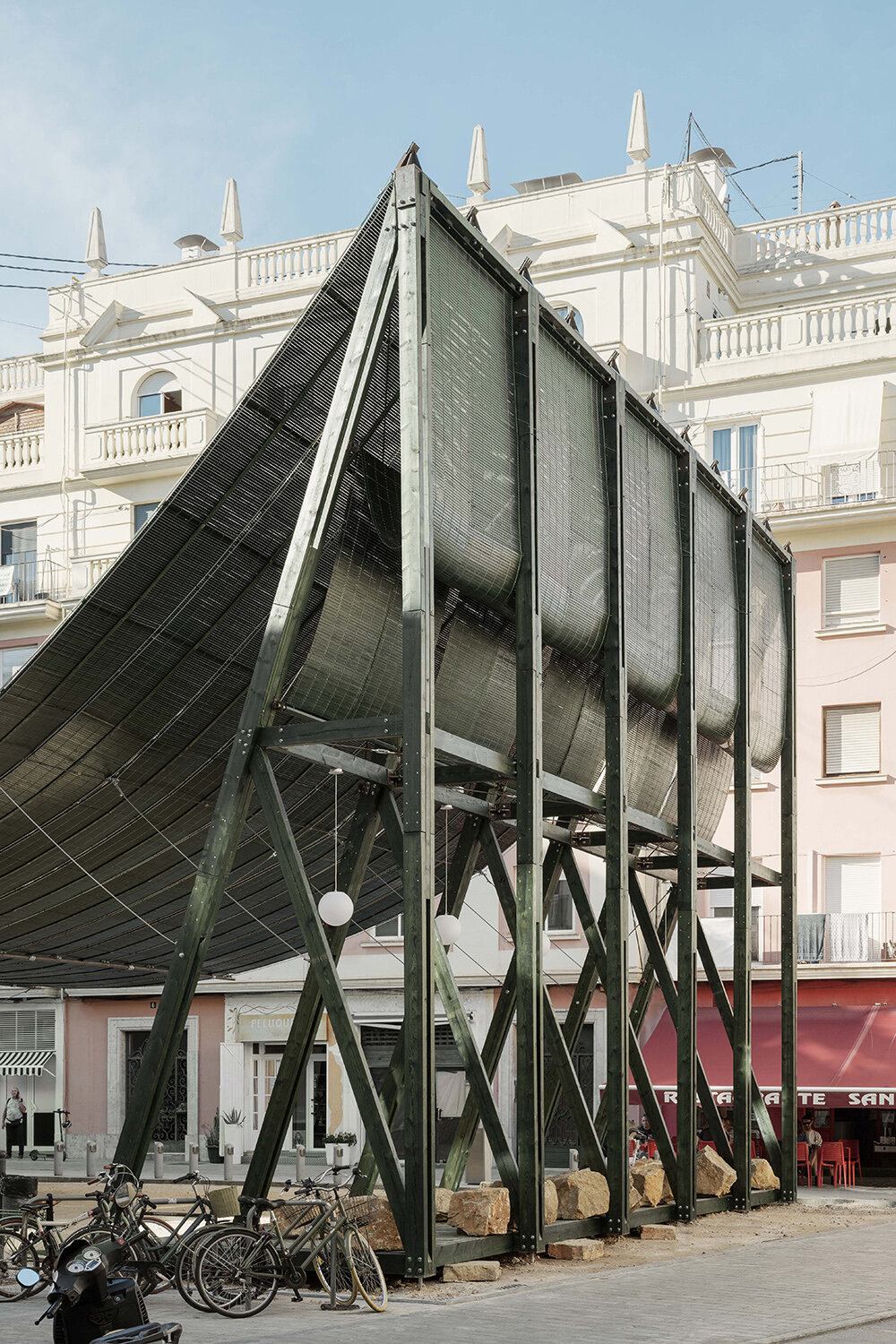 a catenary-shaped venue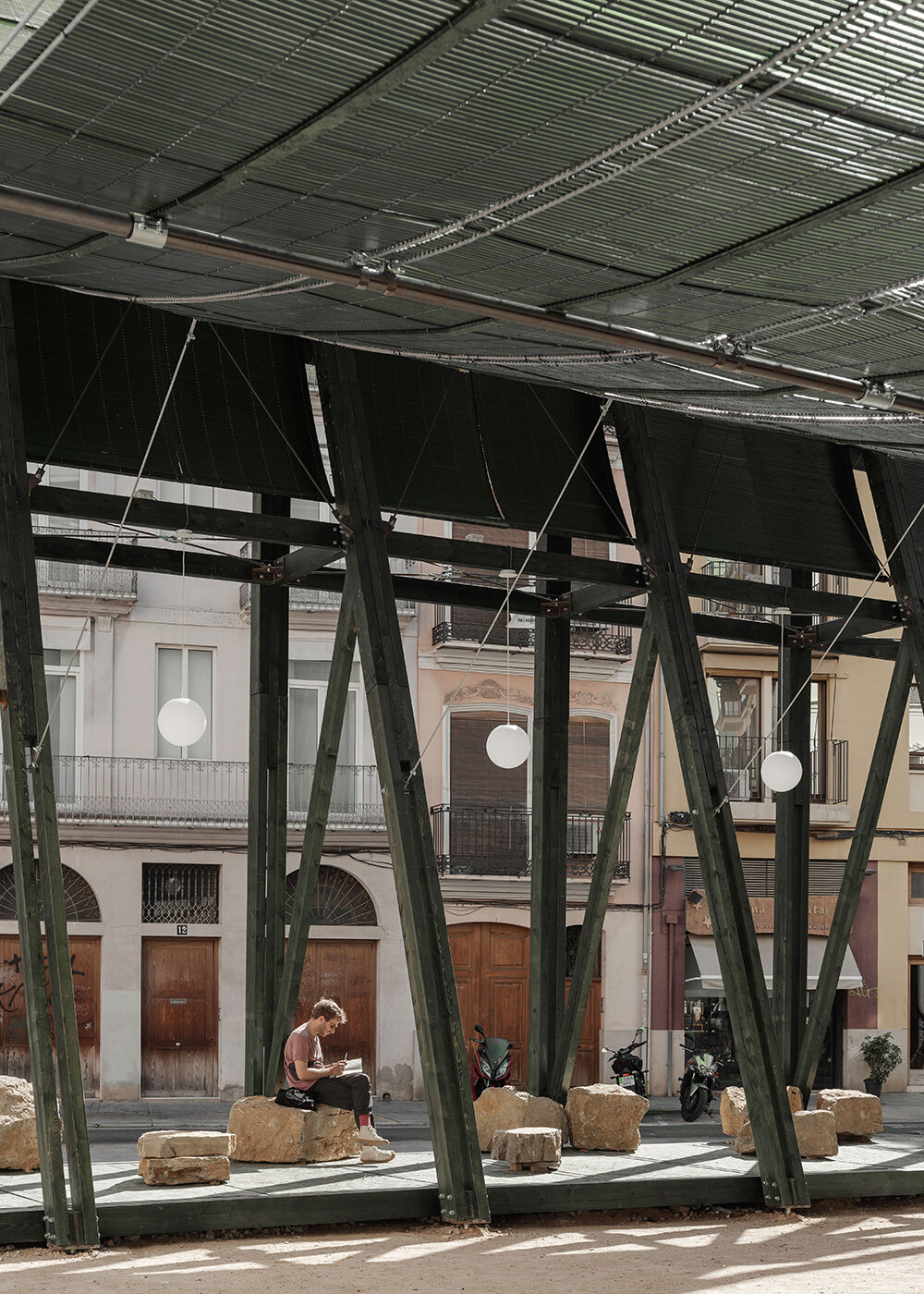 using rocks as seating objects for the public