Mark Gregory never rests on his laurels. The celebrated designer created his first Chelsea Flower Show garden in 1989 and has been involved with at least one every year since. This year, he brings us Chelsea's first ever edible garden, Plot to Plate.
Chelsea regulars are bound to remember his Welcome to Yorkshire design, featuring wisteria, a stream and a stone bothy, which won gold in 2018 and was crowned the BBC's RHS People's Choice Garden of the Decade two years later. "That garden had magic dust on it," says Mark. "I'm afraid I'll never be able to replicate that feeling – but trying to is what excites and drives me forward."
This year's design is Mark's most ambitious yet. The Plot to Plate garden, sponsored by Savills, will evoke the experience of stepping into the walled garden of a country hotel, with a combination of ornamental and edible planting. In a Chelsea first, it will feature a working kitchen and adjoining dining area, where invited guests will enjoy freshly harvested ingredients.
"Every year, I try to keep raising the bar," says Mark. "This is the most complex thing I've done, but I want visitors to be wowed. I want to create a garden that is remembered – that starts a conversation."
ARE YOU EXCITED OR NERVOUS ABOUT THIS YEAR'S EVENT?
Absolutely excited. Chelsea is a massive part of my life. I'm like a coiled spring of excitement – but I also get very nervous. Usually, on the way down to the event from my home in Yorkshire, I pull up the side of the road and am physically sick with nerves. This year's Savills Plot to Plate Garden is the most complex thing I've done. The stakes are high. But it's go big or go home. If it's not scaring the life out of me, it isn't worth it.
WALK US THROUGH YOUR PLOT TO PLATE DESIGN…
It will feel like stepping into the walled garden of a country hotel (think Le Manoir or The Pig) with edible and ornamental plants mingled together. Bronze fennel will create structure, while chives will add texture, colour and taste. Yorkshire flagstone forms the pathways, while reclaimed brick pantiles will be used for the greenhouse roof. Inside, shelves made from upcycled trays will burst with chillies, basil and tomatoes. At the heart is a working outdoor kitchen and dining area, where, each day, eight Chelsea Pensioners will enjoy meals prepared with ingredients from the garden – a Chelsea first.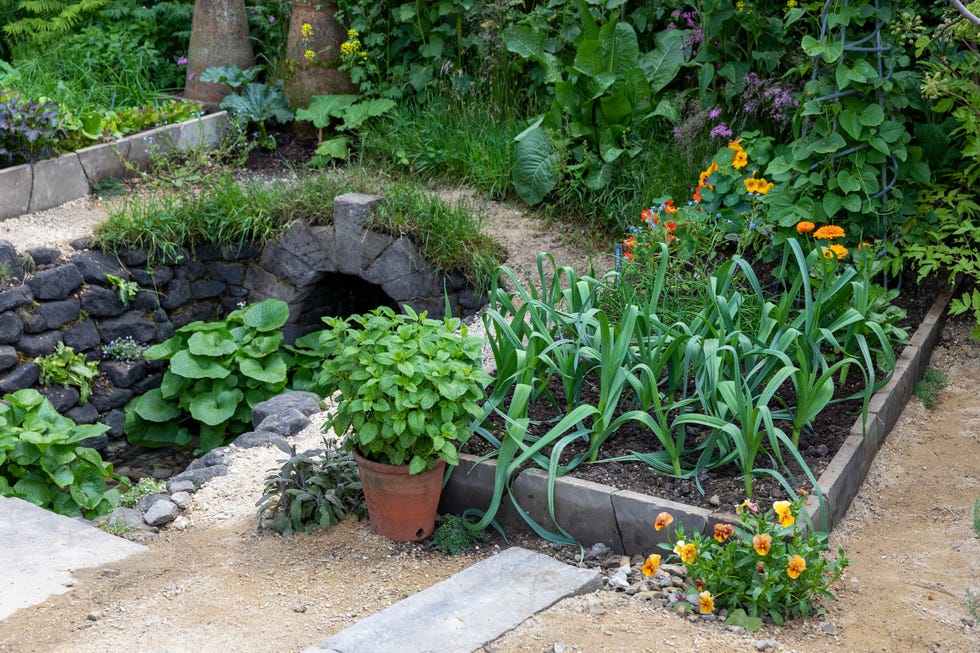 The Plot to Plate Garden sponsored by Savills
RHS/Sarah Cuttle
SOUNDS LIKE A BIG CHALLENGE?
This is by far the most challenging thing I've done at Chelsea. No other garden has a working kitchen! At 12 metres long, it will be the biggest garden at this year's event (most are 10 metres) – and the bigger the ambition, the more chance it could go wrong. But I love the challenge. I don't see Show Gardens as gardens at all: they're theatrical offerings. I think they need to be more interactive, rather than static displays with a little rope all the way around.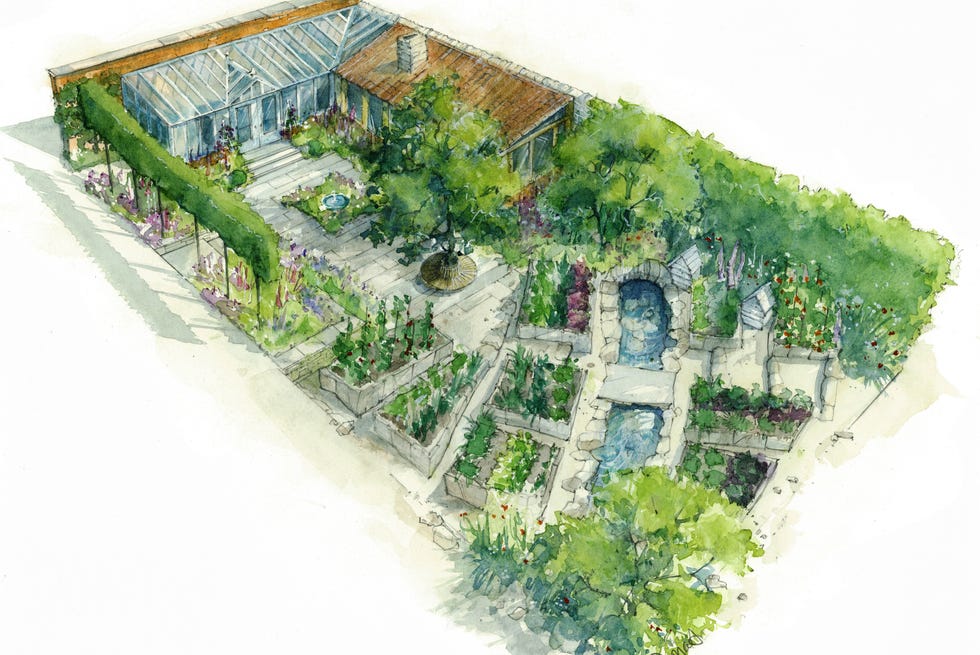 The Plot to Plate Garden sponsored by Savills
RHS
WILL WE SEE YOU AT THE SHOW?
Oh yes! I'll be there every day from 6.30am until nightfall. I live and breathe my garden, as in a few days it'll be gone. I love chatting to visitors and hearing what they think. You know you've got a great design when the same person comes back time and time again. One woman revisited my Welcome to Yorkshire Garden seven times, saying she kept seeing different things. I so hope people enjoy the Plot to Plate Garden. I've never been as excited for Chelsea as I am this year!
ARE YOU A GREEN GARDENER?
Chelsea gets more sustainable every year – and so do I. The aim of this Show Garden is to inspire visitors that you do not need a veg patch to grow edible plants – encouraging them to cultivate what they can – even in a small space – and to eat more seasonally. This year, I've done away with cement, as the making process produces lots of carbon. Instead, I'm using fly ash – a by-product from coal-fired power plants, which would otherwise be wasted. Materials are manufactured locally: the veranda was made in Kent and the light fittings in Croydon. From this year, every garden at Chelsea must have another life. Post show, the garden will be replanted at a children's care home in Nottinghamshire, where it will be used to teach cookery skills to young people.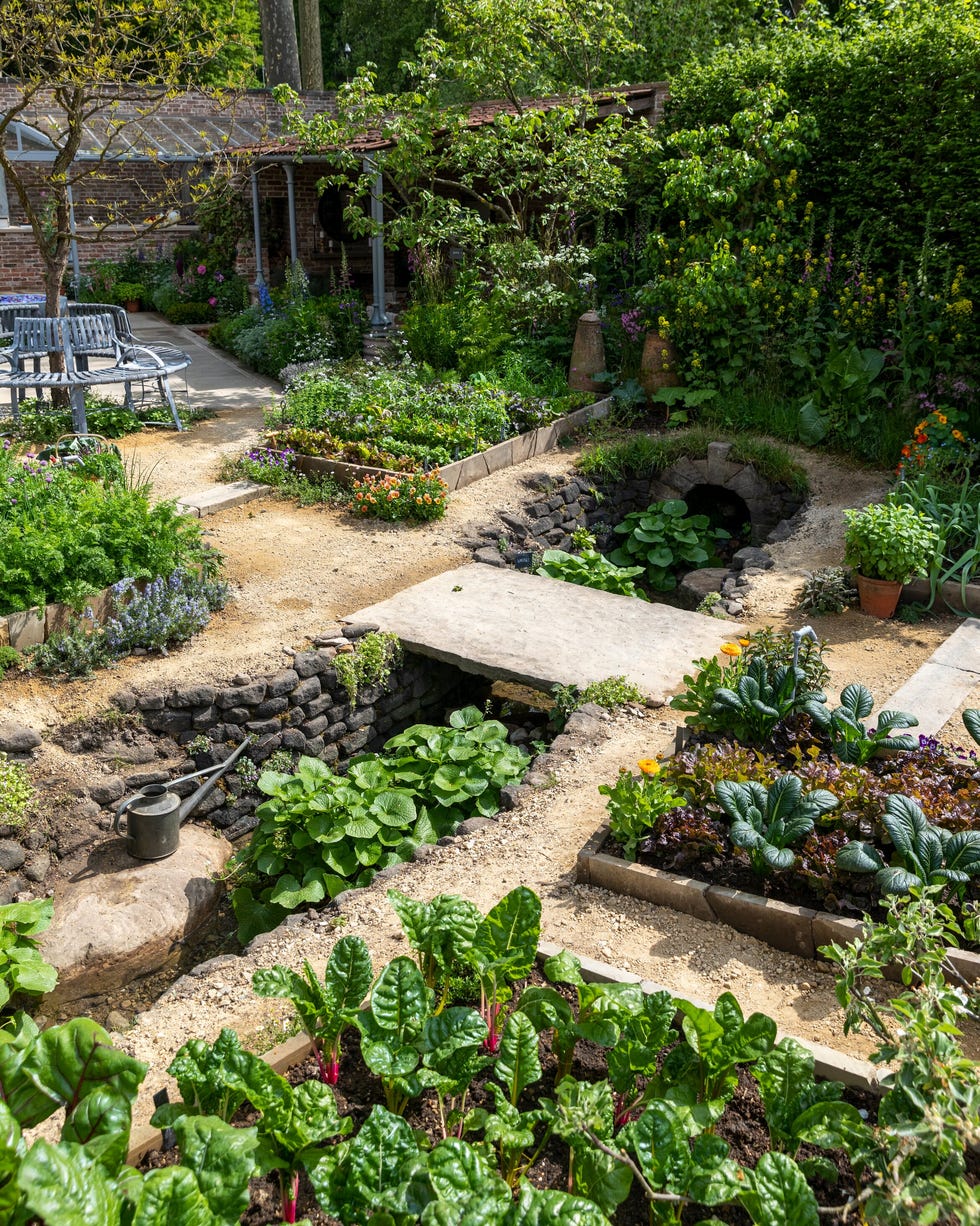 The Plot to Plate Garden sponsored by Savills
RHS/Sarah Cuttle
YOU'VE ALSO DESIGNED A GARDEN FOR THE KING…
My landscape design company, Landform, has created several gardens for the Royal Palaces, from a rose garden at Windsor Castle to a 'rain garden' at Buckingham Palace, which absorbs run-off and is full of water-loving plants. We also built the Superbloom – a temporary meadow filled with over 20 million flower seeds – outside of the Tower of London, marking the Platinum Jubilee. Our latest commission is the topiary garden at Sandringham in Norfolk, the King's country retreat.
CAN YOU GIVE US A SNEAK PREVIEW?
His Majesty has been planning this plot for years. He remembers visiting his great-great grandmother Queen Alexandra's topiary garden there as a child and it has inspired his own vision. My team is planting more than 5,000 yew tree hedging plants, which will be cut into birds and animals, as well as beds with thousands of perennials, from delphiniums and phlox to echinaceas and lavender.
HOW "GREEN" ARE FORMAL GARDENS?
It's a myth that formal gardens don't benefit wildlife. Birds don't mind the shape of hedge if it offers food or shelter, and dunnocks, robins and wrens happily nest in even the most neatly clipped topiary. We've also chosen plants that can withstand our changing climate and that attract pollinators and wildlife.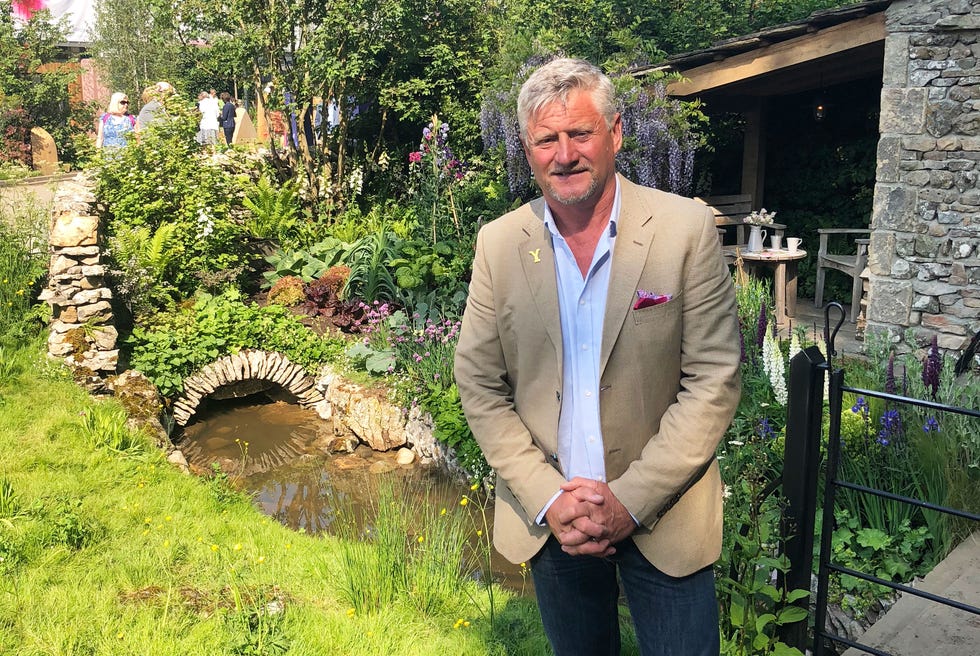 Chelsea Flower Show
DO YOU ANTICIPATE A ROYAL VISIT AT CHELSEA?
The Queen visited Chelsea nearly every year and it would be wonderful if King Charles does the same. He has a keen interest in gardening, especially its role in protecting the environment. I'll be in my Chelsea garden every day from 6.30am until nightfall and I love chatting to visitors. I hope the King might be one of them.
WHERE DOES YOUR LOVE OF GARDENING STEM FROM?
My grandfather. He was a miner from Jarrow, in Tyne and Wear, who marched to the Houses of Parliament in protest at unemployment and poverty and was given five acres of land to cultivate as part of the Land Settlement Association scheme. I grew up in rural Yorkshire with my garden-mad dad. My first job, aged 13, was working for my uncle growing salad for supermarkets. I studied horticulture at college, later training at RHS Wisley. I attended my first Chelsea in 1981 and was totally in awe.