dizzying light and color
As part of the eighth annual Flatiron Public Plaza Holiday Design Competition, architecture studio Atelier Cho Thompson presents Interwoven. The installation was on view this past winter and stood as a luminous and interactive addition to the New York's bustling sidewalks between Broadway, 5th Ave, and 23rd Street — a temporary new landmark for the city backdropped by the iconic Flatiron building.
images © Martin Seck | @martin_seck
the interactive space by atelier cho thompson
As the architects at Atelier Cho Thompson put it, Interwoven 'celebrates the joys of intersecting with our community in public space.' The Flatiron Building's distinctive form and the diversity of American culture were the sources of inspiration for this interactive installation made up of archways. When two visitors cross the same arches, vibrant lights and soothing music come to life, enticing passersby to partake in a lighthearted joint experience. Musicians were asked to contribute to the theme of the setup, resulting in a selection of new pieces which were then combined with synchronized lighting.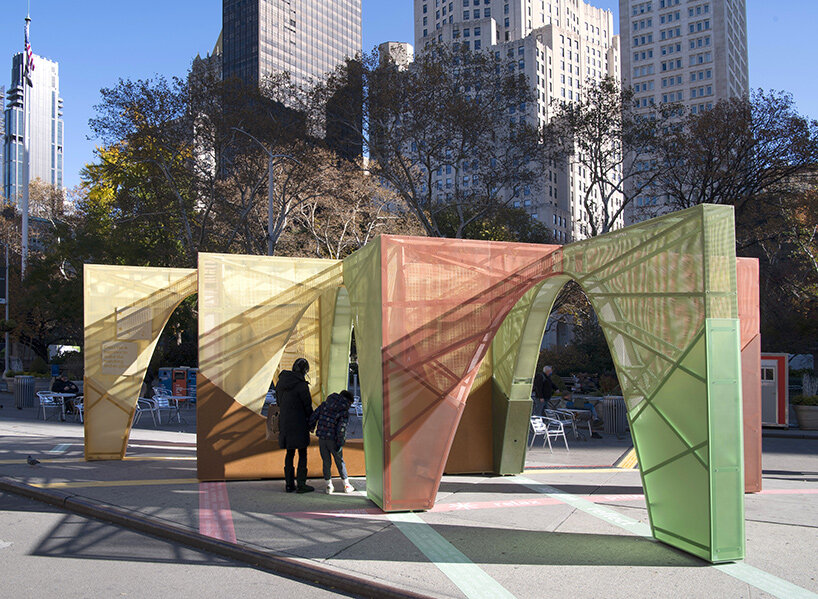 in interwoven 'patchwork of voices'
While Atelier Cho Thompson's Interwoven was on view, visitors were invited to share their responses to the phrase 'I dream of a world where together we can…' on an interactive story wall, which features backlit papers arranged in a grid. The responses came together to form a collective narrative, 'a patchwork of voices' depicting the current moment both as a challenge and an opportunity. The prompt was chosen by the Youth Fellows of the People's Bus NYC, a project that encourages people to take part in New York City's civic life through creativity and positivity.
The project team included in-kind sponsors MHA Engineering, Lam Partners, Indistinguishable from Magic, Hunter Douglas and 3form, LLI Architectural Lighting, EcoSupply, Fusion Optix, and Cadwell Signs. According to the architects, the project would not have been possible without donations and support from Stand with Asian Americans / Asian Pacific Fund, Lauren Chew, Alicia Cho & Ben King, and an anonymous donor. Fabrication and site installation was completed by Smart Department Fabrication, Inc.