Breadcrumb Trail Links
News
Local News
Published May 10, 2023  •  2 minute read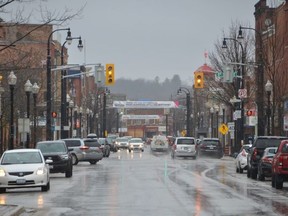 Downtown Owen Sound.
Article content
Owen Sound is going to allow licenced on-street patios in the downtown to open this summer while it gathers more information about protecting them from vehicles.
Advertisement 2
This advertisement has not loaded yet, but your article continues below.
Article content
During its meeting on Monday, council voted to receive a report from staff respecting patios in the River District.
Staff had recommended that in order to comply with the Ontario Traffic Council Guidelines for Patios in the Right of Way introduced last year, that the city purchase traffic barriers for three existing patios in the 900 block of 2nd Avenue East at a cost of between $20,000 and $26,000. The type of barriers staff recommended – of which 35 would be required — are water-filled and interlocking. Previously the city has placed concrete planters at the end of the patios, but that doesn't meet the new standard, staff explained.
But some councillors expressed concerns about the cost of the barriers, who should be expected to pay for them, and if there were other options available.
Article content
Advertisement 3
This advertisement has not loaded yet, but your article continues below.
Article content
"I am not comfortable spending city money on some businesses when we don't spend them on all businesses," Mayor Ian Boddy said. "There is a fairness issue there and there has got to be a way we can work around this."
Among ideas discussed were moving the patios onto the sidewalk closer to the businesses and having pedestrians diverted on a walkway around them. That option would require the walkway to have the same type of protection as the patio, staff noted.
Council instead received the report for information and in a follow-up motion that passed, staff was asked to gather more information for another report regarding consistency amongst businesses, to consult with the River District Board of Management, to get further costing information and explore funding opportunities.
Advertisement 4
This advertisement has not loaded yet, but your article continues below.
Article content
Deputy-mayor Scott Greig noted that the OTC patio guidelines came out in spring 2022 and the barriers were not in place during last year's summer season while the patios were in operation.
"I am happy with having a year without having those obstacles in place again," Greig said, noting that the OTC guidelines are recommendations only and are not required by law to be implemented.
Director of Public Works Lara Widdifield said staff are able to put in place the same concrete planters that were used last year to separate the patios from the street traffic.
Council passed a third motion to implement the on-street patio guidelines for 2023, status quo to 2022, which will allow the three downtown patios with existing licences to operate in the right of way.
Advertisement 5
This advertisement has not loaded yet, but your article continues below.
Article content
On-street patios became essential for some businesses in 2020 and 2021 at the height of the COVID-19 pandemic, when public health restrictions prevented or limited indoor dining and gatherings. After the pandemic waned, some businesses expressed an interest to continue with patios, including three on city property in the 900 block of 2nd Avenue East, who have agreements with the city until 2024.
Both the city's official plan and the River District Action Plan encourage features such as patios and sidewalk cafes. The official plan "supports a vibrant, active, and attractive downtown with a pedestrian environment that is comfortable, accessible, and aesthetically pleasing."
Share this article in your social network
Comments
Postmedia is committed to maintaining a lively but civil forum for discussion and encourage all readers to share their views on our articles. Comments may take up to an hour for moderation before appearing on the site. We ask you to keep your comments relevant and respectful. We have enabled email notifications—you will now receive an email if you receive a reply to your comment, there is an update to a comment thread you follow or if a user you follow comments. Visit our Community Guidelines for more information and details on how to adjust your email settings.
Join the Conversation
Advertisement 1
This advertisement has not loaded yet, but your article continues below.