The weather has become cooler in Houston as fall replaces summer, with triple digit temperatures dropping and beautiful days ahead. For those looking to enjoy the weather nearby, these patio areas provide entertainment, excitement and nourishment during the fall season.
Located in Old Town Spring, Plane & Level specializes in tapas and flights of wine from their curated selection created by one of the top sommeliers in the country. Enjoy the Spanish cuisine, like the ham and bechamel fritters or a charcuterie plate, with a full glass of wine and a breeze on the patio and take in the down-to-earth vibes.
ON HOUSTONCHRONICLE.COM: Has your tire pressure light come on? Why Houston's cooler weather could be to blame
The Spot – 3204 Seawall Blvd, Galveston
The Spot has several bars as well as a restaurant, all within view of the ocean.
The Spot
The iconic Galveston area hangout has a wide selection of appetizers and tasty food alongside four themed bars all within the same building. Grab a bite to eat before catching the sunset or get your beach day started with a meal on the patio and an early afternoon cocktail from the tiki bar before taking a quick walk to Galveston beach.
Cypress Trail Hideout – 25610 Hempstead Rd, Cypress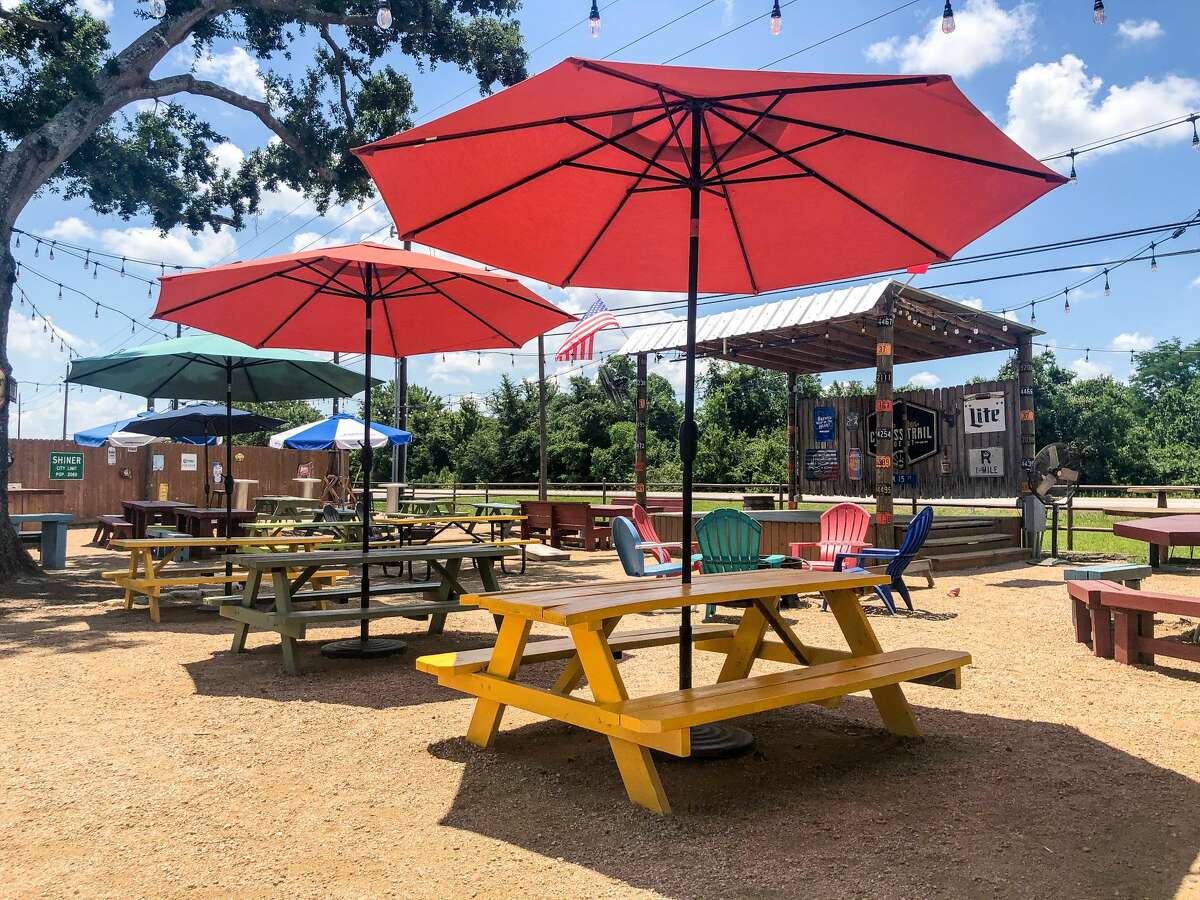 Cypress Trail Hideout serves barbecue, craft beer and local spirits. It is located at 25610 Hempstead Road, Cypress.
J.C. Reid/Contributor
Home of Pappa Charlie's Barbecue, live music and college game day celebrations, Cypress Trail Hideout's patio and outdoor seating is ready for the cooler weather. With live music every Friday and a wide selection of barbecued meats, sandwiches and appetizers, Cypress Trail Hideout gives patrons the chance to kill a few hours and enjoy the outdoors. 
Killen's Barbecue – P3613 E Broadway St, Pearland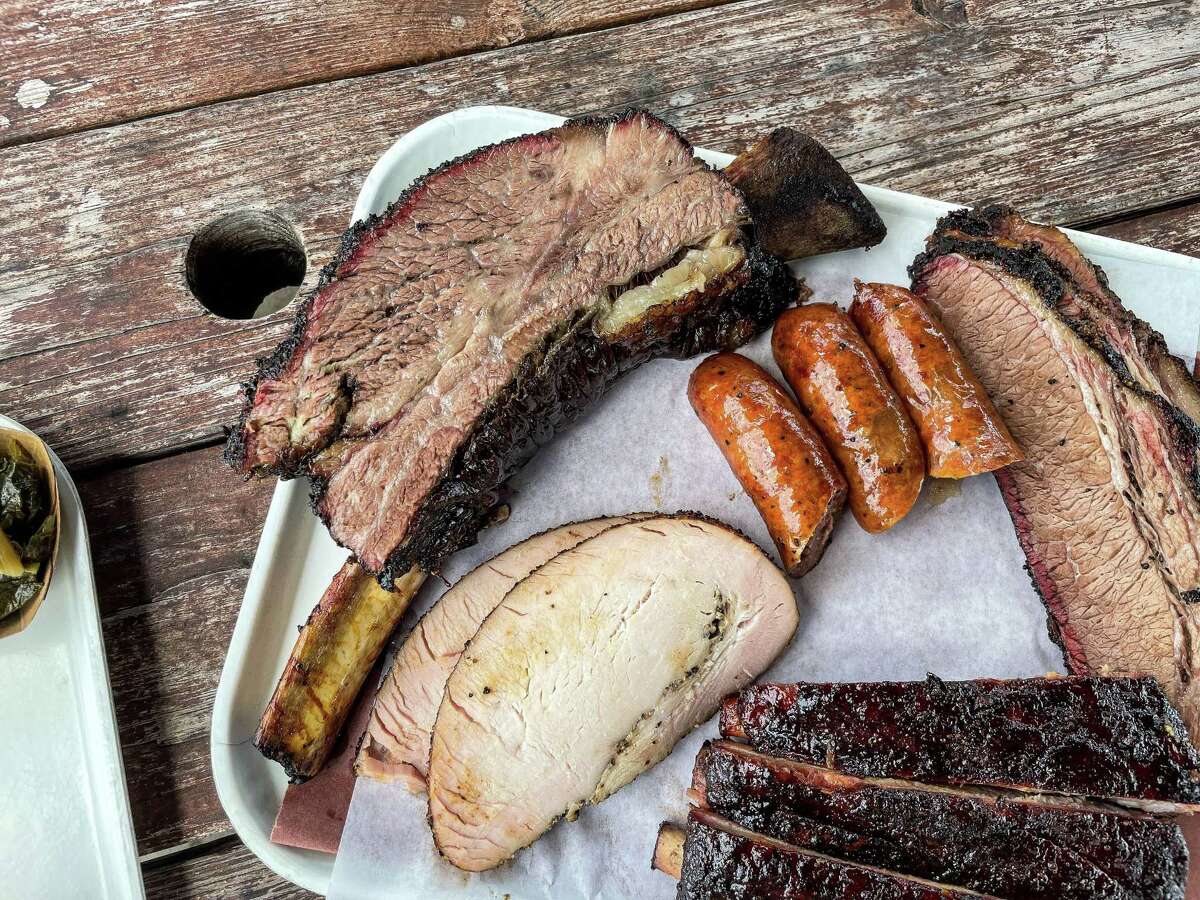 Beef rib at Killen's Barbecue in Pearland
Courtesy
Killen's in Pearland has open patio seating with picnic tables, perfect for enjoying their signature barbecue outdoors with a group of friends.. Enjoy their popular mouth watering brisket in a group setting while keeping the Texas heat in the food and out of the air.
ON HOUSTONCHRONICLE.COM: Things Houstonians should know if traveling to Arlington for the ALCS
Live Oak Grill – 12935 Dairy Ashford Road, Sugar Land
This Sugar Land restaurant, specializing in cuisine like pulled pork sandwiches, burgers and frito pies, aims to distill the charm of Texas into their dishes and atmosphere. The patio features a playground for kids, picnic tables and plenty of space for bigger and smaller parties. Order chicken eggrolls while the kids let off some steam or meet up with a few friends to try a lychee margarita.
Pier 6 Seafood and Oyster House – 113 6th St, San Leon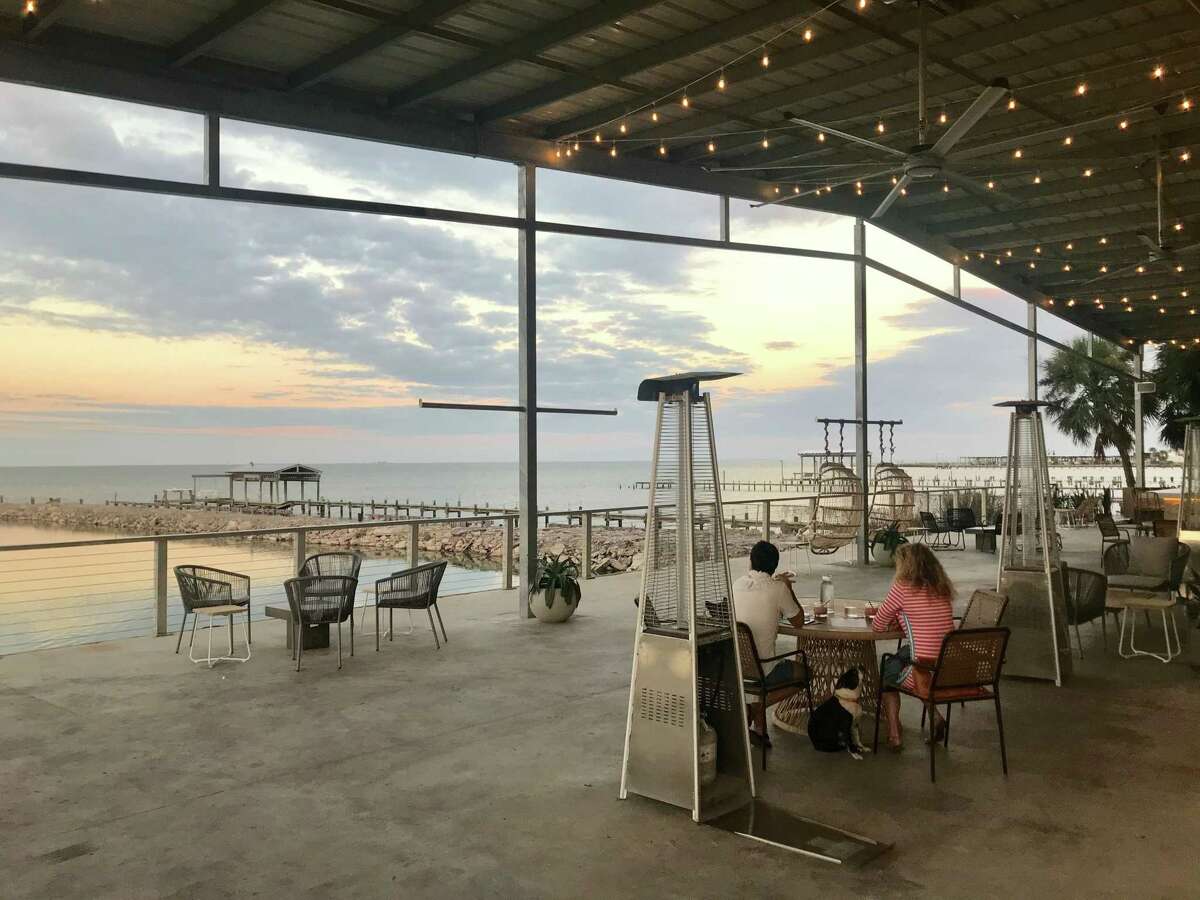 The outer deck at Pier 6 Seafood in San LeonAlison Cook/Staff
Views of the beach are never more than an hour away for Houston residents near San Leon, and Pier 6 offers a bite to eat with the views. Before heading out to check out the rest of the coastal town, get a view of the waters alongside a plate of oysters and other raw seafood favorites to get the full Gulf Coast experience.
Wild Stallion Vineyard – 5969 W Rayford Road, Spring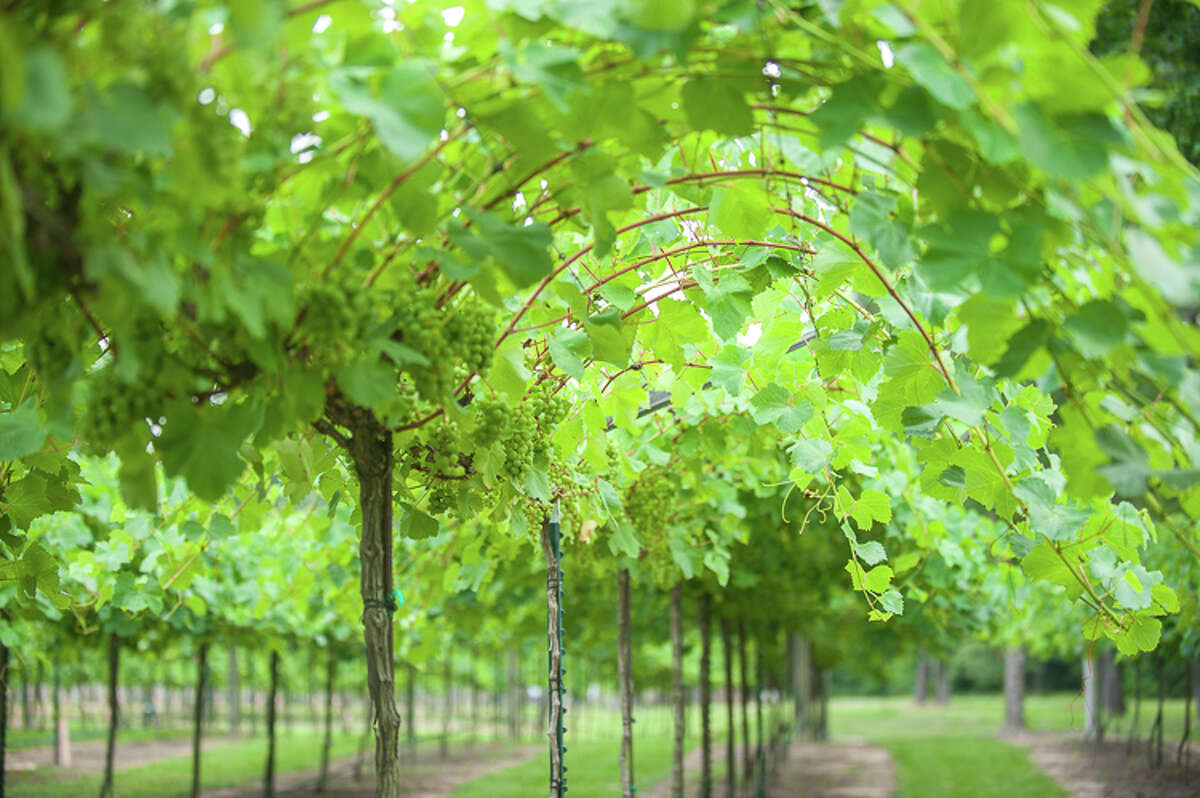 Wild Stallion Vineyards offers 13 different wine varietals from grapes grown on site.
Courtesy/Wild Stallion Vineyards
Take a trip to the Woodlands' own Wild Stallion Vineyards to support a local vineyard and winery while enjoying the fall weather. Take a few bottles of wine home after walking the vineyard after stopping by for their fall concert series and getting to know other wine enthusiasts at the outdoor bar open on the weekends and evenings.
Pearl & Vine – 26151 Nelson Way, Katy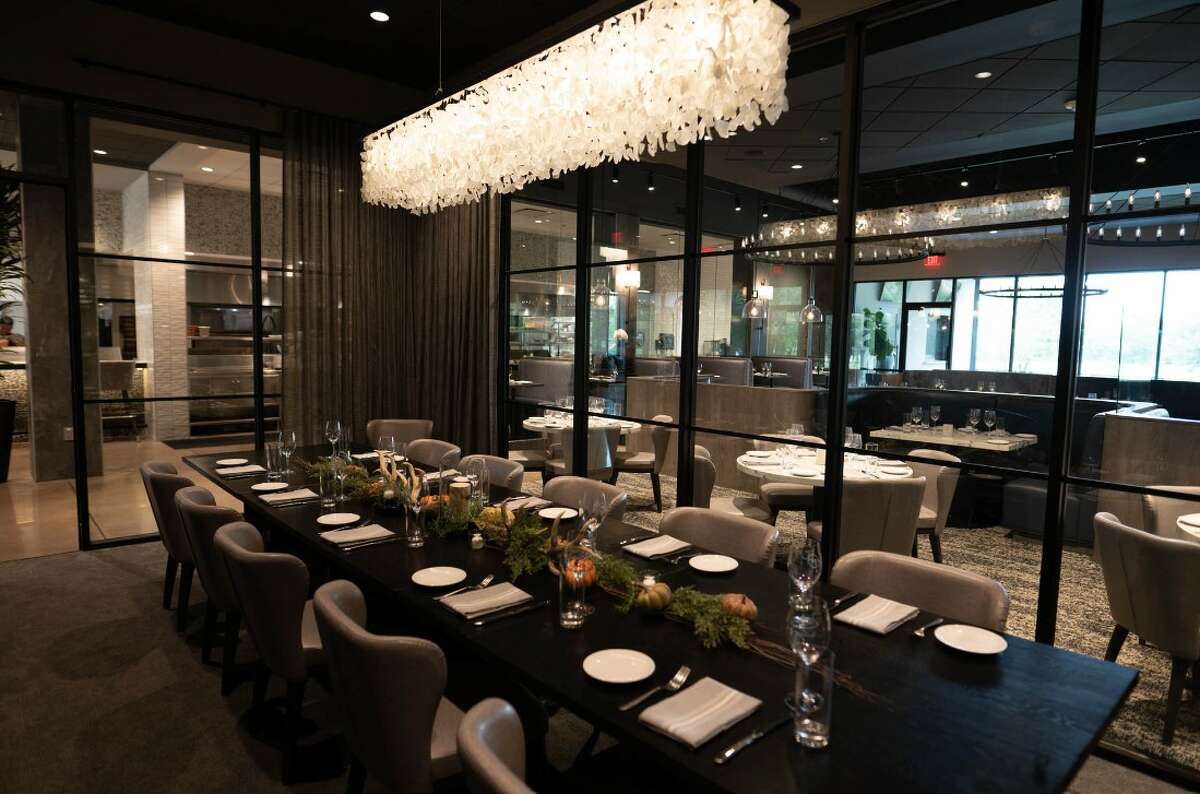 Pearl and Vine in Katy
Courtesy/Pearl and Vine
Katy residents need not look far for a good steak, oysters and a matching glass of wine with Pearl and Vine located down the street. While the swanky steakhouse has a stellar atmosphere inside, the outdoor patio is perfect for al fresco dining or a private event. Diners can sip champagne on the patio with company and a nice steak without having to go downtown.
1886 Humble Backyard – 7015 Manor Way, Humble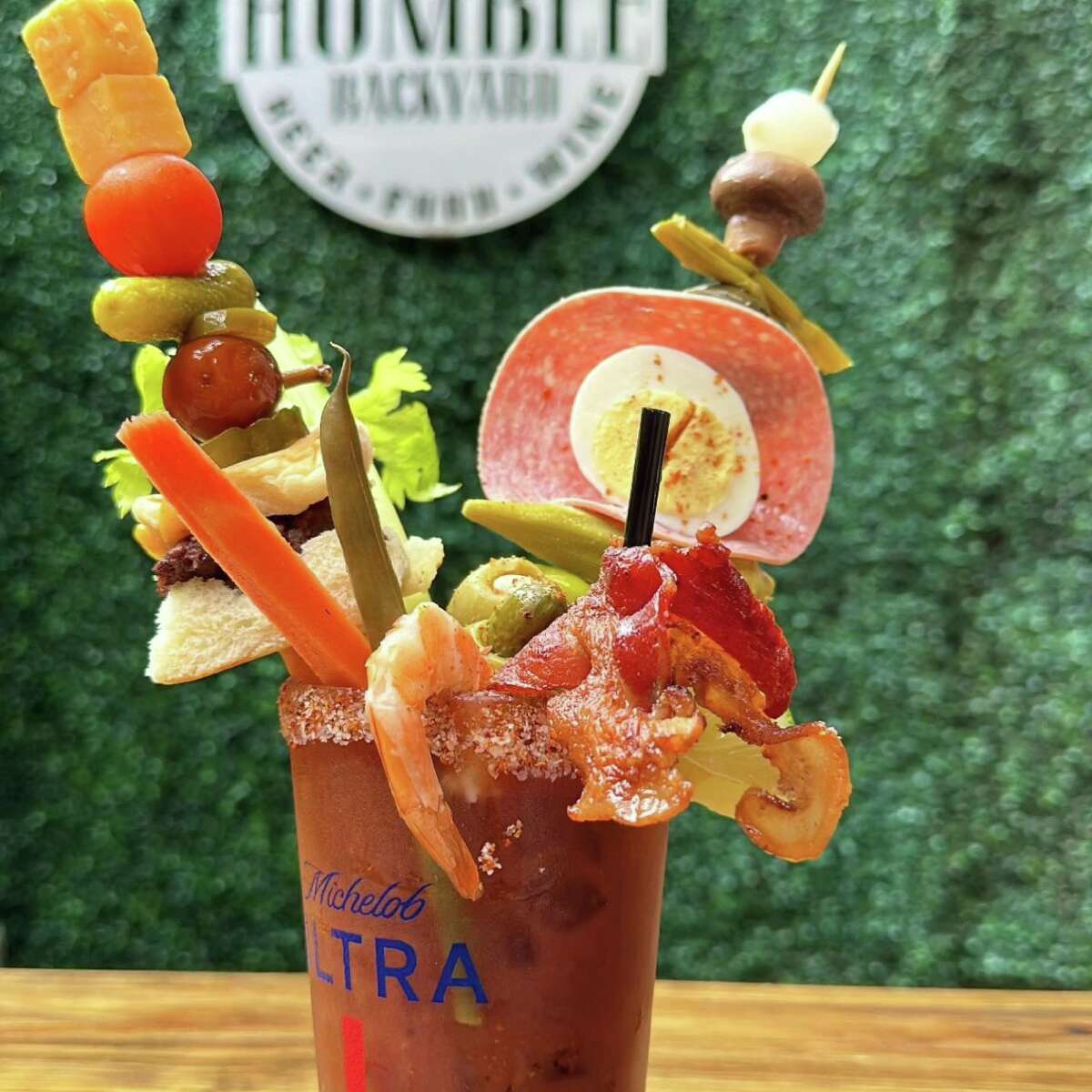 1886 Humble Backyard brings outdoor comfort to the suburbs.
1886 Humble Backyard
Get a cocktail stacked with snacks and a front row seat to live music at 1886 Humble Backyard. Soak in the casual, leisurely atmosphere with a basket of truffle tots or a beer before a weekly live show. The fall weather can be enjoyed throughout the colder season due to their outdoor heaters. 
Raffa's Waterfront Grill – 1660 W. Lake Houston Parkway #103, Kingwood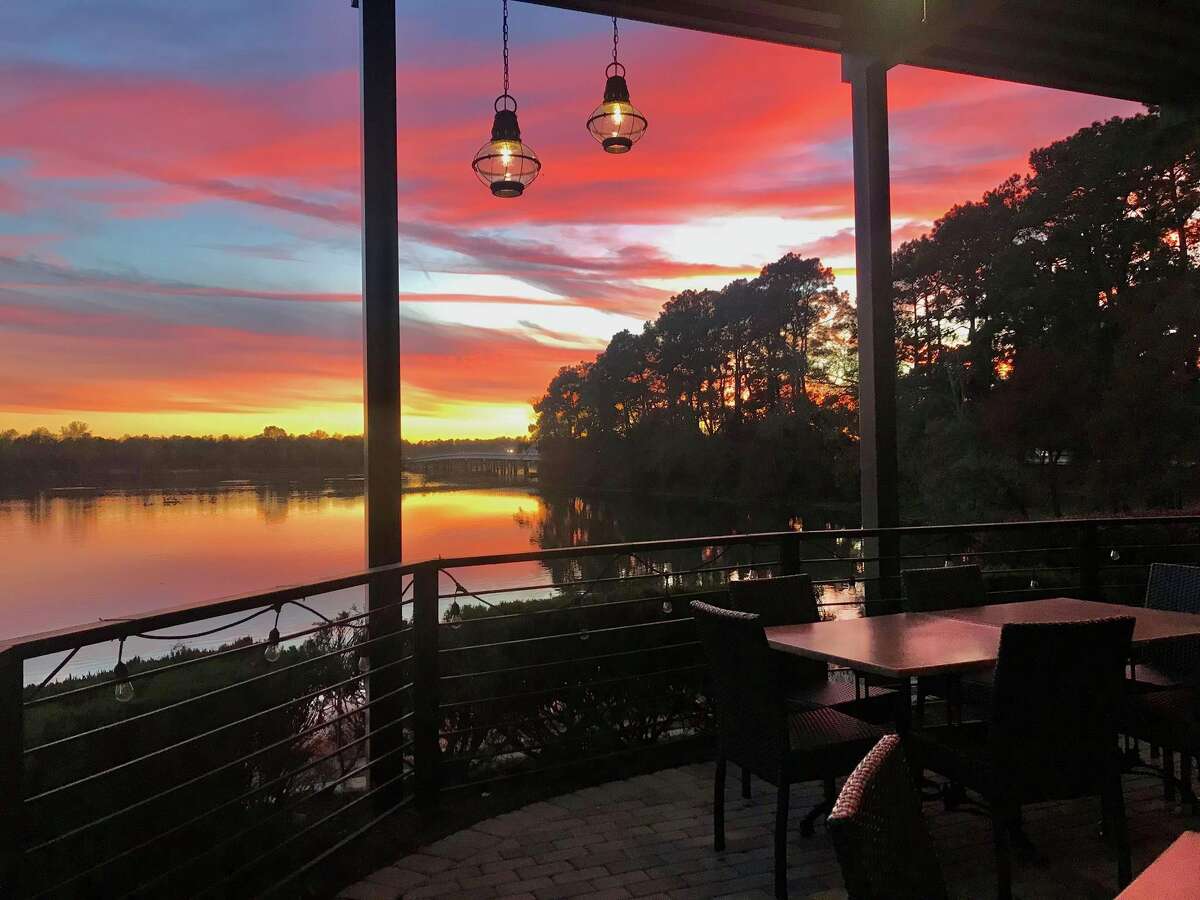 Raffa's Waterfront Grill's outdoor patio during sunset.
Raffa's Waterfront Grill
This waterfront destination offers American cuisine like pastas and burgers alongside seafood dishes and specialty steaks made only on the weekends. Come for the shareable appetizers and upscale atmosphere and stay for the waterfront view of the sunset. Those looking for a private experience can book Raffa's for private events.
Wave on Lake Conroe – 7041 Kingston Cove Ln, Willis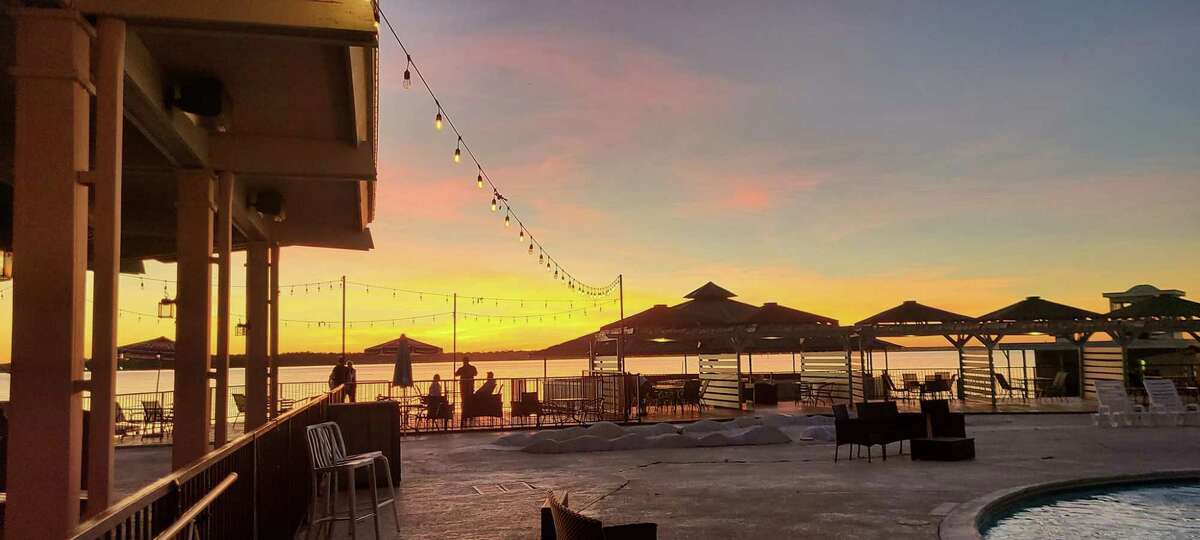 Wave on Lake Conroe's outdoor section includes patio seating.
Wave on Lake Conroe
Those willing to head north can see the local beauty of Lake Conroe at Wave, with a seat directly on the water and a plate full of food. End a day at the lake with a beer, fresh made seafood and burgers or spend the afternoon with an appetizer on the pier-like patio.
Kau Ba – 2502 Dunlavy Street Suite B, Houston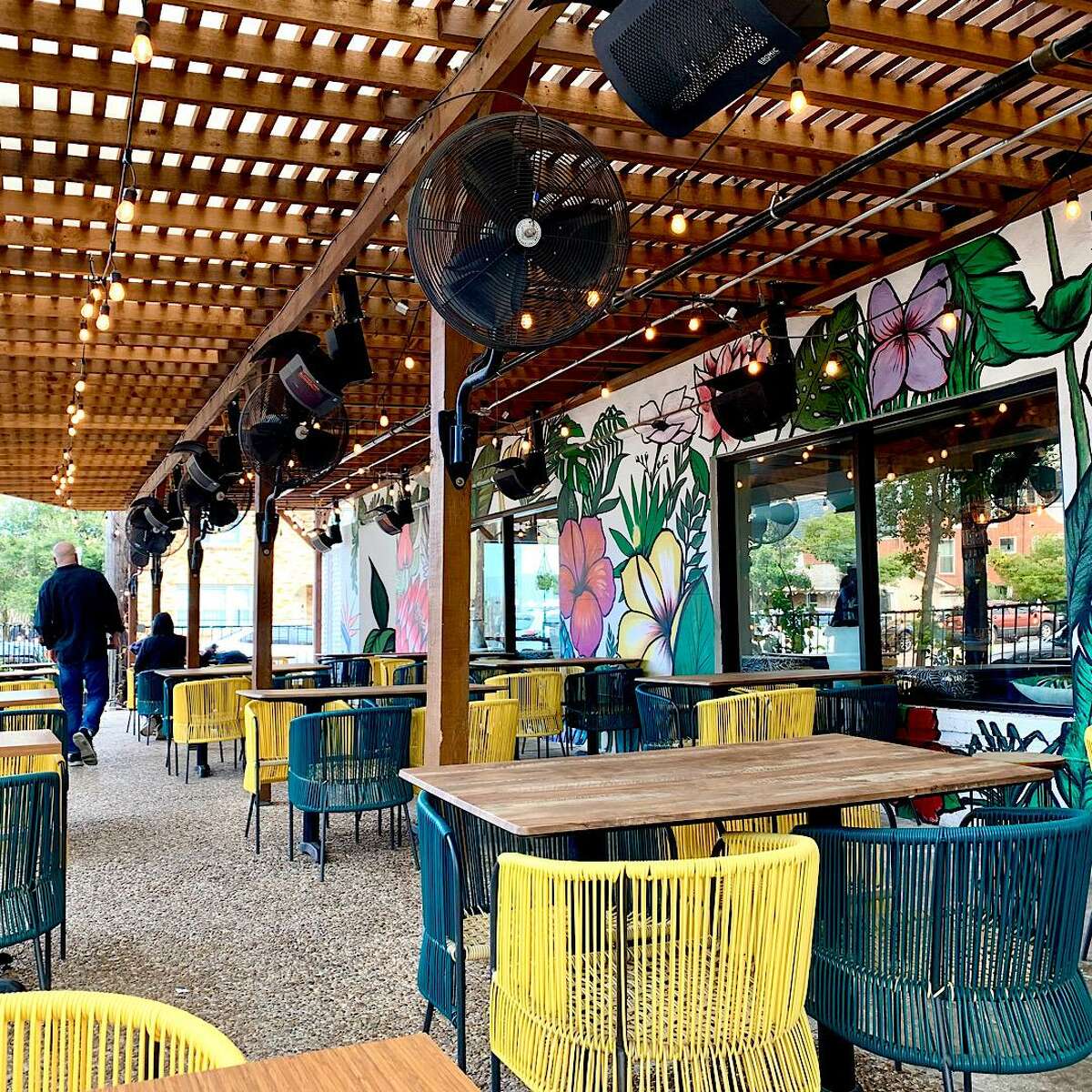 The patio at Kau Ba in Montrose
Alison Cook / Staff
This Montrose gem serves Vietnamese-Cajun dishes from banh mi sandwiches, salmon for brunch and chilled shrimp with muscles in nuoc mam sauce. The charming, covered outdoor patio features vibrant art and a nice hidden view of the nearby neighborhood.
Brasserie 19 – 962 W Gray Street, Houston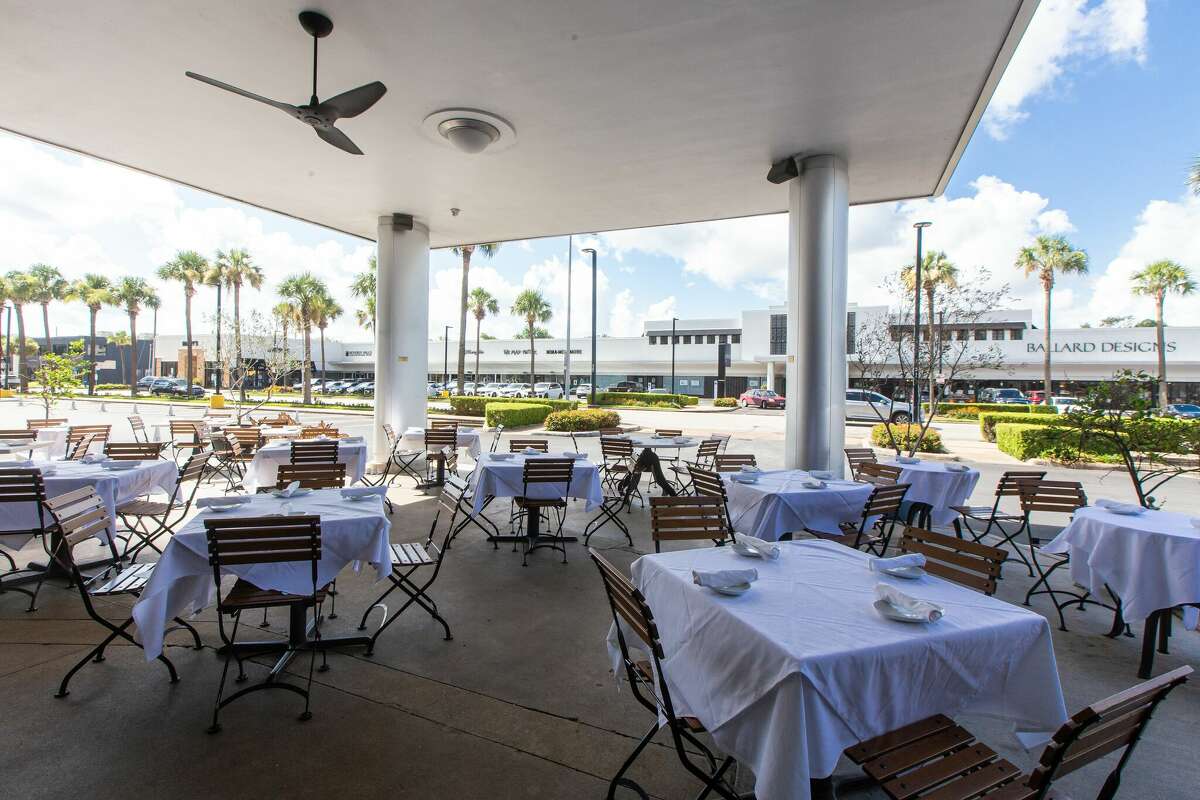 Photos from Brasserie 19 patio.
Andrew Hemingway
French food and fine cocktails await River Oaks residents and their guests at Brasserie 19. Instead of dining inside or checking out the wine room, take a seat on the patio with an exotic dish and enjoy the outdoor weather.
Bar Boheme – 307 Fairview Street, Houston
In the mood for a drag show? Bar Bohme has plenty every Saturday and Sunday with their brunch. After brunch, check out the patio seating and outdoor views while enjoying one of the many eclectic cocktails on the menu.
Paradigm Brewing Company – 2130 S Persimmon Lane, Tomball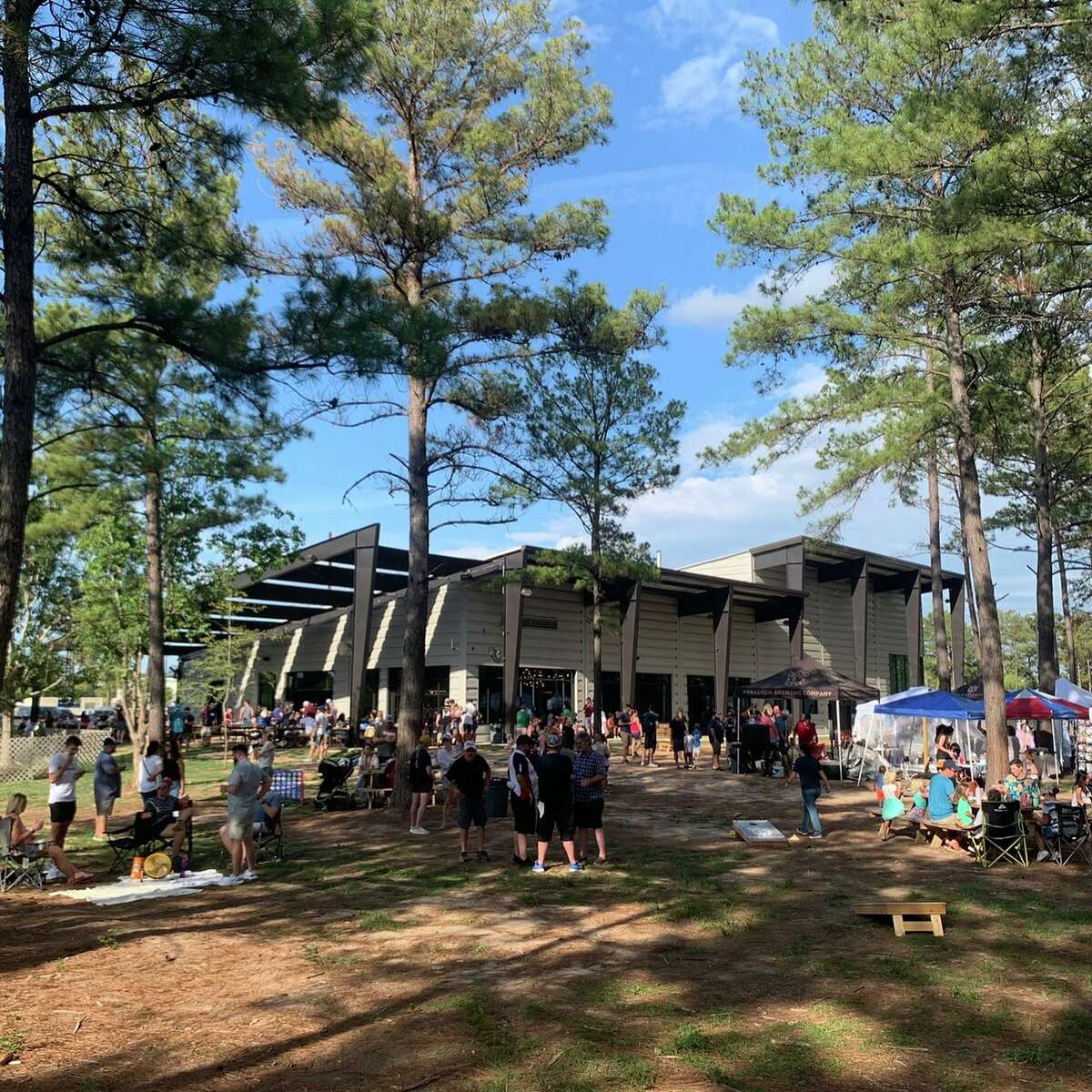 Paradigm Brewing Company is hosting a back to school bash Aug. 12. 
Paradigm Brewing Company
This local brewery specializes in locally made beers of all varieties, from pilsners and lagers to stouts and wheats. Enjoy the cooler weather with one of their many outdoor seating spots with family or friends.