From mint, rosemary, and basil on a kitchen windowsill to a backyard filled with savory flavorings and medicinals, fresh herbs make everything better.
Most herbs will grow just about anywhere as long as they get a minimum of six hours of sunlight each day, whether in a large backyard or on a small patio, apartment balcony, or windowsill. Don't have any of the above? Grow Light Herb kits are available online in a variety of sizes to suit available space and individual needs, allowing you to grow fresh and tasty seasonings year-round just about anywhere, even in the office.
Pesto basil is a great basil growing choice for anyone who loves pesto.(comeirrez/Shutterstock)
Favorite Flavors
If you want a lot of plants, seeds are the most cost-effective option; for just a few herbs, starter plants from the local garden center provide instant gratification.
Choose herbs that you will actually use. As an example, there are dozens of basils available, with sweet basil being the most versatile, and Thai basil popular for its strong anise flavor. If you're a pesto fan, you'll want true pesto basil for the most delicious results.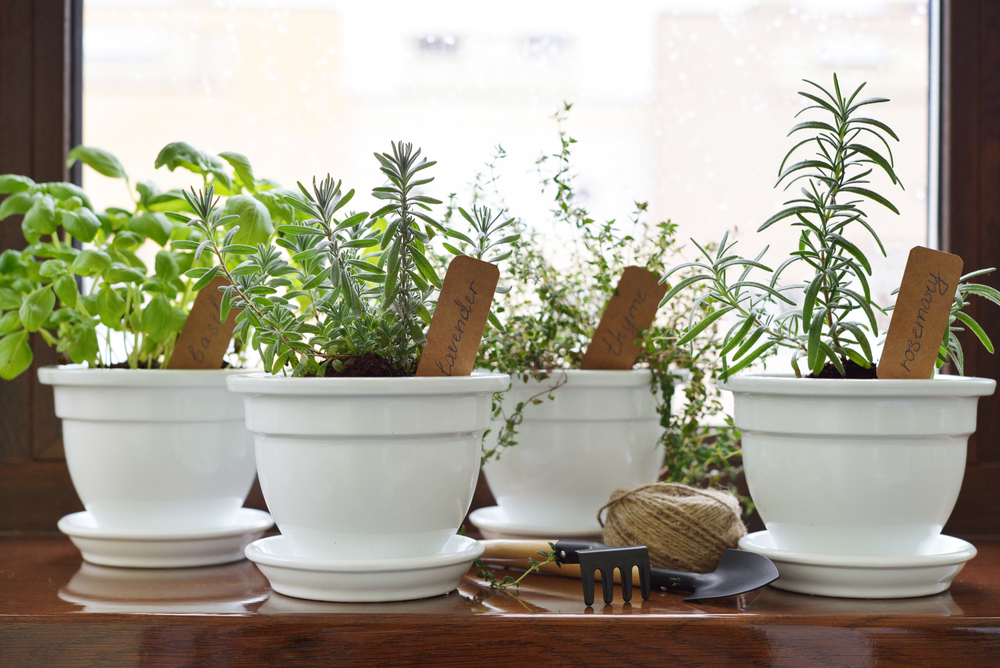 Most herbs will grow just about anywhere as long as they get a minimum of six hours of sunlight each day and are kept at a comfortable temperature. (mama_mia/Shutterstock)
365 Grow
Some of the best herbs for beginners are also the most popular in the kitchen: basil, thyme, oregano, sage, parsley, chives, mint, and rosemary. These are all notoriously difficult to grow from seed and take a long time to germinate when they do, so buy a small plant.
Herbs also grow well indoors, especially when you plant them in the right soil. As outdoor gardeners will tell you, herbs aren't picky plants; they'll grow in just about anything. In fact, they're not fans of rich soil, so save your prized compost mix for flowers, fruits, and vegetables. Also, resist the temptation to bring garden soil inside, as doing so may be inviting pests and disease in, too.
For indoor plantings, the best bet is a quality potting mix for herbs. The most important factor when it comes to soil for herbs is that it drains well. Choose a pot with a large drainage hole and line it with a coffee filter to help keep the soil in and prevent any water from building up in the bottom of the pot.
Place and Pinch
Situate herbs where they will get six to eight hours of direct sunlight daily, ideally in a southern-facing window, and they will thrive. If that's not possible, an east or west-facing window will do for the most shade-tolerant herbs, such as mint, parsley, and thyme. Sun-lovers such as basil and cilantro, however, will probably need a grow light, because they tend to grow leggy and weak in indirect lighting where they try to reach for the sun.
Temperature is another consideration when placing plants indoors; herbs are happiest at 70 degrees F. Basil, rosemary, and lemon balm are cold-sensitive, so keep them away from uninsulated windows or place them on a heating mat. Cilantro and chives are heat-sensitive and may bake in the hot summer sun on an unprotected windowsill. Place a thermometer where you intend to set your indoor garden to monitor temperature fluctuations.
The final secret is to harvest your herbs often. This keeps your palate satisfied and the plants bushy. Once a stem goes to flower, it's done, so regular pruning is essential. Grab a bottle of Take Root and turn excess cuttings into additional plants, and be sure to harvest the seeds once the plant is allowed to flower.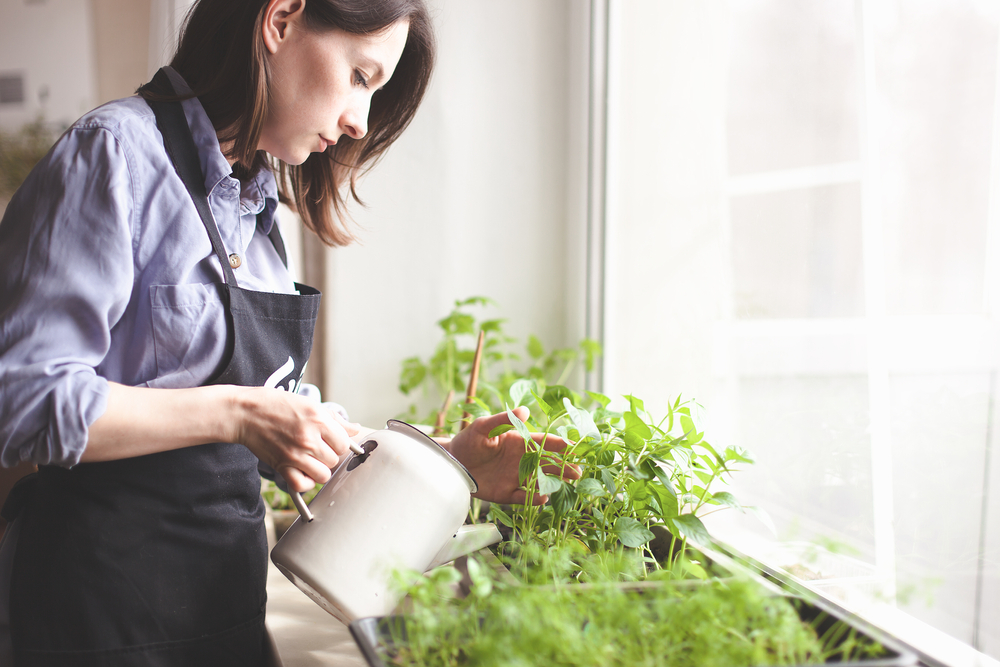 Herbs don't like "wet feet" conditions, which inhibit plant growth and encourage fungal diseases, so use well-draining soil and be careful not to overwater. (Sonya Anro/Shutterstock)
Outdoor Life
As with indoor herbs, outdoor plantings are all about location. If you've got several spots with more than six to eight hours of sun per day to choose from, opt for morning sun and afternoon shade to help them get through the high-heat months of summer. Unlike hearty vegetables that can be planted after the last frost has passed, wait until night temperatures stay above 50 degrees F to plant or move herbs outdoors.
Herbs absolutely, positively do not like "wet feet" conditions, which inhibit plant growth and encourage fungal diseases. If you've got heavy clay soil, amend it with compost or other organic material. Don't worry, the clay won't become too rich. Or grow herbs in raised beds or pots (which can be moved inside in the fall to extend the growing season).
When mint, pennyroyal, comfrey, lemon balm, and bee balm are happy, they can easily become invasive. There are two tricks to keep them contained. Plant them in individual pots set in the ground, or use a large container or bin for several plants. Never use the pot they came in, as it will quickly become too small for a healthy plant; go at least a size larger.
Home Remedies
The practice of using herbs to create medicinal teas, powders, and tinctures—or simply adding them to bath water—dates back thousands of years.
Star Players
Chamomile, ginkgo, St. John's Wort, turmeric, feverfew, ginger, garlic, and Ashwagandha have long been grown for their curative value. But did you know that calendula, chickweed, and dandelion have health benefits too?
Work the Plan
Resist the temptation to plant one of everything and become a home General Nutrition Center. Instead, decide on what you will actually use. Ask yourself if you are seeking cold and flu remedies, herbs for stomach problems, or perhaps relaxation effects. What are the individual needs of your family?
Already Growing
Those pretty purple coneflowers in your Flower Garden packet are actually the popular herbal remedy Echinacea. The peppermint that flavors your tea also helps soothe tummy aches. Stop and smell the lavender to help reduce stress and anxiety.