ashui pavilion 2023 completed by mia design studio 
Vietnam's Ashui Awards returns this year with a new location and pavilion completed by MIA Design Studio. Built on an empty land along the Saigon River in Ho Chi Minh City, the Ashui Pavilion 2023 offers a place for exchange and for honoring Vietnamese architects who have positively contributed to their community.
Visually, the structure takes on a contrasting quality with its all-white aesthetic defined mainly by a dramatic row of fabrics draping over the main space in a sloping fashion — echoing the scaffolding scenery from the neighboring urban landscape. Inside the pavilion, display walls span every side of the rectangular outline while seating rows complement a stage occupying the open space.
all images © Triệu Chiến
a gentle play of light, movement, and flow 
'Based on the land data, we propose to create a space separate from the appearance of the existing urban and want to embellish the existing natural flow but still have to do it in a low budget. and short time. Beneath the white fabrics that constantly sway in the wind, creating streaks of light, visitors like to dive in the current and emerge when gently lifting the fabrics to another space. Ashui Pavilion 2023 brings with it the flow of nature and culture, bringing visitors back to their childhood with folk images of children playing and bathing in the river in Vietnamese villages,' writes the MIA Design Studio team.
The Ashui Awards pavilion was assembled on-site in a short period of time; all materials can be dismantled and reused for other purposes, or simply return to the inherent integrity of the land from where they were sourced. 

rows of white fabric drape over the Ashui Pavilion 2023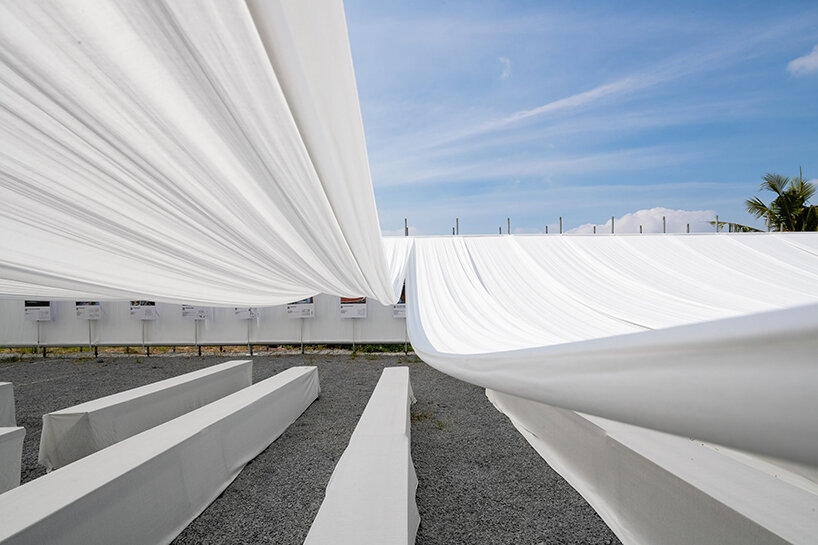 beneath the swaying canopy, display walls and seating rows unfold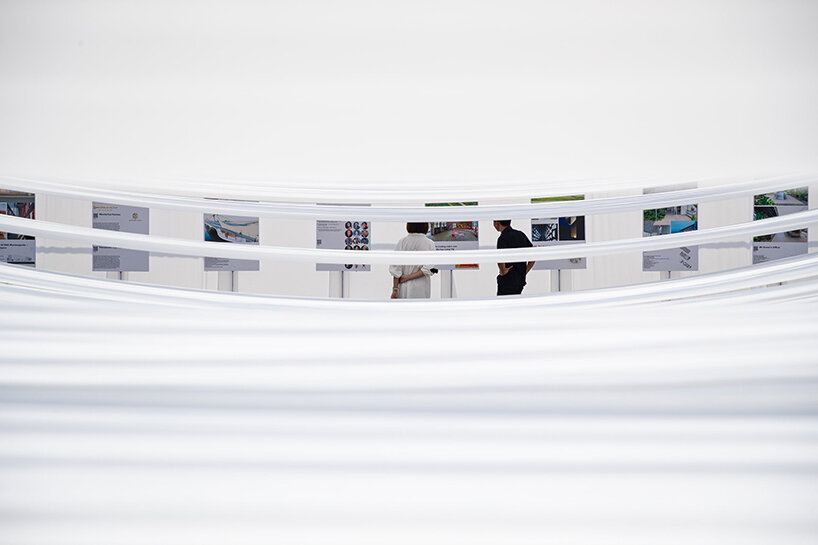 visitors meshing with the flow of fabric