thirty Containers Embark on a Journey to Japan
The Spanish Pavilion at Expo 2025 Osaka will take shape with a design by Madrid-based architecture studio Selgascano in collaboration with FRPO. From its construction process to its forward-thinking approach to reuse and adaptability, this temporary pavilion will celebrate environmental responsibility and innovative inflatable architecture. The team faced a unique challenge when conceptualizing the pavilion — constructing anything in Japan, especially in Osaka, during the run-up to the Universal Exposition, would be daunting and expensive. The solution was to prefabricate as many elements as possible in Spain, making them more cost-effective, and then transporting everything to Osaka for assembly within a matter of weeks.
The project was first proposed for Expo 2020 Dubai back in 2018, and a similar version has since been constructed in London's Design District last year.
visualizations courtesy Selgascano
playful programming for expo 2025 osaka
The design of the Expo 2025 Osaka Spanish Pavilion by Selgascano and FRPO involved creating a base of prefabricated modules, each the size of a shipping container. These modules, loaded with all the necessary equipment and materials for the pavilion's exhibitions and shows, were transported by ship to the Yumeshima Island Container Terminal in Osaka. Once assembled, these thirty modules would house all the enclosed spaces of the building, including entrances, offices, VIP areas, operational spaces, kitchens, storage areas, dressing rooms, restrooms, a restaurant, and a tapas bar, totaling 1,070 square meters.
To support the pavilion's structure, three tower cranes were rented. The first crane was positioned for the initial assembly, and once the base was in place, two more tower cranes were rented. These cranes, aligned in parallel with a six-meter gap between them, served as the primary support structure for a lightweight textile canopy. Additionally, they housed motors and spotlights for the main stage formed by the combined roof of all the modules.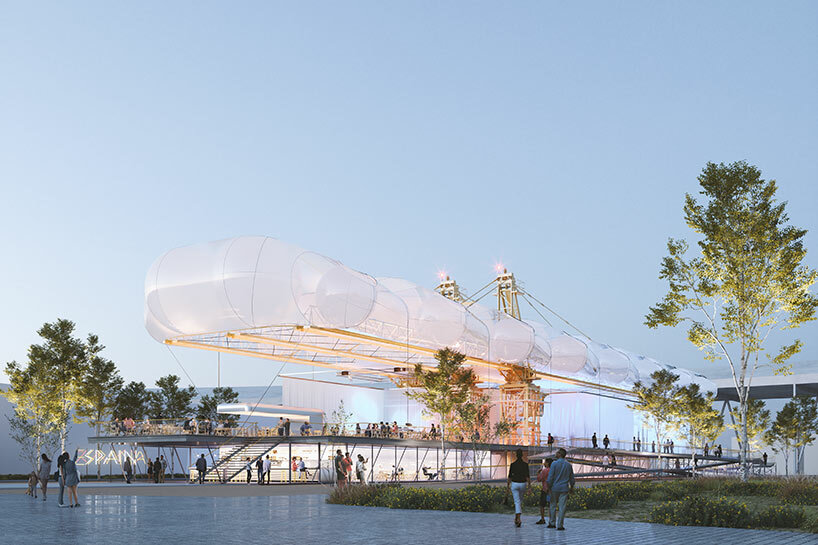 a Grand Inflatable Textile Canopy
The pavilion's canopy comprised two components: inflatable spheres and fabric. Both were prefabricated in Spain and packaged within some of the modules. Thirty inflatable spheres of two sizes (six and four meters in diameter) were inflated, positioned, and secured on the tower cranes. Once anchored, a large fabric stretched over the spheres provided shade from the sun and protection from rain. This fabric was anchored to the cranes and tensioned to the ground modules. It featured a transparent section on the northern side and was predominantly translucent, covering 85% of its surface.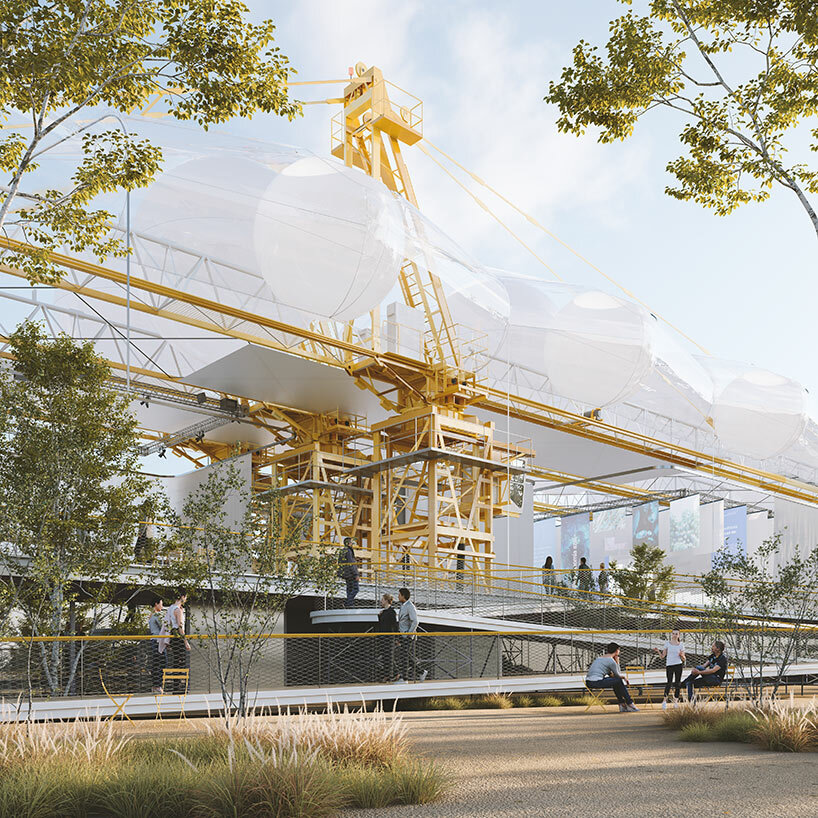 sustainable strategies by selgascano and FRPO
Upon the conclusion of Expo 2025 Osaka, the containers would be closed and shipped to a location determined through an institutional alliance between ACE and AECID. These containers could be repurposed into facilities such as schools, complete with the necessary equipment, based on strategic and social considerations by the Agency for International Cooperation. This approach not only promotes resource efficiency but also minimizes waste, aligning with the principles of the circular economy and ensuring minimal maintenance in the building's second life.
This strategy not only makes practical sense but also aligns perfectly with public policies aimed at achieving the Sustainable Development Goals of the 2030 Agenda. In particular, it resonates with Goal 12, which seeks responsible consumption and production patterns, and Target 12.5, focusing on substantial waste reduction through prevention, reduction, recycling, and reuse. This project exemplifies the harmonious convergence of architecture and sustainability.