Samara Kalk Derby | Wisconsin State Journal
One of the most popular restaurant patios in Dane County, which has been closed this summer, opened last week in a slightly different spot.
Skal Public House in Mount Horeb reopened its patio as a beer garden last Friday behind neighboring Artemis Provisions & Cheese.
The patio wasn't able to open this year because the village stopped allowing the restaurant to use the alley where it had been operating since August 2020, when co-owner Brian LaDow got creative during the first summer of COVID.
Brian and Kim LaDow opened their original alley patio in August 2020. Now they are operating a patio behind the neighboring property in a partnership with Artemis Provisions & Cheese.
Samara Kalk Derby | Wisconsin State Journal
Skal Public House took second place for best patio in Madison Magazine's Best of Madison competition in 2022, even though it's in Mount Horeb.
People are also reading…
The recognition was gratifying for LaDow, who, with his wife, Kim, opened the restaurant in May 2018 on the city's Main Street and put about $20,000 into beautifying the neighboring service alley and turning it into a destination for outdoor dining.
LaDow, 48, who spent 30 years in the building trades, said he went "all in," installing a huge wooden pergola with sunshades and hanging baskets. The patio seated about 50, illuminated at night by elegant bulbs.
"It was amazing. It was the most beautiful outdoor patio in the area," LaDow said, adding that at the height of the pandemic and initially in spring 2022 it generated about 25% of the restaurant's annual business.
In August 2020 alone, he said, sales increased by $35,000. That year, LaDow hired 15 new employees. 
LaDow said he was able to use the alley through an agreement with the village, which rescinded that privilege last year after complaints from the bike shop next door, where access for its delivery drivers became more complicated.
This spring and summer, the restaurant has only been able to do standard street-side seating, right along its building, and can only accommodate seven tables and about 20 chairs. The sidewalk seating is also right next to the town's Main Street, which LaDow said isn't ideal because of its traffic volume. LaDow said patio sales dropped by about 90%.
LaDow said the popular patio was good for the village and the other businesses in town, but in 2021, the patio also met resistance from other local businesses besides the bike shop. He went into mediation with the village and agreed to restrictions on hours and a modification of the patio's wooden structure.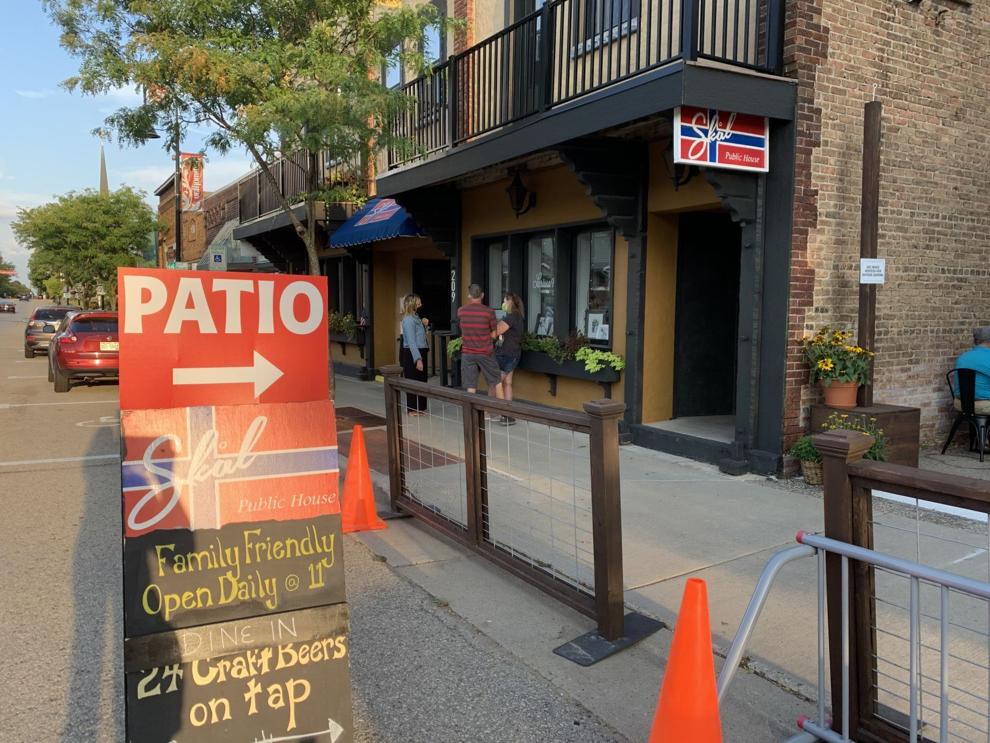 Brian LaDow said that at the height of the pandemic, in 2020 and 2021, and initially in spring 2022, the patio generated about 25% of the restaurant's annual business.
Samara Kalk Derby | Wisconsin State Journal
Then, the Village Board denied the patio for the 2023 season.
Pact expires
Nic Owen, the village administrator, had LaDow sign a contract stating that to have the patio in 2022, he could no longer have it after that. So, the alley patio wasn't able to operate this year.
"The Village Board has made their decision that they feel the alleyway should be for vehicle traffic and deliveries," Owen said.
LaDow said he did an online poll and got 1,500 signatures asking the Village Board to bring the patio back. Twelve Downtown business owners signed a letter asking for the patio's return because it was good for business, he said.
The LaDows bought the building last September, and now own 50% of the alley. LaDow said he wants to contest the village's decision, because not only was Skal's patio recognized in the Best of Madison, it made the cover of Brava Magazine for a feature on best patios in the Madison area.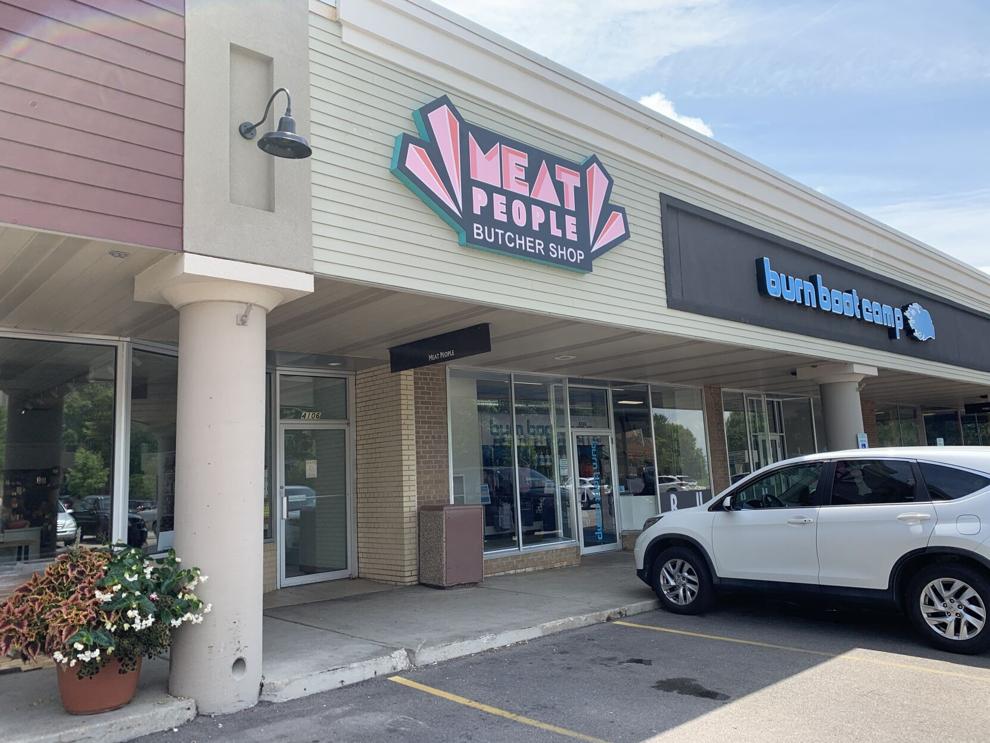 "It was just getting nothing but positive feedback," LaDow said.
Owen agrees that the patio was an asset for Mount Horeb, but said he sees no way the alley patio could be revived.
New partners
The LaDows are now partnering with Kingsley and Melissa Gobourne, who own Artemis Provisions & Cheese next door, to run a beer garden in part of Artemis' back parking lot.
"It seemed like a no-brainer to us," Kingsley said. "I know some of the challenges (LaDow) has faced and I can appreciate his creativity and persistence and to find an opportunity to continue to grow his business and that's really what it's all about."
Owen said he was glad to learn of the new arrangement. "(LaDow) does a great business there. … He's a real hard worker and does a good job."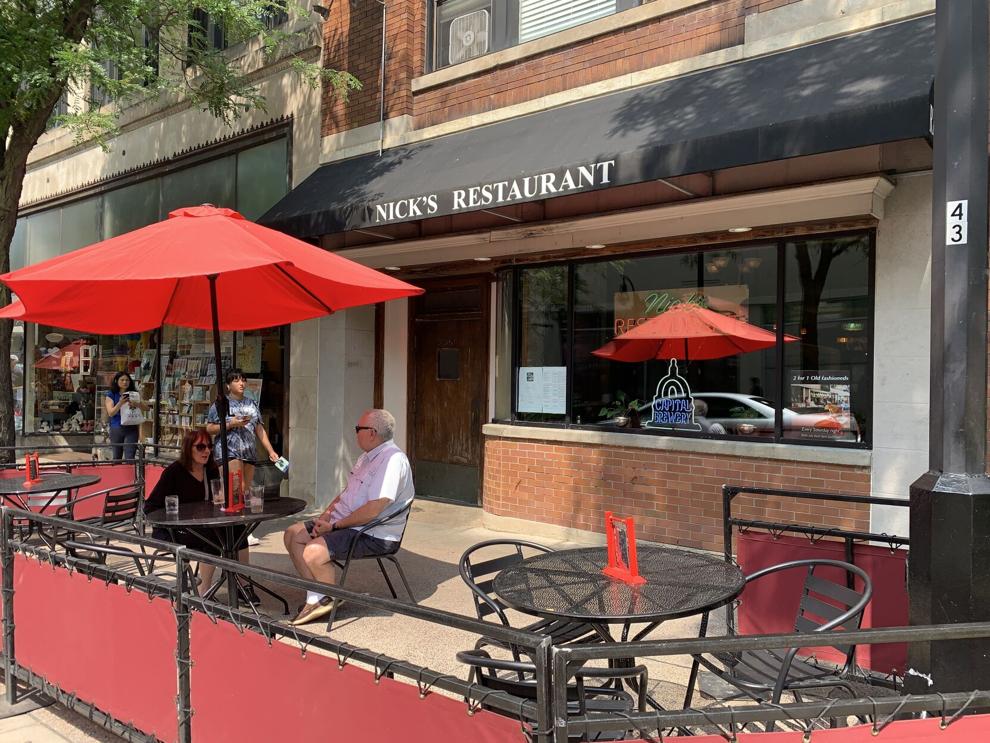 Melissa said she and Kingsley own the two buildings next to Skal and have faced delays in their own project that includes their retail business, a restaurant serving Jamaican specialties, and a meat processing operation.
Game on
Teaming up with LaDow for a beer garden is working well, the couple said. LaDow has a liquor license and can provide the alcoholic beverages that the Gobournes can't. The Gobournes, meanwhile, are able to sell some of their food and nonalcoholic beverages and gain exposure.
LaDow said he's using the beer garden area Wednesday, Friday, Saturday and Sunday with carryout ordering done through an app.
Last Sunday, they had a Packers pregame tailgate, which LaDow said drew about 50 people. "Everybody just hung out outside watching a big inflatable TV screen having a nice little time out in the patio. Kinda like the old days."
LaDow and some of his construction friends reconfigured the canopy structure he had in the alley to make the Artemis parking lot welcoming. He has a bar and a refrigerated beer trailer from which he can serve four tap beers and five signature cocktails.
He's holding his fourth-annual "Skaltober Fest" there Sept. 15-17, with a polka band, German food and beer. "We'll just have a big outdoor beer garden, you know, a true beer garden."
A survey of 2,000 adults revealed that three in 10 Americans experience 'menu anxiety' when ordering food from a restaurant.
false