On an average Tuesday evening in February, Ottawa's Lansdowne Park seems about as dead as it could be. The restaurants in and around the park, located in the south end of the Glebe, are seeing very little foot traffic. Likewise the massive Cineplex Cinemas and VIP that calls Lansdowne home.
The historic Aberdeen Pavilion, one of Ottawa's most storied and striking buildings, seems to be empty, too. Its four main entrances are locked and there are heavy duty chains wrapped around the handles of the pavilion's stately gates. 
Moving in closer, however, sounds of chaos begin to emerge from inside the building. Harsh cracks, slaps and bangs echo throughout the hall, bringing to mind the irritation of noisy urban construction zones.
Suddenly, a man and his son approach the building, holding skateboards under their arms. They enter the hall through a secret door that looks to be deliberately disguised as part of the Pavilion's exterior wall. 
What's happening inside the Aberdeen Pavilion on this sleepy Tuesday evening in the dead of winter is actually not a secret at all. The man and his son have walked into an indoor skateboarding session, a twice-weekly recreation program put on by the City of Ottawa and the Ottawa Skateboard Association, a local nonprofit organization that works to promote the sport in the National Capital Region.
'Everybody needs a safe space to do the thing that they love doing, and that's just as important for people who are in non-traditional sports and activities.'
— Jeanine Anderson, program coordinator, City of Ottawa
The indoor skate sessions take place every Monday and Tuesday from 4:30 to 9:30 p.m. inside the pavilion — widely known as "the Cattle Castle" when the city's annual agricultural fair took place at Lansdowne.
The skateboarding sessions, which are split into four time slots, are free of charge and open to skaters of all different ages and abilities. 
Jeanine Anderson, a program coordinator for the City of Ottawa, was instrumental in organizing and implementing the program. She said it came about thanks to inquiries from the OSA about the lack of indoor skateboarding spaces during the winter months in Ottawa.
"The Skateboard Association has been really great at advocating for the needs of their community," she said. "They're quite active that way, and so they had contacted other city staff through other programs and facilities, who then connected with me because our space is quite unique and huge."
The program began last winter as a pilot project through the City of Ottawa's recreation and culture department. The initial sessions drew consistently strong attendance. This year's edition of the program began Jan. 16 and runs until March 28 with an expanded schedule.
"Last year, we were able to offer one night a week, and we had three sessions per night. This year, we were able to expand to two nights a week and four sessions per night," said Anderson. "And we dedicated one of those sessions to be a women and girls escape."
One of the challenges of constructing a temporary skate park — which has to be cleared out at the end of the sessions each week — is building ramps and other props that are light enough to be moved, but sturdy enough to skateboard on.
Lukas Weerdenberg fixes a ramp for weekly skateboarding sessions in the historic Aberdeen Pavilion. [Photo © Boshko Maric]
The program is run entirely by city staff, but the Ottawa Skateboard Association and the local Birling Skateboard Shop have worked to source equipment such as ramps, rails and boxes for skaters to use inside the pavilion.
Auto mechanic Lukas Weerdenberg volunteers his time to help maintain and fix the equipment, which can be a busy job.
"Everyone here is skating pretty hard, so it really tests the limits of the build of these ramps, which were thrown together with basically spare parts," Weerdenberg said
Weerdenberg doesn't attend the indoor skate sessions as a participant himself. But as a member of the rollerskating community in Ottawa, he understands the importance of having indoor alternatives for outdoor activities that are virtually impossible to continue during Ottawa's harsh winters. 
'Usually we're kind of stuck in parking garages, getting kicked out and stuff, so having a place where we're actually allowed to skate is very nice.'
— Nwike Osiagwu, 19, Orleans skateboarder
"I'm just stoked to see people come out. The fact that the guys at Birling and the OSA use this space and appealed to the city of Ottawa to let us use it to skate, it's amazing," said Weerdenberg. "Otherwise, we'd be shoveling out skate parks."
When it hosts the indoor skateboarding program, the Aberdeen Pavilion is one of the only spaces equipped for indoor skateboarding in Ottawa. According to Anderson, the indoor skate sessions see participants from all over the city.
As often as he can, Nwike Osiagwu makes the trek from east-end Ottawa to the Glebe to attend the indoor sessions. 
The 19-year-old Orleans resident said that he appreciates the opportunity to do what he loves all year round.
"There are a few nice (skateboarding) spots in Ottawa, but you have to really go looking . . . Usually we're kind of stuck in parking garages, getting kicked out and stuff, so having a place where we're actually allowed to skate is very nice."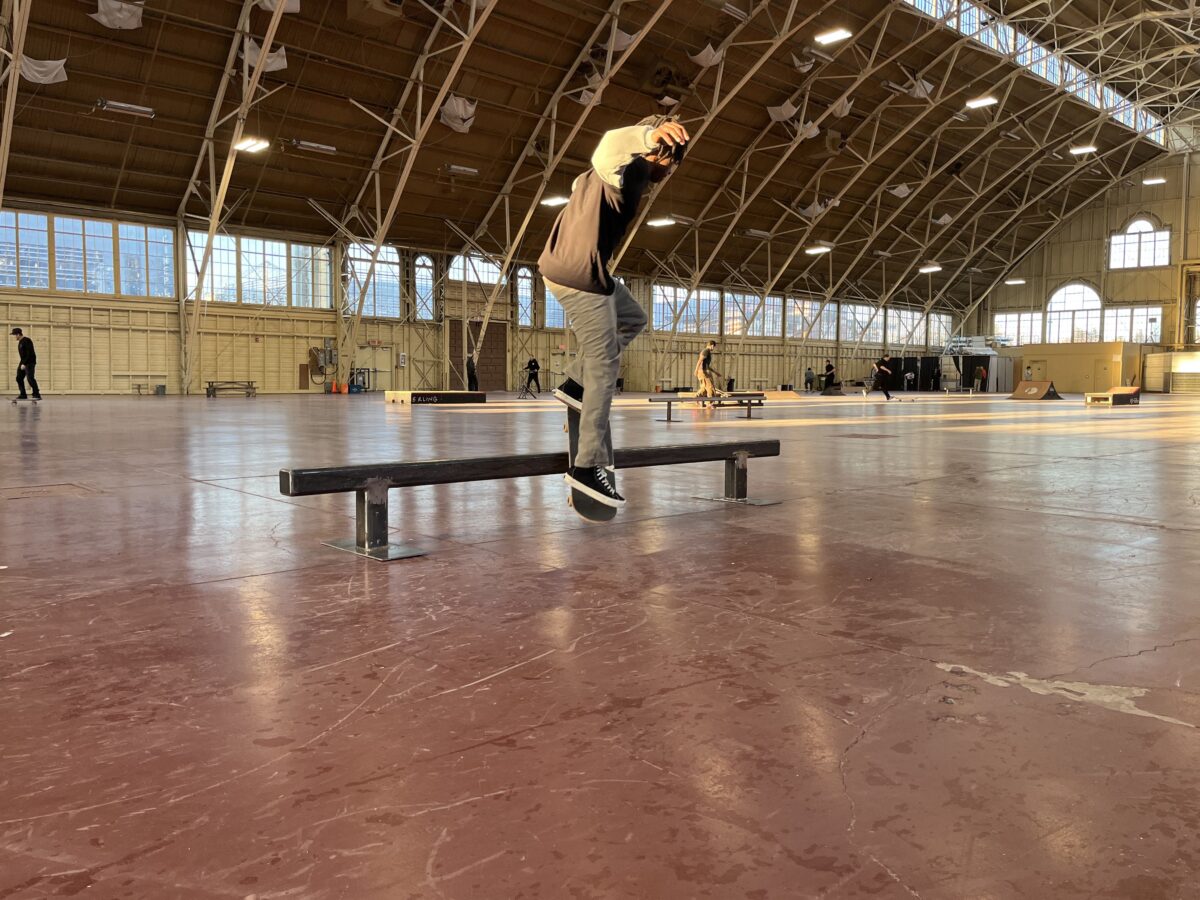 Orleans resident Nwike Osiagwu ollies onto a rail in the Aberdeen Pavilion. [Photo by Boshko Maric]
Once inside the Aberdeen Pavilion, skateboarders are free to enjoy themselves with few restrictions. However, the limited space means that participants must sign up for a spot in advance of the session they're planning to attend, which are granted on a first-come, first-served basis.
"The reservations, it's a wee bit weird. I wish it could be bigger, but it's a small space, so they have to do it the way that it's done," Osiagwu said.
In future years, said Anderson, she and her team will be focused on maintaining the program and expanding it to more facilities across Ottawa. 
"The goal would be to . . . look at other facilities so that it's more accessible for people in other parts of the city, as well, who can't necessarily make the trek in as easily," Anderson said.
For now, though, she said she takes pride in developing a program that fits her department's mandate of offering recreational programming for underserved and underrepresented groups within the city.
"Honestly, it's a mental health activity," said Anderson. "Everybody needs a safe space to do the thing that they love doing, and that's just as important for people who are in non-traditional sports and activities . . . It's been a really good program for that."