SOFTlab was designed Halo for the public area around Google's new headquarters in Mountain View, CA. Its shape is based on pavilions that are common in Romantic English Gardens. Halo can be seen from the main roads nearby because it is set on a small hill in the scenery around the new building. As people get closer to Halo, they can see that the cylinder shape is broken up at the base by arches of different sizes.
As these arches cross the simple shape of the outside, they create surprising cantilevers and glimpses into the inside of Halo. The outside is made up of vertical metal tubes, and the inside is made up of a crystalline structure covered in dichroic acrylic. The big difference between the plain outside and the segmented inside makes people feel like they've stepped inside a geode.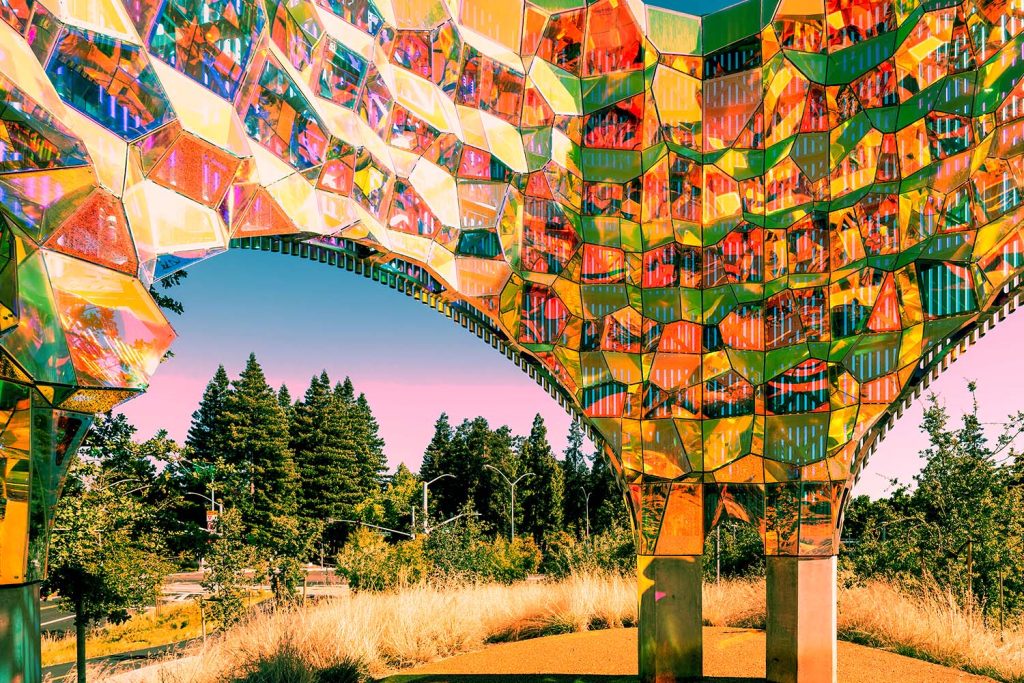 During the day, light coming in through the open top of the cylinder bounces off the shimmering surfaces inside and paints people and the ground around them with changing colors and light. The interior's dichroic sections divide light into different wavelengths based on the viewing angle. This spectrum comprises orange, green, and yellow colors that come from sunshine hitting the front of the panels. At night, LEDs in the top parts of the metal tubes shine through holes in the inner surface of the tubes, making a moving pattern of light that passes through the crystal structure inside.
There are lights behind the dichroic facets at night that change the range of tones of light that pass through them to green, blue, and purple. When seen from a distance, the LEDs bounce off the structure, showing a more logical design and the X-bracing of the building. The way the generative atmospheric animations reflect light makes it look like light is blowing through Halo-like wind, and the structure fades in and out of focus as if it were disappearing behind the metal tubes on the outside.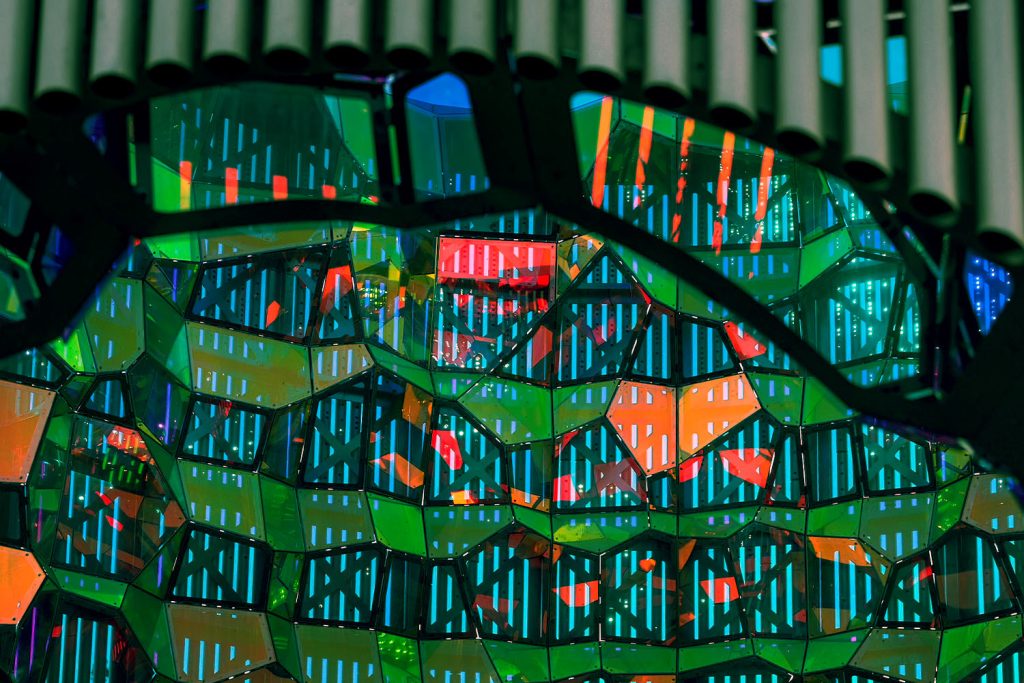 The changing moods of day and night inside are meant to create an otherworldly space that both visitors and Google workers can escape to. This space could spark new ideas, help people re-center themselves, or just be a place to enjoy the sun's magic shining through the building.
ARUP's office in New York helped SOFTlab a lot with the planning. There are more than 200 stainless steel pieces that make up the structure inside the crystal. The outside shape comprises over 1400 lengths of matte anodized aluminum tubes that are hung on a frame made of stainless steel. The tubes that frame the different archways are cut with a laser. The top part of the tubes has 300 LED lights that look like they fade in front of the top of the inside because of the random loss of air through the tubes' inside surface. A generative atmospheric animation based on the movement of clouds is coded into these LEDs.
Project Info
Designer: SOFTlab
Completed: 2023
Dimensions: 21'x21'x20
Materials: Stainless Steel, Aluminum, Acrylic, LEDs, Various Electronics
Commissioned by: Google
Location: Mountain View, CA