A FarmBot at work. [Photos: FarmBot]
Students at Annandale and Falls Church high schools are learning how to use FarmBots to automate gardening.
FarmBots are robots that can be programmed to plant seeds, water plants, pull weeds, and harvest the produce. It slides back and forth on a specially constructed raised garden bed.
"It is incredible," says Joyce Matthews, the STEM coordinator at Braddock Elementary School, who is bringing the robots to local schools.
The FarmBot program is a component of Hands On Harvests, a volunteer-run nonprofit that encourages people to grow fresh produce and supports community gardens, among other projects.
The community will be able to learn more about Hands On Harvests and FarmBots at the Taste of Annandale, a street festival on April 29 along Tom Davis Drive.
Agricultural technology
Matthews collaborated with Hands On Harvests to create a garden at Braddock Elementary and got interested in agricultural technology.
She learned about the FarmBot company from CodeVA, an organization that brings computer science education to students across Virginia, especially to underserved schools.
A member of the Hands On Harvests board donated $5,000 for a FarmBot and materials to create a raised garden bed. That FarmBot was given to a teacher at Falls Church High School a month ago to use in an engineering class.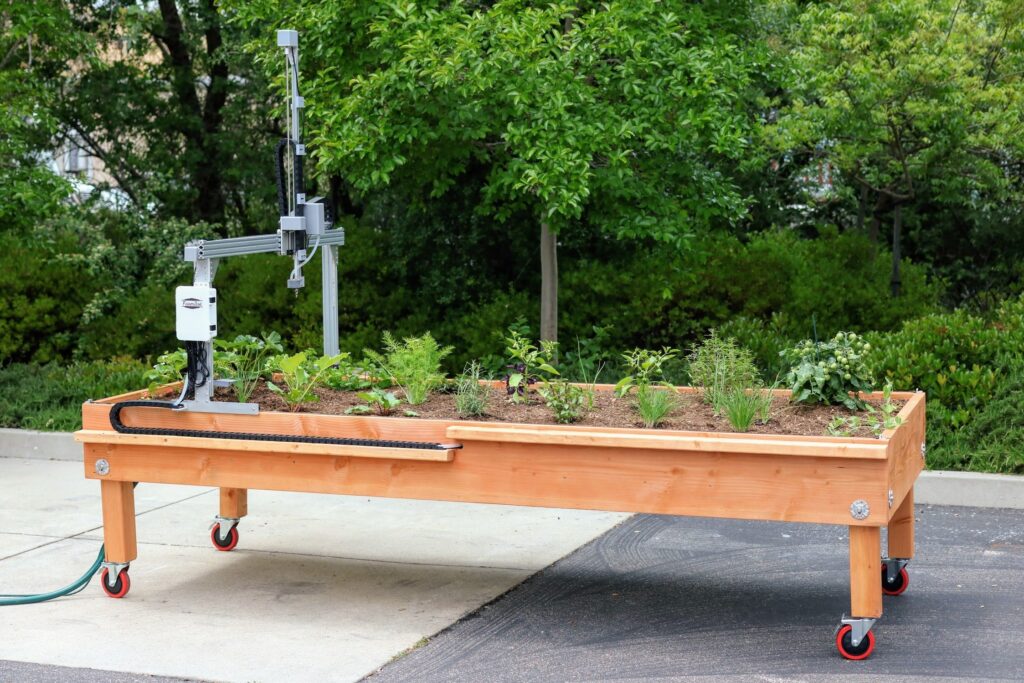 FarmBots require a special raised garden bed.
The students are working on programming the FarmBot and troubleshooting to make it more effective. The school plans to use the FarmBot at the children's garden operated by Hands On Harvests at Kingsley Commons, an affordable community on Arlington Boulevard in Falls Church.
Another FarmBot, funded with a $1,700 grant from Transurban, was delivered to Annandale High School on March 8 for use by the Green Atoms afterschool club, which focuses on environmental science.
Matthews says Annandale High School intends to bring the FarmBot to Braddock and Annandale Terrace elementary schools for use at their school gardens.
Hands On Harvests is working with Rosie Innovators, a STEM education group for high school girls run by the Rosie Riveters organization. The girls are designing a security system with an alarm to ensure the FarmBots kept outdoors are safe.
Grow A Row
Hands On Harvests started is an outgrowth of Grow A Row, a program that helps gardeners donate a portion of their crops to food pantries. It was founded by Stacey Evers, a former environmental education teacher at Belvedere Elementary School and currently a part-time urban agricultural specialist with the Northern Virginia Soil and Water Conservation District.
While Grow A Row was successful in helping to provide healthy produce to families with food insecurity, "we wanted to do more," says Evers. Grow a Row is now part of Hands On Harvests, which became a 501(c)(3) organization in 2021.
Grow A Row participants receive seeds, seedlings, and soil test kits. Gardeners in the program donated 8,100 pounds of produce last year and almost 12,000 pounds the year before. The yield depends on such factors as the weather, insect invasions, and gardeners' expertise, says Evers, who serves as president of the Hands On Harvests board.
Community gardens
Hands On Harvests provides seeds and gardening mentors to about 20 gardeners at the community garden it runs at Kingsley Commons and provides assistance to another garden run by the Fairfax County Department of Neighborhood and Community Services next to the Computer Club at Kingsley Commons. Both gardens have a section for youths.
One of Hands On Harvests' recent projects involves providing seedlings not available in local stores for Asian and Mexican produce.
Hands On Harvest is also partnering with Shenandoah University to distribute "grow bags" with seedlings, gardening information, tools, and gloves to help people without a yard to grow produce on a balcony or another site.  
Helping people gain access to healthy produce is crucial, Evers says, as there are about 80,000 food-insecure people in Fairfax County.
That number is expected to soar now that the law that temporarily increased SNAP (Supplemental Nutrition Assistance Program) benefits during the pandemic expired in February. As a result, the average family's SNAP benefits have been reduced by $200 – at the same time inflation is leading to higher grocery costs.