All renderings courtesy of NYCxDESIGN
Three new massive public art installations have been unveiled in Manhattan as part of NYCxDESIGN's annual public design exhibition Design Pavilion and the monthlong Archtober festival. The three thought-provoking artworks center around themes of social justice and sustainability. The installations, on view at One World Trade Center and Gansevoort Plaza, are open and free to the public through October 18.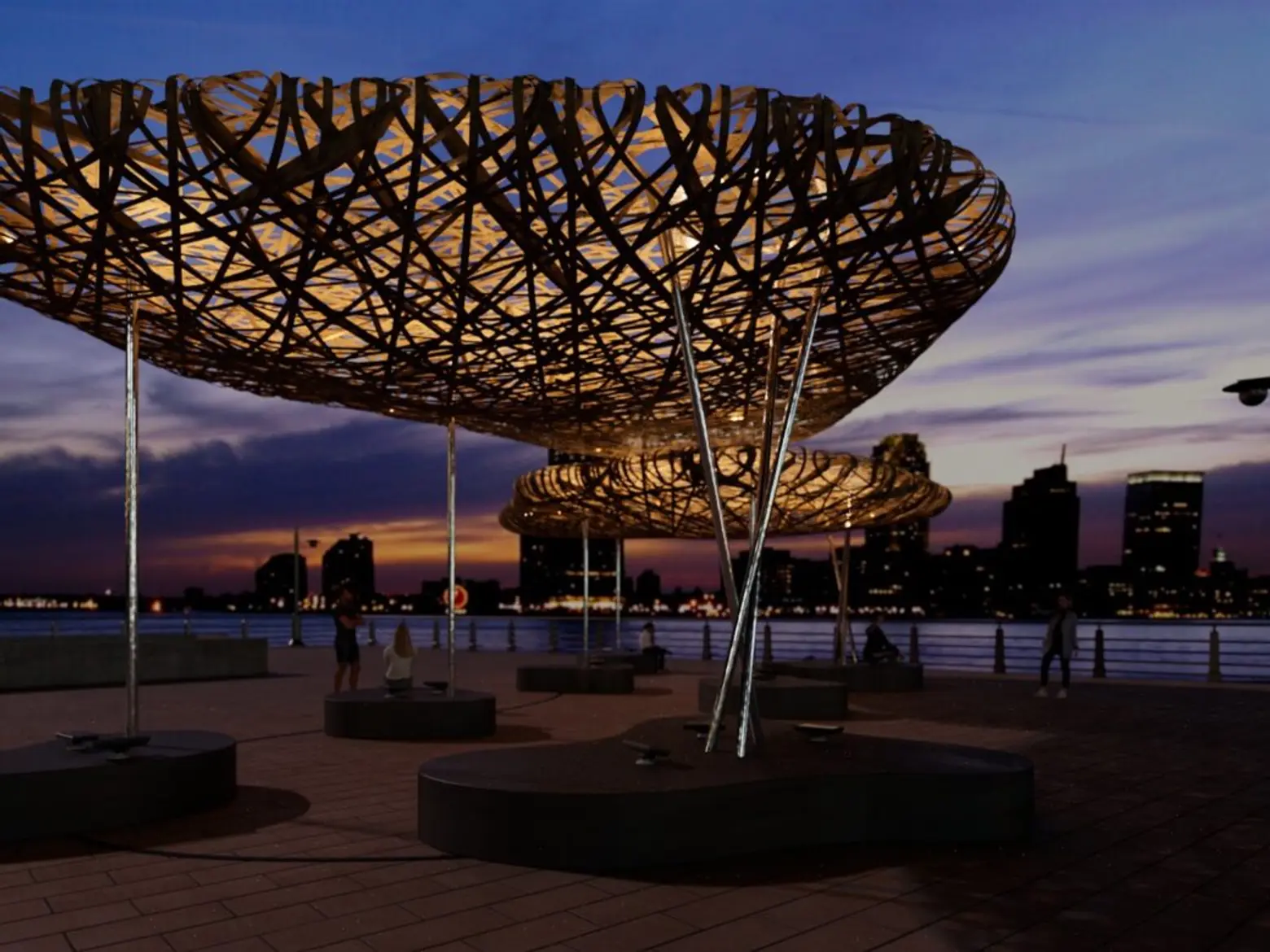 Located in Gansevoort Plaza, "Bamboo Cloud" was designed to challenge the traditional uses of bamboo and show its potential as an organic, sustainable building material. Created by Shanghai-based architecture studio lllab, the installation is composed of bamboo strips that have been woven into a porous surface.
lllab has worked with architectural lighting firm L'Observatoire International and efficient light supplier Color Kinetics to bask "Bamboo Cloud" in light from below, which adds another element to its captivating beauty. The installation is available for viewing from 11 a.m. to 9 p.m. daily.
"The 'Bamboo Cloud' defines a temporary new space offering visitors a seat under its playful game of light and shadow, to contemplate community. Its materiality spreads a golden light that will mark this New York City street," Hanxiao Liu, co-founding partner at llLab, said.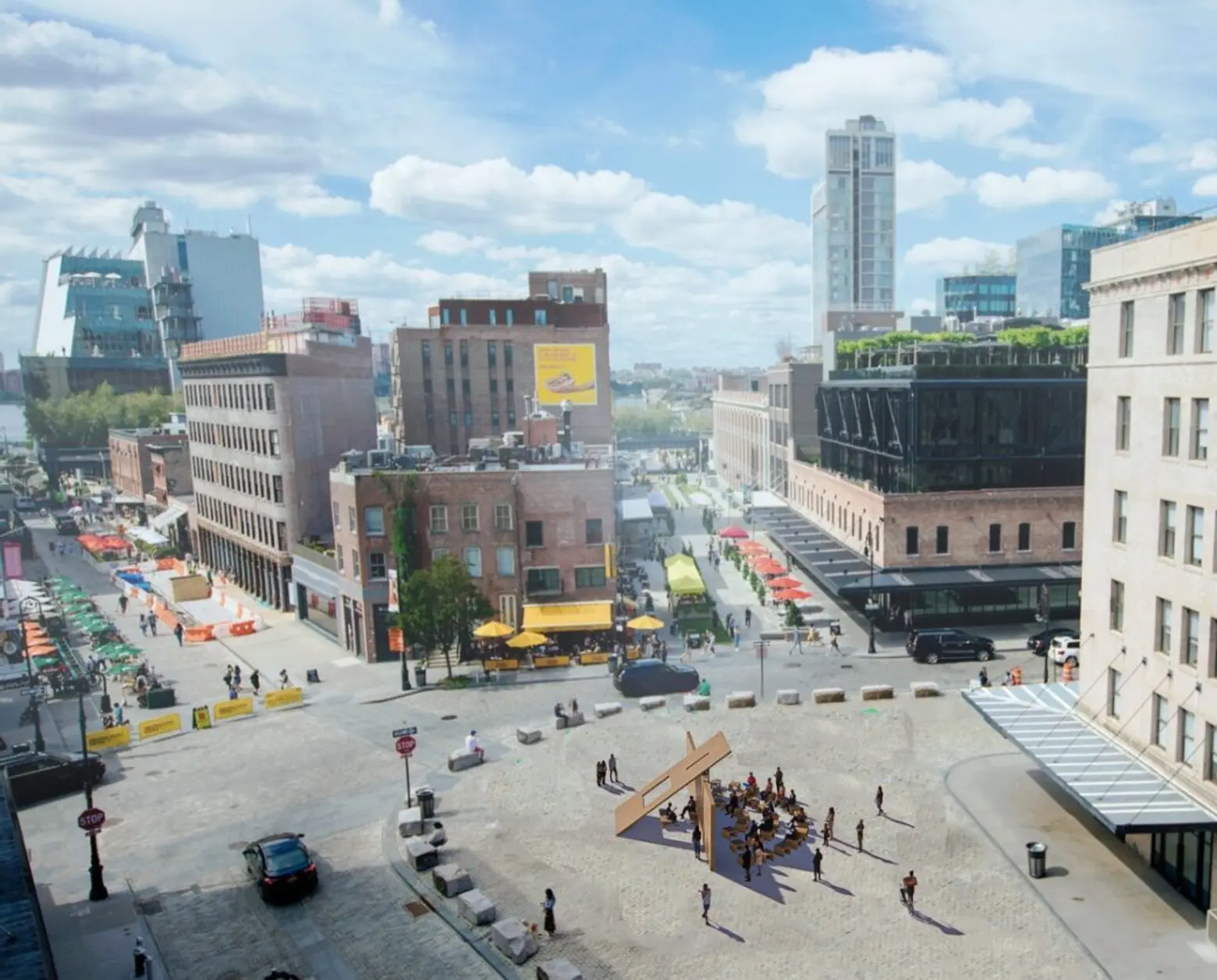 Also located within Gansevoort Plaza is "Public Display," an installation that is meant to encourage public gatherings, connection, and communication. The artwork was conceptualized by Michael Bennett, former NFL defensive end, who has since ventured into architecture and is now the founding principal and creative director at Studio Kër.
Bennett found his inspiration for "Public Display" in the "profound interplay of materials and space," and in particular, the properties of cross-laminated timber (CLT). The installation relies on the integrity of CLT and translates the concept of mass into an art form that complements the space in which people gather to connect.
"Public Display" will host this year's Design Talks, with programming curated by Stockholm-based industrial design studio Form Us with Love. The engaging talks will explore topics like waste management, the circular economy, and other sustainability-related subjects.
"'Public Display' is a tribute to our environment, with a commitment to sustainability and an artistic presentation. Plus, the space offers a series of community conversations. To listen is to love, so we create sacred space to listen," Bennett said.
The installation is on display at Gansevoort Plaza from 11 a.m. to 9 p.m. daily.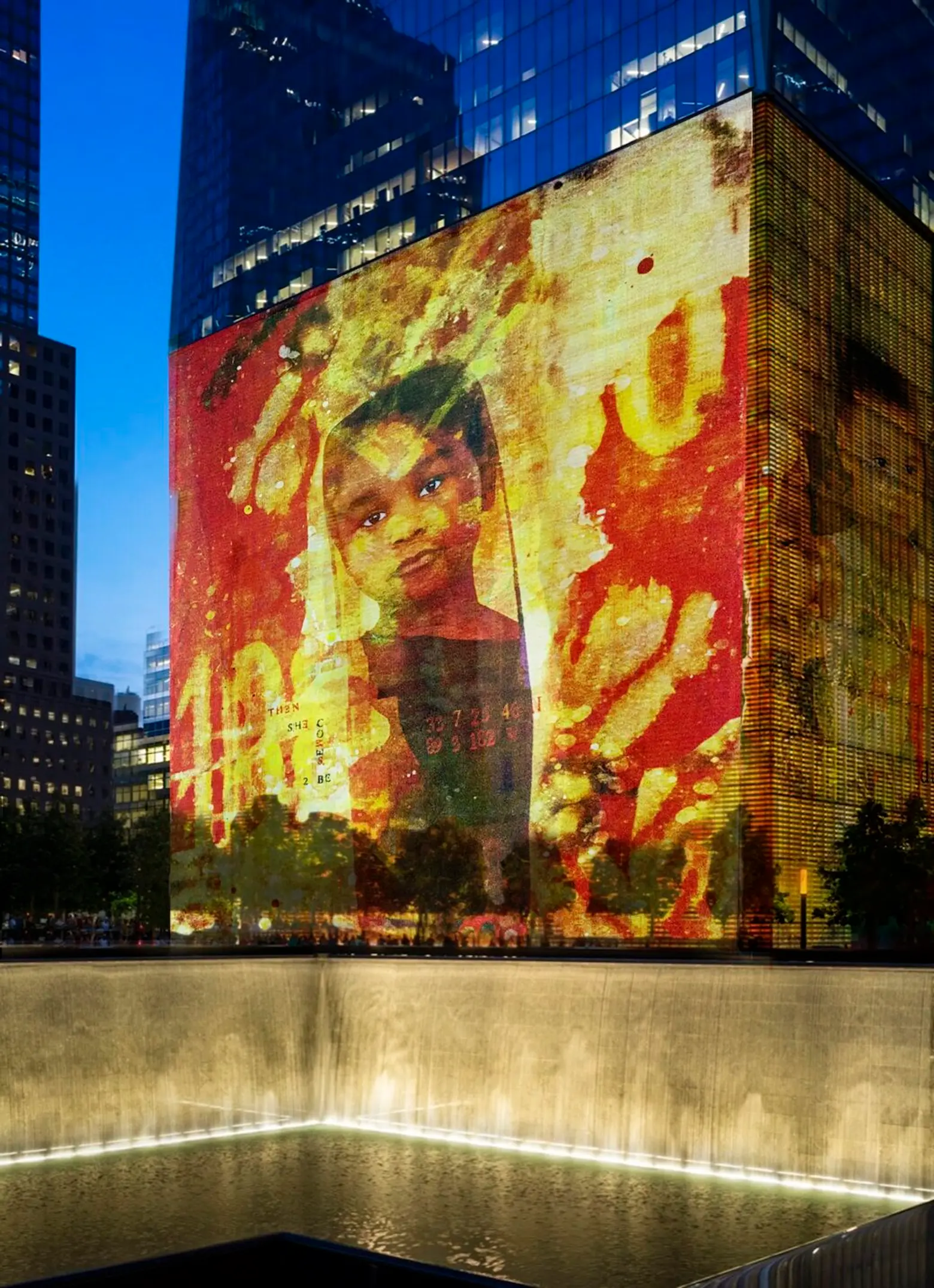 Located at the Podium at One World Trade Center, "I Was Here" is a series of public art installations that serve as an acknowledgment of America's dark past through a variety of mediums.
Hosted by Spireworks, the installation features animated Ancestor Spirit Portraits; images of enslaved African Americans that are meant to encourage viewers to think about who the United States is as a country and ways we can work to repair the wound created by slavery.
As part of the installation, Ancestor Spirit Portraits will be projected onto all four sides of the World Trade Center podium, 200 feet above the ground. "I Was Here" is conceptualized by Marjorie Guyon, with video and animation co-created by Marc Aptakin, Roy Husdell, and Yoel Meneses of Yes We Are Mad.
"When I was three, I took the ferry and climbed to the very top of Lady Liberty to see the land and sea through her eyes. Like the Statue of Liberty, the Ancestor Spirit Portraits of the 'I Was Here' project are iconic—their presence allowing our city, our country, and our world to see through their sacred, ancient eyes," Marjorie Guyon, artist and founder of "I Was Here," said.
NYCxDESIGN will continue supporting "I Was Here" around NYC for the rest of the year through projections, digital experiences, augmented reality, soundscapes, poetic narratives, and dance. The annual NYCxDESIGN festival takes place every May.
RELATED: