Casa Âmago by Bruno Dias Arquitectura
In the historic center of the Ansião village, in Portugal, Casa Âmago by Bruno Dias Arquitectura emerges as a minimalist contemporary residence in harmony with its surroundings. The single-story building features a large central courtyard under a circular opening that serves as the main element of the house. Organic roof panels contrast with the orthogonal floor plan, giving a fluid sense of warmth to the overall concrete structure.
organic roof panels contrast with the orthogonal floor plan | all images courtesy of Hugo Santos Silva
central courtyard as the focal point of the residence
Before the intervention by Bruno Dias Arquitectura, there were two small dilapidated houses on the property, which were architecturally uninteresting and therefore their renovation was out of the question. However, it would not harmonize with the surroundings to plan a modern house that had no connection with the neighboring buildings. Therefore, the first look at this house does not reveal what is hidden behind the wall and the gate: A single-story building with a large central courtyard from which the theme unfolds into all the other rooms and the organization. 'Âmago' means 'center', 'core' and 'focal point', and this central courtyard acts as the main point of the house.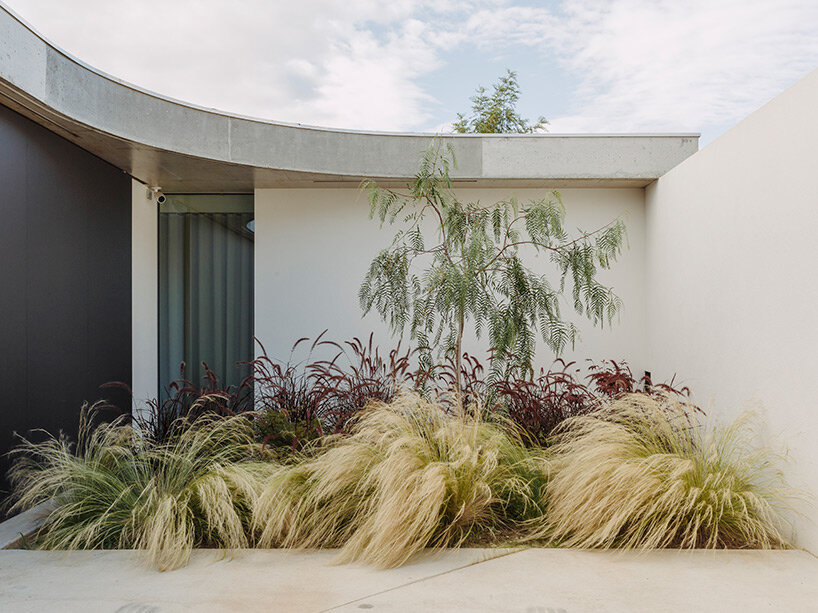 planted courtyards encourage pleasant social interactions
an open layout encouraging social interaction
Upon approaching the main entrance to the east,  occupants are introduced to the main hall guiding them directly to the social area, the living room, the kitchen, and the barbecue area. Along this axis are the technical and service rooms, such as the gym, the study, the laundry, the service toilet, and the utility room. All these spaces lead to a courtyard on the north side, which allows natural light and ventilation. The social area on the west side overlooking the garden provides natural light in the afternoon and early evening when people enjoy the space most. The barbecue area is an important space in this house because it encourages social interaction with family and friends.
In the living room, furniture specially designed for this space hides the intimate spaces, ensuring the privacy of the users. Two of the bedrooms and the suite face west towards the garden. The third bedroom, the shared bathroom and the private bathroom face east towards the central courtyard. Both bathrooms of the private quarters have a patio, which provides natural light and more pleasant space. The use of wood in most of Casa Âmago's rooms gives them a unique and personal touch that flows into the core central courtyard as well.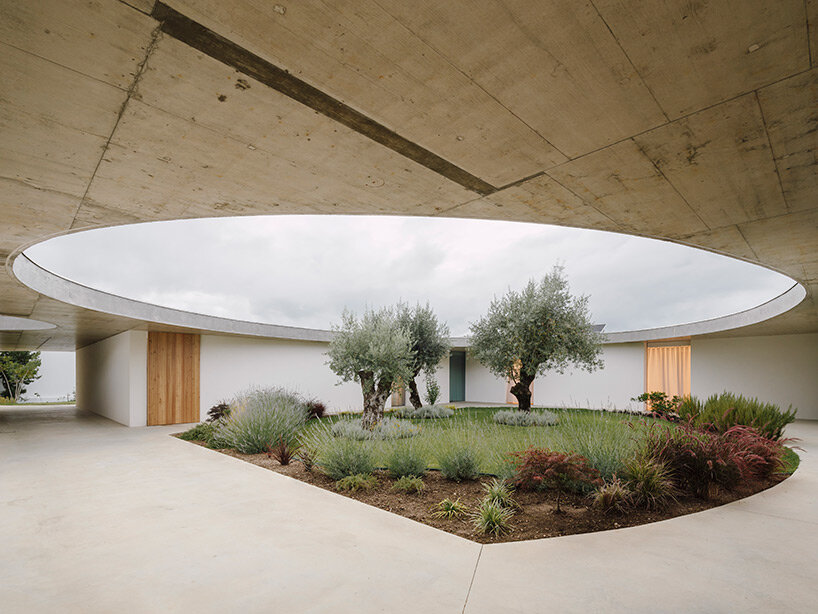 the central patio serves as the focal point of the residential project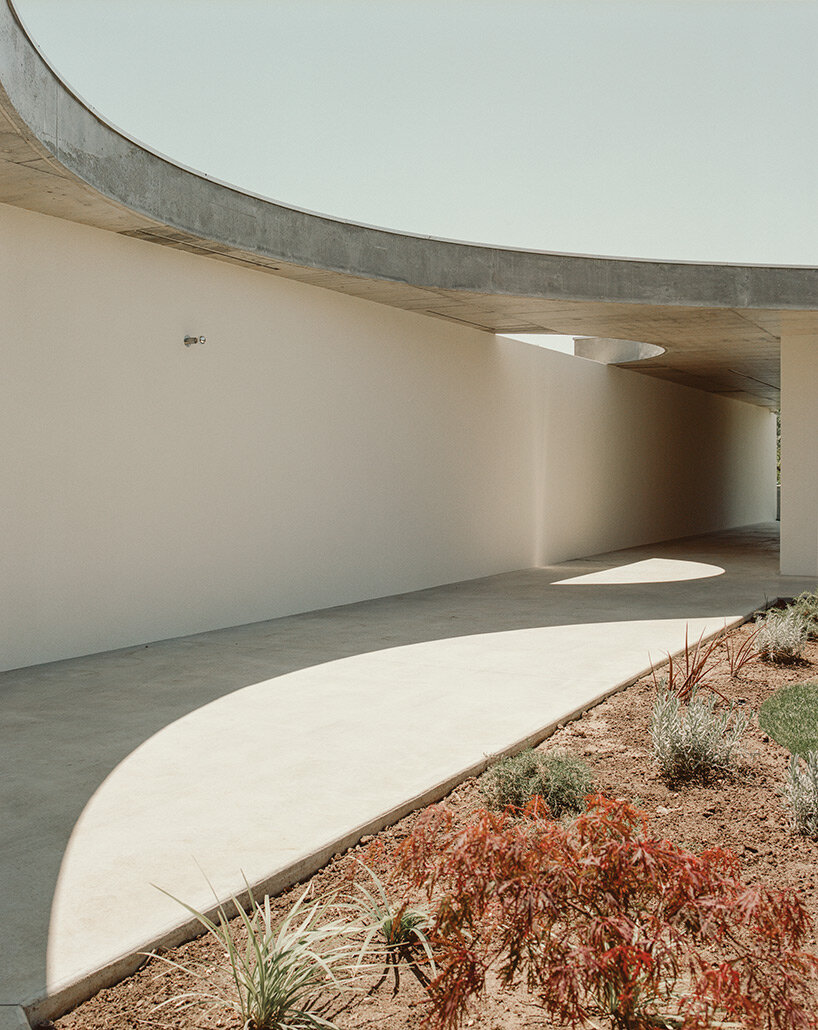 circular roof slabs top the concrete structure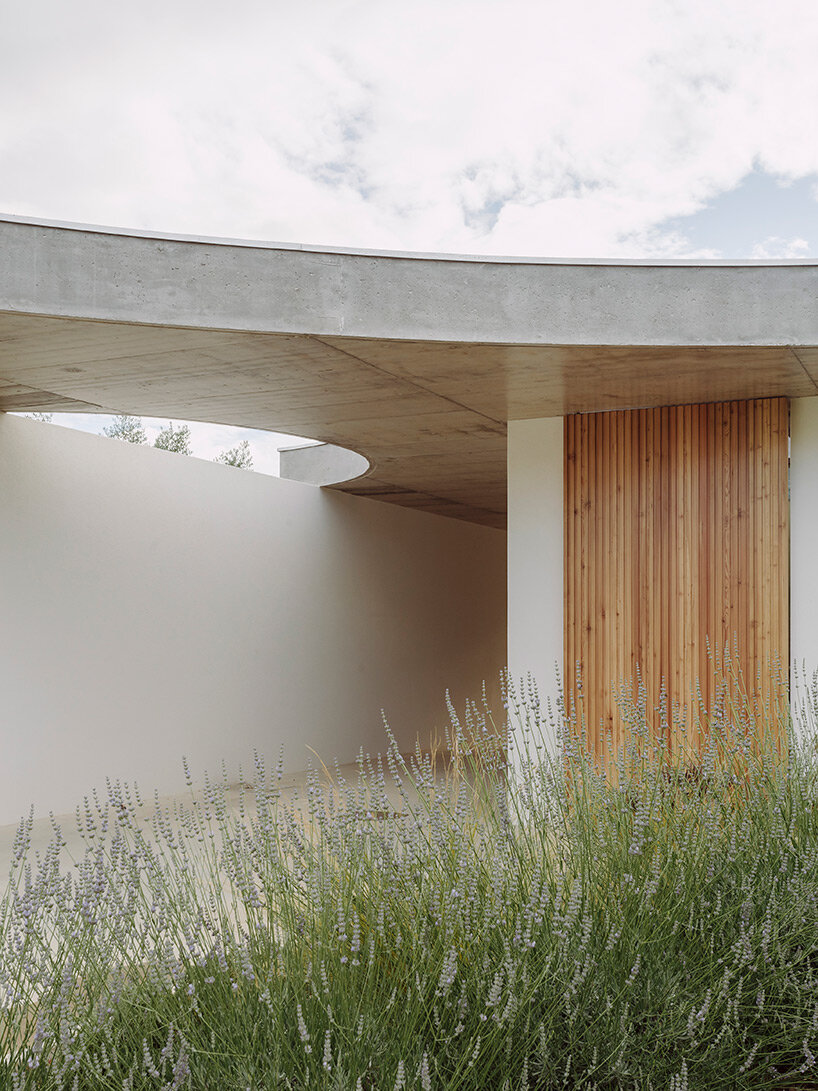 wooden elements flow from the interior to the patio area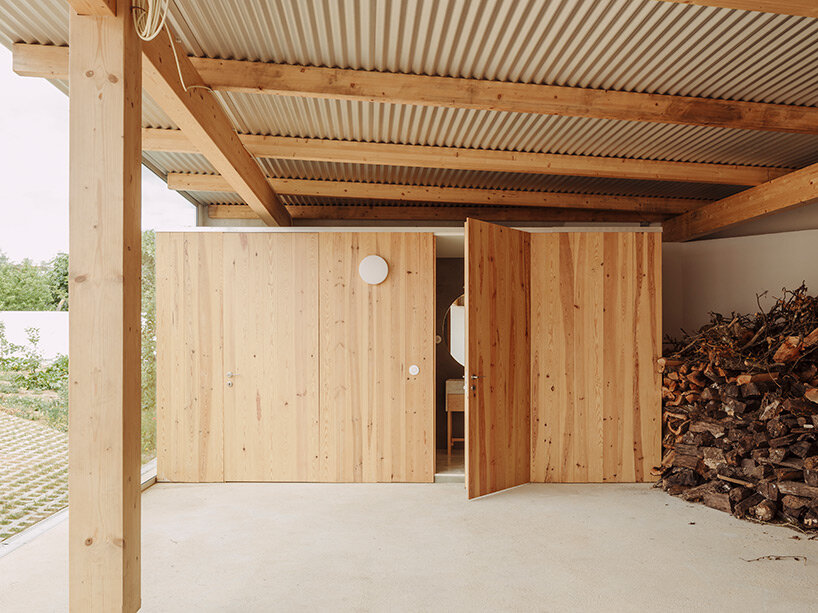 the use of wood in most rooms gives them a unique and personal touch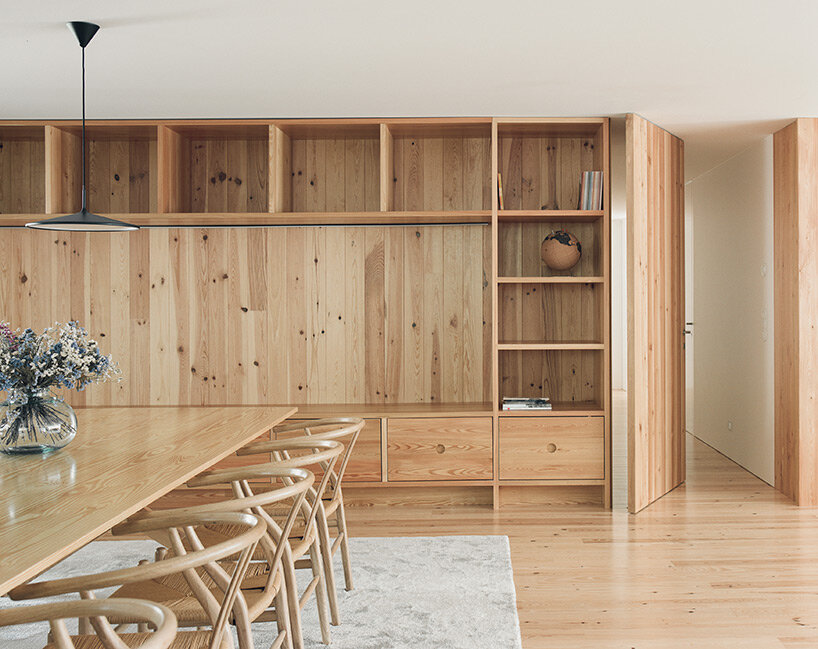 occupants are introduced to the main hall guiding them directly to the social area, the living room, the kitchen, and the barbecue area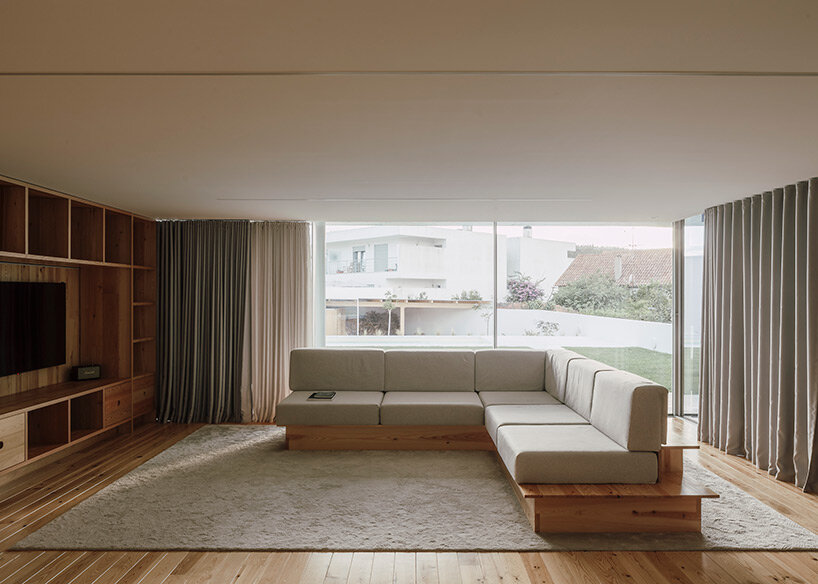 large openings in the living room connect the occupants with the surroundings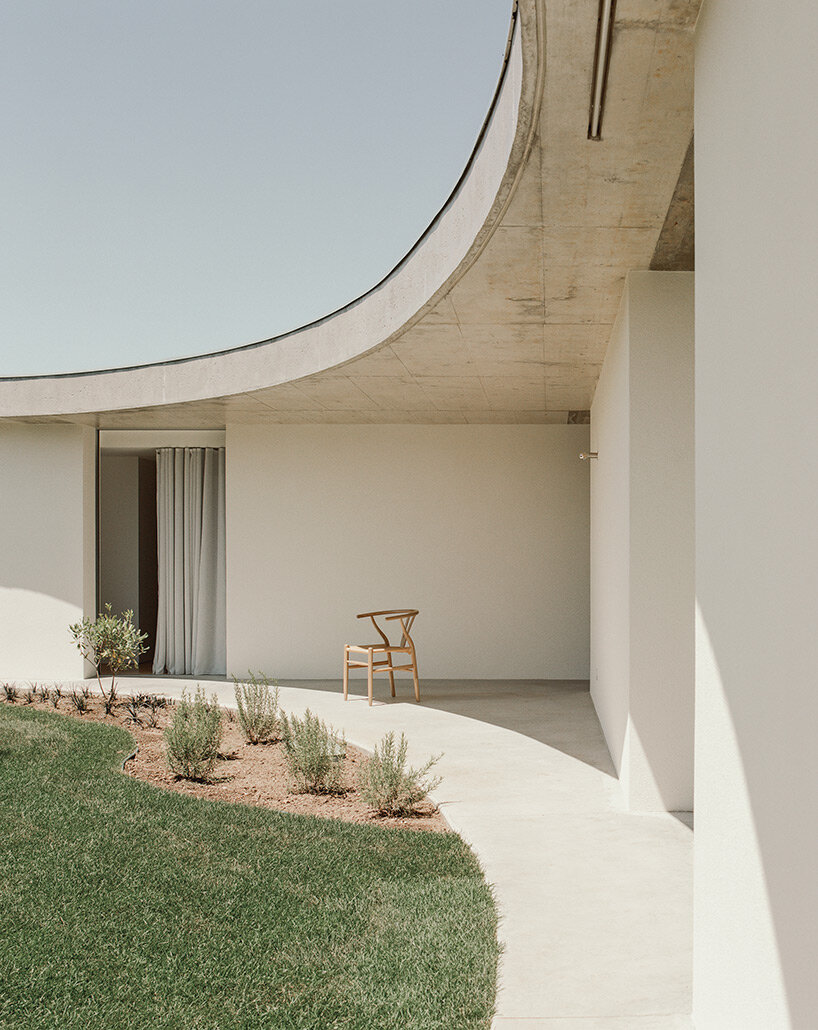 the patio serves as an ideal space for contemplation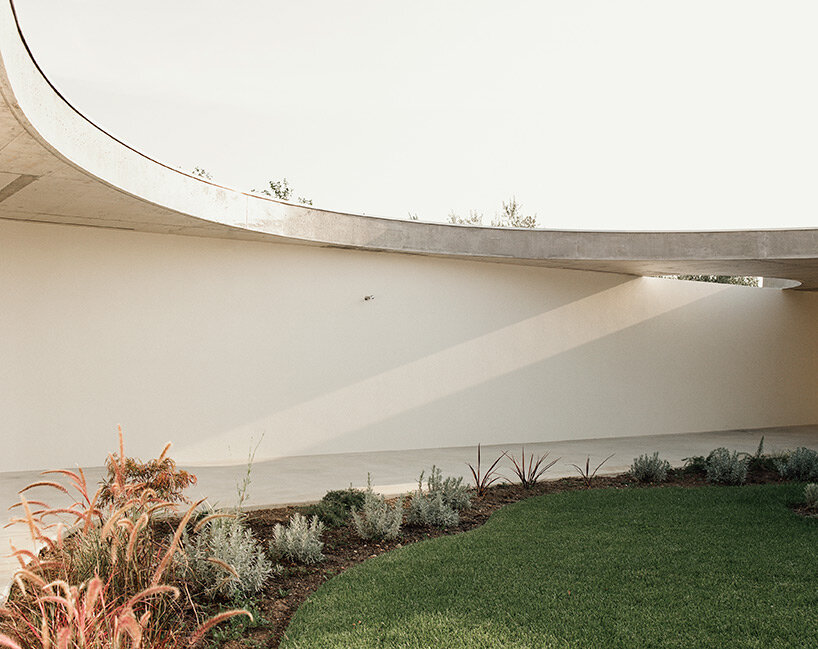 circular cut-outs on the roof filter the sunlight, producing pleasant visuals in the courtyard
project info: 
name: Casa Âmago
architects: Bruno Dias Arquitectura | @brunodiasarch
project team: Bruno Lucas Dias, Tânia Matias, Cristiana Henriques
building company: Montoconfra
plumbing/electricity: Canalizações Alvorgense
carpentry: MCJADuarte
floors: Paumarc
coating materials: Carlos Silva e Miguel Ferreira
metalworking: Jolusilva
location: Rua Almirante Gago Coutinho, nº 158
area: 765,00 sqm
photography: Hugo Santos Silva | @husantossilva
myrto katsikopoulou I designboom
nov 25, 2022