Article content
The Municipality of West Elgin recently celebrated 101 years of the Port Glasgow dance pavilion.
Article content
The municipality reported nearly 100 people attended the Aug. 28 event. The municipality refers to the structure as "the oldest continuously-used dance hall on the shores of the Great Lakes."
Coun. Bonnie Rowe gave an oral history of the pavilion. West Elgin Mayor Duncan McPhail, Elgin County Warden Mary French and Elgin—Middlesex—London MP Karen Vecchio spoke to the value the pavilion has had over time, a news release from the municipality said
The event included an afternoon of dancing and music provided by the Pierce Family Band, who have played at the pavilion for more than 35 years.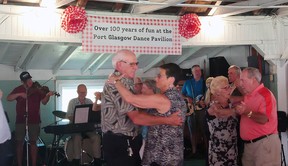 People dance at the 101-year celebration of the Port Glasgow dance pavilion. (Handout/Postmedia Network)
"Many in attendance reminisced about meeting spouses or told stories of first dates in that very building," the municipality said in the release.
Attendees also viewed a slide show on the history of the pavilion and the surrounding Memorial Park which was created by Mike Baker of the Elgin County Archives.
The municipality also rededicated the refurbished entrance gates and cairn in Memorial Park. The cairn has new signage placed to memorialize the Aldborough Pioneers, Finlay G. MacDiarmid, a federal politician who represented the area in the late-1800s and early-1900s, and the soldiers from the area.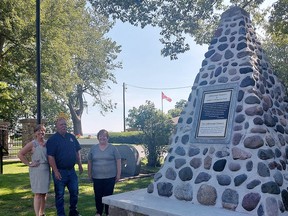 The Municipality of West Elgin rededicated the cairn in Memorial Park adjacent to the pavilion. Shown here are Elgin–Middlesex–Thames MP Karen Vecchio, West Elgin Mayor Duncan McPhail and Elgin County Warden Mary French. (Handout/Postmedia Network) jpg, WE



Originally Appeared Here